"If a kitchen is going to be filled with love, then the pantry needs to be filled with the ingredients that will create that love." Mama D
When I was growing up we had a pantry. It was big enough to hide in and it is where I had my first taste of baking chocolate. Most every mother tells their child that baking chocolate doesn't taste good and every child doesn't believe it until they (in my case) sneak into the pantry and try it for themselves. I got my unsweetened revenge  when both of my sons made the same discovery for themselves without the benefit of a pantry to hide in.
Anyone watching Downton Abbey knows that pantries in England were a series of rooms where all manner of food preparation and lots of others activities took place. In America pantries evolved in much the same way to the current much desired small storage room in the kitchen. In my case, the pantry I use is 2 old kitchen cabinets that were relegated to what we laughingly call the office. A pantry doesn't have to be big or fancy, It just needs to be a place where canned goods and baking ingredients and other non-perishables can be stored in cool dark comfort.
I like to keep a well stocked pantry.  It takes a pantry to raise a dish. What's in my pantry? Canned tomatoes of all kinds; San Marzano, Fire Roasted, crushed, diced, there might even be a jar of pasta sauce. Canned beans, chilis, corn, roasted red peppers, and artichokes are always on hand. Rice, pasta, and other grains along with Panko bread crumbs live there as well. Flours, sugars, and other baking ingredients round out the contents of my pantry at any given time. I try to replace what I have used as well as stock up on things when I find them on sale.
This week I decided to see if I could go a whole week without running to the store to get an ingredient for a dish I wanted to make. This also was the first week that I had no severance coming in so the belt needed to be tightened. The rules were I had to use what was in the pantry, frig & freezer, and garden. I made it! The food was good, in fact some of it was outstanding. Everything started out as a recipe I'd seen somewhere, but when I came across an item I didn't have I had to improvise from the "pantry".
The first dish was Baked Gnocchi and Chicken. Grilled chicken, marinated artichoke hearts, roasted red peppers and packaged gnocchi were baked in a creamy chicken gravy.The gravy was made from another panty staple, boxed chicken stock (Meijer Naturals) and milk.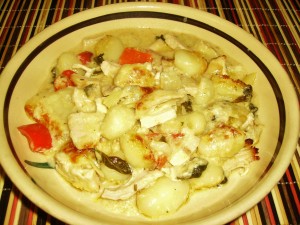 It's the kind of stick to your ribs meal that is great in the fall. It reheats very well which is important because my husband has it for dinner at work and when Mama D's Kitchen starts selling food, reheating will be a factor.
The following night I made Tomato and Cheddar Cheese Soup. The recipe was designed to be a riff on grilled cheese sandwiches and tomato soup. Mine paid the proper respect to this iconic duo but I decided to add pepper bacon to the mix. I sautéed it and then used the drippings to sweat the onions and garlic. Fire Roasted Tomatoes, more boxed chicken stock, thyme and extra sharp cheddar cheese made up the soup.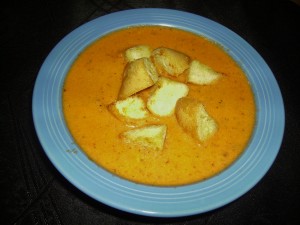 Once it was blended, I added the bacon back in along with a little heavy cream. I toasted stale leftover French bread to make the croutons. Once again it was delicious and I felt so empowered by relying only on what was on hand and I used some leftovers to boot.
Weeknight number three was a Chorizo, Chicken and Rice Skillet. it was my interpretation of  recipe for chicken breasts in a chorizo, pepper and green pea sauce. I used some link chorizo and chicken thigh trimmings from the freezer. I browned the meats and  added onions, garlic, red bell pepper, and smoked paprika.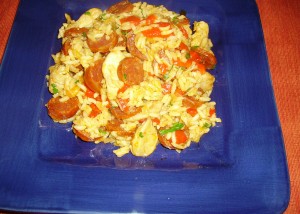 Some artistic license was taken in leaving out the peas. Peas have their place, but not in this dish. I cooked the rice in chicken stock flavored with a little onion and butter. I combined everything in a large skillet and let it all get acquainted. The result was smokey, savory and delicious.
Weeknight dinner number four was Fettuccine with Sausage and Brocoli. This relied more on the frig and freezer than the pantry. The sauce featured chicken sausage, brocoli, onion, and garlic along with a container of Kraft Savory Garlic Cooking Cream. This is a cream cheese based cooking sauce that I've found to be a great addition to both pasta dishes and casseroles. I combined this with the rest of the roasted red peppers from earlier in the week.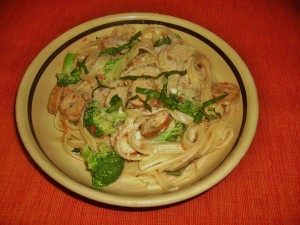 To create the sauce I blended the cooking cream and peppers in the processor then added it to the sausage and veggies in the pan. Barely al dente fettuccine was thrown into the pan and further loved with some freshly grated Pecorino Romano and fresh basil while it reached a perfect al dente.  This was great, but when I make it again I will add a little red pepper flakes or cayenne. It would be good with zucchini and summer squash.
The final weeknight dinner was Steak, Grilled Potatoes, and Sautéed Green Beans. Petite Sirloin has become my new favorite steak and when Meijer has it on sale for $4.99 a pound it comes home with me.  It is generally available in 6-8 ounce portions and when marinated and grilled is juicy and tender. Red potatoes were cut in wedges and tossed with garlic, rosemary and olive oil before going into the grill basket. The frozen green beans were from Trader Joes. They are darn close to haricot vert and when thawed need only a light saute. Bacon, red onion and olive oil were its pan companions. It was enjoyed on the deck on a lovely early autumn evening with a nice Pinot Noir.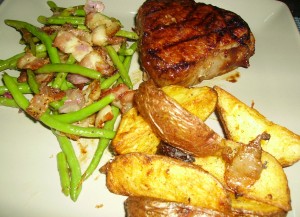 The experiment worked and it was very easy. My well stocked pantry and frig/freezer came in handy. I will be relying on these tools for budget and creative reasons. It's also an exciting challenge to make something wonderful and filled with love from what's on hand.