Friday: The weekend started officially at 5:00PM with wine and a rain storm…Dinner was an indoor affair (by plan). I tried a new chicken dish with flavors of Tuscany and a nod to Chicken Vesuvio.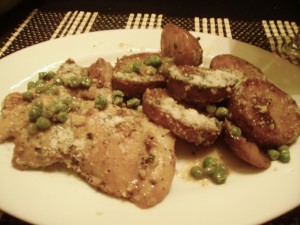 Boneless skinless chicken thighs were browned in olive oil and set aside to keep warm.   Thickly sliced Klondike Rose potatoes were browned on both sides in a process that took an inordinate amount of time and required another glass of wine. Fresh rosemary, oregano and garlic were added along with some white wine and chicken broth . Everything was allowed to get happy over low heat and at the end some peas were added for color and the suggestion of a vegetable.  It was tasty and the wine pairing of an Old Vine Zinfandel from Lodi worked well.
 Saturday:  In the spirit of the holiday, we had an All American Dinner of steak, baked potato, and salad. The steaks were Petite Sirloin from Meijer on sale for $4.99 a pound.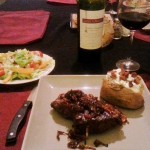 These have become the steak of choice lately. They are consistently tender and usually can be found in 6-8 ounce portions. We served it with carmelized r ed and white onions and baked potato topped with bacon and blue cheese. The salad featured butter lettuce, mini heirloom tomatoes and orange bell pepper. The dressing was Creamy  Lemon & Herb.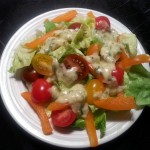 We had a bottle of 2010 Louis Martini Napa Cabernet Sauvignon. This big wine stood up to the steak but was pleasant on the palate.
Sunday: We did a fair amount of housework, including harvesting  our Cascade Hops (best crop yet thanks to the oddly  perfect weather conditions this summer.) We decided to reward ourselves by making a trip to the Village Vintner in Algonquin. This place has according to their tee-shirts "great beer, better wine, fantastic food".  We tend to agree with that description (we are members of the Growler Club).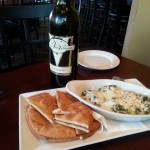 We had Spinach Artichoke Dip and Beef Brisket Quesadillas accompanied by a bottle of their awesome Zinfandel. We once again turned to the grill for dinner. Country Pork Ribs :love factor homemade Maple Barbecue Sauce,  Grill Roasted Baby Potatoes and Pearl Onions with a love factor of Rosemary Infused Olive Oil, and Grilled Brussels Sprouts with the Undisputed Queen of Love Factors, Pepper Bacon.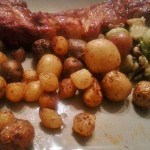 Nothing very fancy, but very flavorful and satisfying oh and did I mention it was damn near overflowing with LOVE.
"Come Monday": " It'll be all right" to use some of the leftovers from earlier in the weekend. We had steak and pork ribs left and feeling inspired by the Brisket Qesadillas from Village Vintner, we decide to make some quesadillas of our own.
I thinly sliced the meat and folded it with the rest of the carmelized onions into tortillas. I added some Habenero Jack and Cheddar Cheese. We grilled them and topped them with homemade guacamole and salsa. Quite tasty.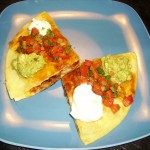 So that was my Labor Day Weekend.  As the weekend winds down so do my creative writing juices.  It's time to post this and get ready for a new week of food adventures. My weekend  was fun filled.I hope yours was, too.