I've never been to Italy. Someday (?) I hope to visit. In the meantime, I can experience the flavors of Italy in Mama D's Kitchen…and her backyard.
The showpiece of the meal was the Il Galletto Al Mattone or Chicken Cooked Under a Brick .That is the literal preparation. Chicken is grilled with a brick on top of it. The brick weighs down the chicken and creates a crisp skin and juicy meat. Usually a whole chicken is prepared, but we did it with bone in chicken breasts.  It was simply seasoned with fresh herb salt(rosemary, sage, garlic, red pepper flakes, and sea salt). Foil wrapped pavers were positioned (with quite a bit of engineering) on the breasts. Visions of my last mammogram came to mind, but I digress. Then the grill and the bricks did the work.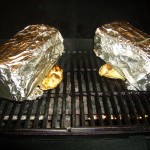 We had an Italian side dish that actually came from Italy. We had Farro. This is an ancient grain that is grown in Italy and is now being exported to the rest of the world. If oats and barley had a love child the result would taste a lot like Farro, but it would look more like barley. This grain from the wheat family has been a staple of Italian diets  for centuries. While it has gluten the amount is slightly less than its American cousin.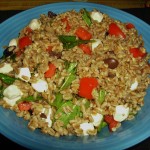 I had been noticing lots of recipes using Farro. The side dishes and salads sounded wonderful, so I set out to find this new old grain. I checked the grain section of every grocery store that I went in to no avail. I turned to the internet and found that Fruitful Yield carried it. They however were sold out…so I asked to be put on a waiting list, for Farro.
I put my dream of a romantic Italian dinner on hold and went to Meijer to do the mundane grocery shopping for the week. As I cruised past the grain section, lo and behold there on the top shelf was a bag of Farro. It was right next to the red quinoa.  I'd be willing to swear that neither were there the week before, but I have no proof. So I bought the Farro and giddily brought it home. A Night in Tuscany was back on the calendar.
So the bricks and grill were cooking the chicken and I was cooking the Farro. Like rice it cooks in water but uncovered. I kicked the cooking liquid up by using chicken stock, garlic and the usual suspects of an Italian herb cabinet. Once it was cooked, I tossed it with chopped plum tomatoes, fresh mozzarella pearls, and fresh basil. It was simply dressed with olive oil. I served it at room temperature but I think it would be good warm or cold as well.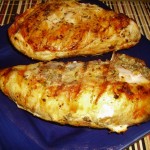 No Tuscan dinner would be complete without a Tuscan inspired wine. We had no Brunello, but we had a nice bottle of Sangiovese. Brunello is related to Sangiovese, which is the primary grape  in Chianti. So a California Sangiovese was a poor woman's choice to grace the Tuscan table.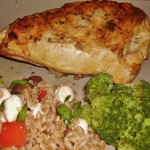 After diner we enjoyed the early fall evening  with a fire in the pit and a little more wine.   We gazed at the stars, and planned our trip to Tuscany…whenever that may happen.