The new chapter of my life is very food-centric. I'm following my passion for cooking and  beginning the journey to share it with the world. In order to share Mama D's Kitchen with the world and get paid for it, I need to have a menu. The menu needs to have a variety of items that are consistently delicious and full of Love.
I'm all about comfort food. There are few foods in the comfort category that sound like home and unfortunately taste like boring more than meatloaf. The Kitchen of Love has become meatloaf central, because comforting, delicious, and exciting meatloaf is what Mama D wants to make.  So it begins…Research and Development.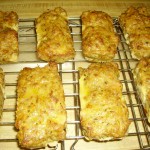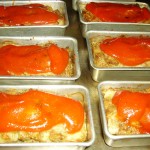 The first experiment was Italian Meatloaf. This was made with equal parts of Sweet Italian Sausage and Ground Chicken. Onions and garlic, Italian breadcrumbs for binding, and Parmesan cheese for flavor rounded out the ingredients.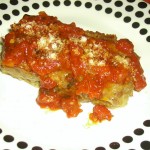 The individual loaves were served with a spicy tomato sauce and a sprinkle of Parmesan.
I shared this with friends and family, even providing a brief survey.  Response was wonderful. This one is  keeper.
Next I tried a traditional version of meatloaf. This version used equal parts of beef and pork. Lots of onions, Montreal Seasoning, and Panko bread crumbs were the foundation.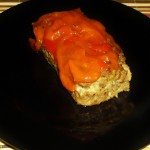 The individual loaves were topped with a Sweet and Hot Ketchup.  While everyone liked it, it felt a little too much like something they could make themselves. So, tasty though it was this incarnation will not be on Mama D's menu. At least not until it is tweaked to the correct level of Love.
Tha latest meatloaf is a Bacon cheeseburger Delight.  On the healthy scale, light it's not, with a pound of bacon and an obscene amount of canned fried onions blended into the ground beef. This smells and tastes like a diner cheeseburger, in a good way, of course.        I served it with ketchup, but I have plans to try  a guacamole sauce as a garnish.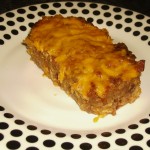 Remember this is R & D so things are still in progress.
I think I'm on to something with the mini loaves. The portion size seems just about right. Everyone gets 2 crispy ends which for many of us is the best part of meatloaf. They cook quickly and freeze easily. They also look cute sitting on the plate. Just imagine when they are joined by delectable sides.
There are more meatloaf ideas in Mama D's Kitchen of Love. Coming soon; Turkey, Daddy's Meatball, and Vegetarian. I open this up to you as well, dear reader. What kind of meatloaf  do you like? Let me know. Let's share the love.