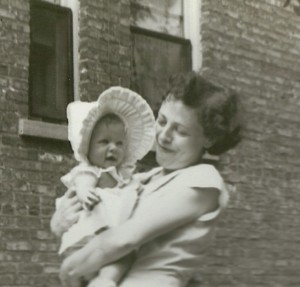 I've written about my mother and how she influenced my cooking. Besides being a wonderful cook she was a very well read woman. What she lacked in formal education, she more than made up for in general knowledge and an interesting and expansive vocabulary. She read the newspaper front to back everyday and always did National Observer Crossword Puzzles in ink. That's an aspect of my personality that I can thank her for; I love to read and my facts of useless information are legendary among family and friends.
When my sons were growing up, I repurposed a lot of leftovers. I would combine meats and vegetables to get every bit of mileage out of the food I cooked. I'd add rice, pasta, or potatoes to stretch things a little farther.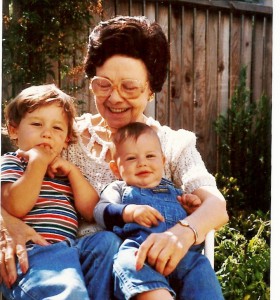 When my mother saw me doing this she would always call it Slumgullion. An odd word that I honestly didn't know the meaning of at the time, but it sounded sort of exotic and it became the name for any Leftovers of Love. I thought I should find out what the name actually meant. I looked it up a few years ago. According to the dictionary it's a watery stew; mud and mine sluices; or whale blubber. Not very exotic after all. The name was already established so I set about to elevate it beyond its modest(?) origins. I even went so far is to make it with non-leftovers.
Surprisingly many people have recipes for Slumgullion ranging from a tomato based pasta dish, to a thin stew and even a tamales pie. What has become Slumgullion in our family however, is a skillet meal.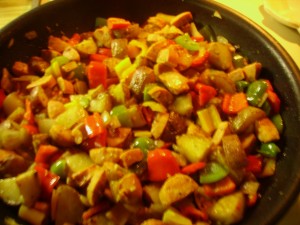 There's always some kind of beef, pork or chicken smoked sausage with Kielbasa and Andouille being my favorites. Peppers of any variety along with onions and garlic create the vegetable component and there must be potatoes. Yukon Gold or Red are my potatoes of choice. Spices and herbs vary and are often kept to a minimum.
 I even took it to the grill this summer and Slumgullion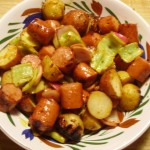 on a Stick was born. The smokey taste that the grill imparted was a nice compliment to my standard ingredients. I'd always thought of Slumgullion as  a winter comfort food, but this grill interpretation was terrific and made this a year round meal. Production Note: I par-cooked the potatoes to even the cooking field. The peppers were Cubanelle. I also marinated everything in a balsamic vinaigrette and used it as a baste as well.
As with many of my recipes, the following is merely a suggestion. I never stick to it completely and I hope you'll use it as a jumping off point to create your own Slumgullion Love. I've experimented with different techniques and cooking the ingredients in stages starting with the potatoes works best for flavor and texture. It's one of those dishes that gets better after a day or so and you could easily double the recipe and freeze the leftovers. With cooler weather advancing every day, it's a comforting meal that only needs some warm crusty bread and maybe a salad.
I think my Mom would approve.
Slumgullion is a skillet dish that has many interpretations...This is Mama D's version.
Servings

Prep Time

6

15

minutes
Servings

Prep Time

6

15

minutes
Slumgullion is a skillet dish that has many interpretations...This is Mama D's version.

Servings

Prep Time

6

15

minutes

Servings

Prep Time

6

15

minutes
Heat Olive Oil in a large skillet (with a lid). Add the Potatoes and toss to coat with the oil. Arrange in a single layer, cover and cook at medium heat for 3-5 minutes.Turn the potatoes and rearrange in a single layer. Cover the pan and cook fo another 3-5 minutes. The potatoes should be starting to feel tender. You no longer need the lid.

Add the onions to the potatoes in the pan and cook for another 5 minutes until the onions are beginning to soften and brown. Add all of the peppers and cook, stirring occasionally 5 minutes or so until the peppers begin to soften.

Raise the heat to medium high and add the sausage and garlic. Cook and stir until the sausage is beginning to brown. Keep the garlic moving do it doesn't burn.This should take 6 minutes or so.