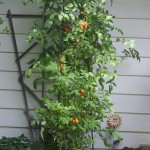 Fall is harvest time everywhere and here at Mama D's Kitchen of Love we have our own mini harvest festival. I am harvesting from what can be loosely called a kitchen container garden. It's some herbs and the amazing colossal tomato plant.
If you follow my Facebook page Mama D's Kitchen you know that I have a Grape Tomato plant that was over 6 feet tall at maturity. The plant continues to produce fruit and if the frost holds off, we may be eating homegrown tomatoes at Thanksgiving. I also have Basil which I've written about twice (but I don't play favorites). It had a rough go midsummer. But some love and a small dose of Miracle Grow gave it a new lease on life.
So, back to the harvest. I checked on the tomato plant yesterday and  there was another pint of tomatoes ready to pick. I already had almost 2 pints in the house. When the plant gives you tomatoes, make sauce! I decided to try a roasted tomato sauce. I thought the sweetness of the Grape Tomatoes would work well.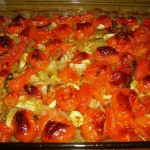 So I tossed them with garlic, onions, oregano, basil, and olive oil.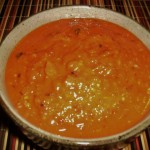 They spent a little over an hour in the oven and once cooled , were blended until fairly smooth. It was so beautiful that I had to make something with it.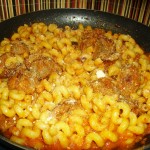 Enter some Italian Sausage and Cavatapi and there was dinner.
Basil is a delicate plant. It likes lots of sun and a good amount of water and it's not too crazy about cold nights. It also has a number of insects that like to call it home, most damaging being the Japanese Beetle. I was feeling like the basil may be on borrowed time so a batch of Pesto was in order.  I make Roasted Garlic Pesto ( see What Is It About Garlic? posts). Aside from roasting the garlic it's a pretty traditional cast of characters.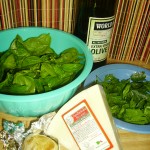 All are pictured here except for the pine nuts which were toasting in the oven when the photo was taken. Once the pesto is prepared it can be frozen for several months.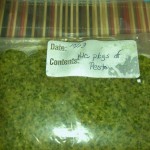 I divide it out in 1/4 cup portions, put it in zip top bags and freeze it. When I'm ready to use it, I thaw the bag and cut a corner off the bottom. I can then squeeze the pesto out into whatever I'm preparing. Everything comes out and my hands stay clean. A little pesto goes a long way so the amount in each bag is just about right. It's just the right amount to toss in a sauce or soup, add to scrambled eggs, or grilled vegetables. And there isn't a law that says you can't use more than one bag in a recipe. Best of all it's a little taste of summer in your freezer.
What's next on the harvest agenda? There's at least one more batch of pesto, and the Oregano, Rosemary, and Thyme are still going strong. As for the tomato plant, who knows. As long as it is producing fruit, I'll keep finding ways to use it. Does anyone have a recipe for Tomato Cranberry Sauce?