When I set out to create this blog, I wanted to  chronicle my food adventures in and out of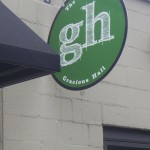 the kitchen. Mama D loves to cook, but all cooking adventures  and no out and about adventures make for a boring Mama D. I began to remedy that this week. I just returned from my first field trip. Always liking to support local merchants I went to check out the Market at Gracious Hall.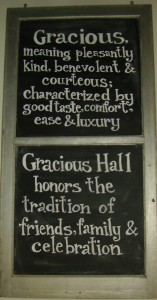 Gracious Hall is a catering company owned by Rebecca Colburn in Geneva, Illinois. Rebecca has been catering large and small events for several years and has just expanded to a retail gourmet market.  The small space in front of her kitchen features foods and cheeses, many from local purveyors. The market also features "Grab and Go" items that Rebecca creates.
Rebecca trained at the French Baking School in Chicago and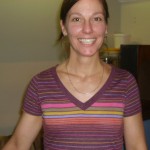 bakes all of the breads and rolls sold at Gracious Hall along with preparing all the carry out lunch items not to mention the exquisite food she creates for her clients. When I arrived she was on the phone arranging a catering job. Catering is the backbone of Gracious Hall but the addition of a gourmet market will give her more flexibility in running her business.
I was there on their first official business day. Still very much a catering company, the retail space was furnished with the usual coolers for perishable food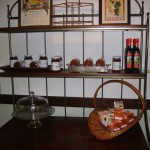 but the space was warmed by wonderful eclectic furniture pieces for display. Even though there were limited items available, everything was artfully displayed…I can envision the wonders the future will hold and look forward to the product expansion to come. Gracious Hall carries an impressive selection of cheeses.
This is possible through a partnership with Curds and Whey a local Fox Valley merchant.  Along with domestic and imported cheeses, there are sausages, salami, and lox. It was hard to choose, but the beautiful fresh mozzarella bocconcini sang to come home with me. These bite sized bits of heaven paired beautifully with what is officially the last of my garden tomatoes ( the cold night and my husband put an end to it) and basil to create an Autumn Kissed Bruschetta.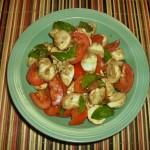 So my field trip was informative and enjoyable. I have to do this more often.  The change of scenery was much-needed, and being able to talk to someone who is passionate about food and living their dream was inspiring.  Hmm…where to next?