I just got back from a long weekend in Florida, specifically Sarasota and Bradenton on the Gulf Coast. We went down for our niece Kelly's wedding, which by the way was absolutely beautiful. Besides the festivities it was the first time in many years that the clan was together.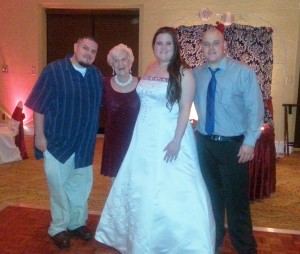 Grandma and her wonderful Grandchildren
In between visiting, we got to experience several local restaurants and one incredible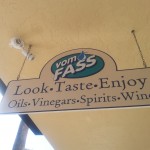 gourmet shop,  Vom Fass. I've been to many Olive Oil and Gourmet Shops and I know my way around Wine Shops and Liquor Stores,
but Vom Fass has a little of all of those displayed in a beautiful environment.
Vom Fass is a franchise that is fairly new to America, but common in Europe. The company is headquartered in Germany and has received awards for their franchises. Debbie and John Kay have had their franchise for a little over 6 months and are rapidly building a loyal following in upscale Downtown Sarasota. They are proud of their products and very knowledgeable about their origins and uses.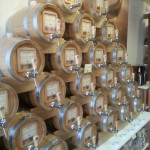 Products come from all over the world and are stylishly displayed. I counted no less than twelve Scotches and an assortment of Whiskeys. Rum, Vodka and Gin were there, too. These came from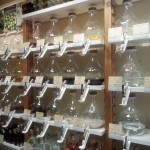 Yahara Bay Distillery in Madison Wisconsin. Fruit LIqueurs, Grappa and the mystical French Absinthe were also available. While all this marvelous liquor isn't cheap, it is unique and would be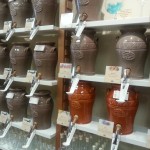 perfect for a special occasion.
This shop doesn't live on liquor alone. It offers an amazing array of oils and vinegars. Besides the usual Olive Oils and Balsamic Vinegars they offer Pine Nut, Pistachio, Pumpkin Seed, and Argan Oil which is used in Moroccan cooking and has recently become a health and beauty darling.
Everything is available for tasting which helps in making the right decision. Oils and vinegars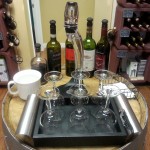 are sold in 100ml increments. The bottles which range from whimsical stars and shoes to no-nonsense  litres are sold separately.
Since I was traveling light, I stuck to the 100ml bottles (these are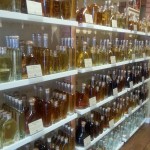 within the allowed amount for the plastic bag in a carry on.) I sacrificed shampoo, conditioner, body lotion, and bath gel and brought home a lovely Tuscan Olive Oil and Maletti Balsamico.
Sarasota has literally hundreds of restaurants. It is a very cosmopolitan city. We visited two restaurants that have been mainstays for many years.
Lunch one day were amazing hamburgers cooked perfectly to order at Patrick's 1481. These were accompanied by well made martinis. Don't judge me, I was on vacation.  Another evening we opted for an appetizer dinner at Mattison's City Grill. Even though it was Sunday evening we were able to take advantage of the $4.00 Appetizers and $5.00 Martinis (vacation, remember?). The price was tiny but the flavors were big; Grilled Artichokes, Thai Lettuce Wraps, and Bruschetta all were well prepared and beautifully presented.
My niece's wedding was in Bradenton and we found ourselves in need of sustenance, so off we went to The YachtSea Grille. When my brother-in-law told us about this place I thought he said the Yahtzee Grill and I was expecting dice and those little pencils. Instead it was a charming outdoor cafe that naturally specialized in seafood. We had Calamari served with a Spicy Remoulade that my have been the best we've ever had. It was just the right amount to tide us over.
So that about wraps up my weekend. It was nice to discover new places to eat, to walk along the beach, soak up the sun and play tag with the surf. Most of all, it was nice to be with family and friends to celebrate a joyous occasion.
Congratulations Kelly & Kenny. Have a beautiful life.