Cooking is all about creativity. I love coming up with a new recipe; putting ingredients together to create a one of a kind eating experience. Sometimes creativity comes from the inspiration that an existing recipe creates. Truth be told, most recipes that are created got some kind of inspiration from another recipe. It might be a recipe you saw in a magazine, cookbook or online. It could be a dish you had in a restaurant. Sometimes it might even be a mosh up of several recipes.
This bread recipe has somewhat of a history. I wish I had come up with it, but I didn't. I found the recipe at the Food.com website. The recipe was by Joy the Baker. She adapted the recipe from The Pioneer Woman Blog site. I took the recipe and tweaked the herbs and garlic to make it my own. I also added directions for kneading by hand because that's how I knead.  You may make this recipe and add or subtract something to make it your own, too. And so it goes…everyone can create their own recipe for Bread Baked in a Pot.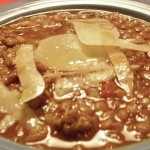 This is a fantastic bread recipe! The texture is almost creamy. Aroma-wise it immediately makes your mouth water, and once you taste it you are in food ecstasy. I baked it to go with a Lentil and Sausage Soup that I adapted from The Proud Italian Cook Blog. I substitued fennel for celery. And so it goes…
The baking technique intrigued me and I had to try it. Now that I know that it creates a moist and tender bread, I'll try it with other bread recipes. The next time I make it, I may use different herbs or add cheese. The possibilities are endless and it may never be exactly the same two times in a row. That's the nature of cooking. It's a creative and ever changing expression of love.
Back to the bread. I ate this bread with the soup (and by itself, and toasted and with homemade Chive Butter, etc.). I used the last few pieces in a Strata.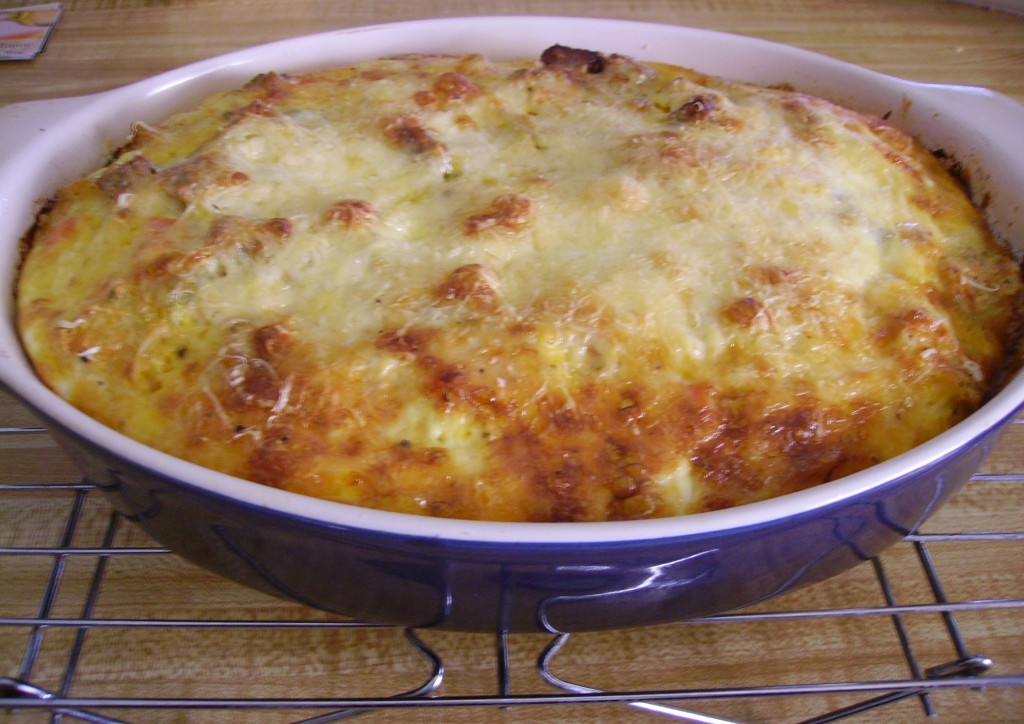 The bread soaked up the custard overnight and the flavors of the bread enhanced the other ingredients. What a marvelous breakfast! Peppers, onions, and sausage in a Smoked Gouda laced custard were perfect.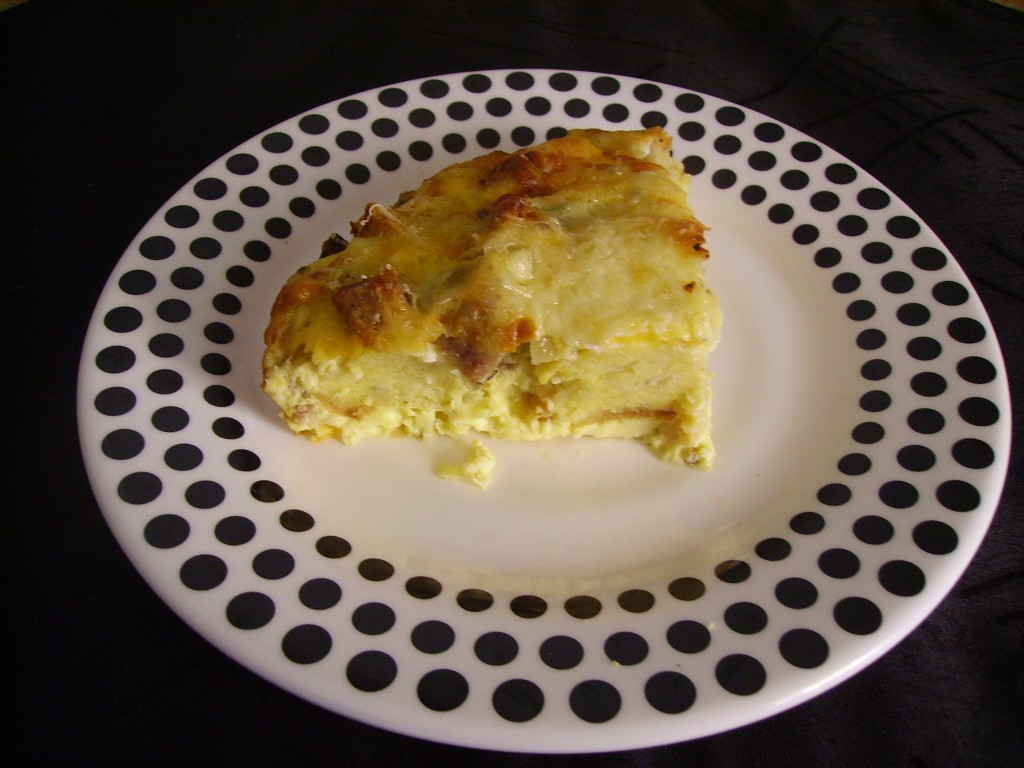 That gave me even more ideas. How about this bread in Savory French Toast or a Stuffing for Turkey or Chicken? Imagine how wonderful it would be as the base for Grilled Cheese Sandwiches or Panini's. See what I mean? Every recipe can be many things to many cooks.
So, in the spirit of creativity and sharing, here's the recipe for Spicy Herb and Garlic Bread Baked in a Pot. Make it your own.
Love, Mama D
Bread baked in a pot...Imagine that.
Servings

Prep Time

1

Loaf

80

minutes
Servings

Prep Time

1

Loaf

80

minutes
Bread baked in a pot...Imagine that.

Servings

Prep Time

1

Loaf

80

minutes

Servings

Prep Time

1

Loaf

80

minutes
Sprinkle yeast over warm water, add the pinch of sugar and stir gently. Allow the mixture to rest and foam for about 5 minutes.

Melt the butter in a saucepan. Remove from heat and add the herbs, pepper flakes and garlic. Set Aside.

Put flour in a large bowl. Add salt, pepper,yeast mixture, and butter mixture. If you have a stand mixer: Fit it with the dough hook and stir at low speed 10 - 12 minutes until dough cleans the sides of the bowl. If you do not have a stand mixer: Mix ingredients in bowl until combined. Turn onto floured surface and knead by hand about 15 minutes. Whichever method you use the dough should be smooth, supple yet firm.

When doubled in size, place on a floured surface and knead by hand about 2 minutes. Form into a "Boule" shape (flat bottom rounded ball). Preheat oven to 450 degrees.

In a large Dutch Oven or Heavy Soup Pot, add 2 Tablespoons of Olive Oil to coat the bottom. Put the dough ball in the pan. Cut a fairly deep cross in the top using a sharp thin bladed knife. Drizzle with 2 -3 more Tablespoons of olive oil on top of dough. Sprinkle generously with Coarse Sea Salt and Red Pepper Flakes.

Cover with a tight fitting lid and bake for 30 minutes. Reduce oven heat to 400 degrees, remove the lid and bake for an additional 15 - 20 minutes. Remove from oven and allow to cool until it can be easily removed for the pot. Bread can be served warm or cool and will keep up to 3 days if wrapped tightly. Provided it lasts that long!