Once upon a time there was a little girl growing up in Melrose Park. Her mother was a very good cook and the little girl liked everything her mother made. Everything that is, except Pasta Fagioli. The little girl dreaded Fridays when Pasta Fagioli was on the menu. What was it about this bean and pasta soup? It was probably the celery, but the little girl was sure it was the beans. So beans became the food she wouldn't eat. She wouldn't eat celery either, but that's another story.
The little girl made some exceptions as little girls were apt to do. She loved Lupini, brined beans that you bit open and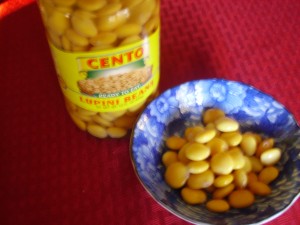 squeezed  into your mouth. She also liked Ceci, Garbanzos roasted until crunchy and salted liberally. These were really "snack beans" that she had when "The Feast" was going on. The Feast of Our Lady of Mount Carmel was a week-long religious celebration that happened every mid-July (120 years this past July). The Novena, Procession and Outdoor Mass were the stars, but for the little girl the carnival and the wonderful street foods were the highlights. Since she lived just a block away from the festivities she would walk down every night ride the rides, play the Mouse Game, and come home with a paper bag of Ceci or Lupini and occasionally Red pistachios ( she was almost an adult before she learned they weren't red everywhere).
Well, the little girl grew up. She still didn't like celery, but she started to like beans. First there was Chili; the creamy/chewy texture the beans added were pleasant. Then came Split Pea Soup; the earthy taste of the peas combined with the smokiness of the ham were also satisfying. And she even came to love Pasta Fagioli. This isn't about Pasta Fagioli, but it is about Legumes.
Now the little girl is more than all grown up and she eats beans at least once a week. Usually it's in soup or a side dish, occasionally it's in chili and quite often it's as an appetizer. She's learned how good beans are for her. They're  low in fat,  high in fiber, and they are also cheap. What's not to love about that?  Beans are versatile, and are available everywhere.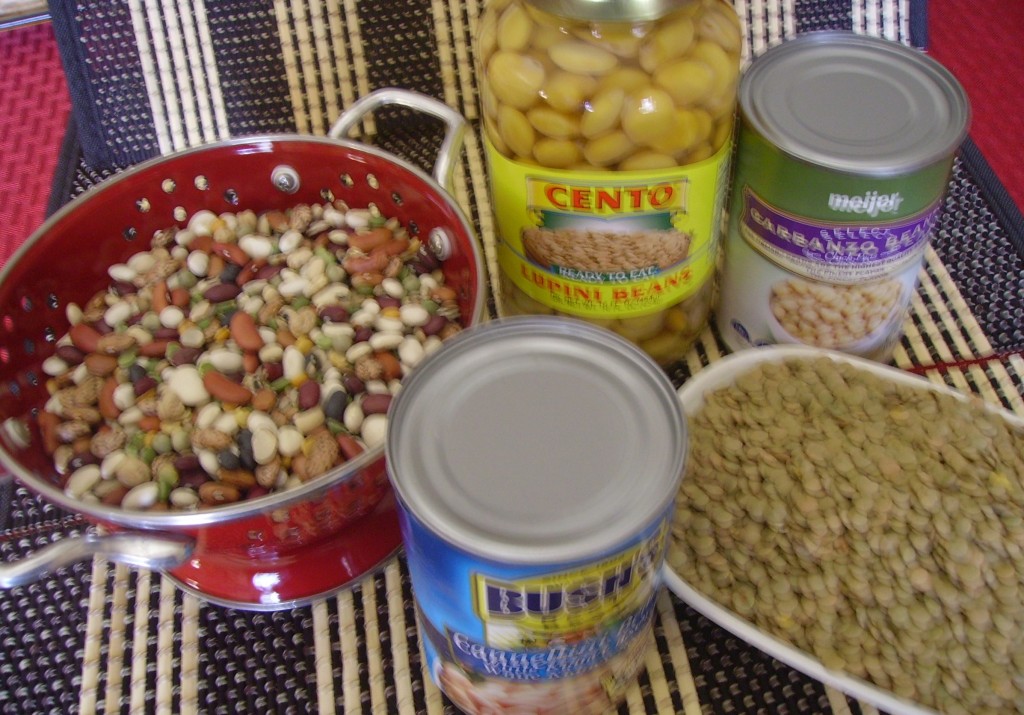 While beans are the go to protein for many vegetarians, I like mine with meat; usually a pork product. I've recently made two Legume driven soups with Italian Sausage as the co-star. I
made the Sausage and Lentil Soup that I found on Proud Italian Cook's Blog site. It was a simple blend of Lentils, Fennel (I REALLY don't like celery), and Tomatoes that were combined with Sausage and the requisite Onions, Carrots, and Garlic. Lentils are the quickest cooking legume, so this soup was ready in less than an hour. The lentils became almost creamy and the spiciness of the sausage was a great counterpoint.
I also made a White Bean and Sausage Soup. This used canned Cannellini Beans and sliced sausage. Using canned beans has it on the table in about half an hour. It was almost thick enough call it a stew and was so satisfying that it is now part of Mama D's soup arsenal.
Quick Easy and Delicious. This hearty soup only needs some crusty bread.
Servings

Prep Time

4

10

minutes
Servings

Prep Time

4

10

minutes
Quick Easy and Delicious. This hearty soup only needs some crusty bread.

Servings

Prep Time

4

10

minutes

Servings

Prep Time

4

10

minutes
In a large skillet, heat olive oil until hot. Add the sausage and cook 5 minutes or so, until browned on all sides.

Add carrots and peppers to the sausage and cook stirring often for 2 - 3 minutes Add the garlic and cook 1 minute more until ii is fragrent. Be careful to not let the garlic burn.

Stir in the remaining ingredients into the pan and bring to a boil. Reduce the heat to low and simmer approximately 15 minutes. The soup should thicken slightly and the sausage should be cooked through completely.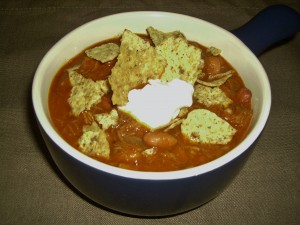 I added Red and Pinto Beans to  Pulled Pork and created a wonderful Pulled Pork Chili. The liquid was chili based, and was fired up with chipotle and jalapeno. The richness of the pulled pork and the heat of the chili were mellowed by the beans.
We've all had Humus; Garbanzo Beans and Tahini blended with lemon. garlic and herbs that is wonderful with pita chips or crudites.  I've come up with another bean dip that uses Cannellini Beans blended with lemon juice, garlic, rosemary and parsley. If you use lemon infused olive oil you'll have a deeper and richer lemon flavor.
Quick easy and oh so yummy.
What's the moral of this story? Everyone grows up eventually and so does their taste in foods. Trying new foods and ways to prepare them continues the growing up process. The adventure never ends and therein lies the happily ever after.
Love, Mama D