I woke up from a dream at 3:00 AM yesterday. Christmas arrived and there was nary a tin of cookies or a sweet treat in the house. For Mama D this is a nightmare. I have baked my way into the Holidays for forty something years. Now with "more free time" I can bake to my heart's content and shower friends and family with cookies and breads of love. That idea surfaced back in September when Christmas was  just a glimmer at the back of the calendar. Now Christmas is barely a month away and those empty tins could be a reality. Not on my watch!
Yesterday I began my Christmas Baking. I began with Quick Breads. I always start with breads because as their name implies they are quick to prepare and recipes can usually be doubled. The breads can be frozen for a month or so and are ready whenever I need a little gift of sweetness. The new twist is that I'm making these breads with ingredients I already have in the house. I'm committed to working with what my pantry holds and this was a perfect opportunity. It did make the task of looking for just the right recipe a little more challenging. Every recipe that sounded delicious called for an ingredient that I didn't have, but my pantry and a little love resulted in some creative substitutions. Talk about making a recipe your own.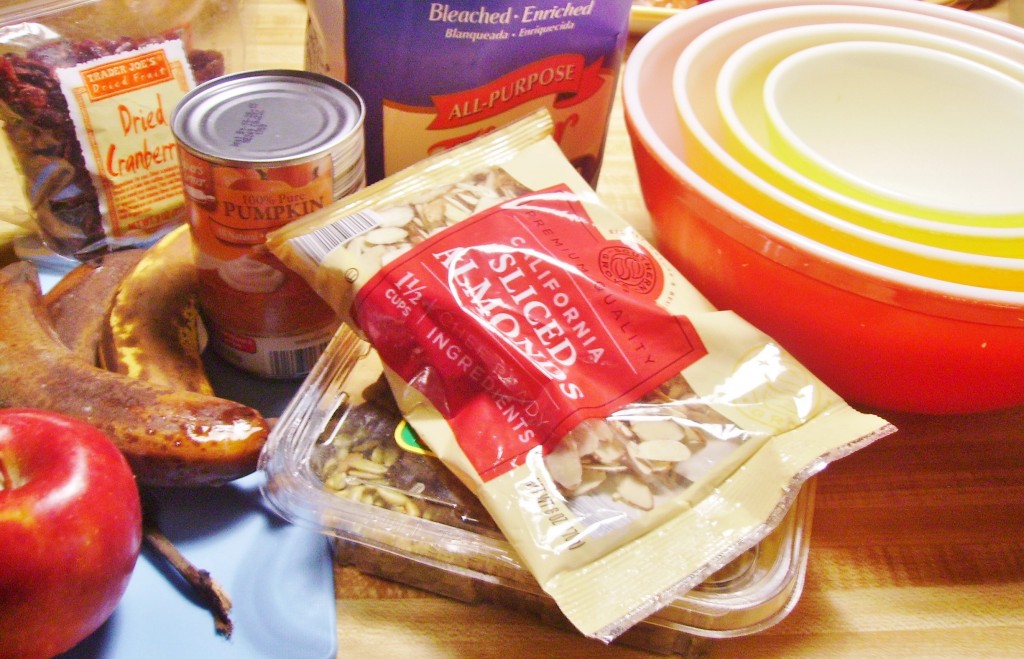 The first recipe; Kraft Kitchen's Sour Cream Banana Bread called for Walnuts. I didn't have walnuts, but I did have almonds. The swap worked. To make the almonds feel like they belonged, I added a little Almond Extract. A note on the bananas; they were in the freezer. This makes them a little slimy and very ugly, but they work well in baking and the sweetness is intensified.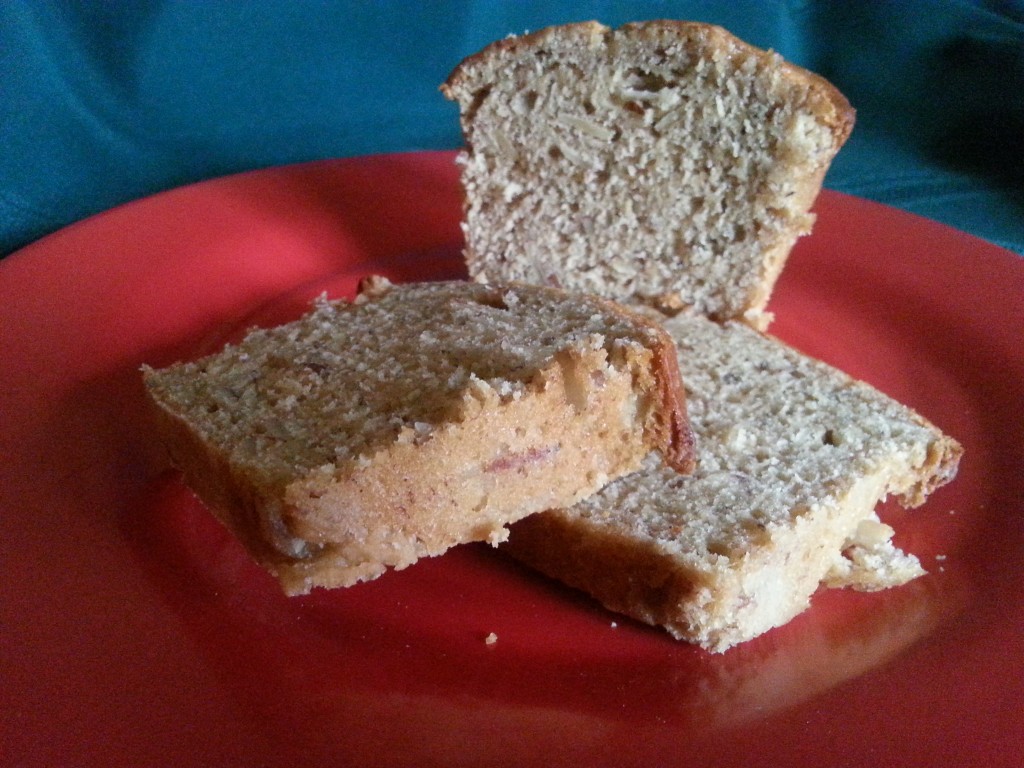 Next there was Apple Bread. I found a recipe that used Crystalized Ginger and sounded terrific. Sadly, my pantry had no Crystalized Ginger. It did however, have dried cranberries. I brought them back to life in a little Spiced Apple Cider and added them to the batter. It was a simple substitution and the result was yummy adding tartness and texture.
Heat oven to 350 degrees. Spray one 9X5 or six Mini Loaf Pans with cooking spray. Mix the flour, cinnamon, baking powder & soda, and salt in a large bowl.

Put the sugar, oil, sour cream, and eggs in a medium bowl. Mix at high speed of mixer for 2 minutes until the mixture is smooth and creamy.

Pour the egg mixture into the flour mixture and stir until just moistened.. Stir in apples. Drain the cranberries and add them to the batter stirring them in gently.

Pour into prepared pan(s). Bake approximately 60 minutes for large pan or approximately 30 minutes for minis. A toothpick should come out clean but moist. Cool in pan on a wire rack for 10 minutes. Remove from pan and cool completely.
I had lemons and pecans and thought it would be fun to work the "on hand" ingredients recipe thing in the other direction. So the Google search began for Lemon Pecan Bread. It didn't take very long. and there were quite a few choices.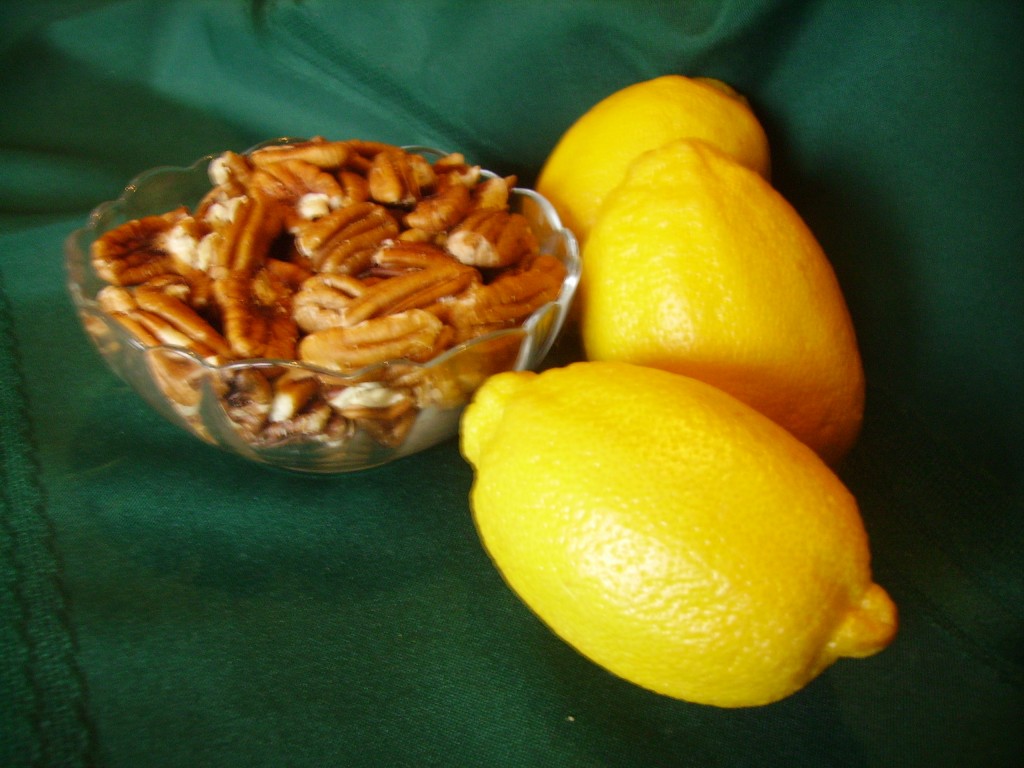 I found the perfect recipe at a website called 8 Broads in the Kitchen. This bread calls for lemon zest and juice from 2 whole lemons. It has the tang of lemon that I love with a subtle sweetness that is echoed in the pecans.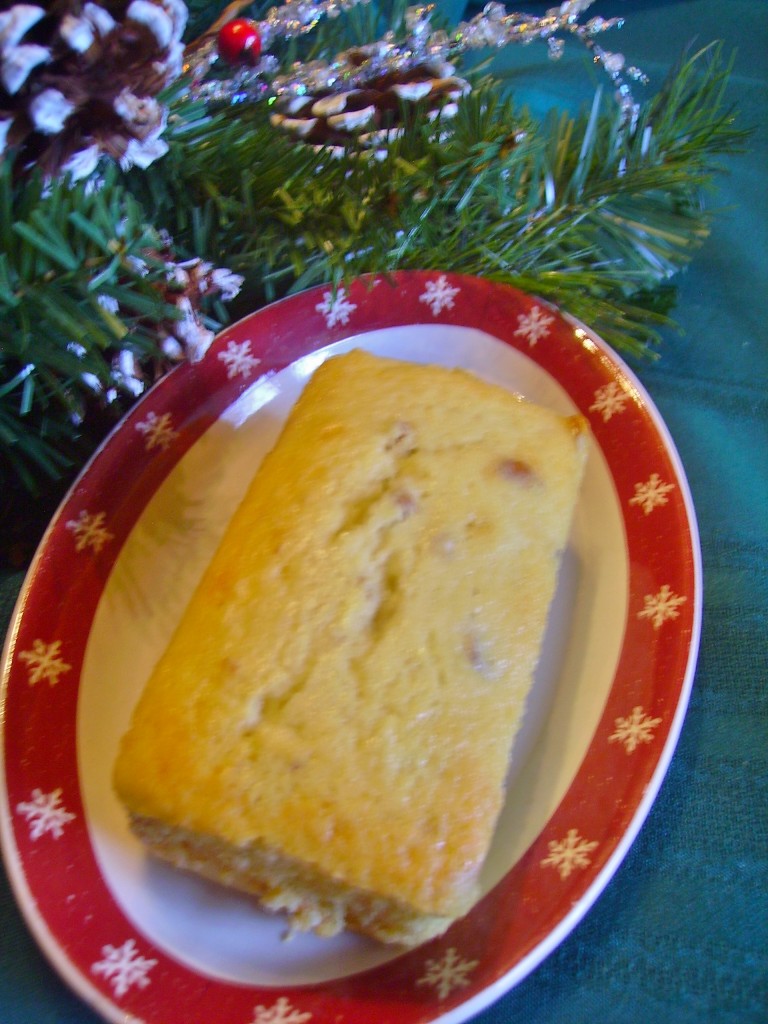 Pumpkin Bread is a holiday staple. Once again almost every recipe called for walnuts. I have nothing against walnuts, I just don't have any in the house. I did have Pepitas, shelled, roasted and salted pumpkin seeds. How weird is that? Having pepitas and not walnuts, that is. It seemed like a fair swap, so here's the recipe.
Preheat oven to 350 degrees. Spray and lightly flour two 9X5 or eight mini loaf pans. Whisk flour, cinnamon, spice blend, baking soda & powder and salt together in a medium bowl, and set aside.

in a large bowl beat together the sugar and oil. Mix in the eggs and pumpkin. Add the dry ingredients and stir just to combine. Mix in the Pepitas (I left them whole, but you could coarsley chop them).

Divide the batter evenly into whatever loaf pans you are using. Bake approximately 1 hour for large pans; approximately 30 minutes for minis. The loaves are done when a toothpick inserted into the center comes out clean. Cool in pans on wire racks for 10 minutes. Use a thin sharp knife to go around the edges of the pans. turn the loaves out and cool completely on the racks
My holiday baking is officially under way and the freezer is brimming with mini loaves.  Now if I could just get a jump-start on my Christmas shopping  …
I've made a list of cookies and checked it twice.                                                                        I'm baking for Christmas and that's really nice…Sorry
       Love, Mama D