Food love comes in many shapes and sizes. Coming off Thanksgiving dinner where each dish was beauty unto itself while being part of the whole, it's time to get back to basics. For Mama D cooking is designed to fill the stomach and the soul with love. That it be easy, straight forward, and economical is also a given. If you've been following my musings, you know that I do a lot of recipes that are created in one vessel. The time has come to devote a few more words and share a couple of recipes that cook in one pot.
What kind of love can you create in one vessel? Soup immediately comes to mind and Mama D does a lot of soup. It is perhaps the consummate one pot meal. I've shared many Soup Adventures so I will head in a completely different direction.
I'm a fan of the Bar Cookie. While not a meal, at least for most of us, it is created in a single vessel. As the holidays thunder towards us, cookie baking will be a common occurrence. i usually don't make bar cookies at Christmas, but the rest of the year they are my go to sweet. They mix quickly and there's only one pan to bake. It's sweet perfection.
This recipe came from a woman's magazine sometime in the mid 70's. I made it several times back then and relegated it to my metal recipe box. Low and behold on a recent flip through the box I found it again.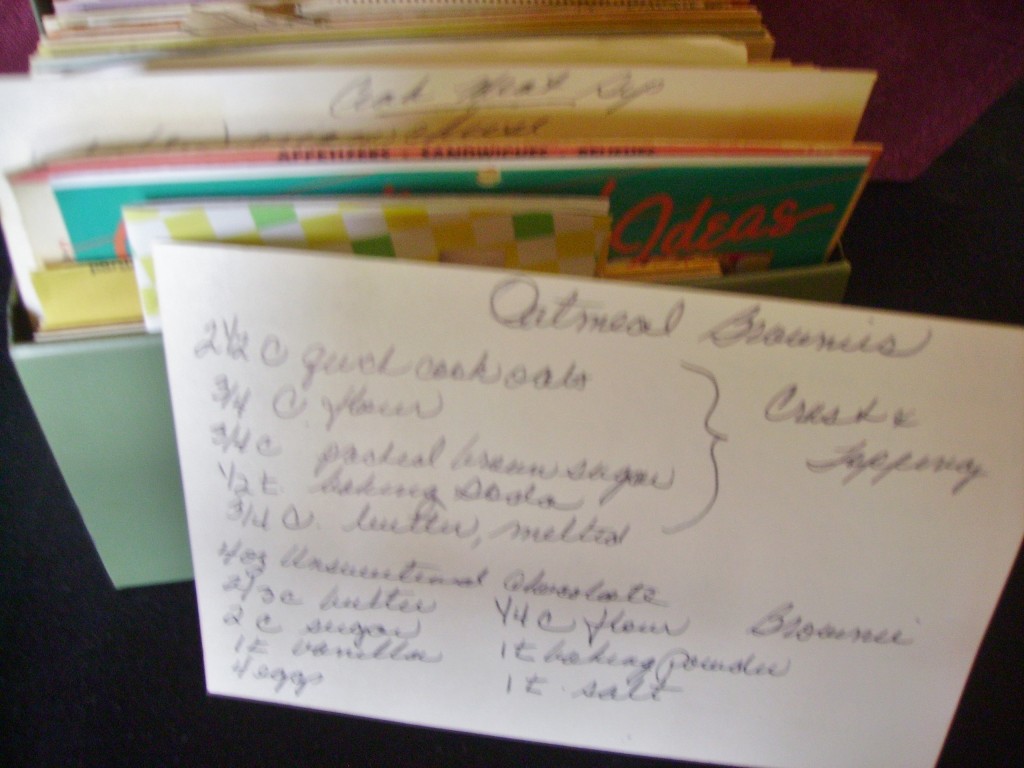 I had all the ingredients on hand and felt the need for homemade brownies, so I dusted it off and popped it in the oven. Though it was made using two mixing bowls, it qualifies as one pan, because that's how it bakes. (Mama D Rule)
This is a brownie with a bit of crust, in a good way. Rich brownie is sandwiched between a buttery oatmeal crust. The ingredients are for two parts of the recipe. The first five are the crust; the rest are the brownie.
| | | |
| --- | --- | --- |
| | | This is a brownie with a bit of crust, in a good way. Rich brownie is sandwiched between a buttery oatmeal crust. The ingredients are for two parts of the recipe. The first five are the crust; the rest are the brownie. |
Heat oven to 350 degrees. Spray a 13 X 9 pan with cooking spray.

In a large bowl, mix the first 5 ingredients until blended. This will be very crumbly. Set aside 3/4 Cup of the mixture. Press the rest of the mixture into the bottom of the prepared pan.. Press this down firmly. Use wax paper to help get an even layer. Bake for 10 minutes. Let cool for 5 minutes.

Meanwhile, heat chocolate and 2/3 cup butter in a saucepan over low heat until melted, stirring occasionally. Remove from heat and cool slightly. Stir in Granulated sugar, eggs and vanilla.

Combine the 1-1/4 cup flour, baking powder, and salt with a wire whisk to aerate and mix. Add these dry ingredients to the chocolate mixture. Stir until blended.

Spread the batter over the oatmeal base, spreading to create an even layer. Sprinkle the reserved oatmeal mixture on top of batter. Bake 30 minutes or until the center is set. (toothpick test does not work) and the oat topping is golden brown.
Over the years One Dish Meals have been a staple in Mama D's Kitchen. Stews, Casseroles, Skillets, and who can forget Slumgullion? There are a handful of dishes in my arsenal that result in ultimate kudos from my family. Surprisingly the number one dish in my sons' eyes is Barbecue (or not) Pork Fried Rice. Being almost fatally Italian, that hurts a little, but I have to admit I like it too. It has a number of comfort food qualities. It has a significant starch factor with the rice. The savory flavor of the sauce creates that Umami sensation that is so intriguing. Finally the slightly chewy rice, crusted bits of pork, and the crunch of the green onions make each bite a perfect mouthful.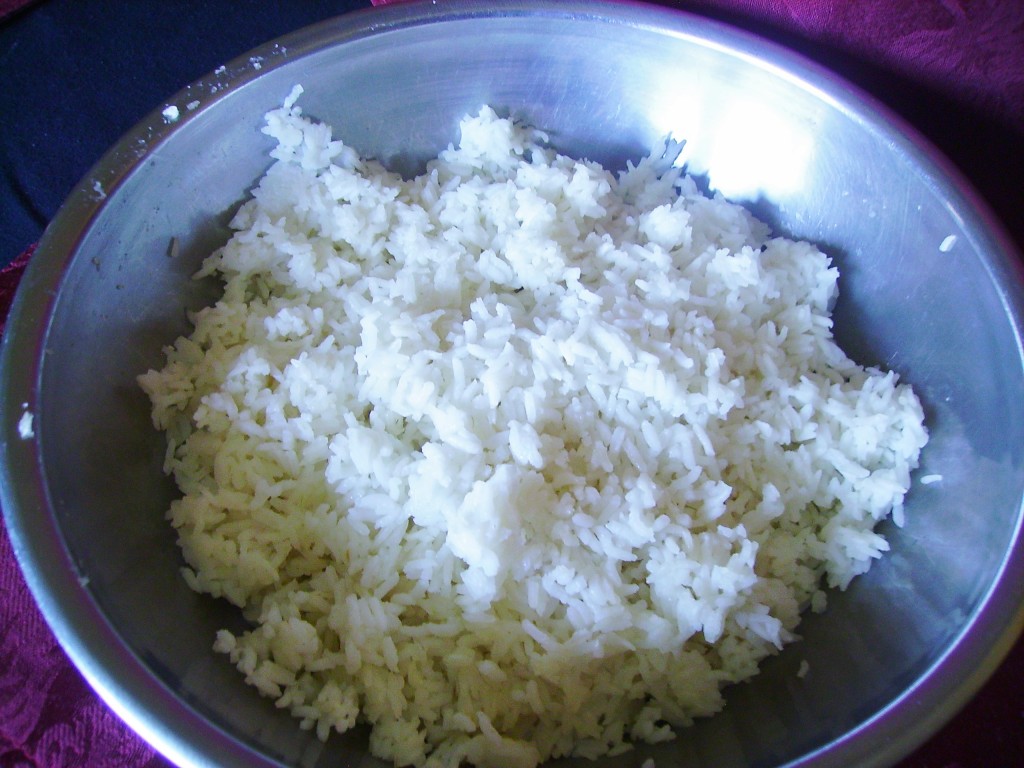 This recipe takes a little extra time for preparation. The rice needs to be cooked al dente the night before. This is to insure that the grains stay separate in the frying. The meat which is leftover pork of one cut or another, gets marinated overnight in Asian goodness. When the final preparation happens it's about 30 minutes. Just enough time to have a glass of wine as you stir.
I originally made this dish with leftover barbecued pork steak or country ribs (hence the name). That is still my first choice but, any leftover cooked pork will work. Pork Loin roast is a great alternative. It's lean, cubes easily and holds up to what will be a fairly hot and long cook. Whatever seasonings were in the original cooking of the pork will virtually disappear in the marinating process.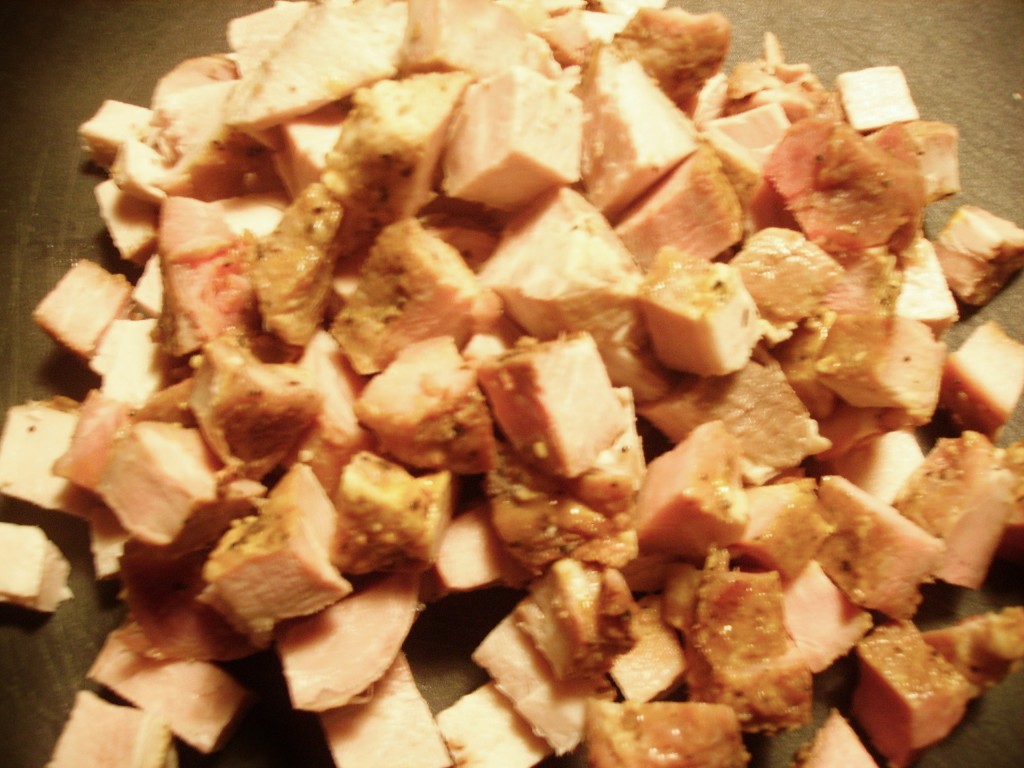 This Fried Rice packs some heat. The spice is provided by Fresh Chili and Garlic Sauce,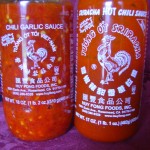 It is the chunky cousin of Sriracha Sauce and the step brother of Sambal. It is available in most grocery stores and can be used anywhere you want to kick the heat up. Use as much or as little of this as you like. Five Spice Powder gives that Asian flavor to the dish. This spice blend is made of Star Anise, Cloves, Chinese Cinnamon, Sichuan Peppercorns, and Fennel Seeds. You can find it in most spice sections or you can make it yourself. I actually prefer the store-bought. These are joined by Hoisin Sauce which is also readily available. It has a sweet, salty, slightly earthy taste and is occasionally called "Chinese Ketchup". These ingredients are where we get Umami ( the fifth basic taste that can be translated as "pleasant savory taste") in this dish.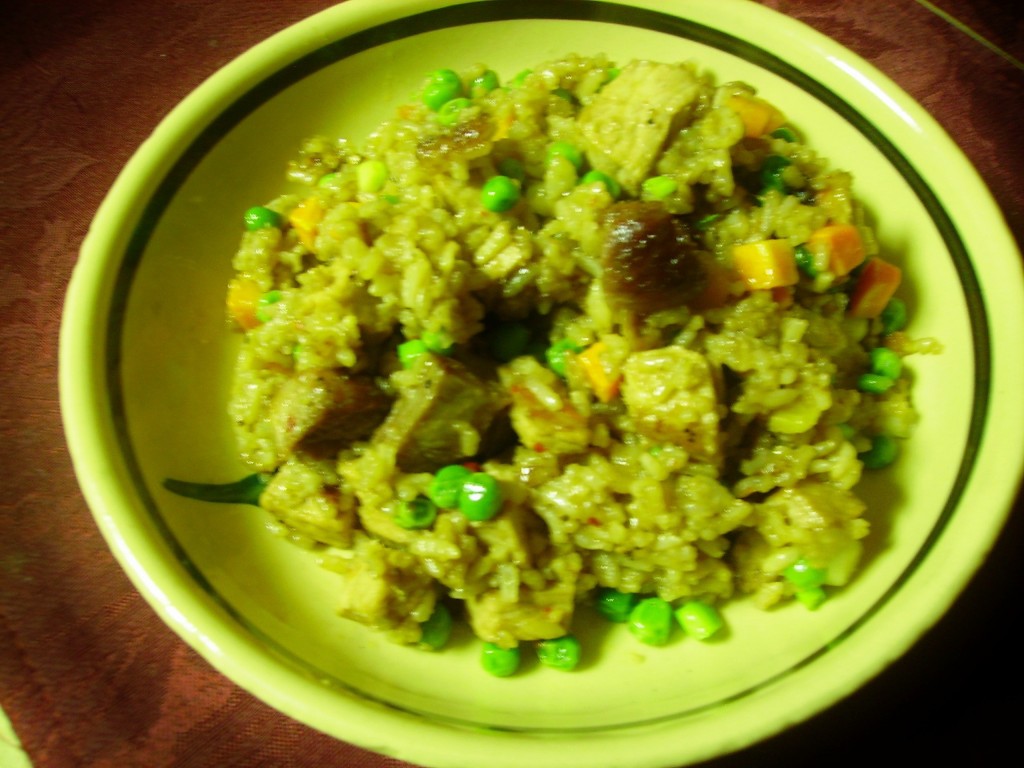 A hearty and savory one dish meal. It's a great way to use leftover pork (or any other leftover meat).
| | | |
| --- | --- | --- |
| | | A hearty and savory one dish meal. It's a great way to use leftover pork (or any other leftover meat). |
Mix the Asian Dressing, 1 Tablespoon Chili Garlic Sauce,1 Tablespoon Sesame Oil, 1/4 Cup Hoisin Sauce, and 1 Teaspoon 5 Spice Powder together. Place Pork cubes in a zip top bag. Add the combined marinade ingredients. Seal the bag and toss and knead to coat the the pork with marinade. Marinate in refrigerator overnight.

When you are ready to prepare the rice, heat a wok or very large fryi pan over medium high heat. Add the canola oil and the remaining tablespoon of sesame oil to the pan. Heat for 1 minute then add the rice. Toss until all of the rice grains are coated. Fry tossing occasionally 5 minutes. or until rice is just taking on some color.

Add soy sauce and remaining 5 Spice Powder to the rice. Toss to mix and continue to cook 5 minutes or so, stirring occasionally. The rice should become light golden and have some crusty bits.

Add the pork and marinade to the pan and toss to combine. (It is okay to add the marinade since the meat is already cooked and has been in the refrigerator.) Add the remaining Chili Garlic Sauce and Hoisin sauce to the pan. Cook the rice and meat 5 - 8 minutes more tossing frequently The rice should get a little darker and the pork should begin to caramelize.
As this blog grows, I'm sure that more one dish adventures will be continue to show up from time to time. I'm guessing that there are more single vessel fans out there. I'd love to hear about your One Pan Wonder.   Love, Mama D