If chicken stock is  "liquid gold" then Vegetable Stock could be called "liquid green". Not only are many of the ingredients green in color (though the stock will be a lovely yellow), making it can be somewhat of a "green" activity.  Vegetable stock in Mama D's Kitchen (and many other kitchens I'm sure) is made from scraps. The ends of asparagus, broccoli and mushroom stems, scallion and leek tops can all go into this stock. "That's a lot of vegetable scraps, Mama D," you may be saying to yourself. "Have you gone vegan?"
No, I'm still an unashamed omnivore, just a frugal one. When I'm prepping vegetables, I save the clean parts that aren't worthy of being part of the dish. There's always a large zip top bag in my freezer door (that way I see it every time I open the freezer) that is home to many odds and ends of the vegetable world. Once the bag is full, usually in a month or so, I'm ready to make stock.
I start with fresh onions and garlic that I sweat in the soup pot. Then I add the vegetables (still frozen) a little salt and let them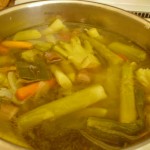 sweat, wilt,, etc covered for 15 minutes or so. It's time for water, lots of it… As with any great stock, time and the stove do the rest of the work. Once the stock comes to a boil, it gets covered and the heat gets turned down low. The love simmers in and the intriguing fragrance of vegetables that you can't quite identify fills the kitchen.
After two hours or so of covered simmering the stock is ready to strain and store. This process is a little time-consuming, but worth the effort and it's much less, shall we say, "gross" than straining chicken stock.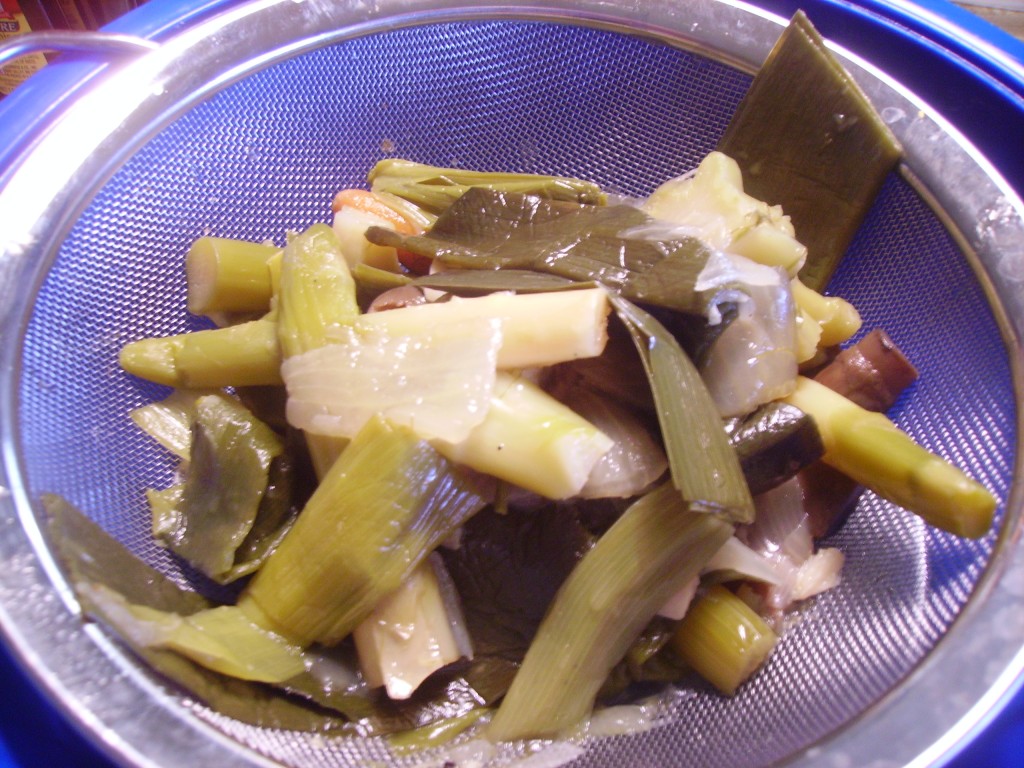 I usually strain it twice. Once in a fine mesh strainer then again in the same strainer lined with cheesecloth. This leaves the clear goodness that is ready to grace many dishes and get rid of any less desirable matter. Like all of the basic stock recipes this one has no seasoning except for a little salt in the sweating  step. This and any stock should be a blank canvas ready to take on the nuances of whatever recipe it goes into.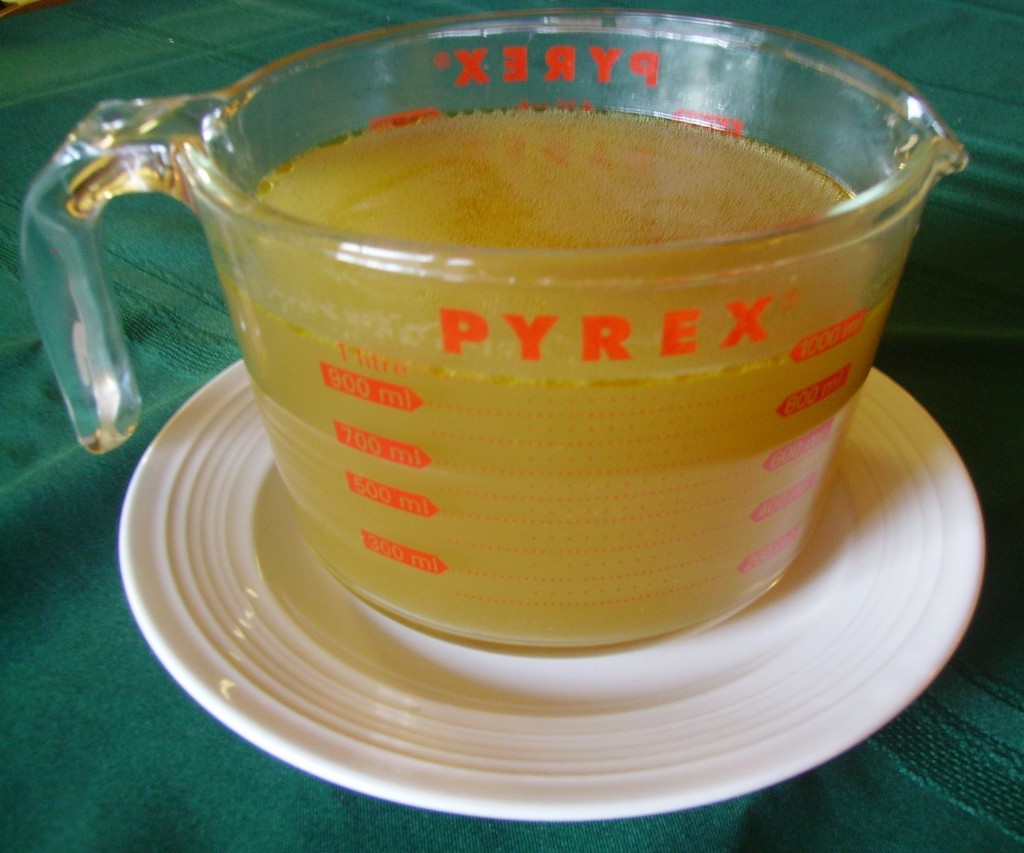 What kinds of dishes can vegetable stock be used in? Well, soup of course, but it is great for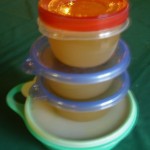 cooking rice, quinoa, and other grains. It makes a nice sauce base for pasta and vegetable dishes. It can be thickened for a gravy or a casserole base. This stock will keep in the freezer for several months. I store it in varying sizes of containers so that I can use just the amount I need. It also makes it easier to fit into the odd nooks and crannies that seem to be the only space I have in my freezer.
Heat a large soup pot, Add the olive oil and let it heat a bit. Add the onion and garlic and cook over medium heat until the onion softens slightly and the garlic becomes fragrant, 8 minutes or so.

Add the vegetable scraps (it's fine if they are still frozen) and salt to the pan. Toss to mix with onions, garlic, and oil. Cover and let the vegetables sweat, steam and thaw. This takes 15 minutes or so depending on the amount of vegetables you have.

Add the water to the vegetables in the pot. Cover and bring to a boil. Reduce the heat to a simmer and continue to cook covered stirring occasionally 2 hours or so.

Strain the soup through a fine mesh strainer,then strain again, this time through a cheesecloth lined mesh strainer.

Fill recipe sized containers with the stock. Store in the freezer for up to 3 months or so. The stock can be kept in the refrigerator for 4 days
So, be frugal, be cleaver, and give those vegetable scraps a new life.
Love, Mama D