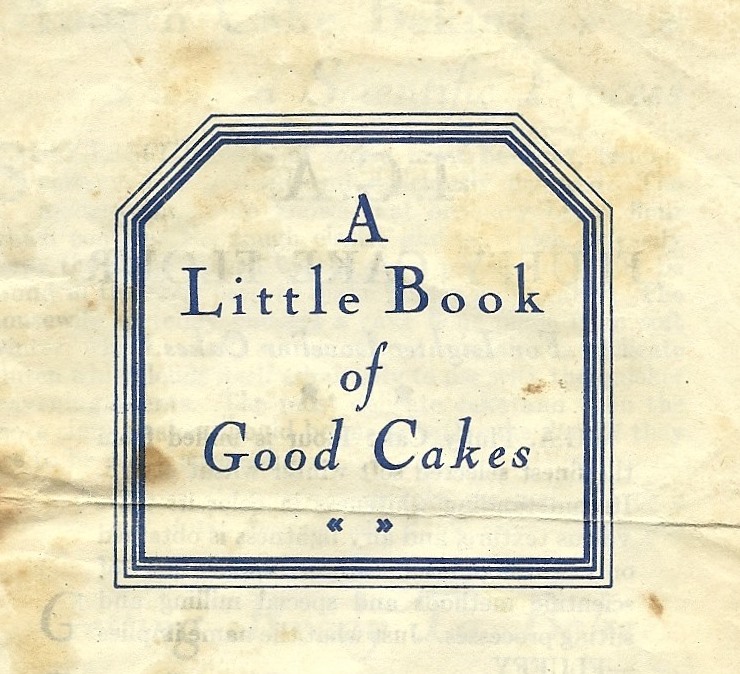 When it comes to baking the possible Undisputed Queen of the Oven is Cake. Cookies and breads, muffins and pies, all are wonderful in their own right, but cake is something bigger. Baking a cake is kitchen chemistry at it's finest. Cakes have been around since man discovered flour, Check out this brief but entertaining  History of Cake for more information.
When I was growing up cake was always the star of the dessert table at special occasions. Birthday cakes were always homemade, and often cakes were made for no special reason at all. Cake was the go to dessert in the fifties and I'm sure long before I was licking beaters and sneaking a finger full of frosting, cake was every wife and mother's testament to good baking.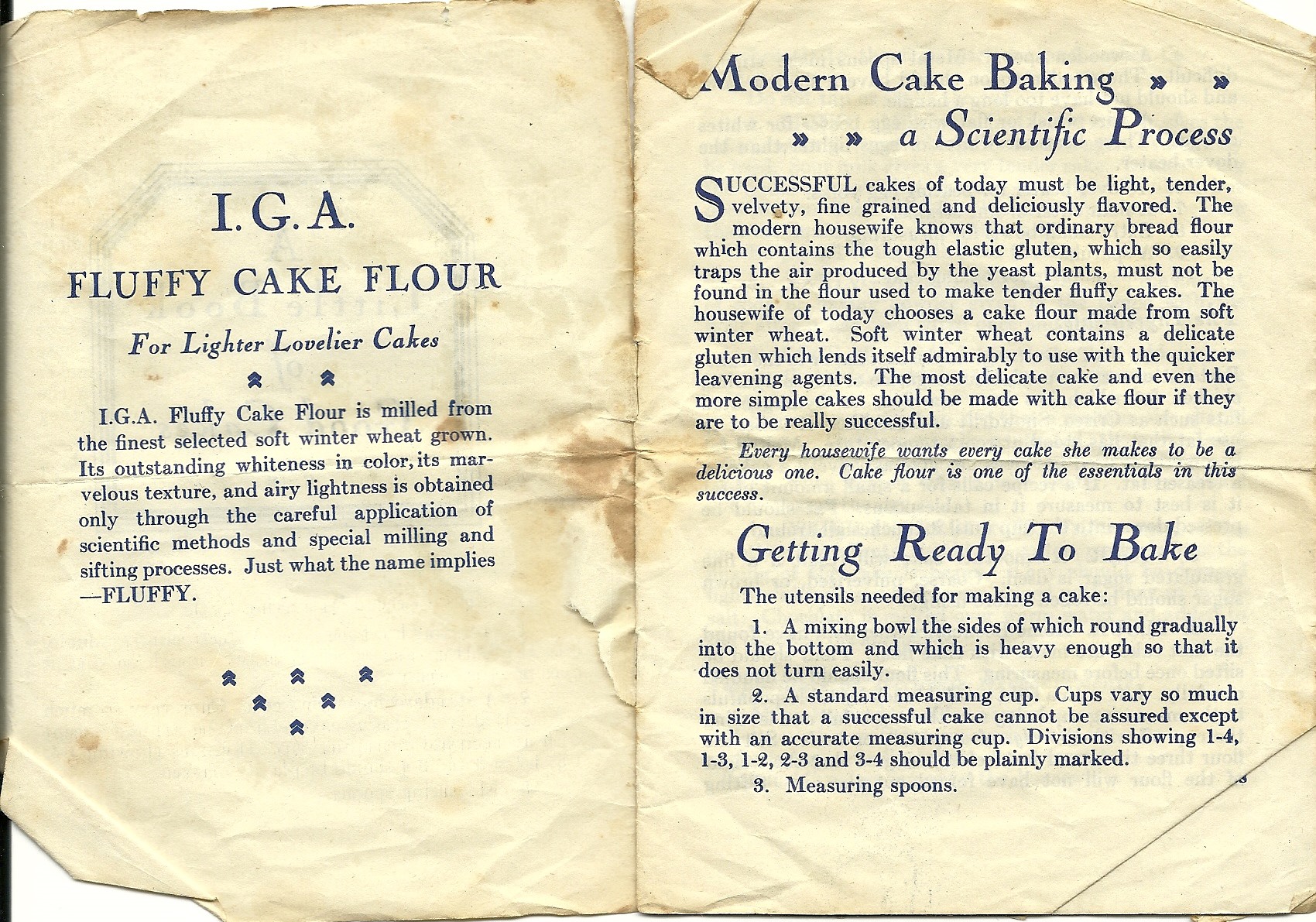 My mother had her go to cakes; the ones that she could probably make in her sleep but that always earned her high praise. The two I remember the most are Carrot Cake and Banana Cake. Her Carrot Cake was a straight forward take on the popular recipe. It was a one bowl wonder that included walnuts, carrots of course, and cinnamon. No raisins or pineapple. not even cream cheese frosting. This was the essence of carrot cake resting atop a  fluted milk-glass cake stand. Baked in a tube pan, it sliced into moist and  tender wedges.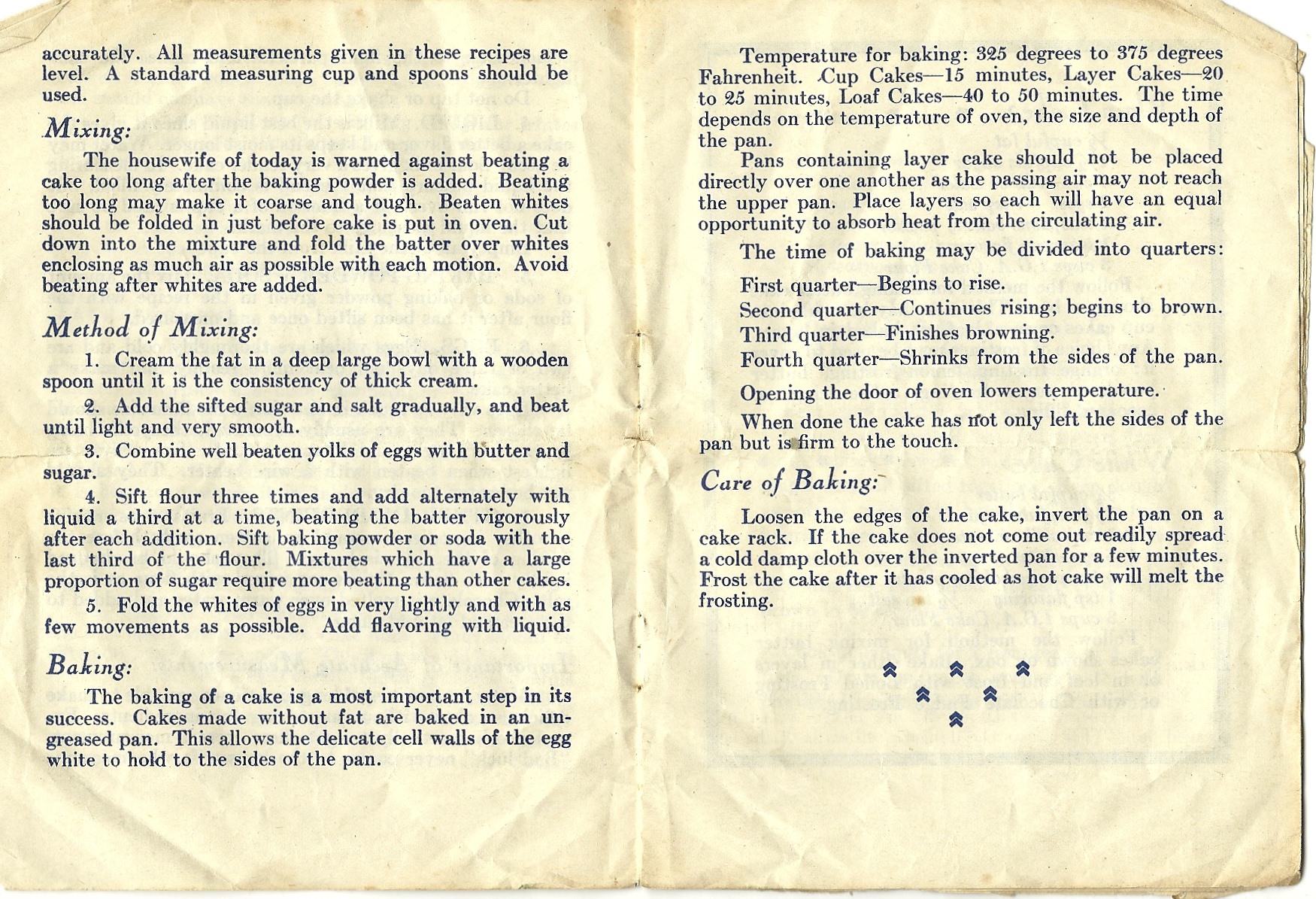 Her Banana Cake was also a study in less is more, so much more. It was a "2 Egg Sour Milk Cake" with the special addition of ripe mashed bananas, baked in a 13 X 9 inch pan that featured her never duplicated Buttercream Frosting. I say it's never been duplicated because I've never been able to make it properly, even with the recipe right in front of me. It turned out so abysmally that I stopped trying about twenty years ago. I have however, made a promise to myself that I will master this "Dough Frosting" and when I do, I'll share it right here.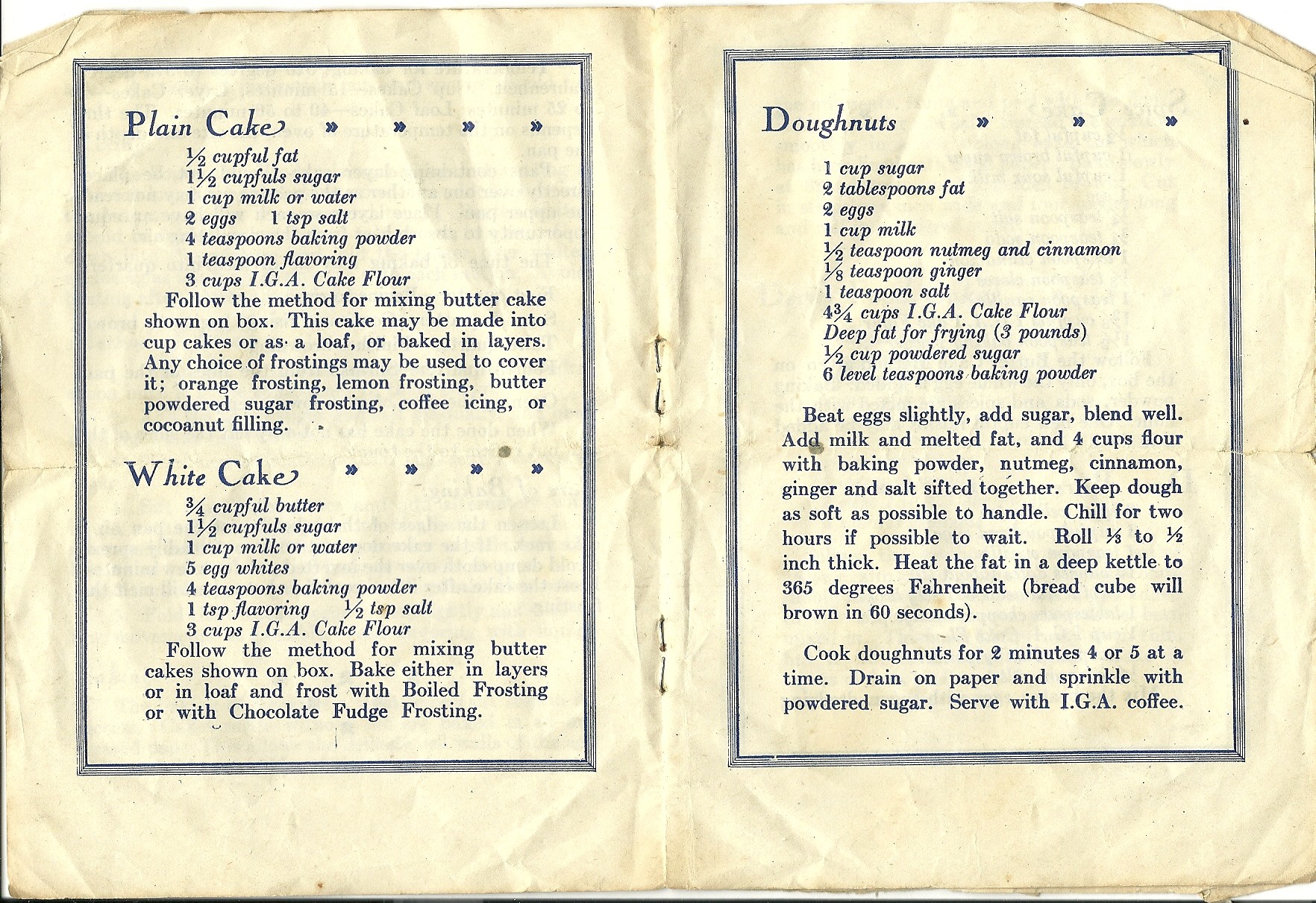 Neither of these cakes is appearing in this post. Due to the copious amount of "family recipes" that I've amassed over the years and filed away in no apparent order. I just found them this morning. Speaking of family recipes, I found this Little Book of Good Cakes  in my husband's Grandmother's wooden recipe box. It was a free booklet given away with IGA cake flour. Unfortunately, it isn't dated and other than someone who has one to sell, I didn't find any more information on it. My guess is it dates from 1950 or earlier. It covers almost everything  you'd find in a modern (high priced) cake cookbook in fourteen pages, with some darn good recipes to boot.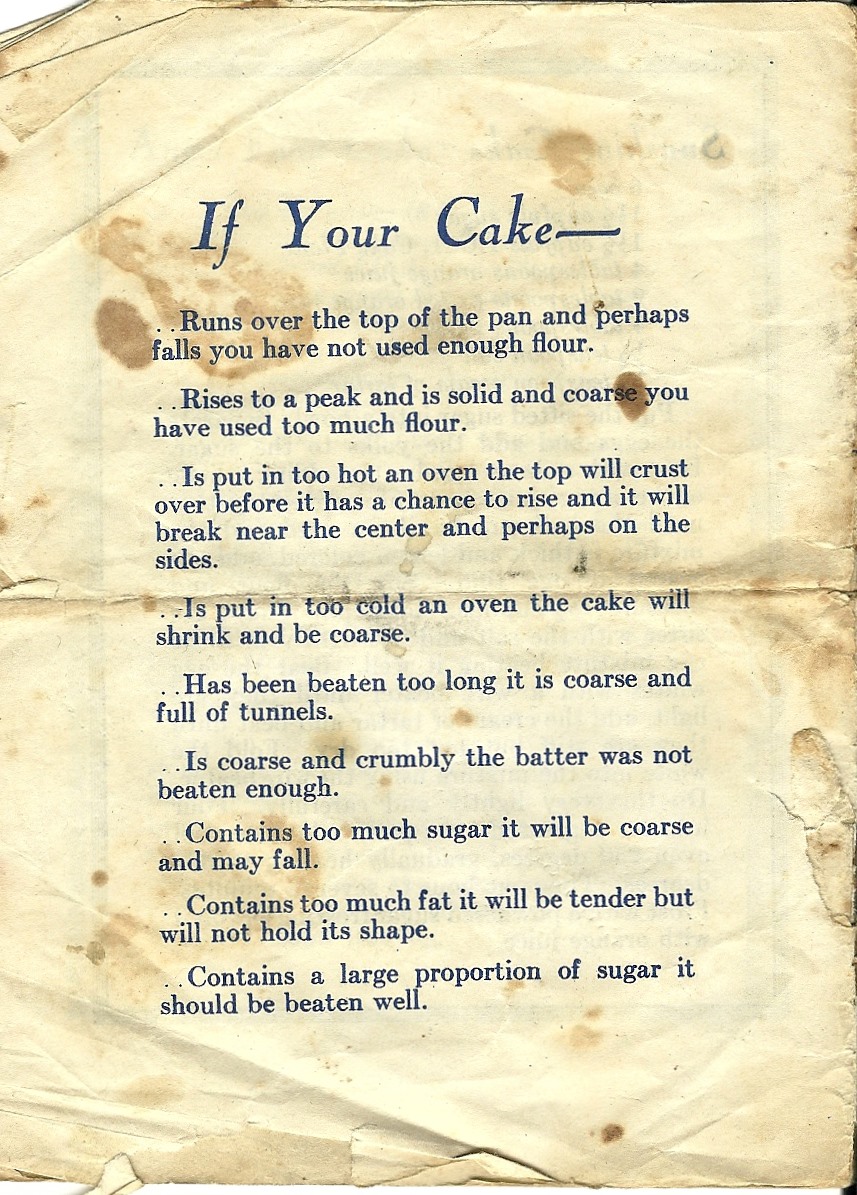 There is a cake recipe in this post. It's been my "go to" cake for over thirty years. It is partly homemade since it uses Cake Mix and Instant Pudding. Yes it's that workhorse home-baked treat from the seventies, The Pudding Pound Cake (aka Bundt Cake). I think Duncan Hines may have created the recipe. If not, they were responsible for furthering its popularity. It's an easy sell. Simple to make, fancy looking, and possessing endless variations, it is comfortable on a party table or on a chipped cake plate as Wednesday night dessert.
It has traditionally been made in a bundt pan. The fluted tube pan that became the darling of baking in the sixties. Traditionally I've made this cake in a bundt pan. Sadly, my bundt pan in all its Avocado Green glory went to the Teflon graveyard several months ago and I haven't replaced it yet. This Marble Pound Cake had to be baked in loaf pans. Ironically the cake mix package recipe called for two loaf pans…Could it be  a sign of the times?
The ingredients are simple. Cake mix, pudding mix, eggs, water and oil.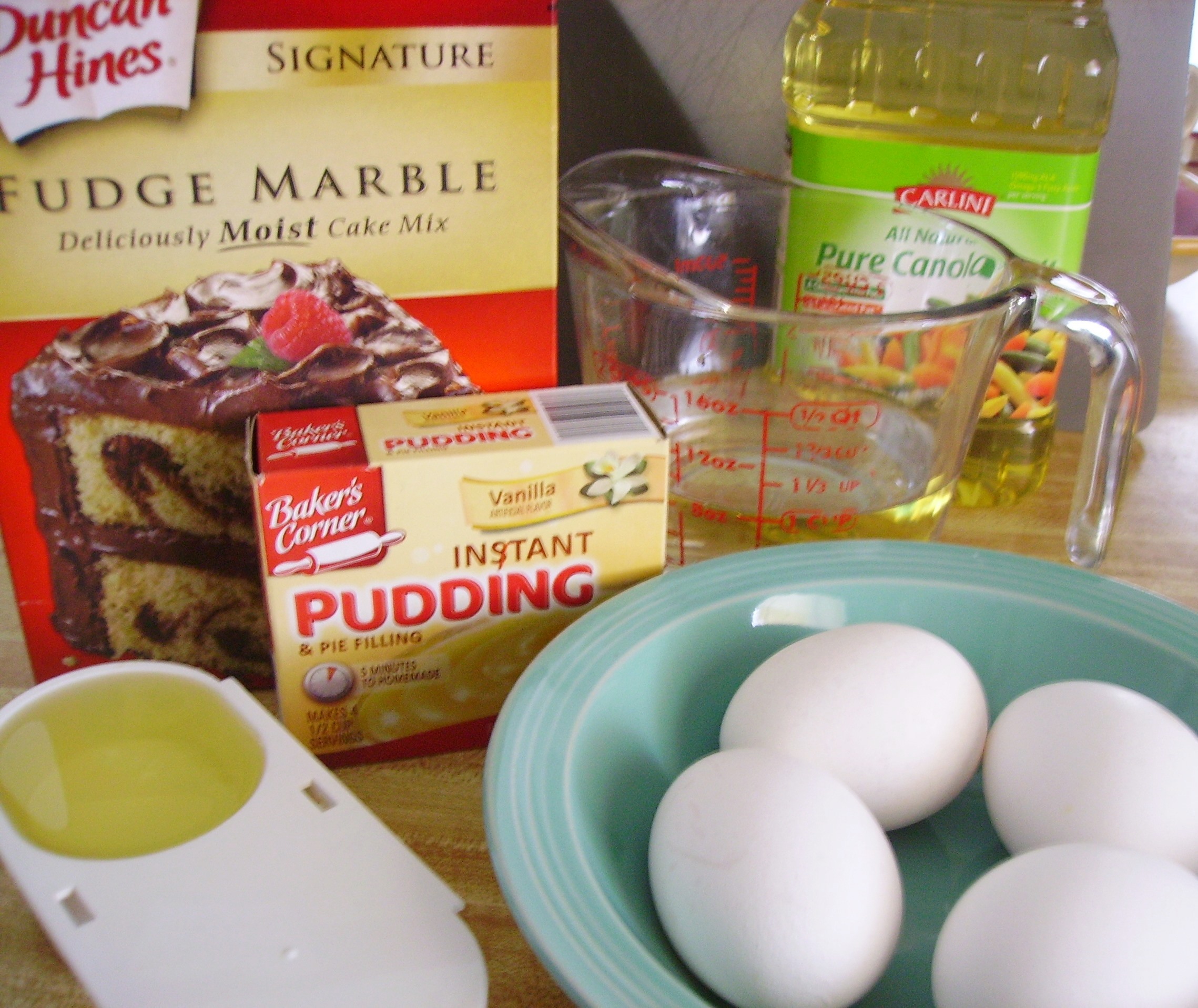 The ingredients are beaten until they become light and fluffy. This only takes a few minutes, but more than the 2 minutes that the recipe suggests.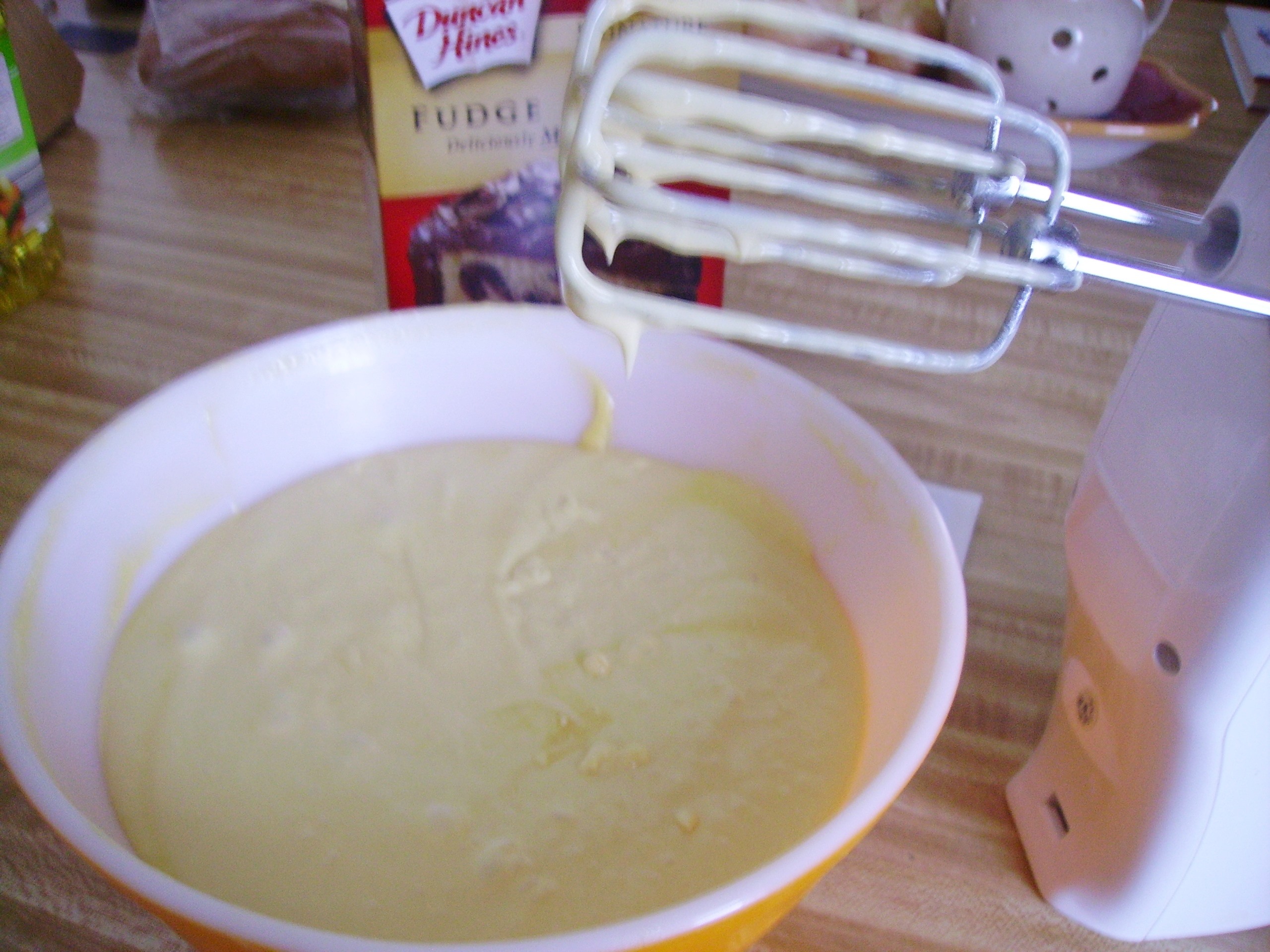 One cup of the batter is removed   and combined with the chocolate packet in a small bowl.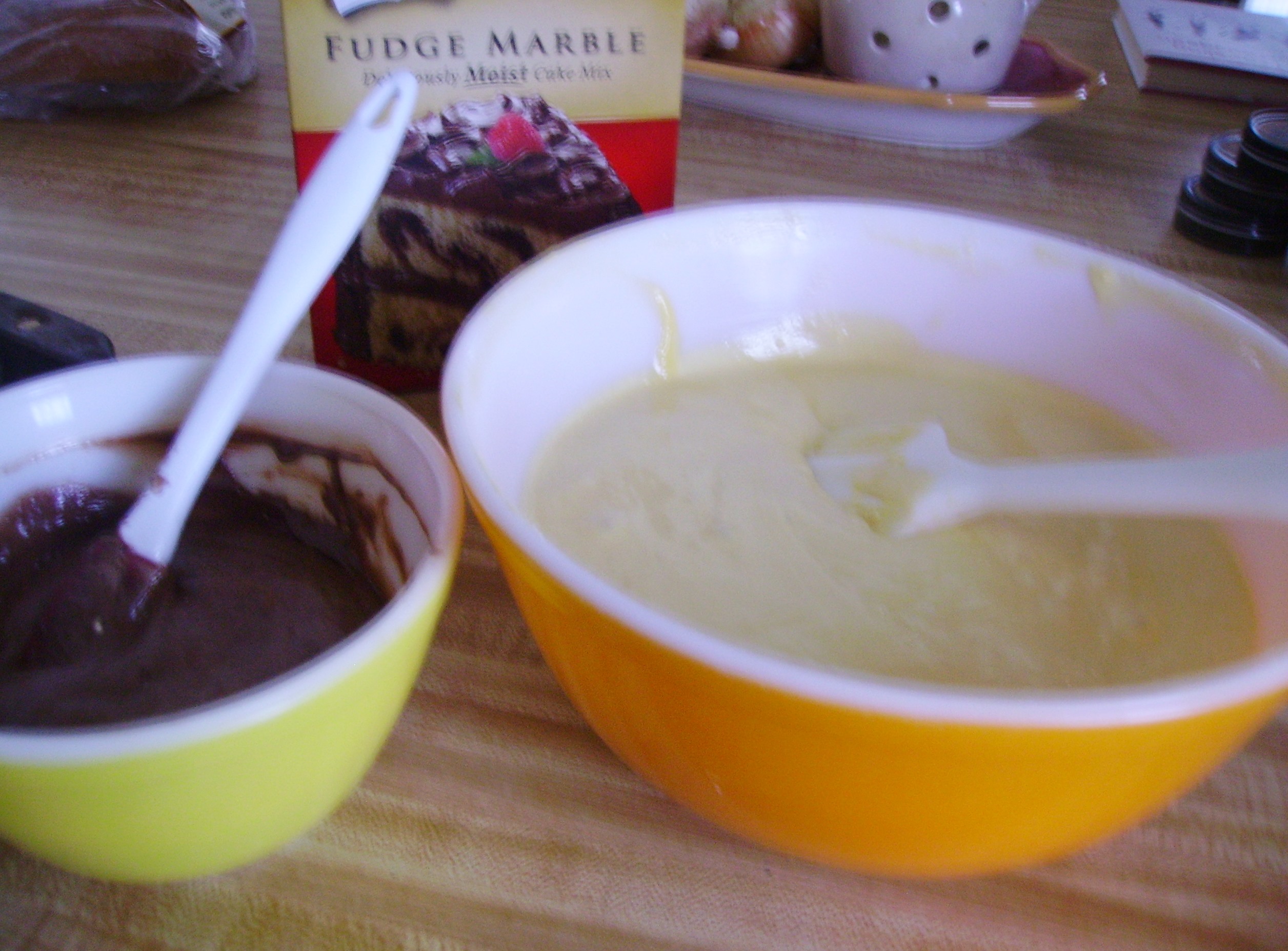 The batter is divided between the two prepared loaf pans and swirled to create the marble effect. Then it's off to the oven to bake for about 45 minutes.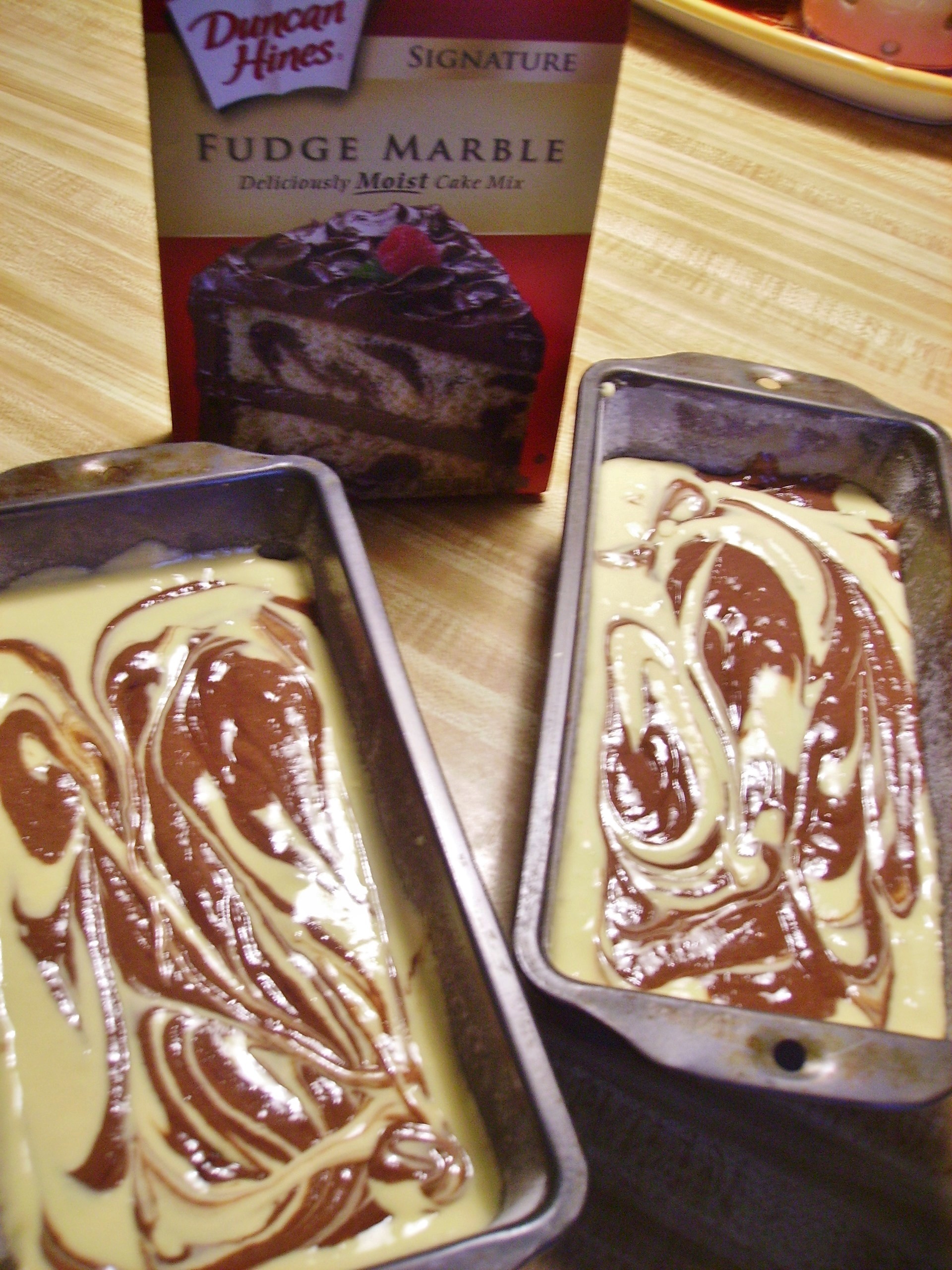 Once baked and cooled they are ready to glaze. Taking a page from my mother's minimalist tendencies, I chose to leave them "au natural". This cake is however, wonderful with a chocolate glaze that sensuously drips down the sides of the cake and impresses one and all when it is in the classic bundt shape.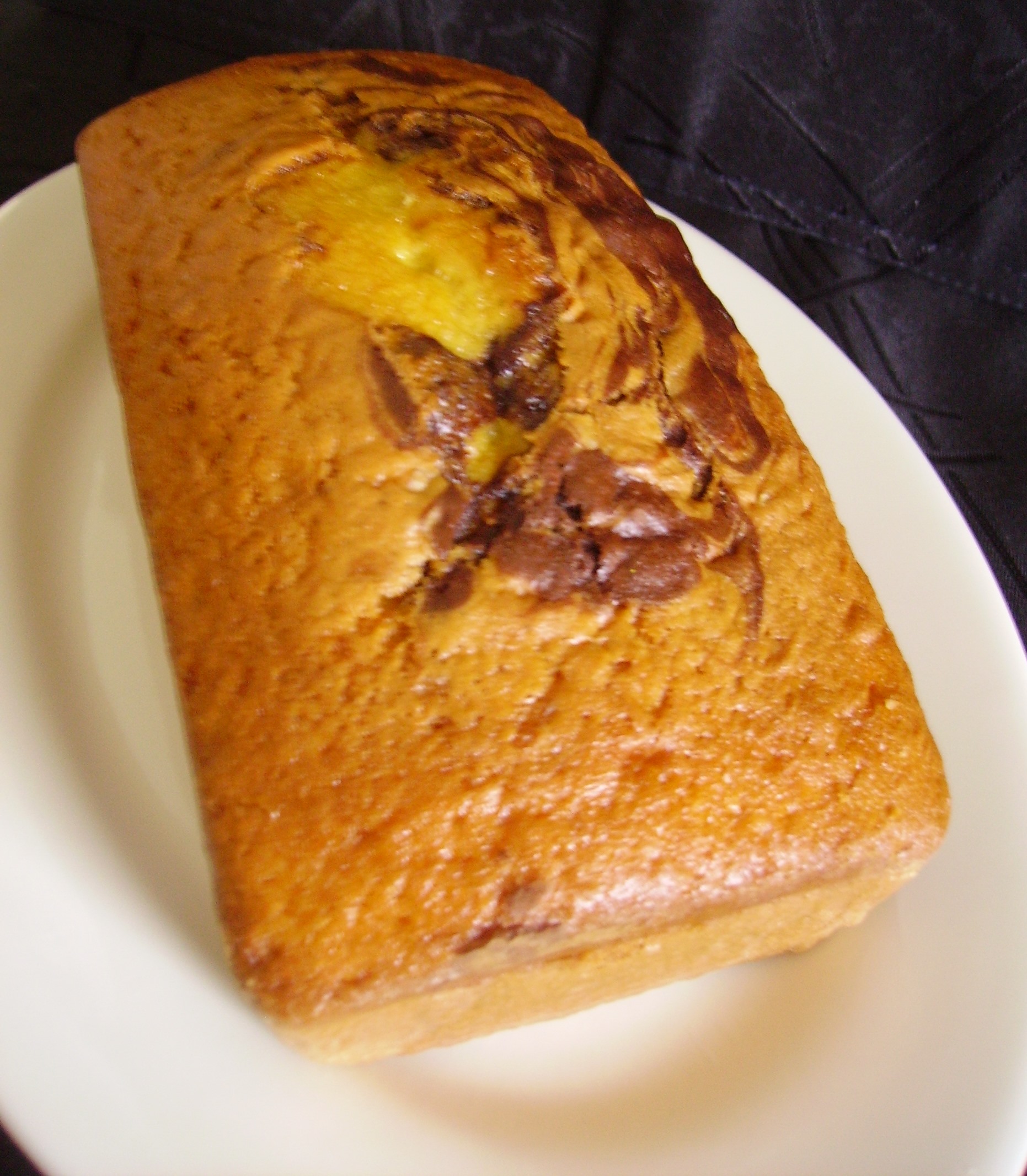 This recipe is fancy enough for company and easy and inexpensive enough for no occasion in particular. It is also open to infinite variations by changing the cake mix or the pudding mix or if you feeling exceptionally randy, adding nuts or chips or …
A classic recipe for "bundt cake". Easy to make and adapt for limitless variations. oh, and it's really tasty.
| | | |
| --- | --- | --- |
| | | A classic recipe for "bundt cake". Easy to make and adapt for limitless variations. oh, and it's really tasty. |
Ingredients

Servings: Servings

Instructions
Pre-heat oven to 350 degrees. Combine the mixes, oil, water, and eggs in a large mixing bowl. Reserve the chocolate cake mix packet for later.

Using a hand mixer, combine the ingredients at low speed until just blended.

With mixer on medium high, blend for 2 - 3 minutes until the mixture is light and fluffy and all the lumps are gone.

Remove one cup of the batter and put in a small bowl. Add the contents of the chocolate packet and stir to completely incorporate.

Prepare pan(s). Spray evenly with cooking spray. Sprinkle approximately 1 tablespoon of flour into each pan and tilt and shake to lightly cover the bottom and sides. Tap out any excess.

Divide the vanilla batter between the two pans. If using the bundt pan pour all of the vanilla batter into the pan and shake and tap to distribute evenly.

Spoon the chocolate batter on top of the vanilla batter. Divide the batter if using two loaf pans or use all of it in the bundt pan.

Using a butter knife, swirl the two batters together, Using vertical and horizontal movements and reaching to the bottom of the pan(s).

Bake for 45 - 50 minutes for loaf pans or 50- 60 minutes for bundt pan. Cake is done when a toothpick inserted in the center comes out clean.

Remove from oven and cool in pans on wire rack for 5 minutes. Remove from pans and cool completed on rack.
 Happy Baking, Mama D