According to the calendar, Spring will be here in two weeks. According to what I see out my window… it may be here in name only. There is nearly two feet of snow in my yard, I have to put on a jacket to get the mail, and don't even get me started on the pot holes and giant snow banks.
For those of us in the Midwest this has been the Winter of Our Hibernation. As with many hibernating animals I have put on an extra layer of fat to sustain me through these frigid times. What was comfort from the cold is now displeasure in the mirror.
Comfort food gives us comfort, and I've taken more than my share of it lately. Now the time has come to look at  lighter and healthier food. First on the menu board is Quinoa  
This "super food" has been the darling of the food world for some time. It is rich in fiber and vitamins, and has essential amino acids that make it a complete protein. It cooks in the same manner and time as rice, but is a lot more interesting both in taste and appearance. The little spirals which are actually the germ make an interesting presentation especially in the red and black varieties.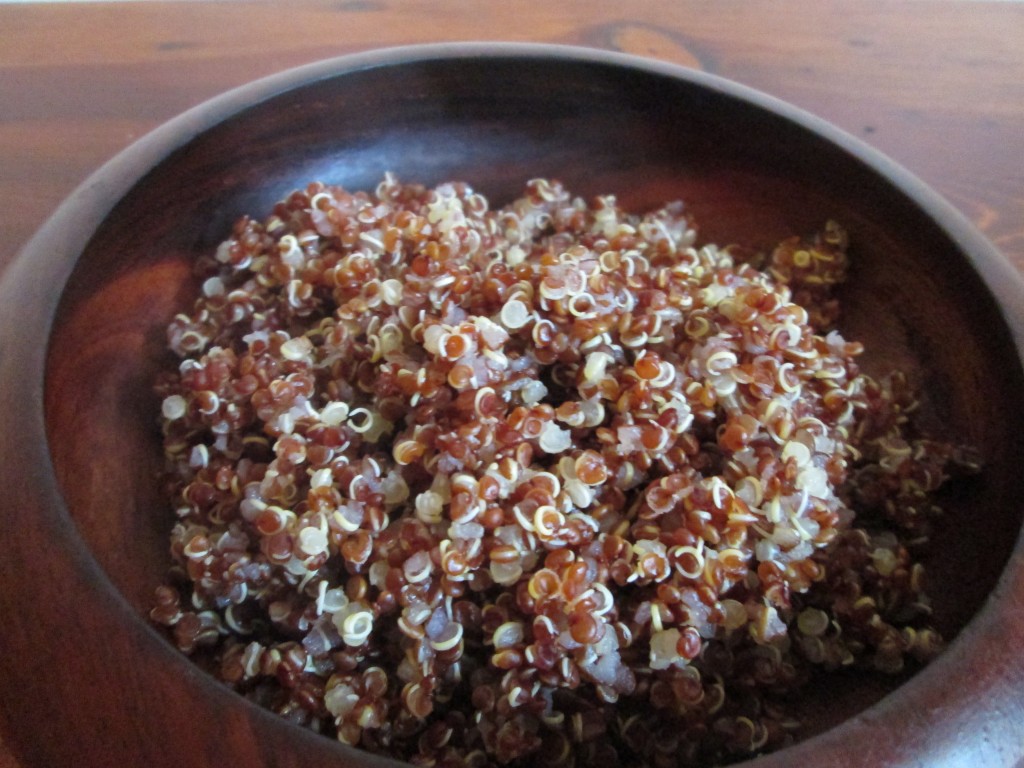 It makes a great side dish embellished or not, It can be eaten as a hot cereal for breakfast with dried fruit and a sprinkling of nuts. I haven't found a vegetable that it doesn't like, making  wonderful salads that put the  pasta variety to shame. I think Quinoa with a plethora of veggies and a light dressing is a great lunch or light supper.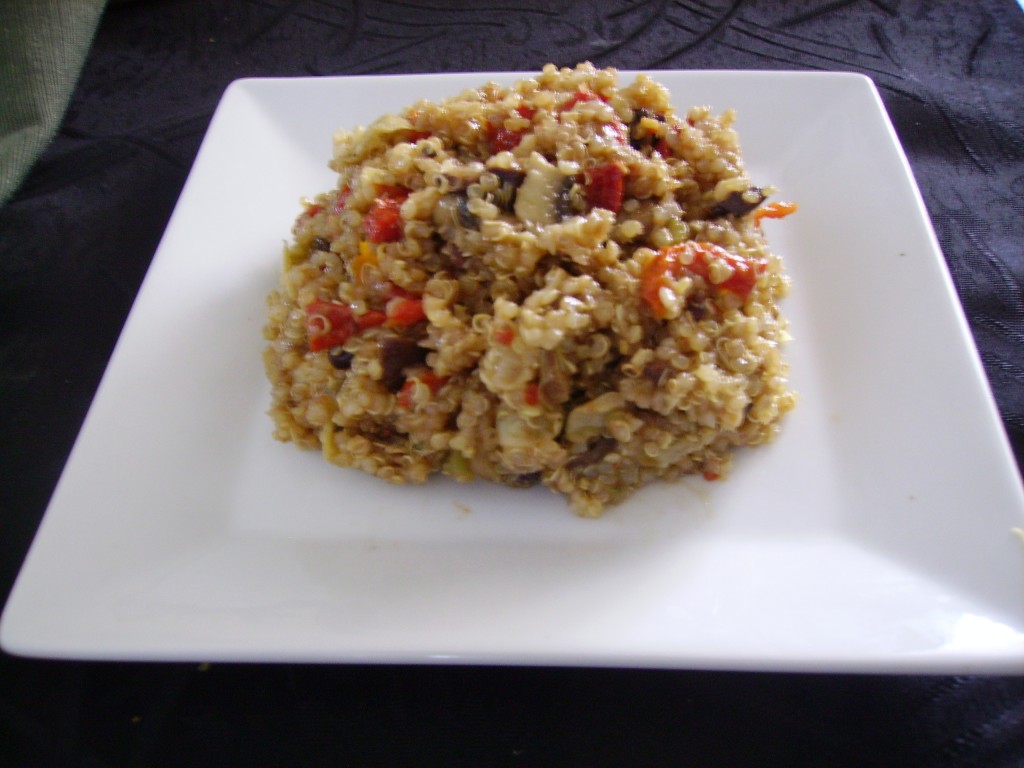 This is an Italian inspired salad. The quinoa is joined by sun-dried tomatoes, artichoke hearts, roasted red peppers, mushrooms and olives, Dressed with olive oil and balsamic vinegar, it is an antipasto tray that eats like a meal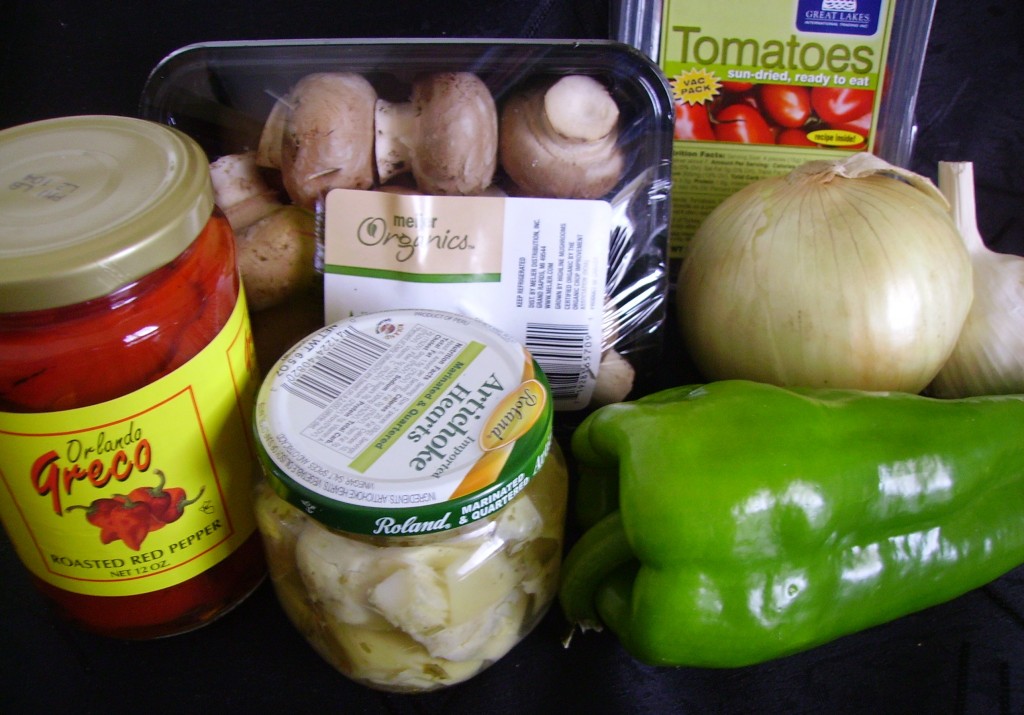 Instructions
Heat the 1 tablespoon of olive oil in a medium skillet. Add the onion and cook for 3 minutes. Add the Cubanelle and mushrooms. cook another 3 minutes. Add the garlic and cook 2 minutes more. Remove from heat and allow to cool.

Put the cooked quinoa in a large mixing bowl. Add the roasted peppers, artichoke hearts, sun-dried tomatoes and olives and toss to combine.

Add the cooled onion mixture to the bowl and toss once again.

In a small jar with a lid add all of the dressing ingredients (except salt and pepper). Close tightly and shake until the ingredients are emulsified.

Pour the dressing over the quinoa and vegetables and toss to coat. Cover and refrigerate for several hours. Remove from refrigerator 15 minutes before serving. Taste and add salt and pepper as needed.
Southwestern flavors also have an affinity with quinoa. This is possibly my favorite Quinoa salad. Roasted poblano peppers and corn, black beans, red bell peppers, onions and tomatoes are combined with cilantro, avocado and a garlic lime dressing.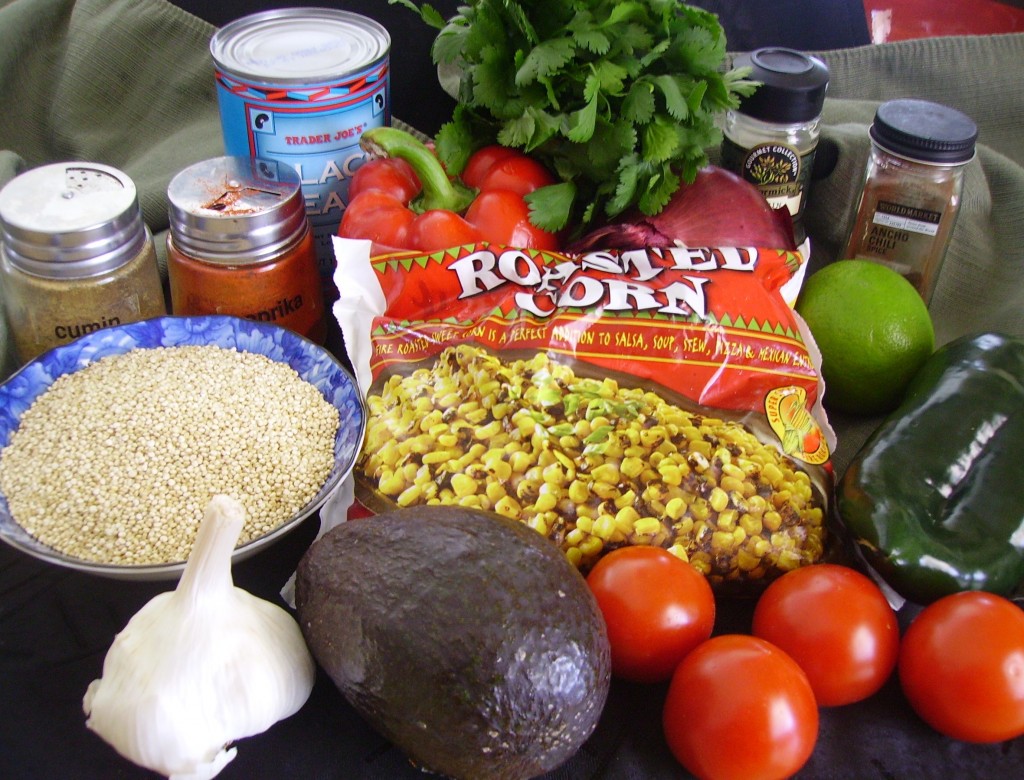 The Southwestern flavors coupled with the nutty chewiness of the quinoa make a one dish meal the is good and good for you. The veggies are chopped in small dice that compliment the quinoa and make for easy eating.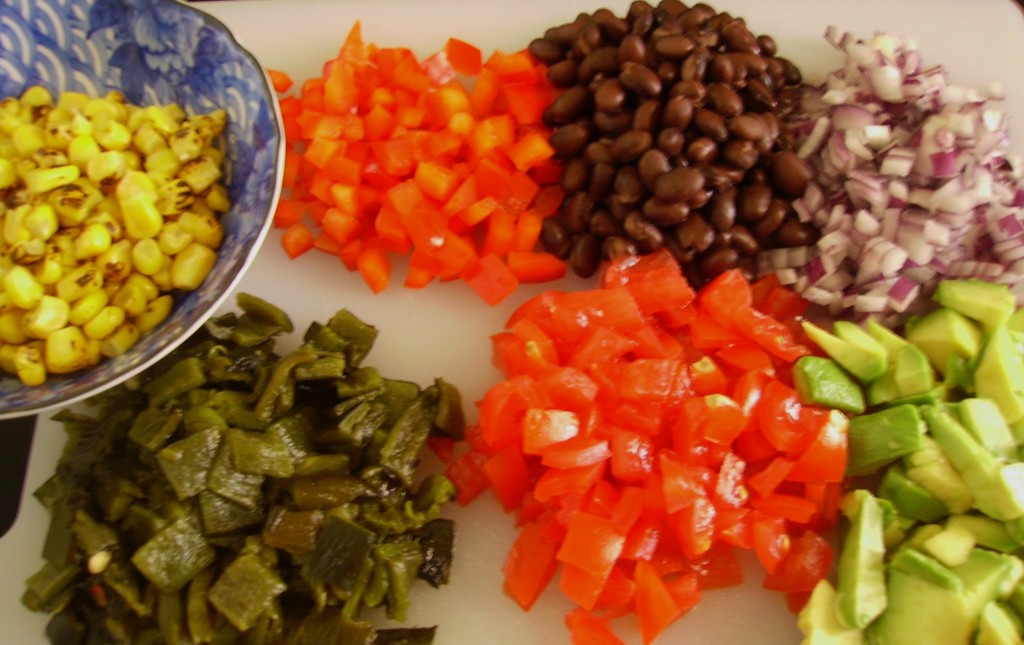 The dressing starts with canola oil that gently heats with minced garlic and cumin seeds. Lime zest, ancho chili powder, smoked paprika, and a touch of Agave Nectar combine with lime juice and ground cumin to create a flavor burst that brings the whole thing together.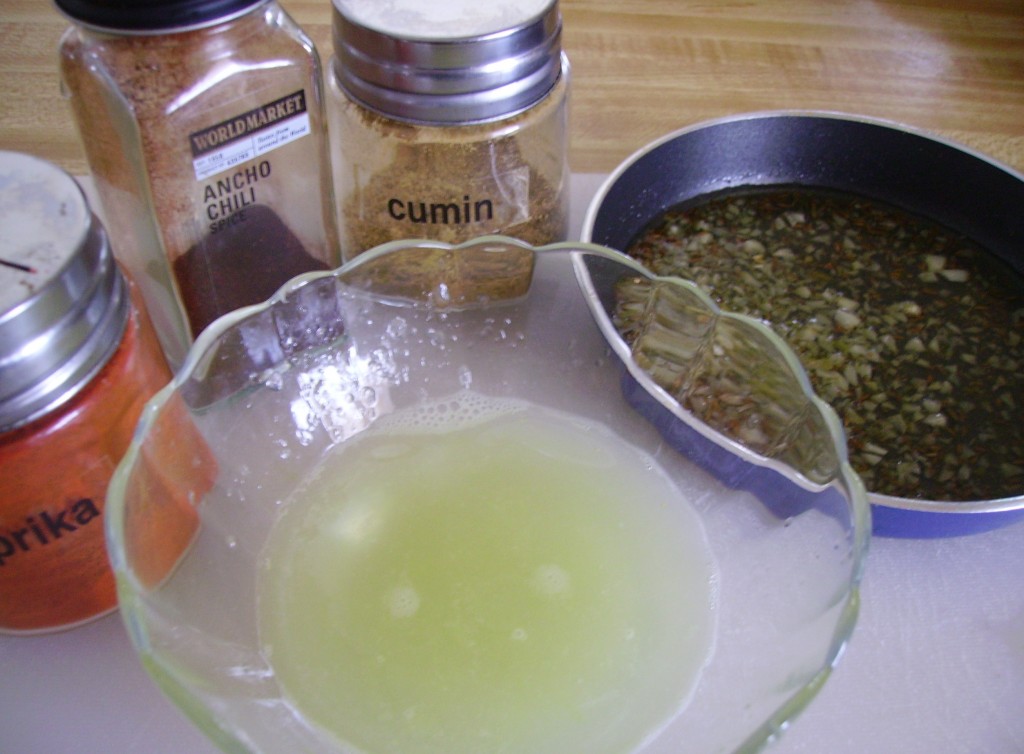 Instructions
To roast Poblanos: Place poblanos under the broiler for 10 minutes or so, turning as the skin blisters. It should be blistered on all sides. Remove the peppers to a shallow bowl and cover with plastic wrap. Allow to sit for 5-8 minutes. At this point the skin should come off easily. Remove the stem and seeds and chop.

Put the quinoa, bell peppers, poblano, onion, corn and black beans in a large mixing bowl. Toss to combine.

Add the avocado and cilantro to the bowl and toss gently to combine.

Pour the canola oil into a small fry pan. Add the garlic and the cumin seeds and heat over low heat until the garlic stats to sizzle. Remove from heat (do not let the garlic brown) and set aside to cool before adding to the dressing jar.

Combine all of the dressing ingredients in a jar with a lid. Cover tightly and shake until ingredients emulsify.

Pour the dressing over the ingredients in the bowl and toss gently to combine.

Cover the salad and chill for several hours. Remove from refrigerator 15 minutes before serving. This serves 4 as a main dish and 6 or more as a side dish.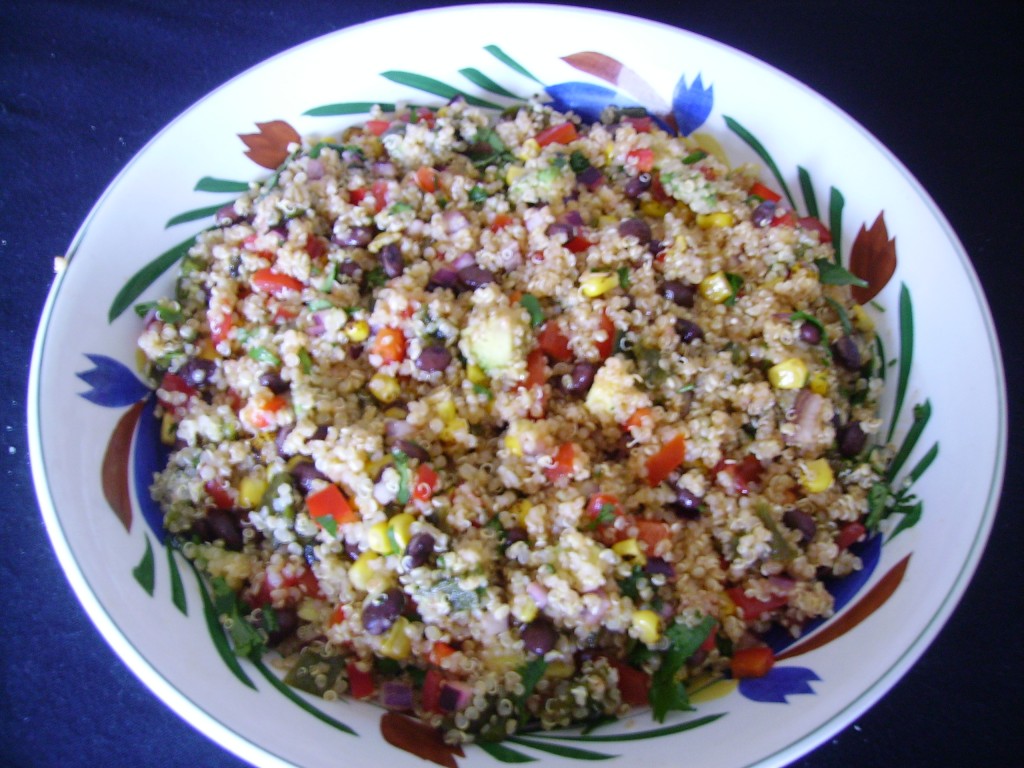 NOTE: To make 3 cups of cooked quinoa; Rinse 1 cup of quinoa under cold water for 2 minutes and allow to drain. Combine with 2 cups of water in a saucepan. Add a pinch of salt. Bring to a boil. reduce heat and cover. Simmer for about 15 minutes. Quinoa should be al dente. Drain off any water that might be left in the pan.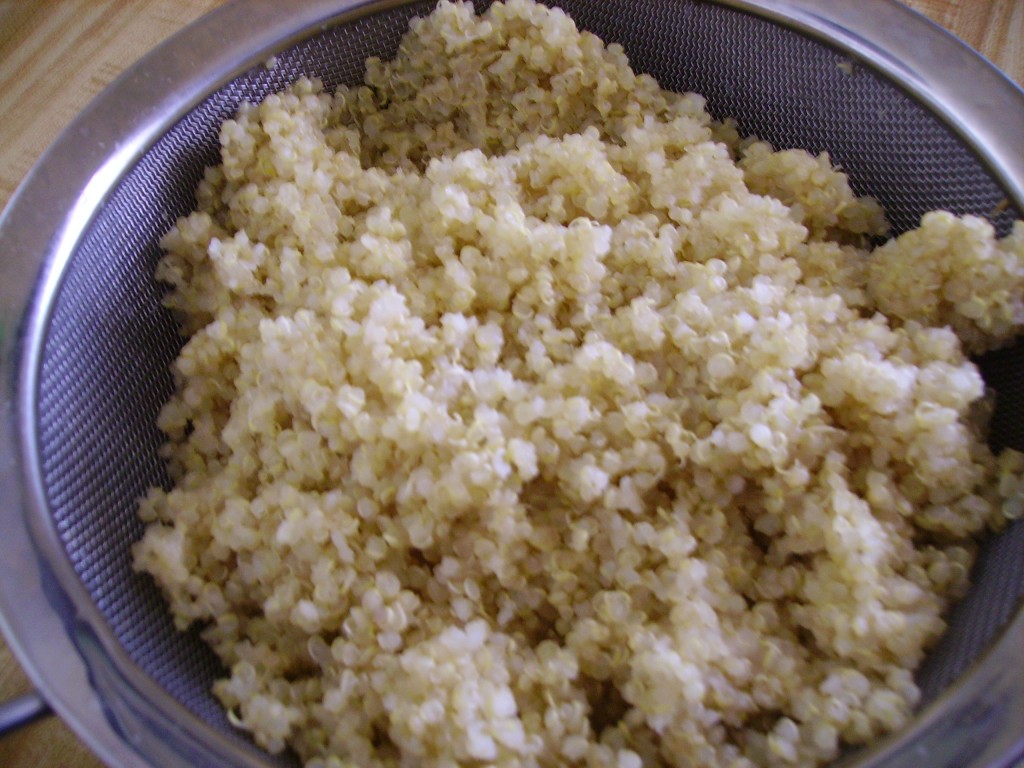 Make either of these salads at least a few hours ahead so that the flavors have chance to get acquainted. They can mellow in the refrigerator, but let them sit out for about 15 minutes before serving. The color and texture are interesting and the flavor is incredible.
I'm taking the first steps to lighter and healthier food. Just like Winter is the season for comfort, Spring is the season for light and bright in the air and in the kitchen.
Love, Mama D