It will never be said that Mama D doesn't love her vegetables. Even before I took the healthier fork in the road, veggies have always been center stage in my cooking. Fruits on the other hand, have taken a back seat to almost everything. Aside from a  fruit dessert,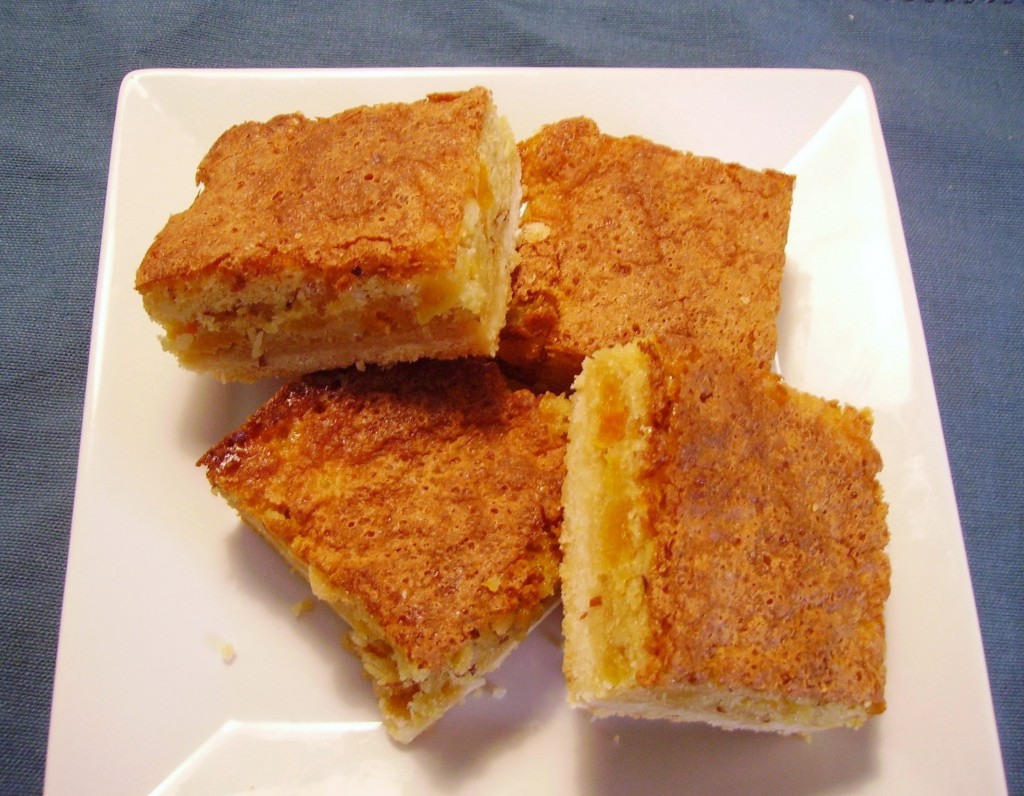 very little has been said about this food group. I aim to change that right now. I don't dislike fruit, it's just not the first ingredient I reach for, even as a supporting ingredient. It has come to my attention that I do not eat enough fruit and that while my diet is pretty healthy, more fruit could make it even better. So I'm heading down the sweet and fruity road and I'm taking you with me.
I'm not completely anti-fruit. I do enjoy certain fruits especially grapes when they've been allowed to ferment for a while…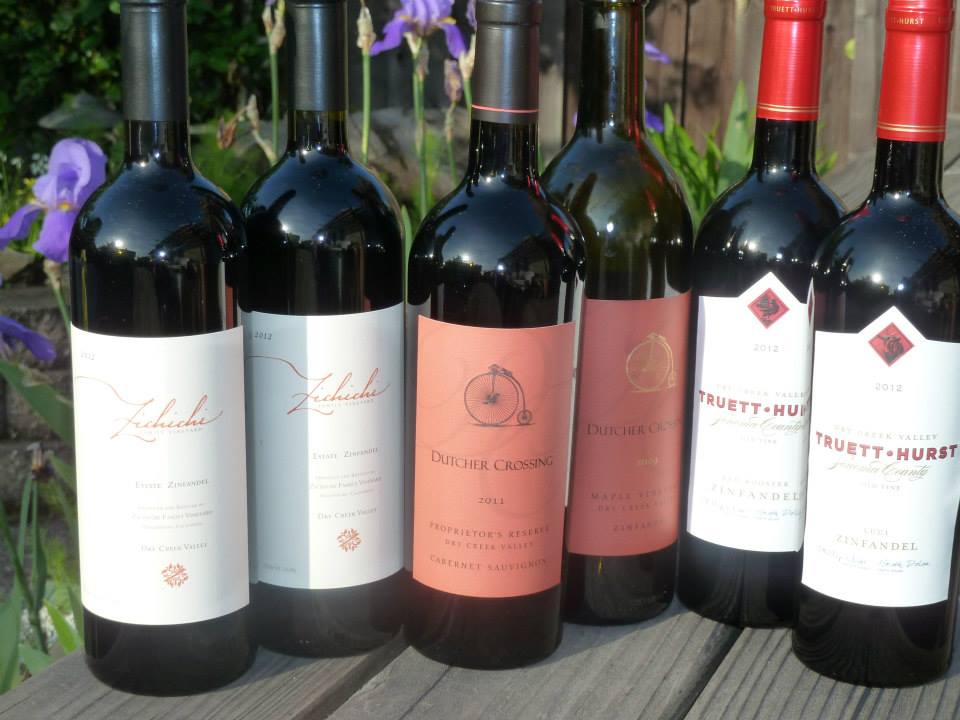 No, honestly I do enjoy many fruits. Spring and Summer fruits are my favorites. Berries, melons and stone fruits can always find a place in my kitchen and on my plate. Making it a daily habit is what I'm working on.
My first adventure involved making fruit infused water. I have this great pitcher that has an insert that holds fruit. I've used this for water quite often. It's also a great vessel for sangria, but I digress. Today's infusion was strawberry and kiwi. They imparted a very noticeable aroma and flavor. The water even took on a slightly pink tint. It was quite delicious and was very nice sipped with breakfast or out on the deck.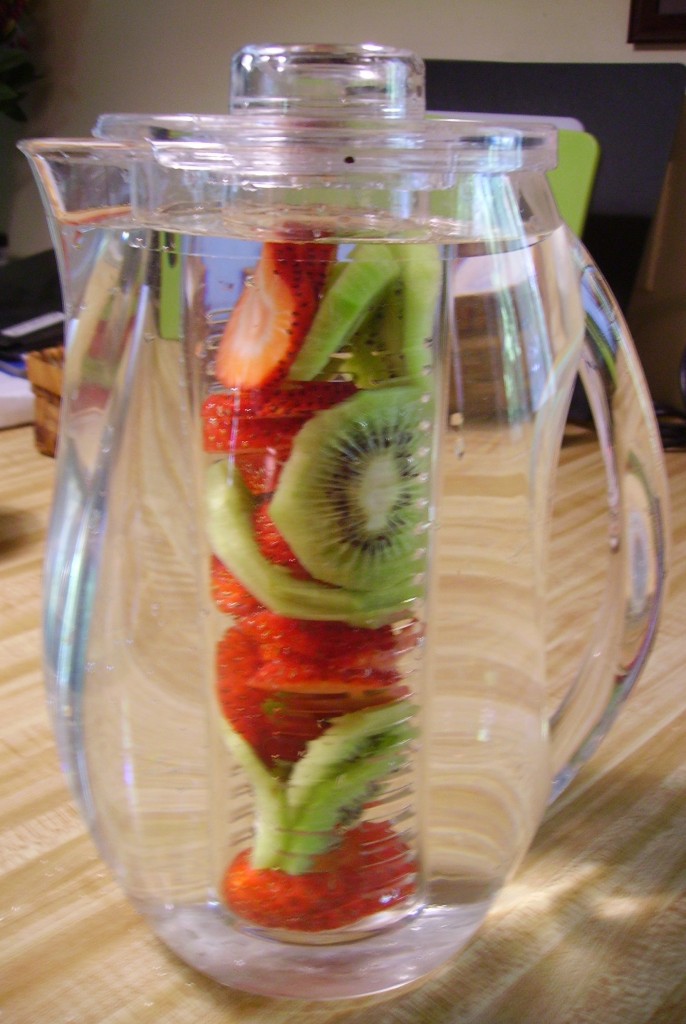 While not providing a lot of fruit nutrition, it is according to this website, an aid in digestion, blood sugar control, and immune system strengthening. It's refreshing and a pleasant way to drink more water.
Woman does not live by drinking her fruit alone so I've been exploring other ways to incorporate fruit into my meals. Enter fruit salsa. Who would have guessed that fruit and hot peppers could co-exist. They do and they can really elevate simple grilled meat and poultry to a new level. I experimented with frozen and canned fruits, but I didn't hit the jackpot until I used fresh (Duh). This is my take on Mango, Peach and Chipotle Salsa.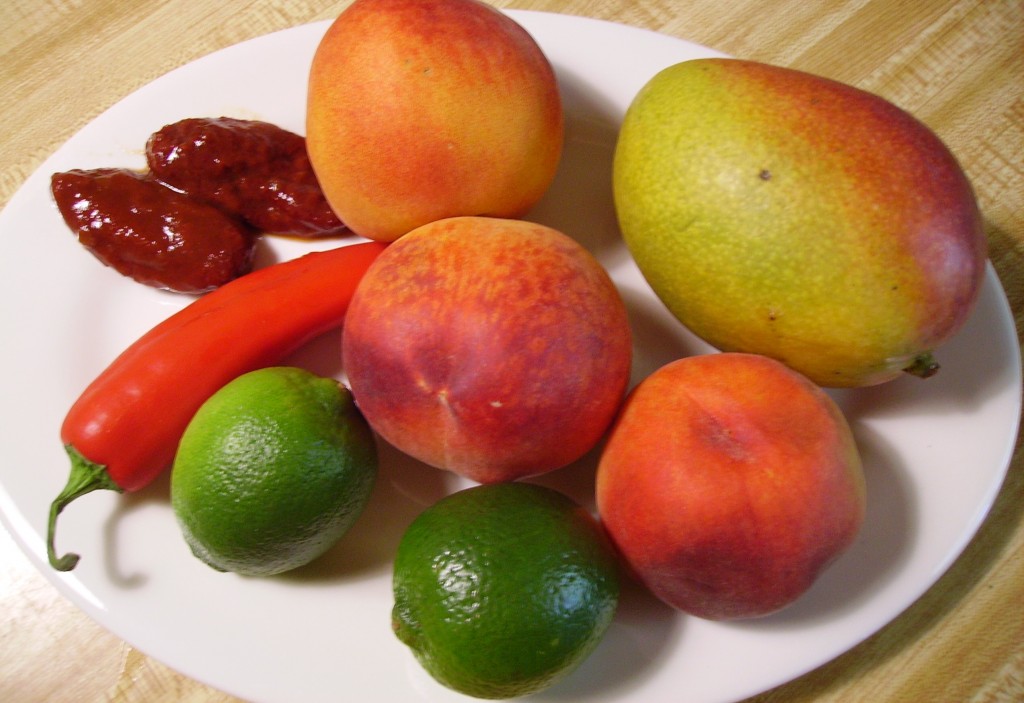 The ingredients are precisely that along with some green onions, honey and the juice and zest of several limes. The peaches take a quick dip in some boiling water to allow their skins to come off easily. Here's the step by step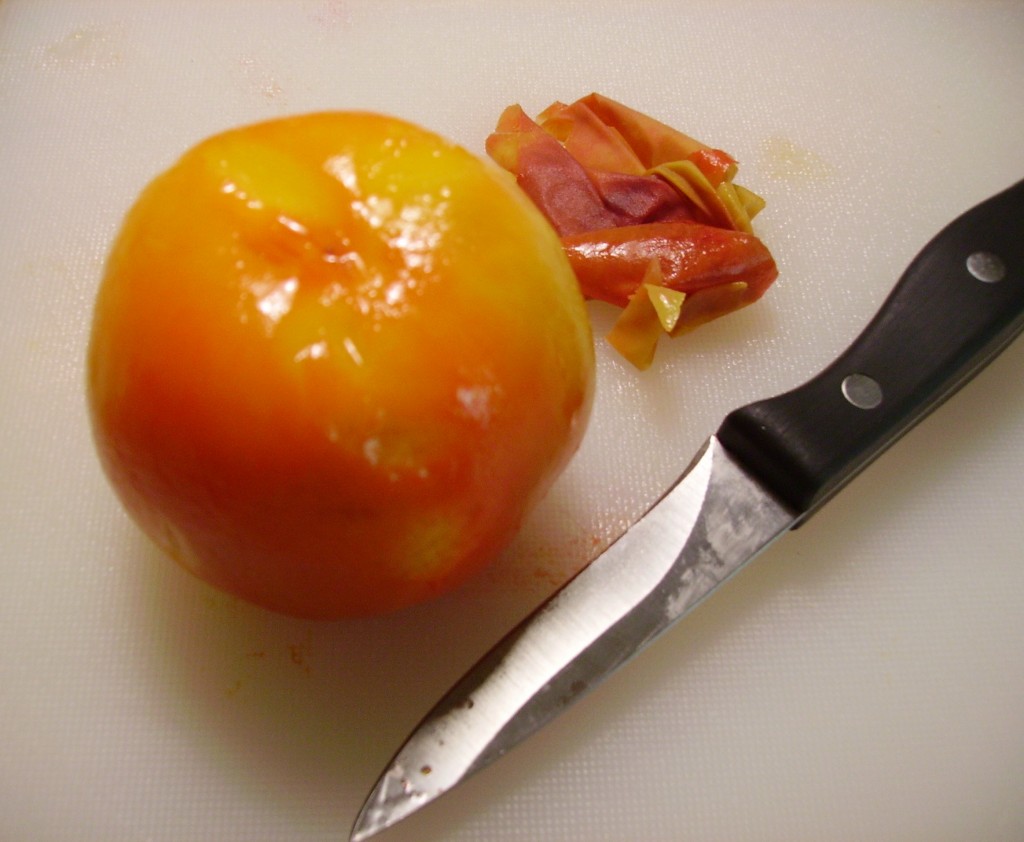 They are chopped along with the other ingredients into salsa sized pieces that will join forces in the bowl to become a sweet, spicy, and satisfying salsa (yes, it does warrant alliteration).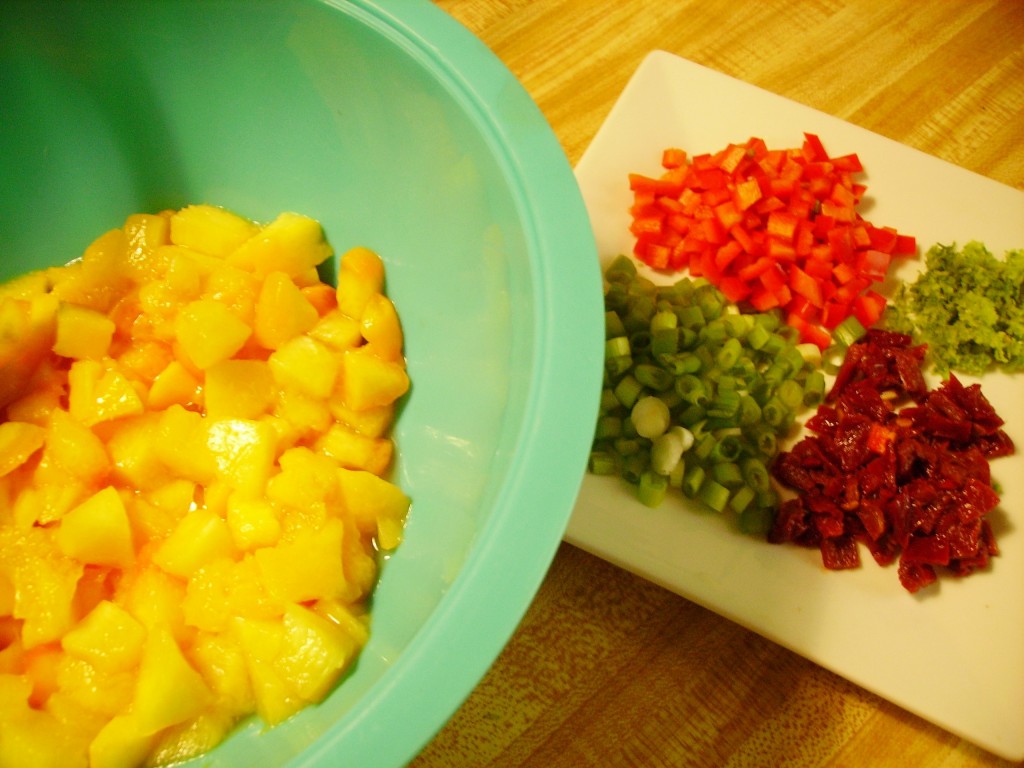 The salsa is bright in color and flavor and is comfortable on a chip or a chicken breast. I'll bet it would make an awesome ice cream topping, too.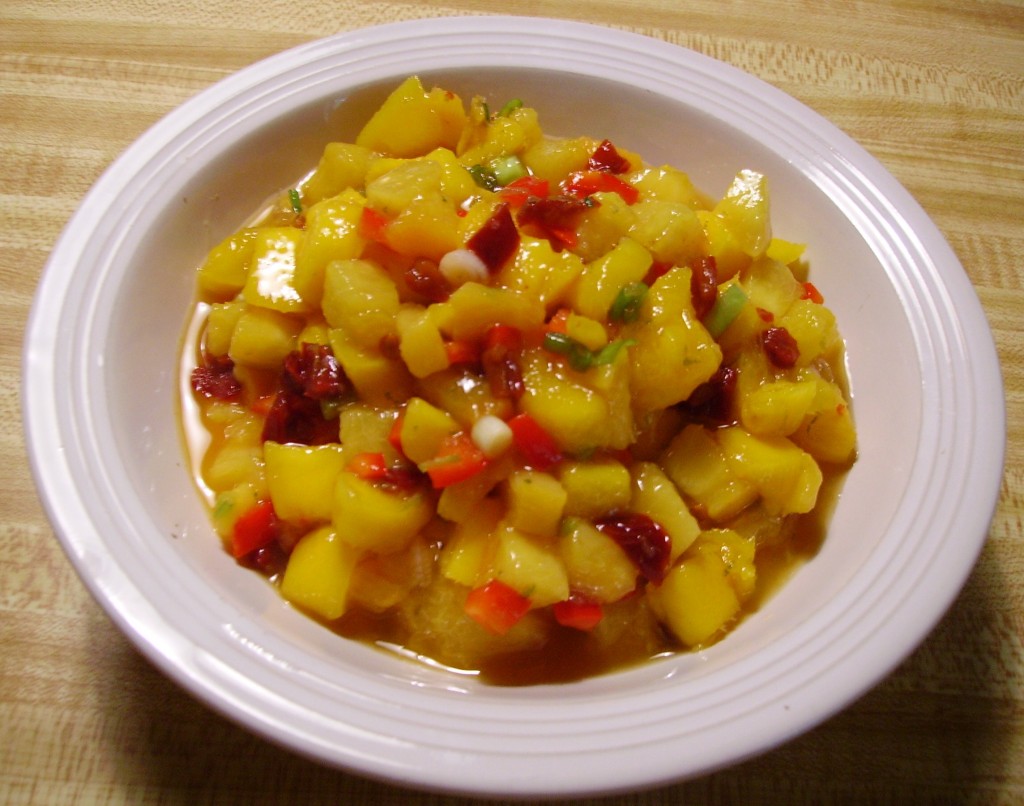 Ingredients

Servings: Cups

Instructions
Combine the chopped mango, peaches, red bell pepper, and sliced green onions in a medium bowl.

Allow any excess adobo sauce to drip off of the chipotles. Slice the chipotles open and scrape out the seeds and membranes. If you like more heat leave some seeds. Chop finely and add to the bowl.

Zest the lime and add it to the bowl. Squeeze the lime's juice into the bowl. Toss everything together.

Add the honey and the pinch of salt. Stir to combine. Cover and chill for at least 4 hours. Serve with chips or use as a cold sauce for grilled meat.
So, I would classify this as a very successful adventure. I'm starting to  look at fruit as more than a snack or a topping for cereal. I plan on exploring more fruit combinations for salsas, but I also plan on experimenting with other fruit recipes. I'm starting to feel the love. As the saying goes, it's a process… Stay tuned.