When I was growing up, summer signaled the change from basic iceberg lettuce salads to something a little more interesting. Whether it was green bean salad flavored with mint or tomatoes in a garlicky vinaigrette, my mother's summer salads were a welcome treat. In my newly healthier approach to cooking, salads are a big part of most meals and I seem to be discovering different combinations almost daily.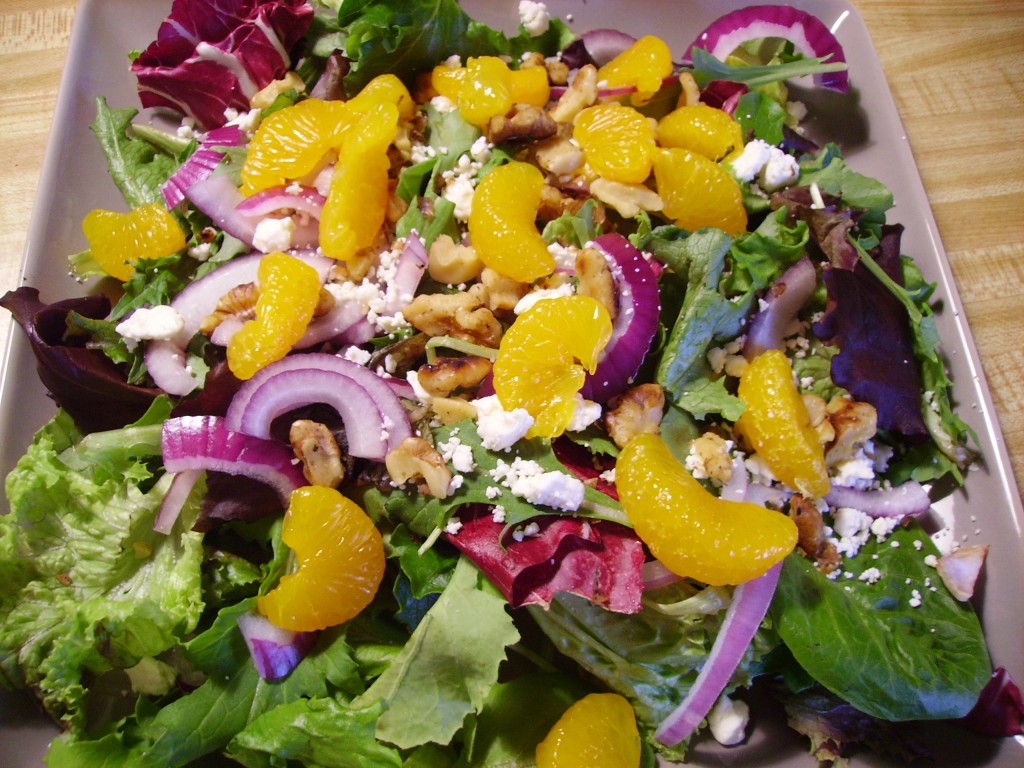 Now that Summer is almost officially here, and I'm committed to healthier meals, salads aren't just another pretty side dish. They are taking center stage and I have to say, I rather like it. Many of these salads are a  generous serving of lean protein accompanied by various vegetables and a light dressing.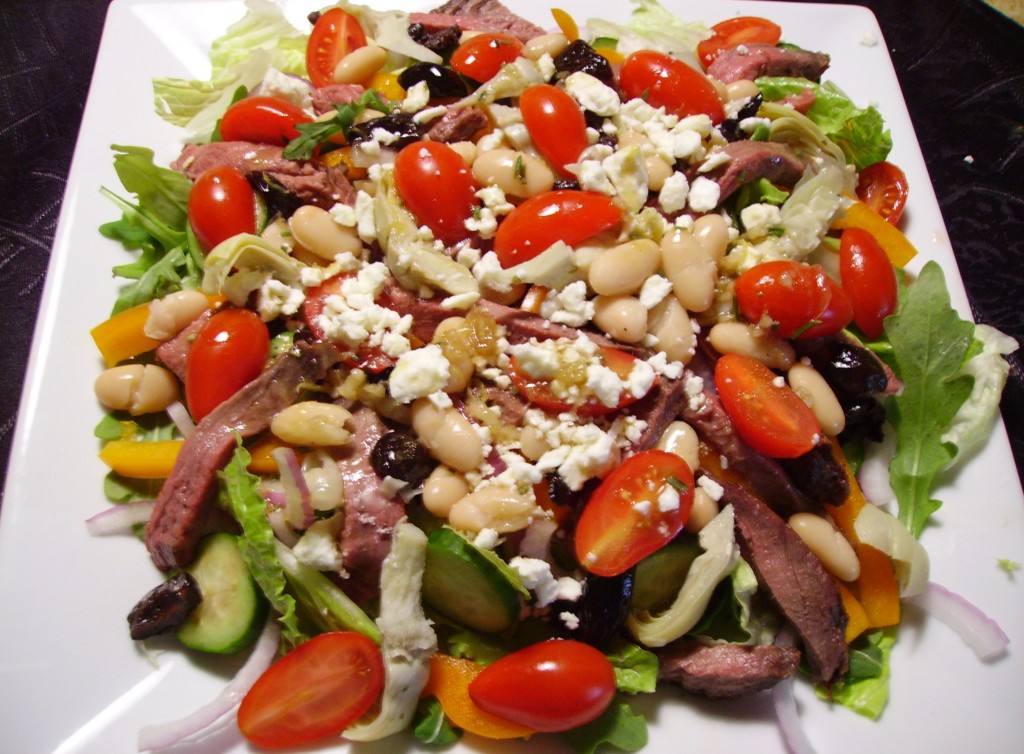 While these creations are delicious, sometimes they are a little too light. Something is missing. Carbohydrates! I do love my carbohydrates and I embrace them in my healthier lifestyle.
"Good Carbs" are an important part of a healthy diet because of their nutrients and fiber rich whole grains. So now, many of my salads have the added benefit of whole grains.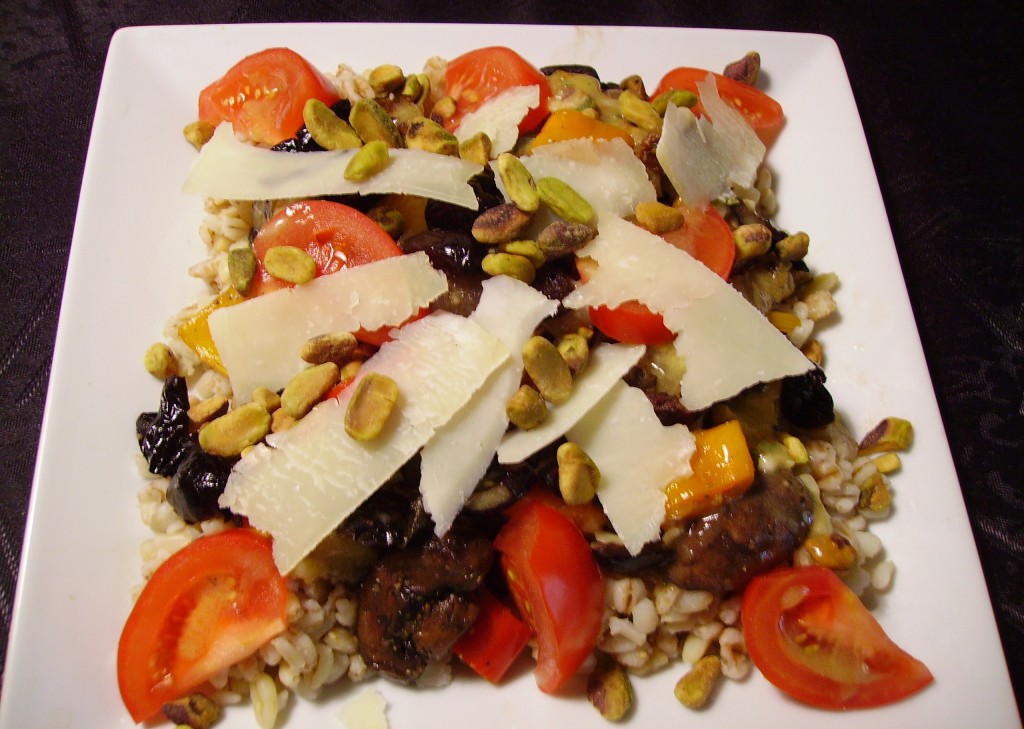 Farro, quinoa, and brown rice have all found their way into my salads. I've seemingly turned my back on pasta. As an Italian, how can that be?  While not intentional, I've been so enchanted with the ever-expanding selection of grains and the never-ending quest for more fiber, that pasta has been sitting on the pantry shelf feeling neglected.
I started to change that the other day when I invited whole wheat pasta to be part of my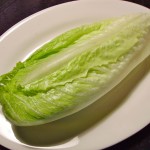 main dish salad. Instead of it being the principal ingredient, it was a supporting player and going out on the proverbial limb, I invited lettuce to be a supporting player as well. This salad boasts Romaine Hearts and Whole Wheat Farfalle pasta (that packs an impressive 6 grams of fiber per serving).
The colorful array of ingredients included artichoke hearts, red onions and multicolored tomatoes and peppers. Grilled chicken and garbanzo beans provided the protein and Sicilian olives gave it a little extra punch.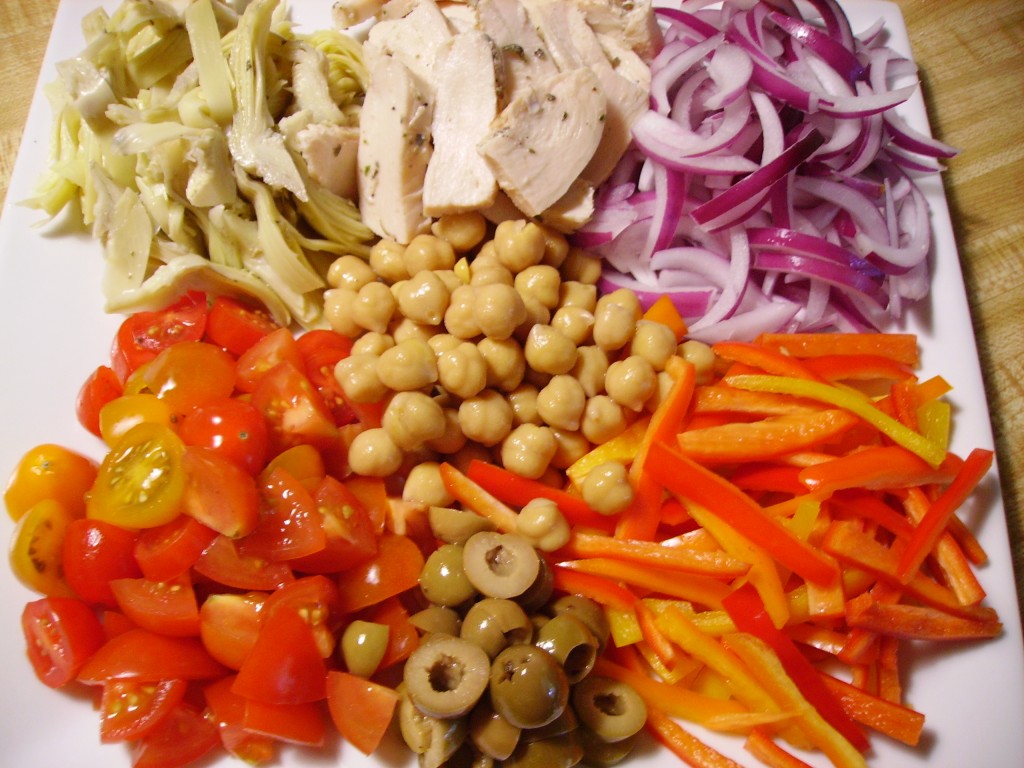 So, I combined the veggies and the cooked pasta in a large bowl.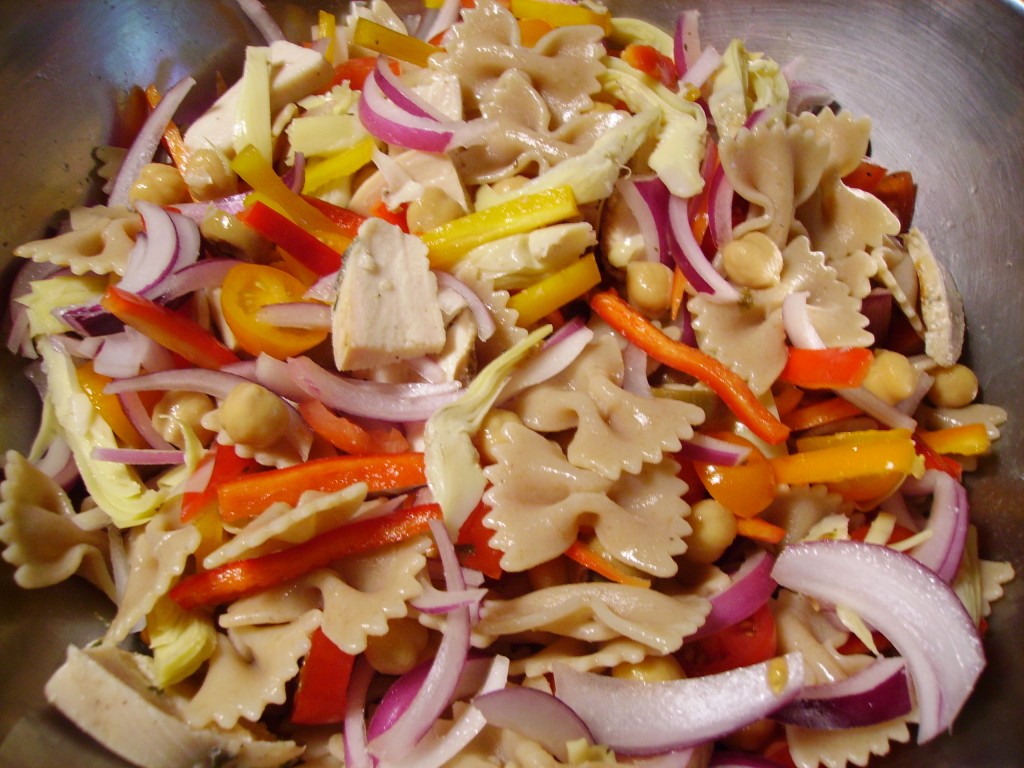 The dressing was a simple vinaigrette that included some fresh herbs and just a bit of anchovy paste.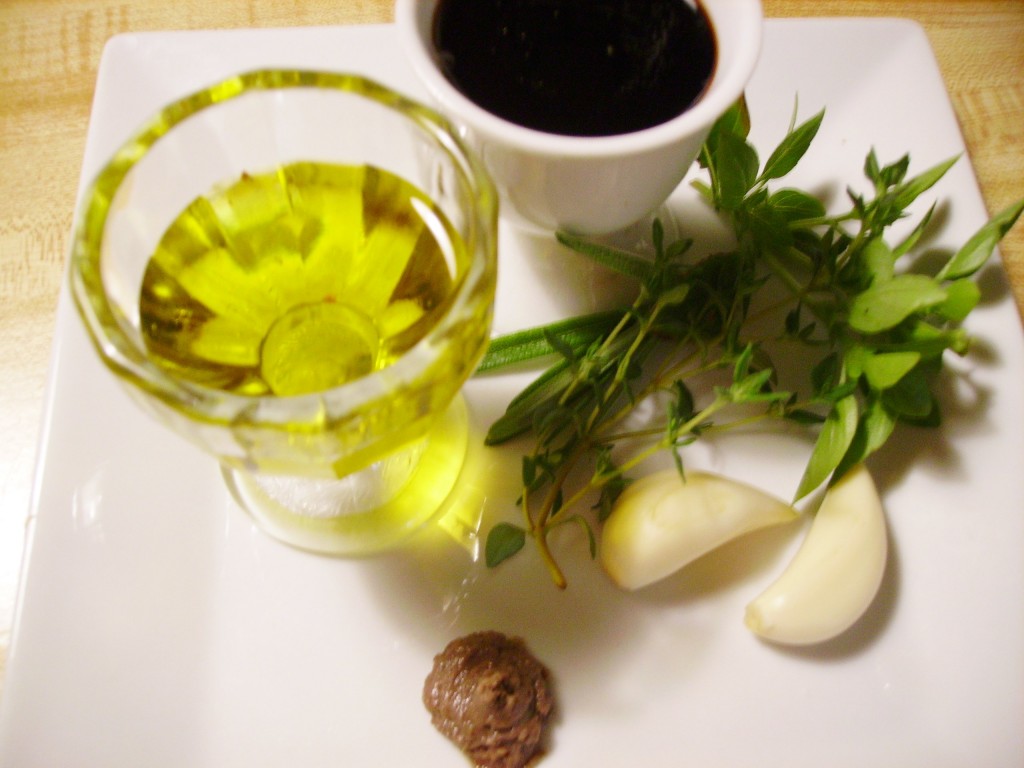 The lettuce waited on the sidelines until the moment of plating so that it could provide the necessary crunch. A dusting of Romano cheese finished things off.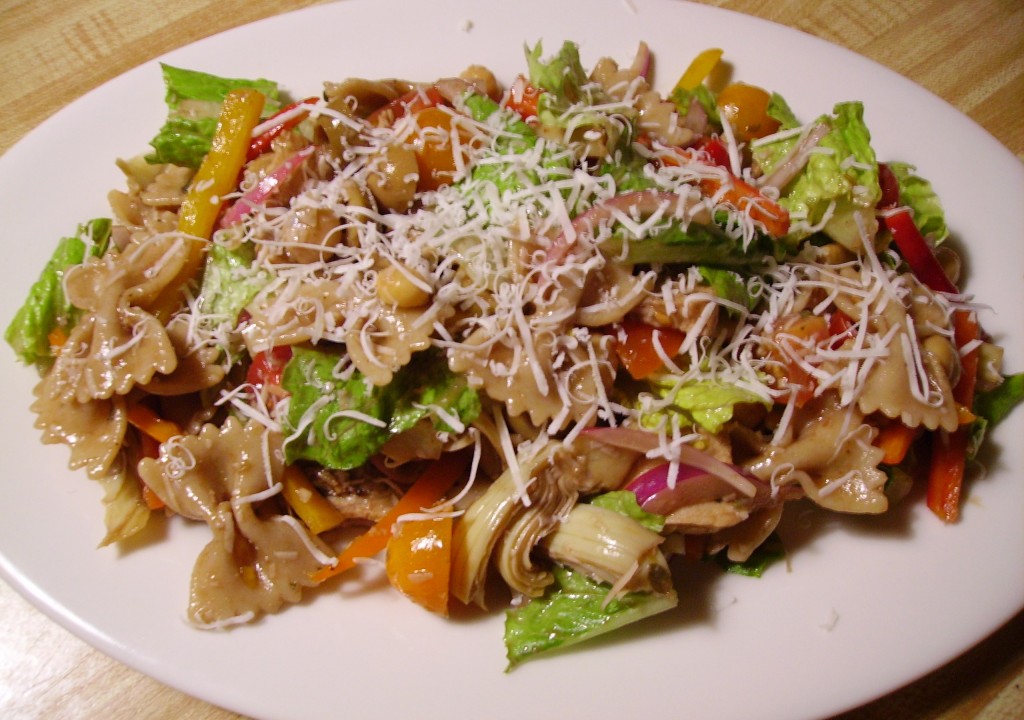 Instructions
Cook the pasta according to the directions on the package. Drain and rinse and put in a large bowl.

Slice the onion lengthwise into narrow strips and add them to the pasta in the bowl.

Slice the peppers into thin strips abut the same size as the onions and add them to the bowl.

Cut the tomatoes into halves or quarters depending on the size of the tomatoes and add them to the bowl.

Add the garbanzo beans, chicken, and olives to the bowl and toss to combine everything.

Dressing: Combine the dressing ingredients in a jar with a tight fitting lid and shake vigorously to blend everything. Pour over the salad ingredients and toss to coat. Cover and chill for at least 2 hours.

When you are ready to serve, add the torn lettuce leaves and toss once more. Divide between two plates and sprinkle with the Romano cheese.
Summer stretches ahead for the next few months. There's plenty of time to create more interesting salads. If you haven't tried a healthy salad supper, give it a try. If you have, let me know what you've created.   Love, Mama D