I spend a lot of time in the kitchen. Cooking is my passion. I love the creativity and adventure of coming up with a new dish or a fresh take on an old one. I guess I would qualify as a  "foodie," what ever that actually means. I also love going to the grocery store, be it a mega market or a local shop, it's the springboard for inspiration. Even Mama D needs a little kick in the inspiration once in a while. Eataly is inspiration on steroids and calling it a mega market is a gross understatement.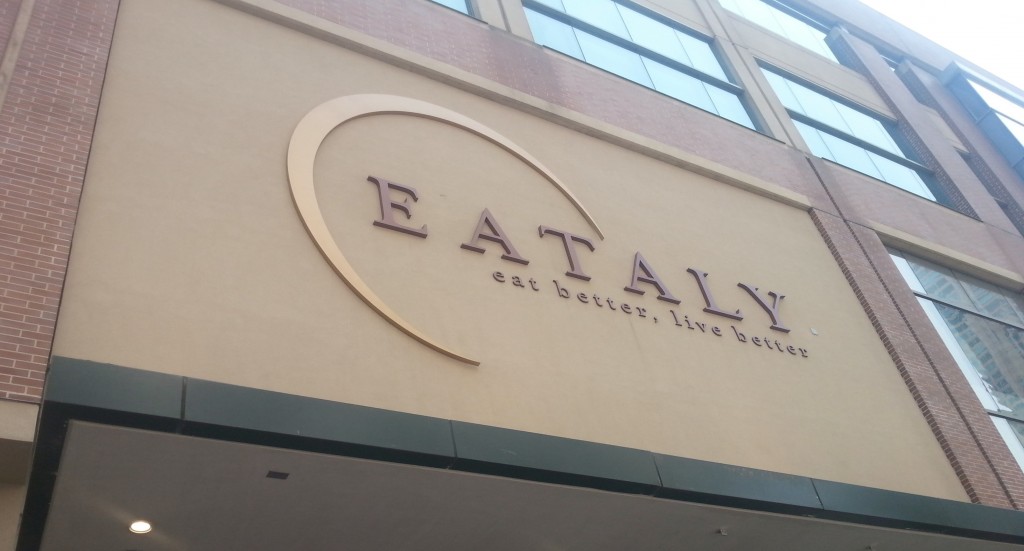 I thought I'd have to stow away to New York to visit this ultimate Italian food experience. That is, until Eataly came to Chicago.  The idea was born in Italy and brought to America by the Bastianich/Batali team. I've been getting the newsletters since they opened, and have been enticed by the on-line shopping experience. Needless to say, visiting in person was at the top of my "to do list"  when I recently spent the weekend in Chicago. It didn't disappoint.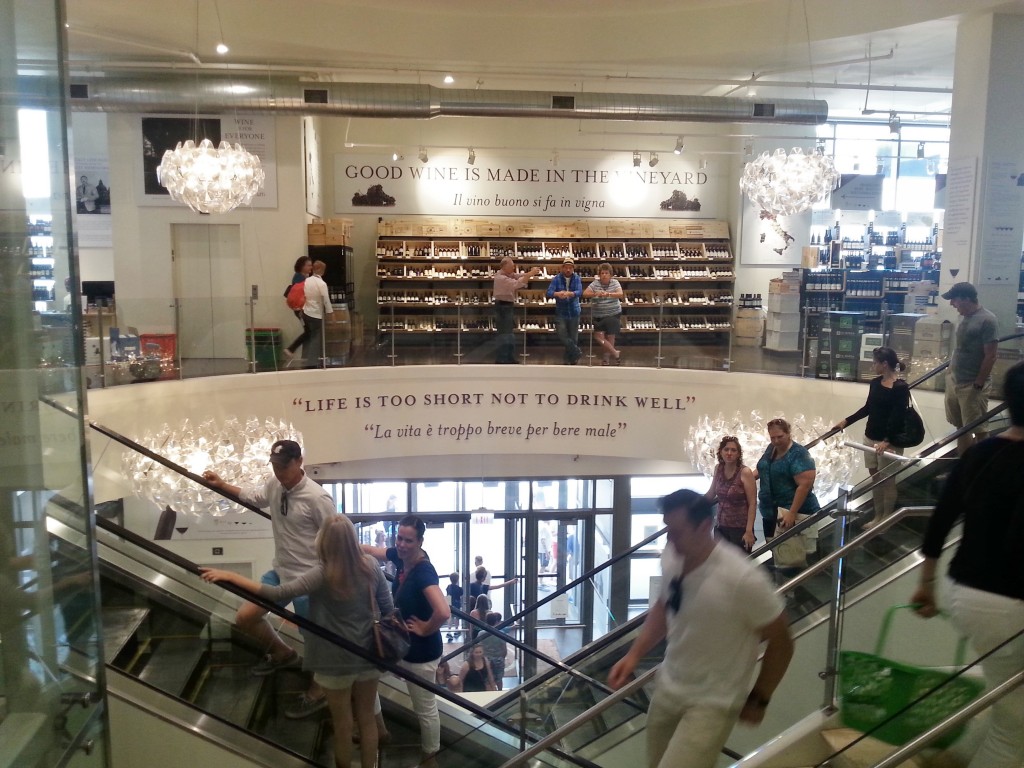 The place is enormous; 63,000 square feet spread out over two floors, to be exact. It has a modern industrial feel with incredible merchandising of it's over 10,000 items. A single item often takes up an entire shelf. The impact this creates is eye-popping and genius.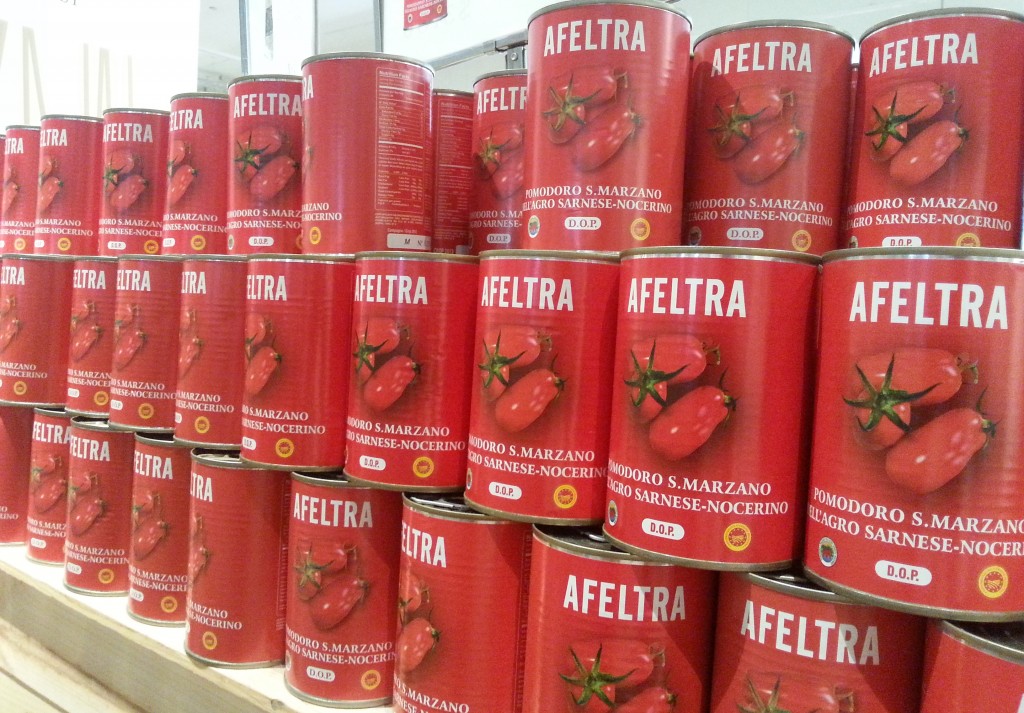 Still there are other areas where the variety of products is mind-boggling. Dry pasta goes on for aisles with every shape imaginable, and some that were  beyond belief.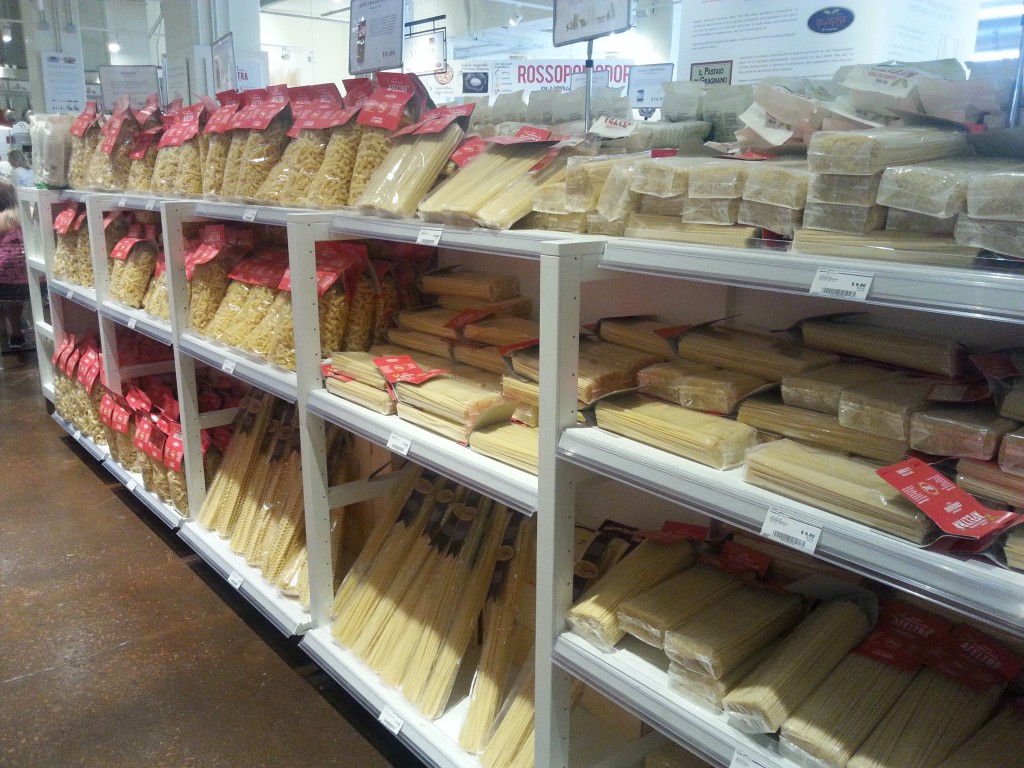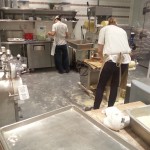 Cooks can't live by dry pasta alone.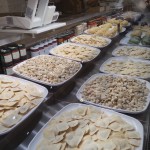 Eataly has the perfect solution for that. There is a pasta kitchen on site that turns out beautiful sheets of golden dough that are transformed into long, cut, and filled pastas. You can buy a pound, go home, and create.
The grocery aspect of Eataly is like no other, but that's only part of the package. It is an amazing place to eat and drink as well. The selection of Italian wines is huge and many are available for tasting and purchase by the glass at La Piazza, one of the twenty three dining possibilities. This is a stand up affair much like the square in an Italian city. Freshly baked bread was served with a pool of fruity olive oil that was the tease before our Grande Piatto Misto Di Salumi  & Formaggi arrived.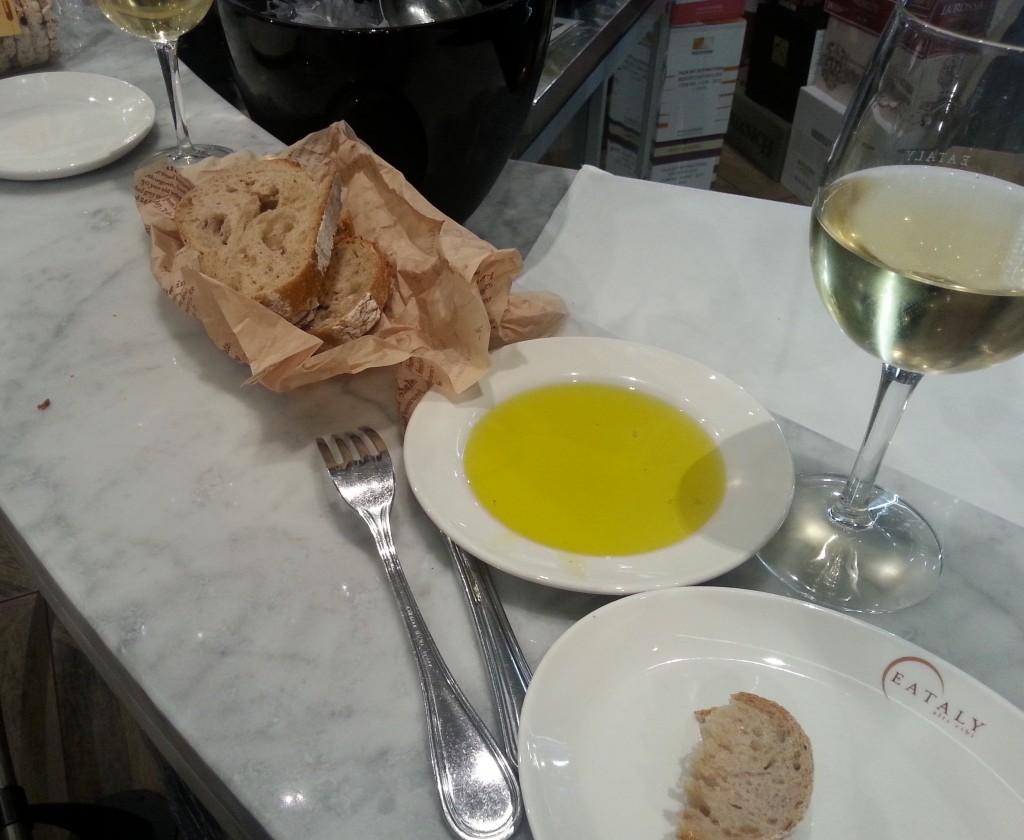 There was a Birreria, serving an impressive array of beers. It featured Italian brews along with local craft beers and two cask ales made on site. Yup, there's a craft brewery here as well.
My wonderful husband, Jeff was quite impressed with the place. Amazing for someone who doesn't like crowds and hates to shop because this place is busy, loud, and circus like at times. He also took all of these pictures. We ate and drank, but bought very little. It's hard to keep fresh pasta and salami in a hotel room. I was also honestly overwhelmed by it all and it was hard to choose.
What Eataly gave me was renewed inspiration. I tink the food I've been creating since my visit has been more creative and tastier. It has given life to, among other things, the Italian Taco… Sausage simmered in marinara and layered with sautéed onions and peppers and sliced tomatoes. A drizzle of Salsa Verde gives it some punch and pizzazz.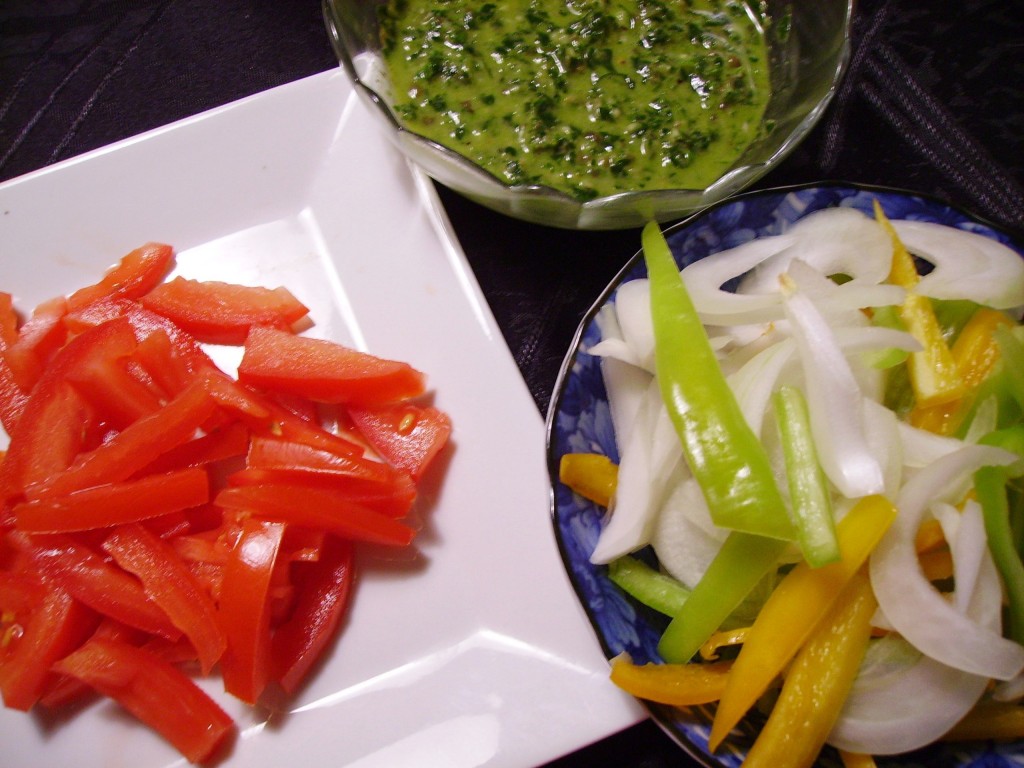 This salsa is parsley, garlic, and lemon driven. Basil, thyme and capers play the supporting role. Olive oil brings it all together.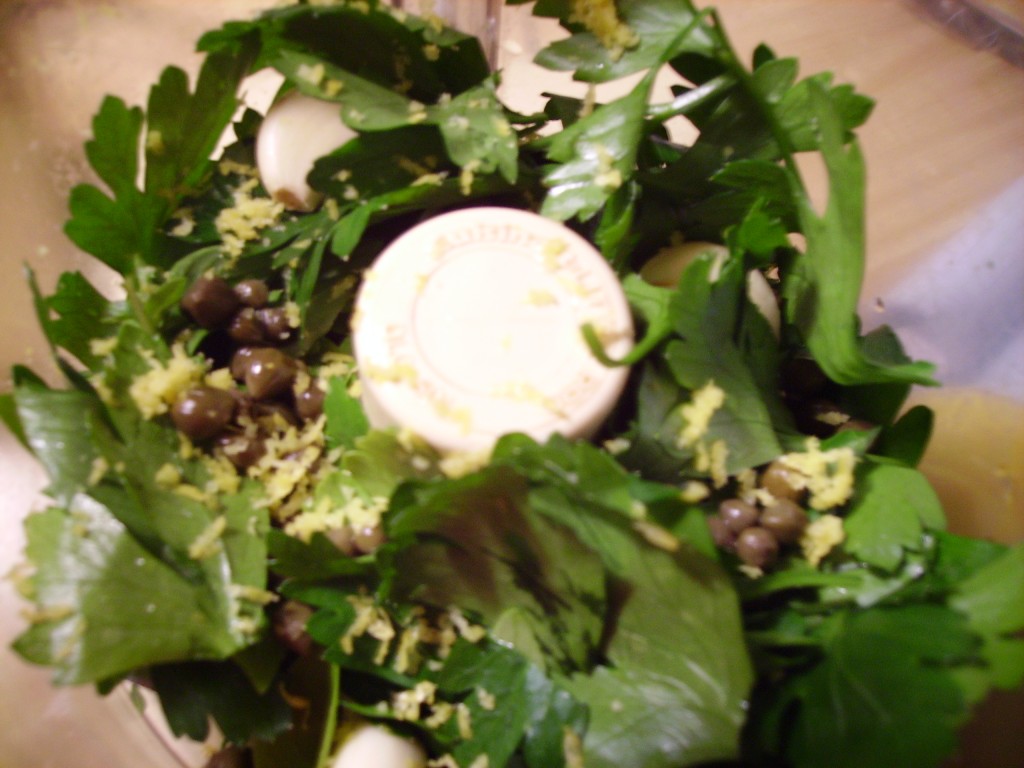 The fillings were layered in a tortilla. Yes, that's a whole grain tortilla… Inspiration can be healthy, too. A sprinkle of Romano cheese topped it all.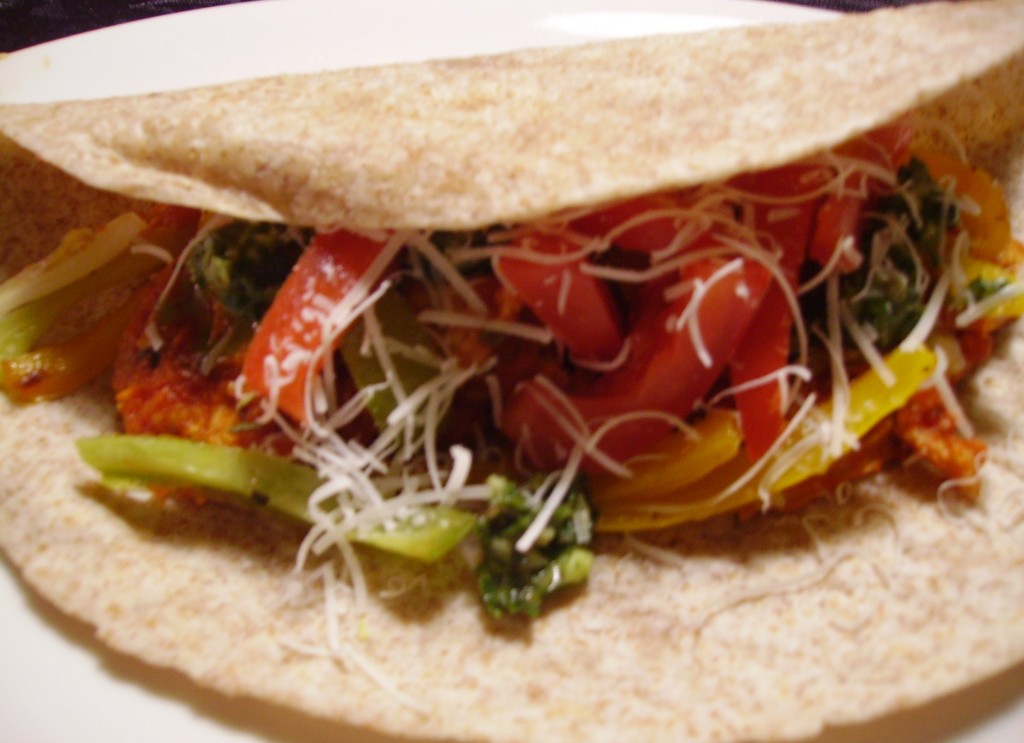 Instructions
To make the salsa: Combine the herbs, capers, garlic, lemon zest and juice in the bowl of a processor. Process until coarsely chopped, scraping the bowl as necessary.

Add the olive oil and process until finely chopped, scraping bowl as necessary. If mixture is too thick add water a little at a time until the consistency is as you like it. Pour the salsa into a container cover and refrigerate until ready to use.

Grill or broil the sausages. Allow to cool enough to slice thinly. Combine the sausage slices and the marinara sauce in a saucepan. Simmer for 5-7 minutes.

While the sausage simmers, saute the the onions and peppers in the olive oil. They should be lightly browned but still crunchy.

Assemble the Tacos: Divide the sausage between the tortillas. Top the sausage with the peppers and onions. Add the tomato slices. Drizzle with the Salsa Verde and sprinkle with the cheese.