We've had lots of parties at our house over the years. We've celebrated birthdays, holidays and for no reason other than the act of having  a party. We've had big parties and little parties; inside and outside. This was/is an excellent party house, but I'm looking forward to the parties we will have at our new home. I'm up for the challenge of creating a festive environment in a small space, and have sophisticated visions for intimate gatherings to come in our new "pad."
I love getting people together to share good food and good company. There are many "go to" recipes that have graced my table over the years. Some have been shared here like the UnPotato Potato Salad and Tomato Bruschetta. If you missed them the first time check them out on my RECIPES page.
The recipe that I'm sharing today was born out of necessity. I needed a starchy side for an impromptu  party and didn't have time to run to the store. I spent a bit of time staring into my pantry and came out with a box of orzo, a jar of roasted red peppers and some dry soup mix. The refrigerator yielded a jar of kalamata olives and the freezer revealed a box of chopped spinach. There were lemons and red onions on the counter and lemon infused olive oil and white balsamic vinegar in the cabinet. Inspiration dawned and the Orzo and Spinach Salad was born. This dish has attended many parties here and has traveled far and wide to guest at many others.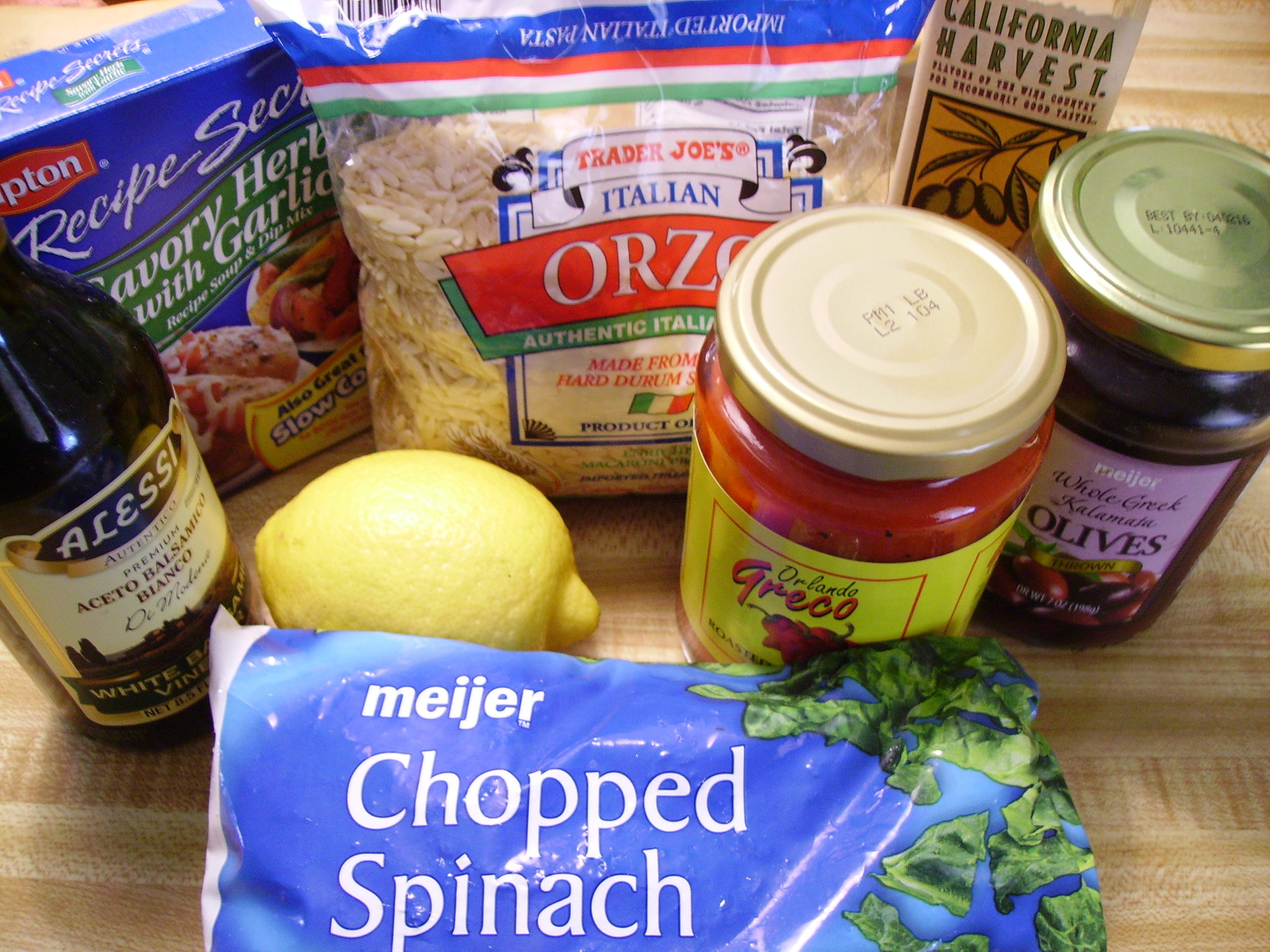 This recipe makes a ton! It could literally feed a small army which makes it perfect party fare. It is stupid simple to make and while it is better the next day, it is quite tasty with as little as four or five hours in the frig.
It could also be Pasta Salad 101. The technique can be applied to any set if ingredients you'd like to turn into pasta salad. Boil the pasta according to the package directions. Prep any vegetables that you'd like to cook lightly and drop them in the bottom of the colander. When you drain the pasta in that same colander the hot water will blanch the vegetables as it passes through. A good rinse under cold water and you're good to go.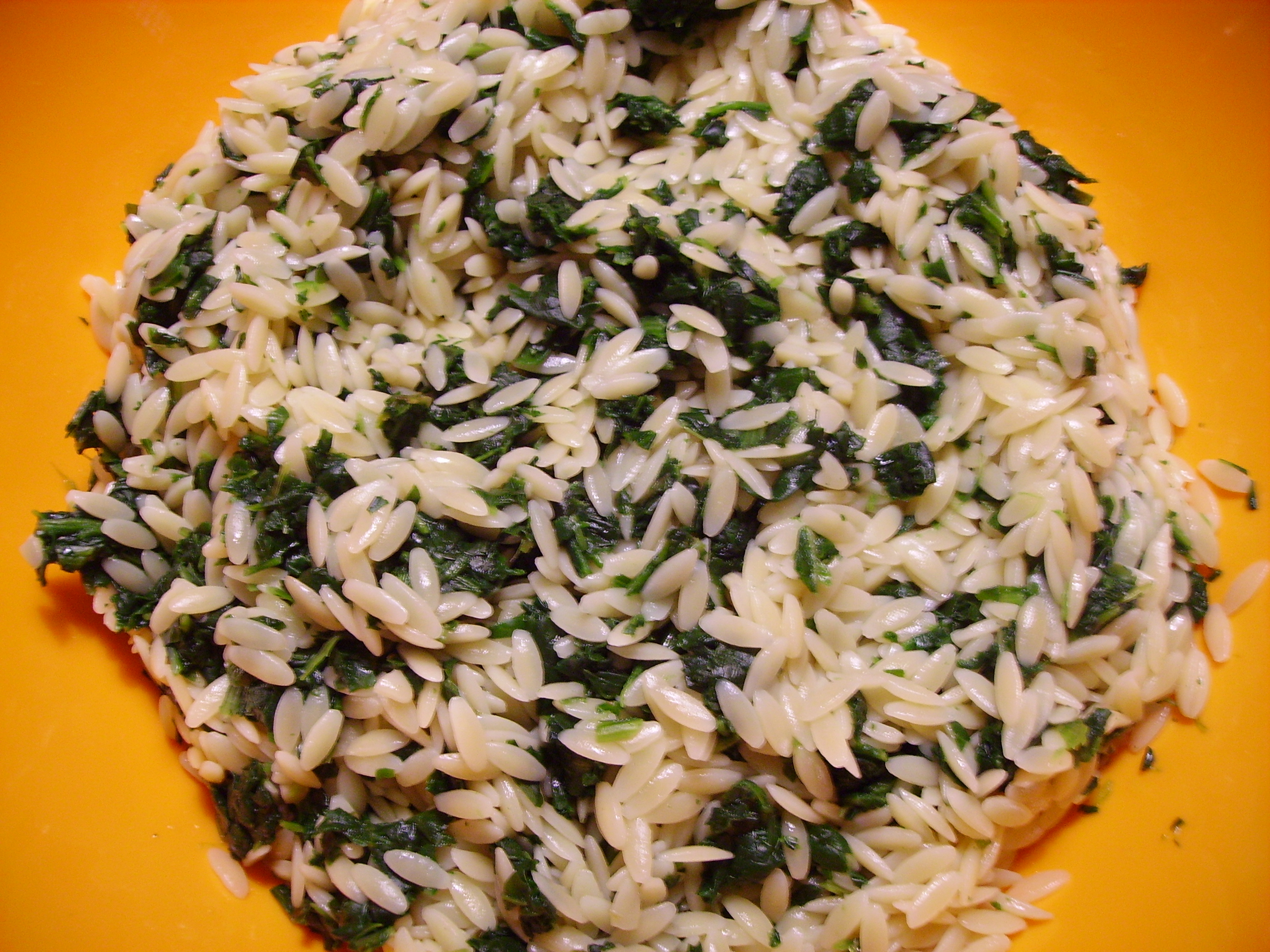 Dry soup mix was the darling of the 50's & 60's. From dips to seasoning it hardly ever made it into actual soup. I really like Lipton Savory Herb with garlic soup mix. I have to say I've never made it into soup, but I've used it in crock pot Italian beef, as a breading ingredient for chicken, and of course in this recipe. In this particular use, I just sprinkled it dry on the pasta and spinach and stirred it in.
Red onions, roasted red peppers and kalamata olives joined the bowl along with the grated zest of a lemon.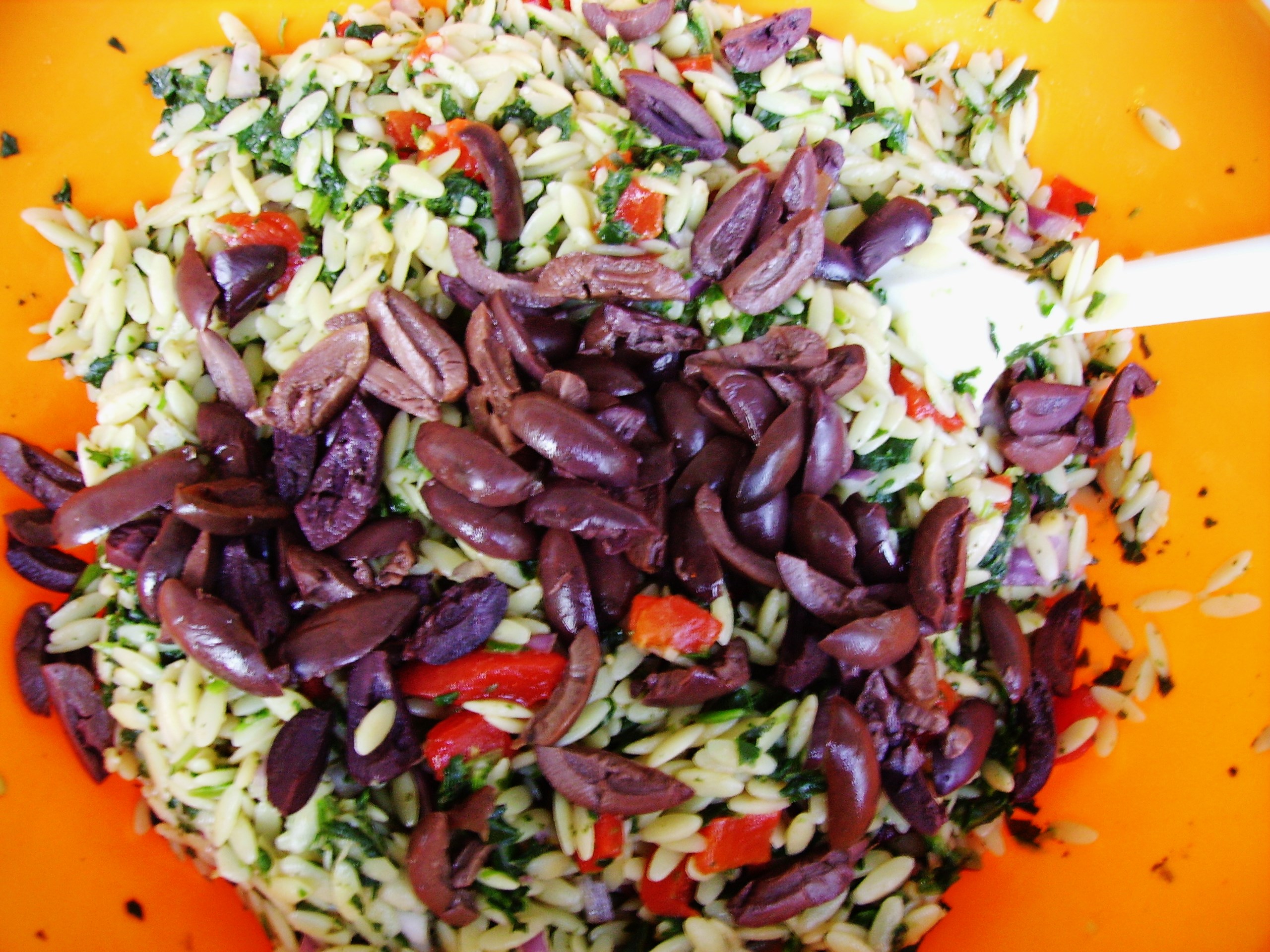 The dressing was fresh lemon juice and white balsamic vinegar shaken with lemon infused olive oil. I tossed about half of the dressing with the salad and let it get happy overnight in the refrigerator. I drizzled the remaining dressing over the salad and gave it one more good toss before transferring it to a serving bowl.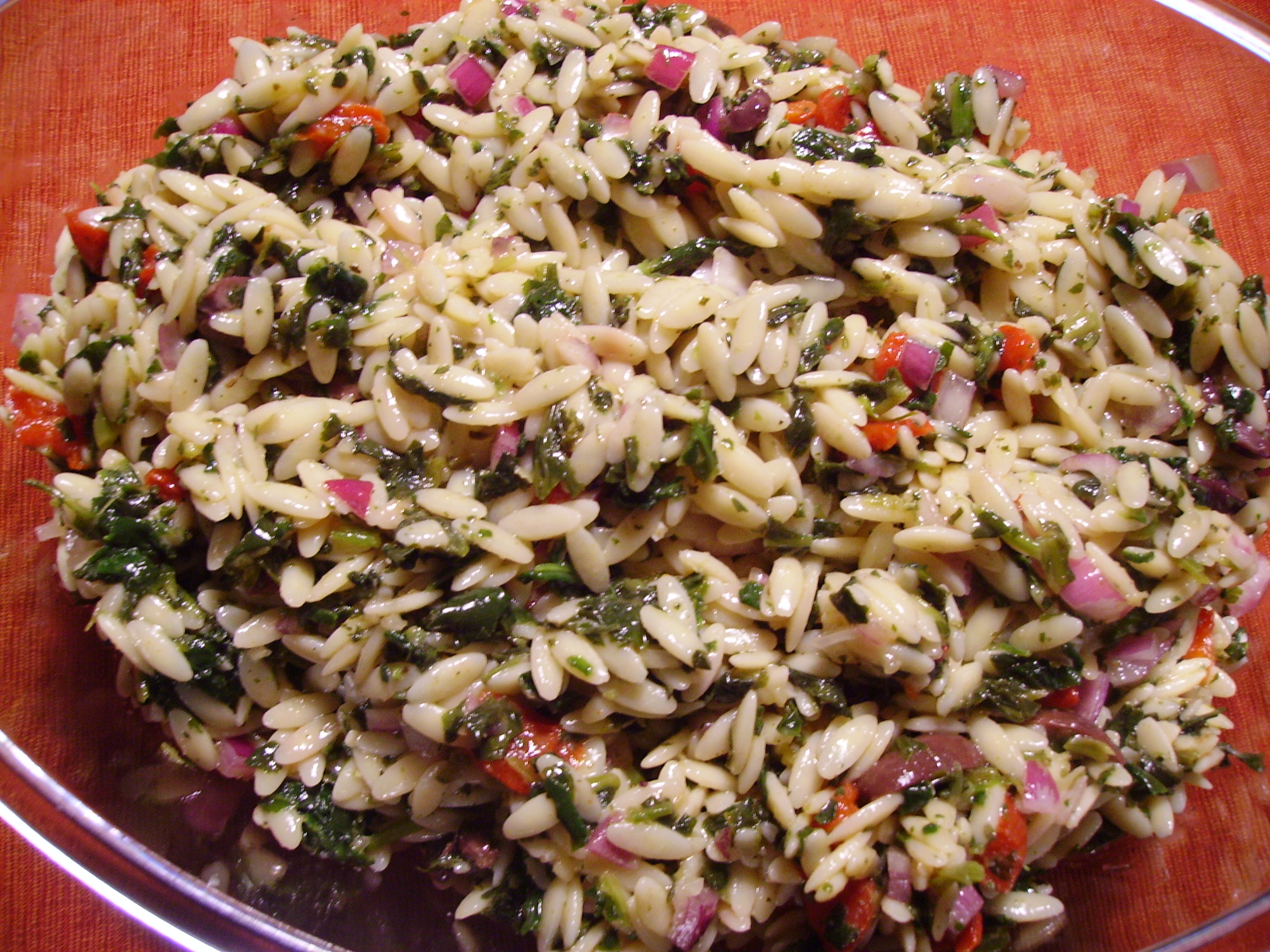 This made a recent appearance at a party for a former co-worker who is also in the process of moving. It was welcomed with open mouths and made several new friends. I thought it was time to share this Mama D classic with the world; so here it is.
Instructions
Boil the orzo in salted water according to package directions. While the orzo is cooking, squeeze out the thawed spinach and crumble it into the bottom of a colander.

When the pasta is cooked drain it into the colander with the spinach. Drain well, rinse under cold water, and drain again. Pour it all into a large bowl.

In the meantime, chop the red peppers and onions and slice the olives. Remove all of the zest from the lemon with a grater and squeeze all of the juice into a small bowl. Set all of these wonderful things aside.

Pour about 2 tablespoons of the olive oil over the orzo spinach mixture and toss to coat evenly.Open both packages of the dry soup mix and sprinkle them onto the mixture. Stir to combine everything very well. Add the lemon zest and stir well again.

Add the reserved vegetables and toss to combine things.

In a jar with a tight fitting lid combine the remaining olive oil, the lemon juice and the white balsamic vinegar. Cover and shake well to blend. Pour about 1/2 to 2/3 of the dressing on the salad and toss to incorporate.

Cover the salad and refrigerate for at least 4 hours, but better yet, overnight. Store the rest of the dressing in the refrigerator as well.

Just before serving, remove the salad from the frig and toss it well. Add the remaining dressing and toss again. Transfer to a serving bowl and feed the masses.
This dish can easily become a one dish meal (you know how much Mama D loves those) simply by adding some feta cheese (or any other hard salty cheese) along with some cooked chicken, garbanzo beans, or even salami. However you choose to serve it, this salad will become a favorite for parties large and small, and it is fantastic left over!
There's going to be one more party in this house, my grandson Dylan's birthday. After that, Mama D's kitchen will be packed up and readied for the trip to its new home. I can now say that I'm really looking forward to it.