I love our community garden. Ever since I put my tomatoes, peppers, and squash in the ground I've been excited to reap the rewards. Here's the problem. Gardens take time. The whole sunshine, rain, and TLC thing is not an overnight process. Our weather has been far from cooperative. It got a little too cold right after we planted. Then it got really hot and we were watering everyday. We of course wished for rain and guess what? You know the saying, "when it rains, it pours"? Yeah, that's what's been going here for a few too many days. In spite of all that, the garden is flourishing. The plants seem to enjoy the constant precipitation with little sunny interludes. They are bigger everyday and I can even see growth from morning until evening.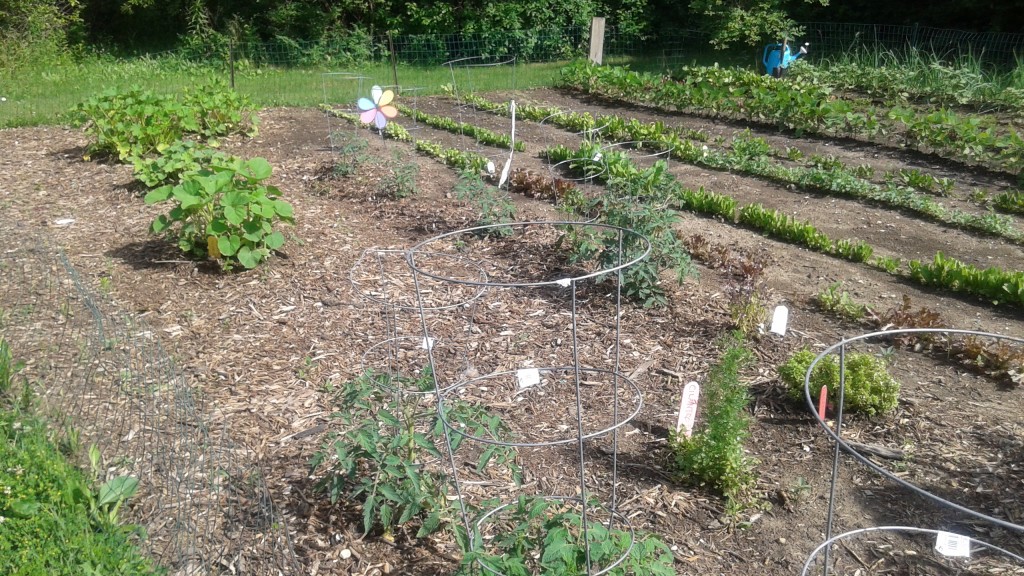 While there is an abundance of baby lettuce, some tender young kale, and lovely radishes, the big-ticket items have yet to set fruit (an industry term). I'm like a child waiting for Christmas. I've been good and my proverbial stocking has been hung, so where is the big payoff? This is where patience comes into play. Mama D's summer kitchen (and imagination) is swimming with ideas for healthy summer dishes bursting with garden fresh produce. Until my very local thing comes along, grocery store produce will have to do. Not that there's anything wrong with that…
A recent supper was a one dish wonder, Pesto Pasta Salad. Multigrain rotini joined green beans and tomatoes in a homemade pesto dressing. Smoked Mozzarella added a bit of protein and a dusting of Pecorino Romano topped it all. It is easy to make and lends itself to all kinds of variations. It all began with my Roasted Garlic Pesto. This is a recipe that I have revised and tweaked over the years until it is perfection, at least in my eyes. It involves the usual suspects; basil (from the pot on my balcony),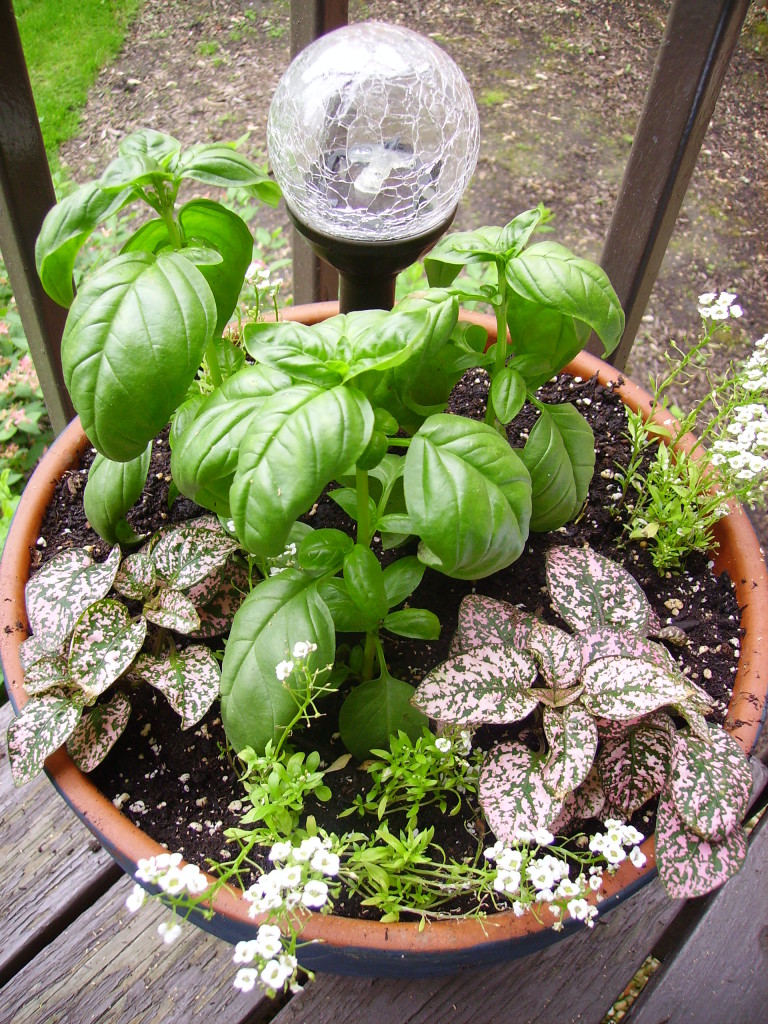 parsley, olive oil, pine nuts, and of course garlic. This is where my version takes a right turn from the traditional recipe. I roast the garlic. Forty minutes or so in the oven and the bitter edge of garlic-ness is mellowed into something more subtle, slightly sweet and dare I say it, more complex. I also give the pine nuts a quick toast to enhance their flavor as well.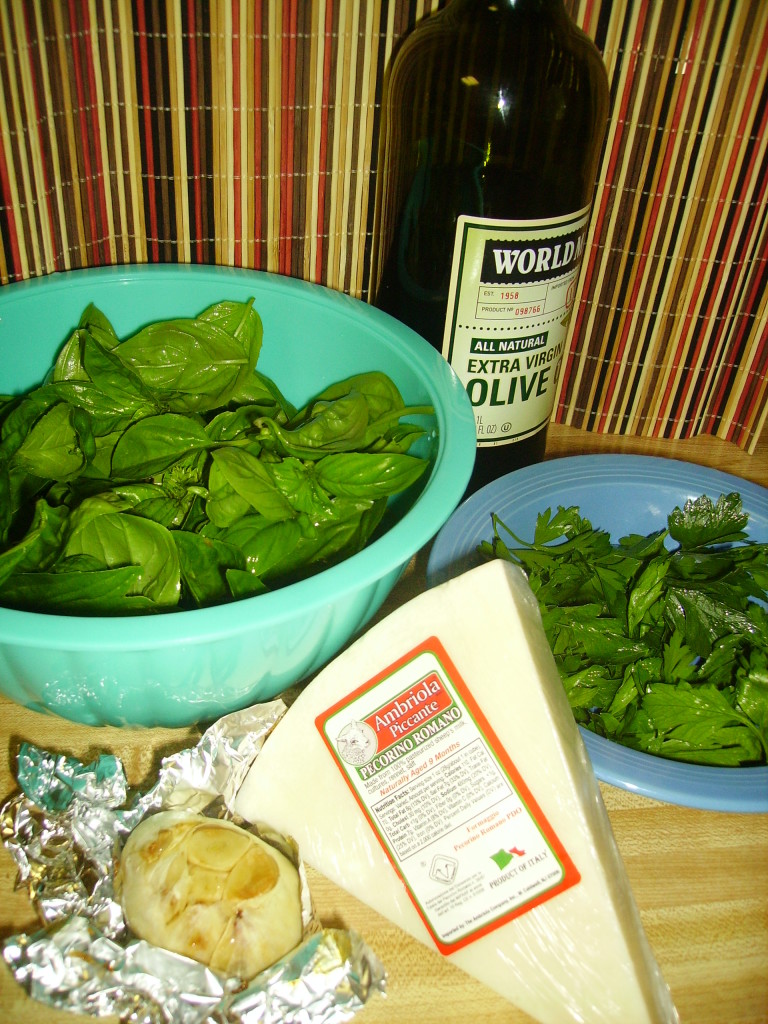 Everything gets blended in the processor to create a rich and savory paste that improves anything it touches. For this recipe, I made just what I needed, but when the basil is plentiful, a big batch is just as easy to make and it freezes beautifully. I usually measure 1/4 cup portions into individual zip top sandwich bags. The small bags go into a larger freezer bag and can live happily for several months in the freezer ready to ad that yummy touch to soup, pasta, or grilled meats.
Ingredients

Servings: Cups

Instructions
Cut the top off the head of garlic (just enough to expose the cloves a bit). Place in the center of a square of heavy duty foil. Drizzle with a little olive oil and wrap sealing completely but leaving a little breathing room. Place in a 350 degree oven and bake for 40 minutes or until the kitchen smells wonderful and the garlic feels soft. Unwrap and allow to cool.

Toast the pine nuts on top of the stove. Place them in a dry non-stick pan and toast over low heat shaking frequently to prevent burning. This should take 6 or 7 minutes.

Place the basil and parsley leaves in the bowl of a processor. Squeeze the cooled garlic into the bowl. Add the pine nuts. Pulse to coarsely chop the ingredients.

Add the grated cheese and pulse to combine.

With the motor of the processor running, stream the olive oil into the feed tube. Stop as soon as the mixture is the texture that you like. (Do not process until smooth).

Scrape the pesto into a bowl. Check for seasoning Add some ground pepper and a pinch of salt if you want.

It is now ready to use. It can be frozen in 1/4 cup (or whatever amount you like) packages. It will keep in the refrigerator for a week. Pour a thin layer of olive oil on the pesto before you put it in the refrigerator to help preserve color and flavor.
This pesto was transformed into a dressing for my pasta salad. Multigrain rotini was my pasta of choice. I like how the dressing clings to the spiral ridges. My vegetable additions, alas, came from the refrigerator instead of the garden. In spite of all of  my coaxing, the beans aren't even a glimmer in the plants' eyes and the tomato plants are bearing some tiny yellow blossoms, but nothing more. While the mini heirloom tomatoes and haricot vert made a delightful salad, I look forward to making this again in a few weeks with my own homegrown bounty.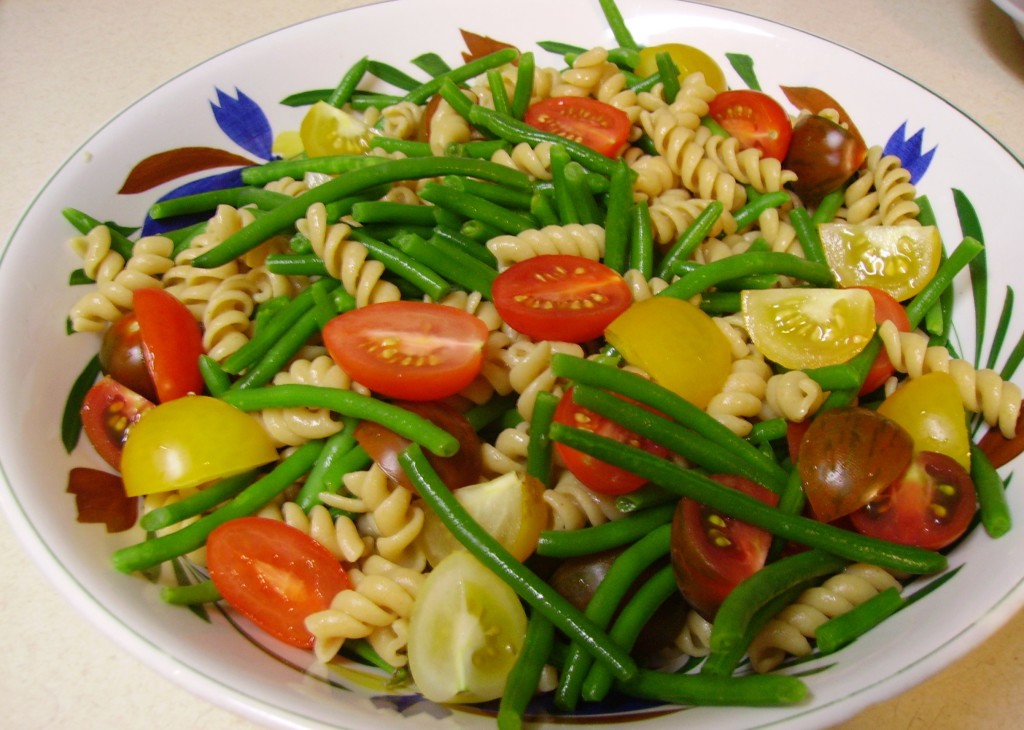 I turned my pesto into a lighter dressing by adding some vegetable stock and a shot of white balsamic vinegar. I used a Smoked Mozzarella because I had it on hand (this may be becoming my new mantra), but any cheese with a bold flavor would work. Some grilled chicken would also make for a wonderful main dish salad. Prepare this salad the day ahead to give the flavors some time to get to know each other better, just take it out about an hour before serving for maximum flavor.
Instructions
Cook the pasta according to the package directions. About 3 minutes before the cooking time is over add the green beans.

At the end of the cooking time drain the pasta and beans and rinse well with cold water. Pour the beans and pasta into a large bowl.

Cut the tomatoes in half and add them to the bowl.

Whisk the pesto, stock, and vinegar together until well blended. Pour the dressing over the ingredients and toss to coat well. Taste and add salt and/or pepper if needed.

Cover and refrigerate for at least 2 hours. Overnight is better.

When you are ready to serve, toss well and check for seasoning. If the salad seems dry add a little more vegetable stock or a splash of olive oil. Sprinkle the Romano cheese on top and serve.
So, the garden keeps on growing in spite of a visit from some hungry deer last night. I've waited this long, I guess a little longer won't hurt.  Love, Mama D