Don't laugh at the title of this post. Greenie beanies was how we always referred to this vegetable when my kids were growing up. Maybe it helped them eat them more willingly, maybe I just made up silly words because I was that kind of mom. Whatever the reason, we still refer to those lovely green spears as greenie beanies. They are still a family favorite and if you took a poll, half the family would like them as a salad and the other half would like them as a warm side dish, though everyone would eat them both ways.
The garden has given us a veritable bounty of beans. The beans have survived being nibbled down to almost nothing by deer, shivering through cold beginnings, basking in very warm sunshine and way more than enough rain. Thanks to care by many residents especially wonderful Lois, the beans are sweet and tender and just beg to be eaten simply.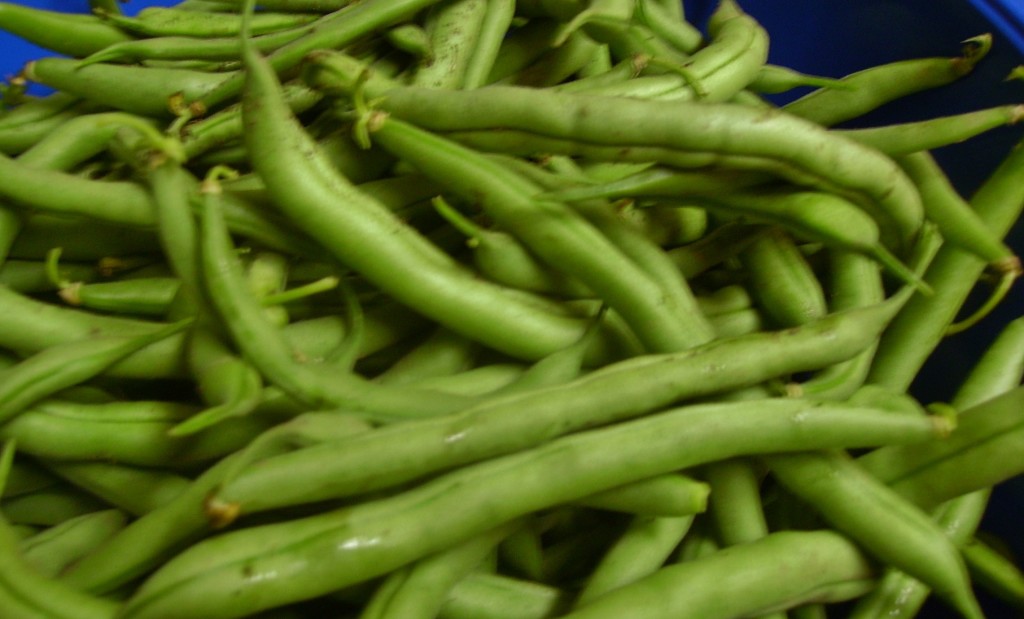 Green Bean Salad in Mama D's Kitchen consists of blanched green beans in a dressing of olive oil, garlic, fresh basil, and balsamic vinegar. This is how my mother made it except that the beans were more than blanched and  the dressing usually featured mint as the herb of choice. I think she used mint because it was very plentiful in our backyard. Anyone who has grown mint knows that it knows no boundaries, so there was always a steady supply for bean salad and the requisite summer iced tea.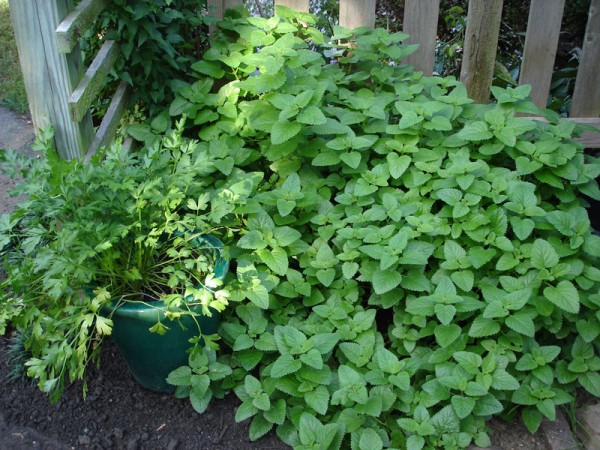 When I fix green beans as a side dish I fry up some bacon and add shallots. Then I toss the blanched beans in this deletable bath and heat until everything is happy. Green beans and bacon have a natural affinity and the shallots add a subtly onion-y flavor that is perfect with almost anything.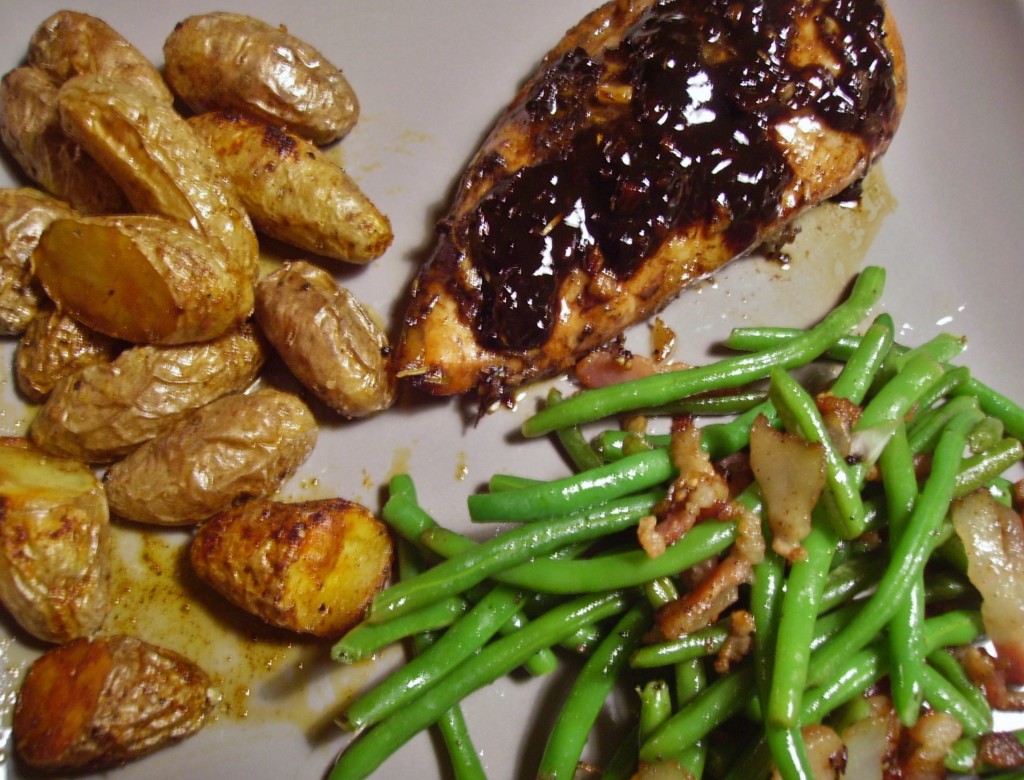 I couldn't decide which of my preferred preparations to make so I opted for a mash-up of the two.The beautiful beanies would be lightly cooked to the perfect tender crispness and dressed with a vinaigrette of garlic, olive oil and balsamic. The dressing would be further enhanced with shallots and bacon. While I decided to chill the beans slightly, the dressing would be warm.
Blanching green beans seems to work the best for me. Cooking them briefly in boiling water then plunging them into an ice bath, while seeming cruel and unusual punishment, results in bright green beans that crunch ever so gently when you bite into them. It sets the stage for whatever they will become.
On this occasion, they chilled briefly  while I prepared the dressing. Two slices of chopped peppered bacon crisped up in a pan. Out came the bacon and away went the drippings. The pan was left with all those beautiful brown bits. They weren't alone for long. I added some olive oil followed by some diced shallots. Once they were soft and fragrant I added some garlic and let them cook long enough to become really good friends. Then a bit more olive oil and some balsamic vinegar and the dressing was perfect.
By this time the beans were slightly chilled and ready to welcome their rich brown dressing. The bacon crowned the dish and a new family favorite was born.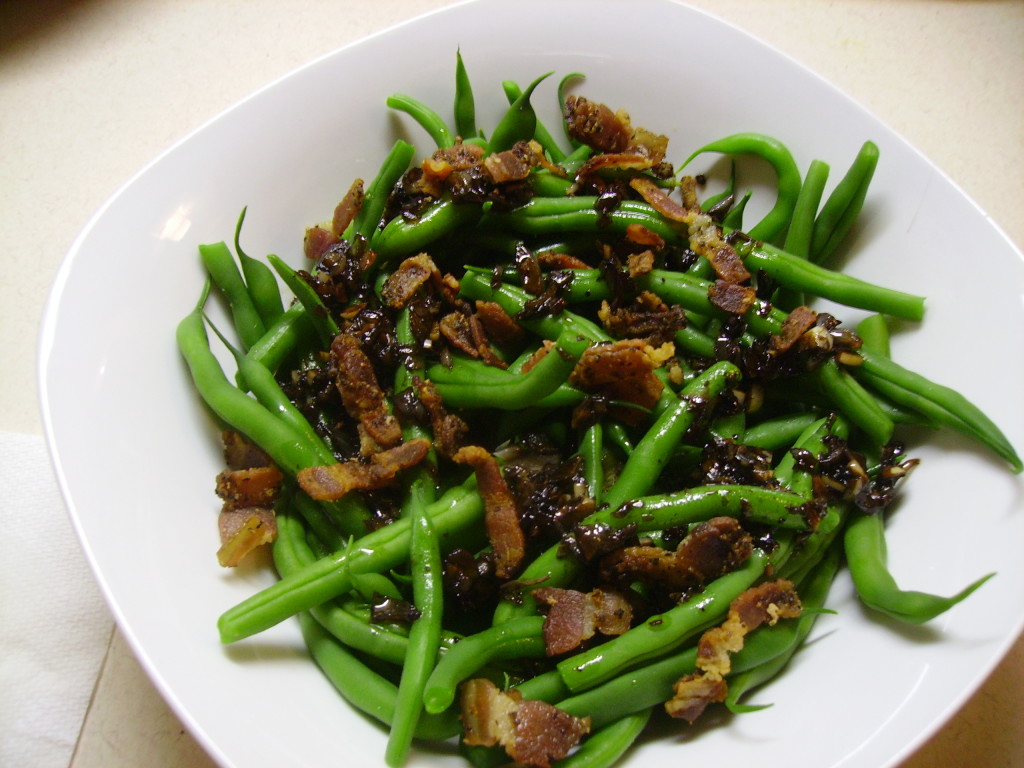 Instructions
In a large pot, bring a good amount of salted water to boil. Add the green beans and cook for 3 - 4 minutes (they should be just barely tender and quite crisp).

Drain the beans and place in a bowl of ice water. Stir to cool as quickly as possible. Drain well and store in the refrigerator while you make the dressing.

Chop the bacon and cook it in a small skillet until it is crisp. Remove the bacon and drain on a paper towel. Pour off all of the drippings but leave the browned bits.

Add the olive oil to the pan and let it get hot. Add the shallots and cook for 3 minutes or so until they begin to turn golden.

Add the garlic and cook another 2 minutes, stirring often.

Add the vinegar and reduce the heat to low. Let the dressing simmer for a few minutes. Check the flavor and add salt and pepper if needed.

Put the beans in a serving bowl. Add the dressing and toss to coat. Sprinkle the reserved bacon on the top and serve.
It looks as though there will be more beans to come as well as tomatoes and peppers (as long as the squirrels don't sample too much).  In spite of everything our community garden is giving us lots of food and a different perspective on apartment living.