There  is more than just a hint of fall in the air. Cool days and cooler breezes make it abundantly clear that the season has changed here. Not that there's anything wrong with that. I'm ready for Fall, at least I think I am. I enjoy the cooler days and the leaves changing colors. No longer having to rake them makes the whole process even more enjoyable. While I'm not anxious for Winter, I am ready for this change and the change in my cooking focus that it brings.
I want to share a few quick picks of what's been happening in Mama D's Kitchen. Many of these are Non-Recipe Recipes; that is they really are just musings on what's in season and more importantly what's in the house. So come join me as we a take a culinary walk back over the last couple of weeks.
I bought some Nan bread (the garlic variety) to go with a curry dish. The curry wound up being paired with some Brown Basmati Rice and the Nan was left to fend for itself. In case you've never thought of it, Nan makes a great quick pizza crust. It's the perfect shape and size for personal pizza and works in the oven or on the grill.
I opted for a version of White Pizza using some of my Homemade Ricotta (thanks, Ina Garten) and Pesto. I mixed the two together to create the "sauce" I drizzled the Nan with some olive oil and toasted it in the oven briefly before adding said sauce. The toppings were Italian Sausage and Mini Heirloom Tomatoes both of which were on hand and waiting for their moment to shine. The cheese was a marinated mozzarella that was purchased on speculation, but perfectly suited to the pizza.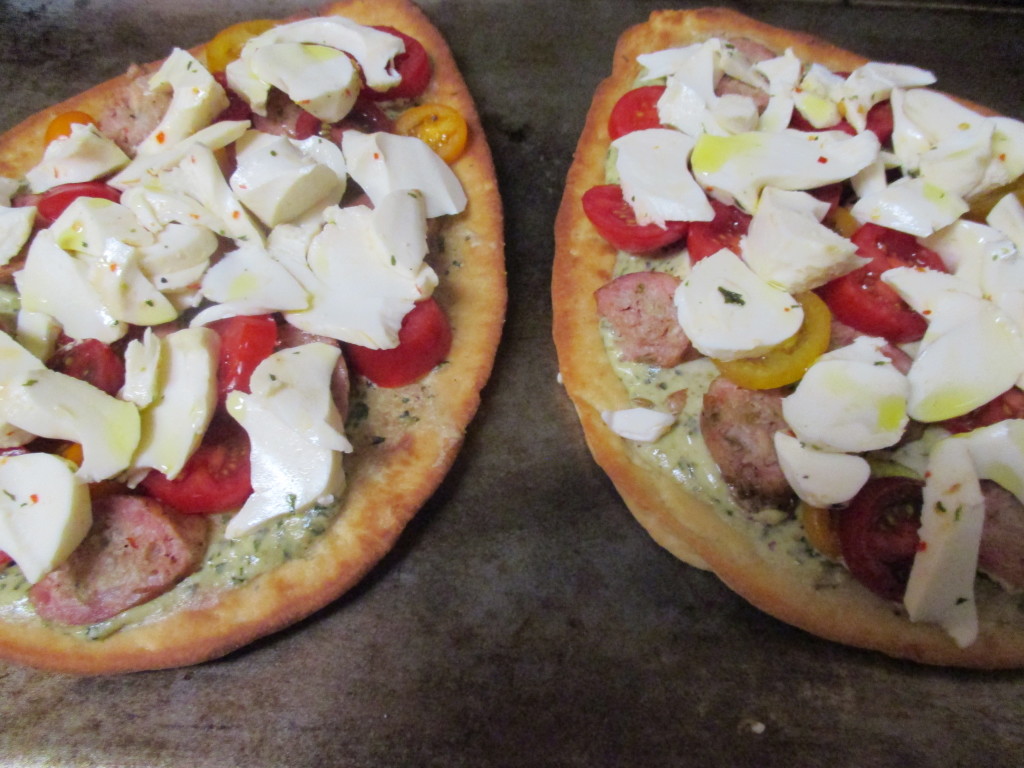 Once baked it was topped with some basil, olive oil, and served with baby greens dressed lightly with lemon juice and olive oil. Now, that was a delightful and very easy supper.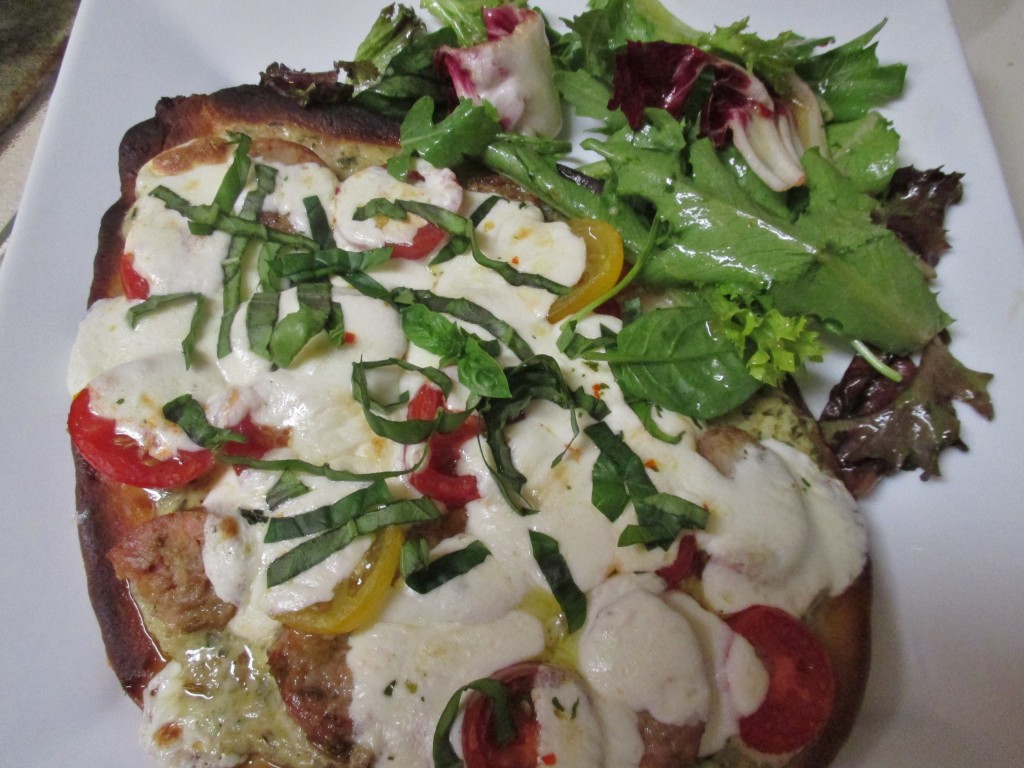 I found some lovely beets at the store and since they are one of Papa D's favorites I had to bring some home. My preferred method of cooking is to roast them. This also is the most stain proof way, in my opinion. Wash them off and remove the greens leaving a little of the stem. Lay them on a couple of sheets of heavy foil, drizzle with a little olive oil and wrap them up tightly. Let them roast at 375 – 400 degrees until they are easily pierced with a knife and the kitchen has the earthy aroma of beets. This can take anywhere from 30 to 60 minutes depending on the beets.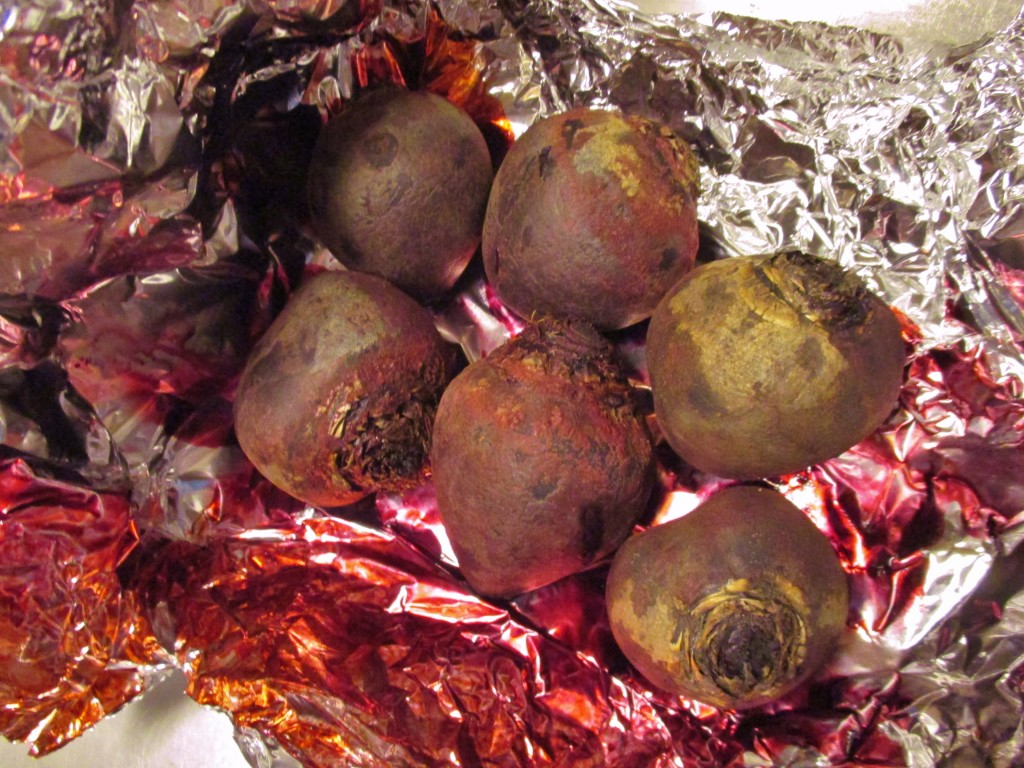 Let them cool long enough to make them handle-able. I love beets, but beet red is not my color, so I opt to wear gloves to rub the skins off. If you enjoy red fingers go ahead and use bare hands and paper towels. Once peeled, I cut them into chunky chunks and dressed them lightly with a Balsamic Vinaigrette that was laced with some orange peel. Any dressing that you love would work here. I set them on top of some baby greens (left from guess what?) and garnished them with some goat cheese. Wonderful!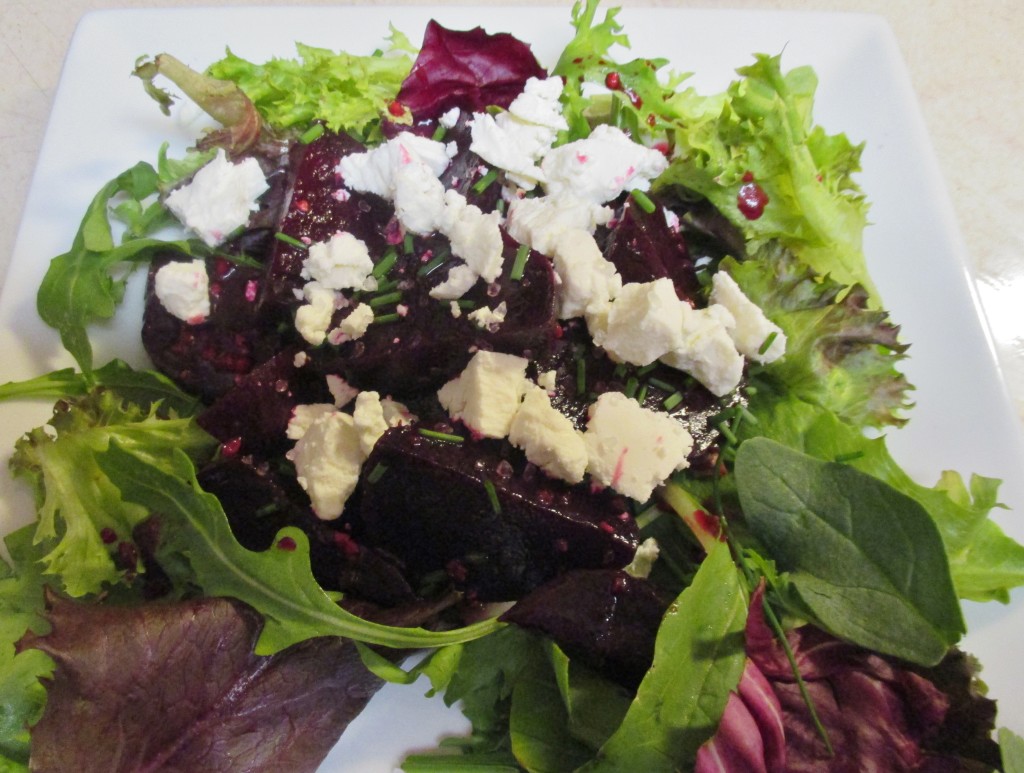 Finally I have to share another "Pork Love" dish, Stuffed Pork Chops. I have recently re-fallen in love with pork chops, particularly the thick cut, bone in, center variety. They are eating perfection. The thin ribbon of fat on the edge and the succulent bone along the side create a depth of flavor that is divine. They are wonderful simply prepared on the grill or in the oven, but I knew they were just begging to be stuffed.
This stuffing was inspired by what I had on hand and included some frozen chopped spinach, red bell peppers, and whole grain bread. Honestly anything could go into the stuffing. Leave out the bread and go all veggie, or use rice, quinoa or any other grain you have within easy reach. I started my stuffing with onion and garlic that I sautéed in a little olive oil (Is there any other way to begin?). The spinach and bell pepper jumped in and got very friendly with them. I put the bread in the toaster and then crumbled it into the veggies. I added a little chicken stock to moisten everything and packed it generously, albeit lightly, into the pockets that I had cut. I added a little wine to the pan and salt and pepper to the chops. For a crowning flavor boost I topped them with some sliced onions.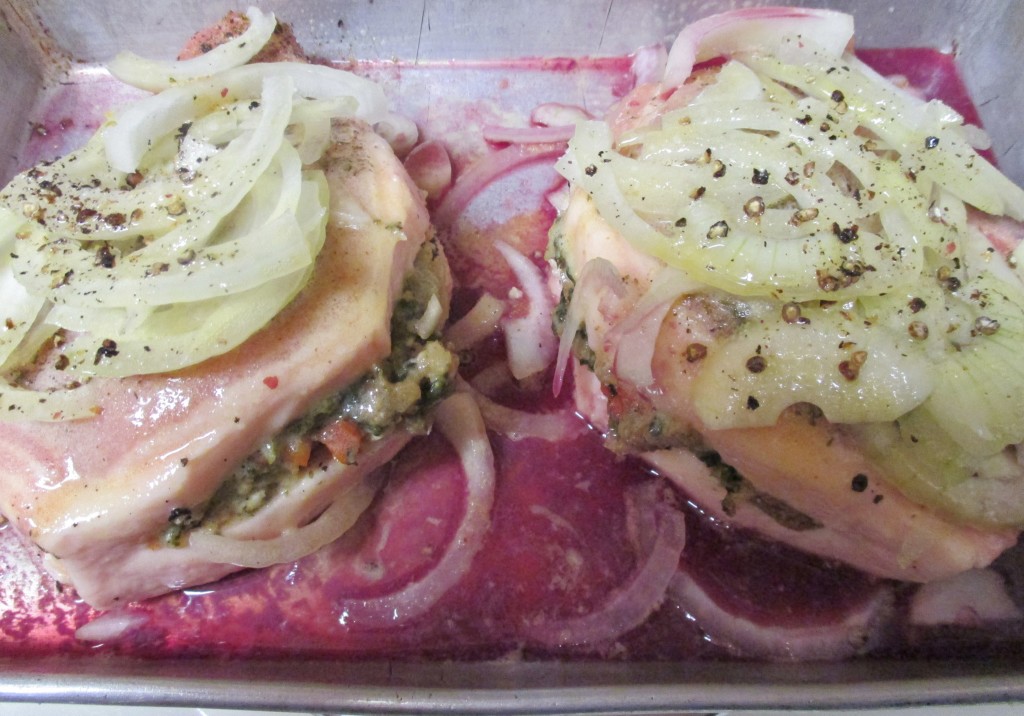 I let them bake covered for 20 minutes or so then I lifted their foil blanket and let them roast another few minutes to get lightly golden. I opted for 350 degrees because that seemed right. Baking time depends on the thickness of the chops and what's inside…use your best guess, but do not overcook them.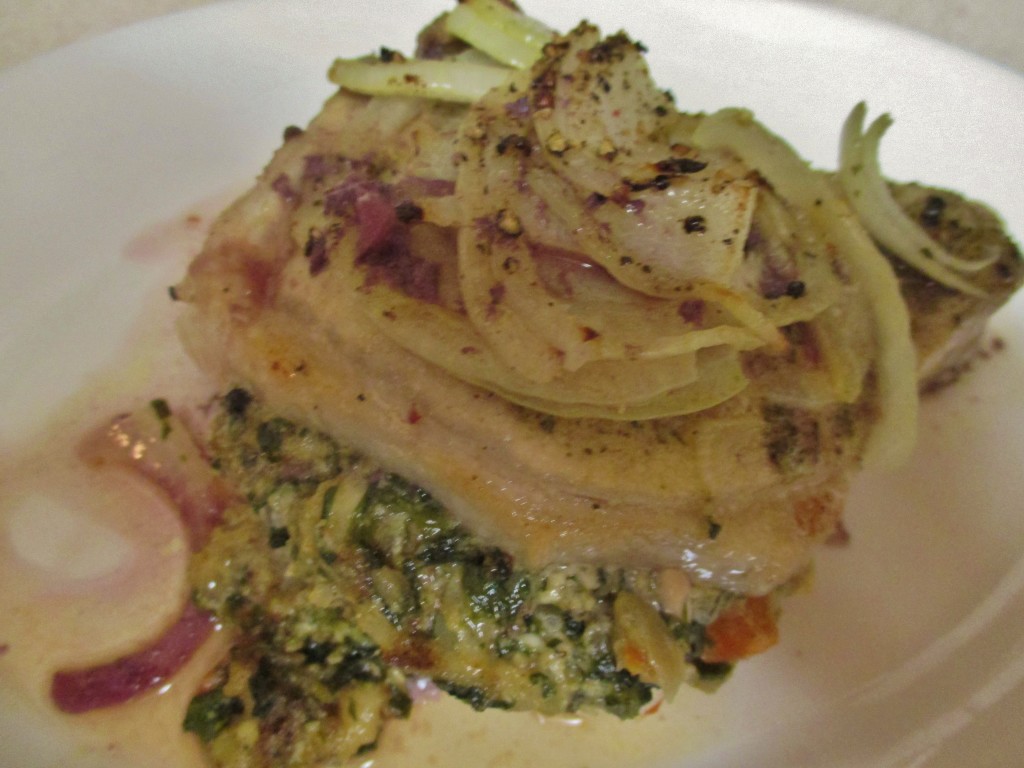 The chops were scrumptious; moist and tender and positively dripping with flavor. I've started a mental list of what to add the next time; herbs, sausage, cheese, the ideas are endless.
So there you have it, three quick and easy kitchen adventures. Now it's your turn to take my ideas and run with them.