This year has flown by. So much has happened that it's hard to believe that it has only been a year. It's been a year filled with many good things. The bad things weren't really bad, just things that happened for the best, as my mother always said. We buried two cars, but got two very nice sensible ones to replace them. We continued at our part-time, semi-retired, jobs and were able to drive to Florida for a long overdue visit with family. We now know that we really like apartment living and have only replaced a few things that we got rid of too hastily. Oh, and the kitchen has been full of love and the recipes I've shared have been stellar examples of that. Here's one more ….
We had lots of leftovers from Christmas Eve and the time had come to use them or loose them. A few carefully chosen items went into this pasta dish. It was simple, easy, and oh so tasty. It was also a riff on another quick pasta dish that I shared long ago…I think I might like this new version even better. Red and green bell pepper strips joined some peppered salami to become a decadent sauce for some spinach fettuccine.
The rest of the ingredients were standard fixtures in the Kitchen of Love…Mama D's Trinity joined in and  got the party started.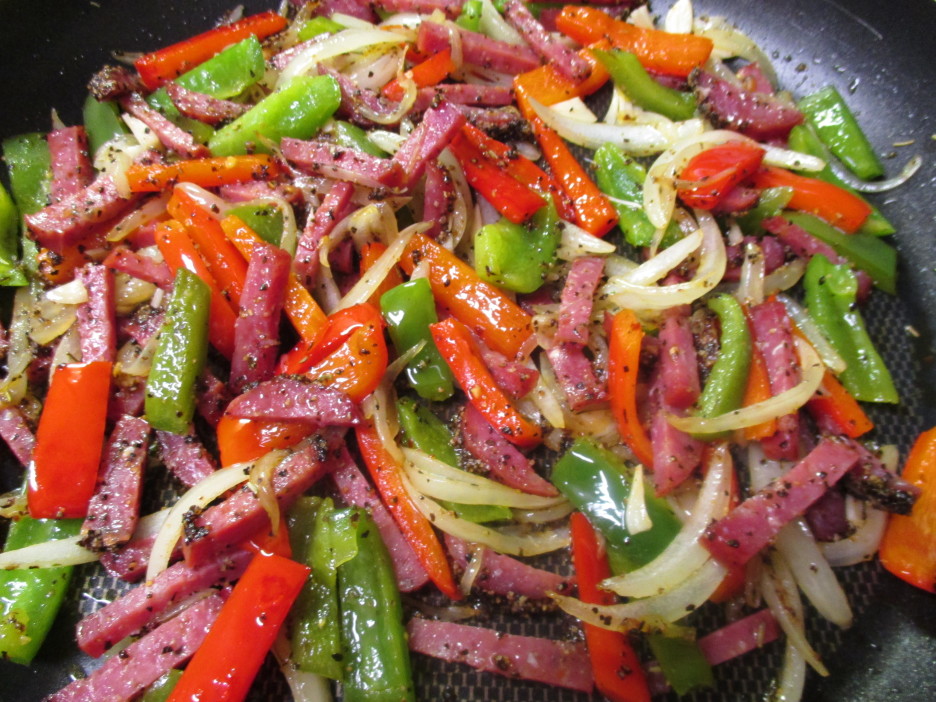 A touch of heavy cream and some milk created a sauce that enveloped the dish luxuriously.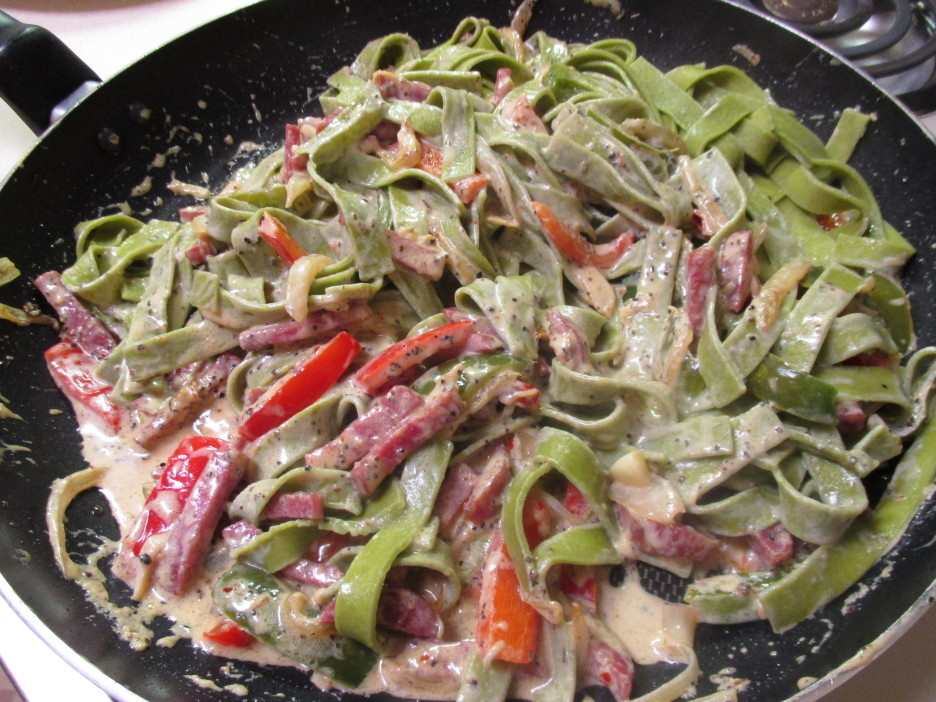 A generous sprinkle of Pecorino Romano and it was ready to eat.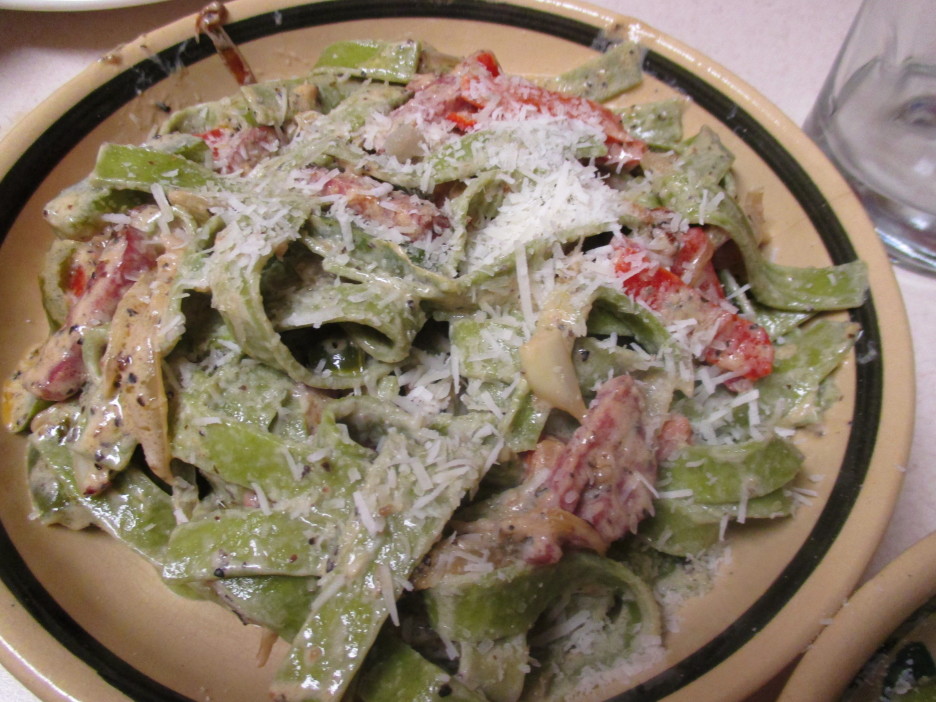 And eat it we did, Papa D and I. We ate it all…the New Year will be here soon and we'll focus on the healthier side of the kitchen again. Right now, this was the perfect dish to warm a Winter's Night that finally felt like a Winter's Night.
This recipe was literally made with what was on hand. Quantities could go in any direction that works for you. I used a combination of milk and cream because I only had a little cream. More cream would be delightful, if you dare. I aimed to keep the peppers onions and salami in similar size pieces mostly because it's easier to eat that way. So, without further ado, here's a simple way to say goodbye to the year.
Instructions
Cook the pasta in salted boiling water 1 minute less than package directions. While the pasta cooks, prepare the sauce.

Heat the olive oil in a large skillet over medium heat. Add the onions and peppers and cook for 7 - 8 minutes, until the onions are golden and the peppers are soft.

Add the salami and the garlic and cook another 3 - 4 minutes.

Pour in the milk and cream and simmer for 5 minutes or so until the sauce thickens slightly. Stir in 2 tablespoons of the cheese and continue to cook until the cheese melts.

Drain the pasta and add it to the skillet. Toss to coat and cook for a minute or two more.

Divide the goodness into two pasta bowls. Sprinkle one tablespoon of the cheese on each bowl and serve.
The coming year will hold many wonderful things, including the arrival of our third grandson. I know there will be new adventures in the kitchen and in the world. I'll be sharing the best of everything with you. That's part of my resolution…to be grateful for the best year yet, and to share my gratitude with my friends… Happy New Year!
                                                              Love, Mama D