Inspiration. It's what motivates us to do something. We can be inspired by someone's actions or words, which in turn allows us to try something new. Cooking is made up of many things, but first and most important is inspiration. Whether it's a beautiful vegetable at its peak of deliciousness, an upcoming event that screams for a special dish, or a recipe that sparks the creative juices of the mind and palate. That's what this is all about…taking inspiration from a recipe.
Those of us who love to cook often come up with ideas that arrive like lightning bolts that must be harnessed into wonderful food. We take to the kitchen and experiment until we create the perfect storm, a dish that is fabulous. There are also times when we see someone else's "perfect storm" and are inspired to create our own version of that perfection. Let's face it, most of us do not follow a recipe to the letter (with the exception of baking where creative license can mess with the kitchen chemistry). We add a little more of something or maybe a little less.
There are times when I see a recipe in a magazine or on-line that gives me an idea. I take the basic idea and run with it. That's how the Artichoke Lasagna came to be. The recipe I came across used artichokes, mushrooms, and red bell peppers to create the filling that included a huge amount of cream cheese. I kept the veggies and lost the cream cheese to create a lasagna that was all my own with a more traditional filling using ricotta, cheese, and eggs, along with a bit of pesto.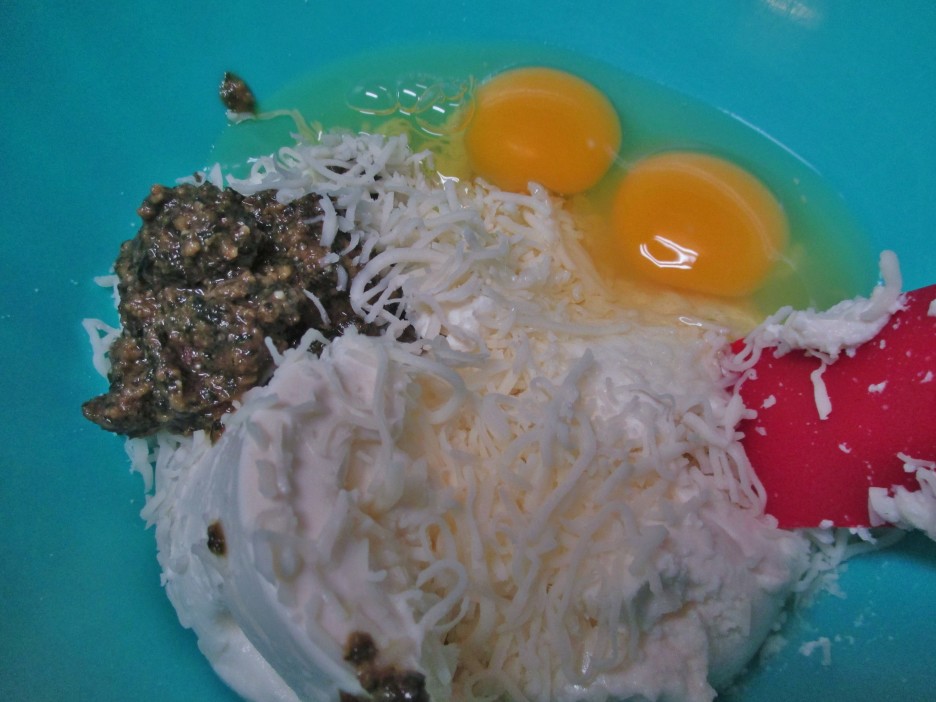 I combined the vegetables with this and the result was a creamy filling ready to hold its own in my lasagna.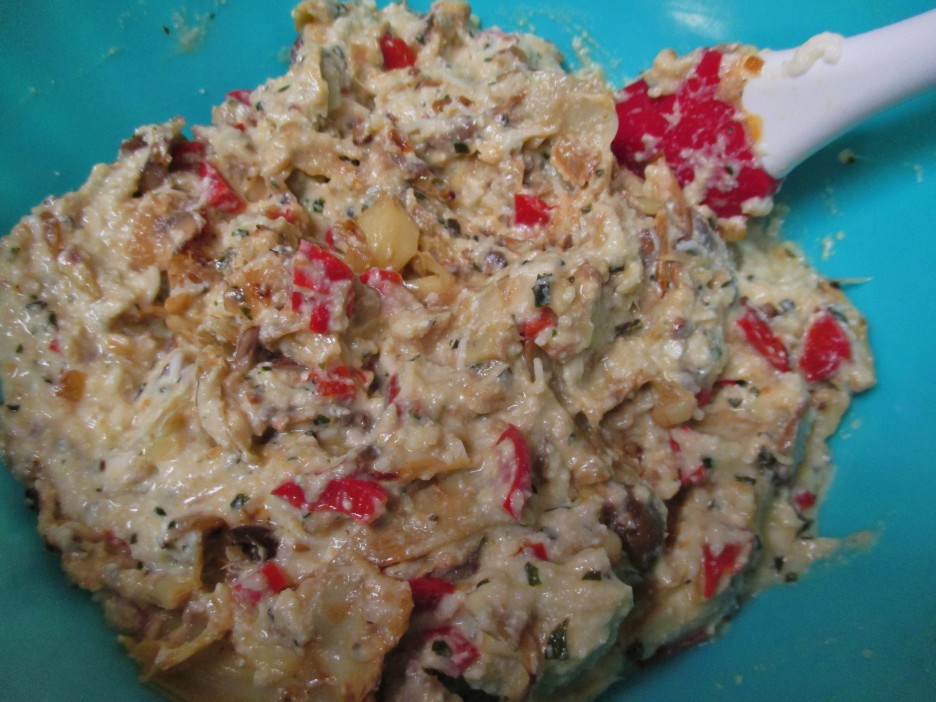 I decided to try whole grain lasagna and I can highly recommend it. The nutty flavor and sturdy texture added to the lasagna's taste.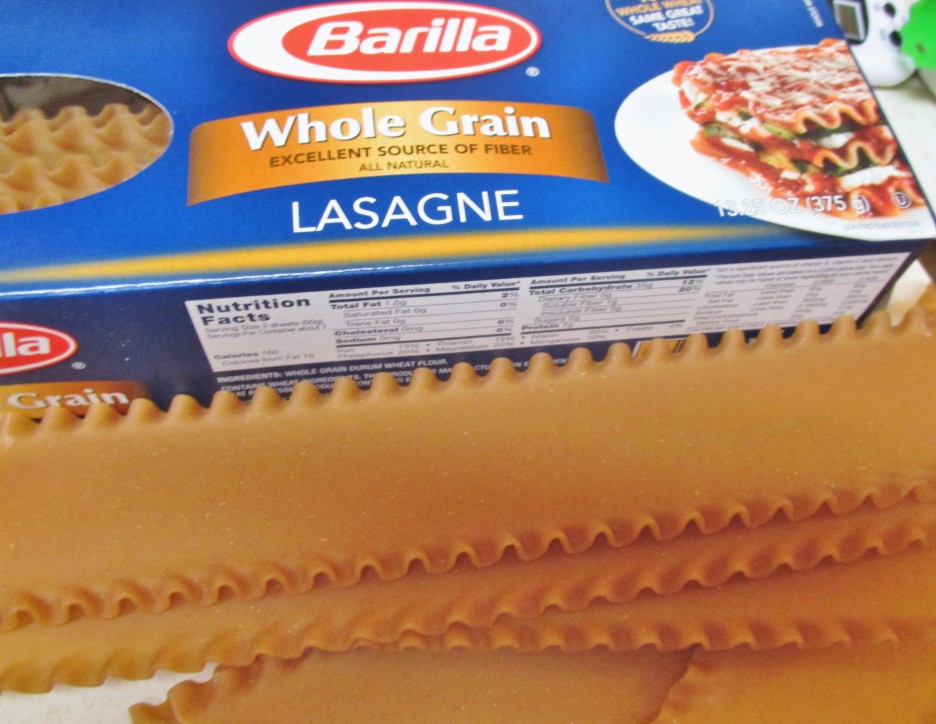 The lasagna went together in the usual way; layers of noodles, filling and cheese.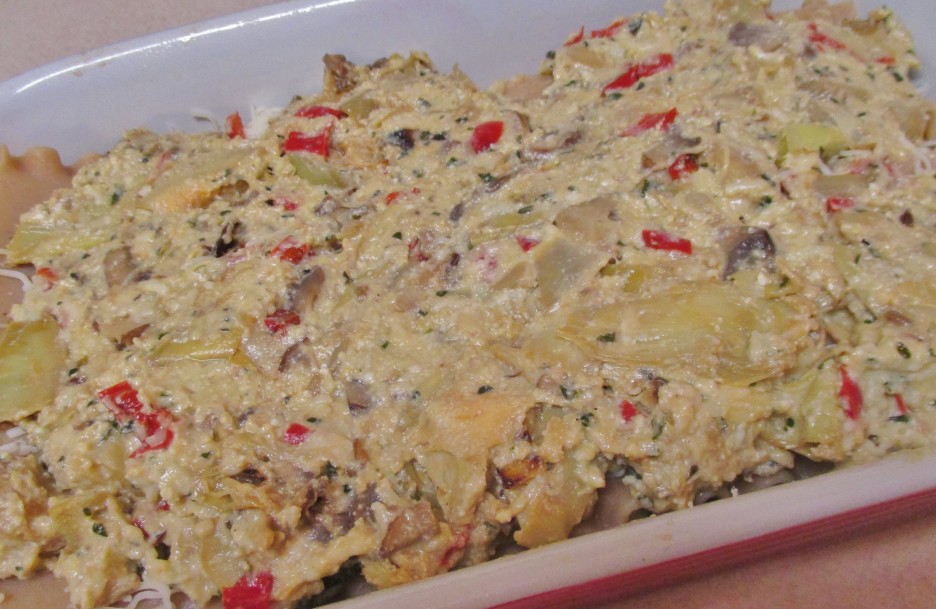 I topped it off with a Bechamel Sauce that I made with fat-free half & half and Cracked Pepper Toscano Cheese. This is one of my favorite Trader Joe's items. It's a creamy Parmesan type cheese that is coated in black pepper. Wonderful in cooking  and a delicious addition to a cheese plate.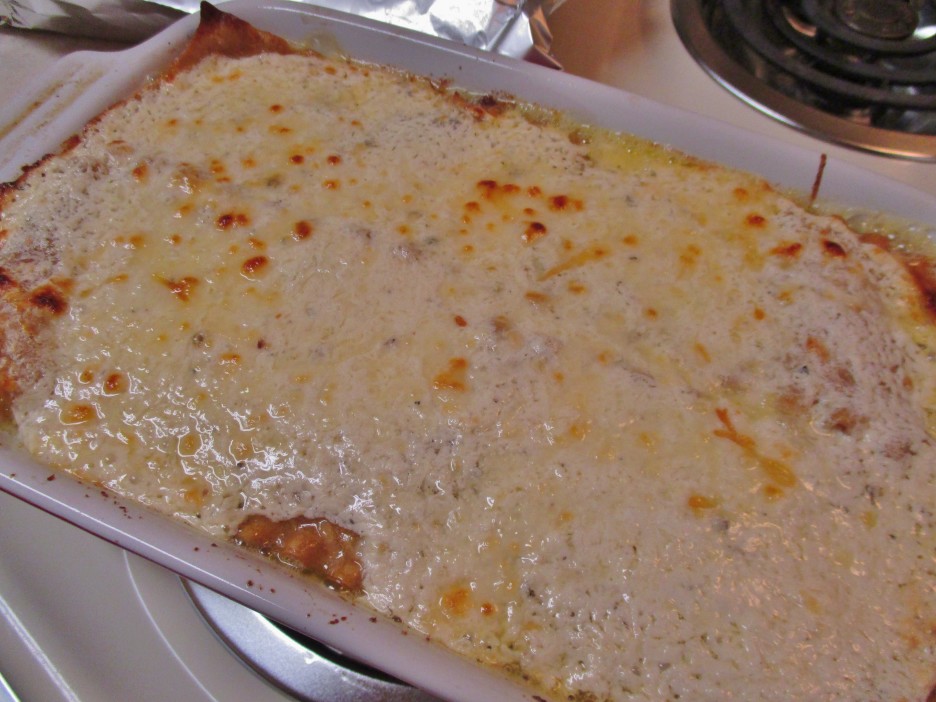 The lasagna emerged from the oven bubbly and golden as every lasagna should. After a waiting period that seemed endless, but was really about 15 minutes, it was ready to cut and serve.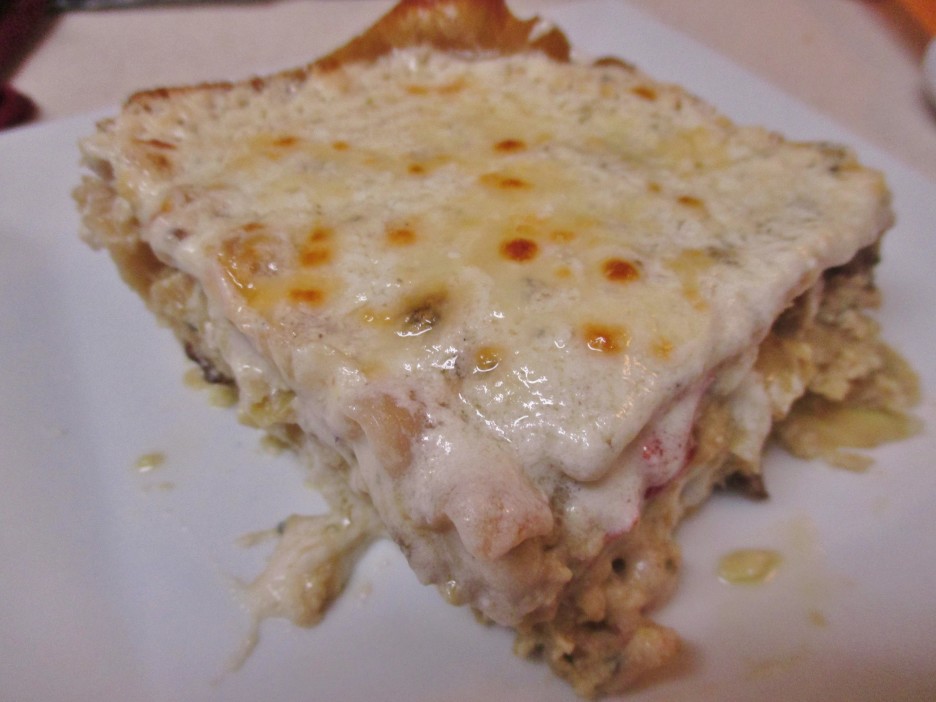 This was a win win for stolen inspiration and conscious en"light"enment. The filling was creamy and filled with veggie goodness. The six generous servings had plenty of cheesy goodness from modest amounts of  ricotta and Italian Cheese Blend and of course, that killer Bechamel.
A Disclaimer: This is not a quick weeknight meal, but it can be assembled ahead of time (even the day before) and hang out in the refrigerator until you are ready to bake it. Just let it come to room temperature before baking. The recipe may look daunting at first glance. There are lots of steps which is typical of most lasagna recipes, but they are pretty easy to execute and are definitely worth the effort. Make this when you have time on a Sunday and you'll have a delicious Meatless Monday supper with no more effort than turning on the oven and tossing a salad.
Instructions

Bechamel sauce
Melt the butter in a small sauce pan. Add the flour and cook, stirring frequently for 2 minutes or so. Add the milk slowly whisking constantly to keep things smooth.

Bring the mixture just to a boil, stirring constantly. Remove the pan from the heat and stir in the Parmesan cheese. Set aside in a warm place. If sauce gets too thick add a little more half & half.
Lasagna
Cook the lasagna according to the package directions. Drain well and lay out on wax or parchment paper. Prepare the filling while the pasta cooks.

Heat the olive oil in a large skillet. Add the onion and cook for 3 minutes. Add the bell peppers and mushrooms and cook another 3 minutes. Stir often during this step to insure everything is softening.

Add the garlic and artichoke hearts and cook 3 minutes more or until everything is soft, fragrant, and lightly browned. Allow to cool before adding to the other filling ingredients.

In a large bowl, combine the ricotta, eggs, pesto, and 1/3 cup of the Italian Cheese Blend. Mix everything together. Add the cooled vegetables and stir it all together.

Spray a baking dish with non-stick spray. Place 2 lasagna noodles in the bottom of the dish. Spread half of the filling evenly over the noodles. Sprinkle with a little of the remaining cheese blend and drizzle a tablespoon or two of the Bechamel over the layer.

Repeat the process with two more noodles and the other half of the filling. Sprinkle with cheese and drizzle with sauce as for the first layer.

Top with the remaining two noodles. Spread the rest of the Bechamel sauce on top and sprinkle with the last of the cheese blend.

Cover loosely with foil and bake in a pre-heated 350 degree oven for 30 minutes. Check to see if things are beginning to bubble. If not cover and bake another 5 minutes or so.

When the lasagna is bubbly, remove the foil and raise the oven to broil. Broil the lasagna for 3 - 4 minutes or until it is lightly golden brown and even more bubbly.

Allow to rest 10 -15 minutes before cutting and serving.