After a wait that felt far too long, I can say that it is unequivocally Fall. There is crispness in the air. Windows and doors are finally open to let the act of breathing real fresh air become a daily occurrence. Mama D's Kitchen is ready to produce some heartier fare. So, it is time to get the Slow Cooker out of its hiding place and let it do some of the work of producing something delicious.
I feel the need to go on record that I have a love/hate relationship with the Slow Cooker. I love how whatever you cook in it envelopes the house with wonderful aromas. I like the fact  that once the ingredients have been prepped and added, there is nothing more to do. You can set it and forget it and go out and enjoy a perfect Fall afternoon, knowing that when you return home, wonderful smells and tasty comfort food will be waiting. Even though these are great pluses, I have a few issues with this "counter top time saver". In my opinion there are some things that shouldn't go in a crock pot. I'm not a fan of pot roast in a slow cooker. I know that borders on blasphemy, but I find the taste and texture of both the meat and its accompanying vegetables to be a bit watered down. I also take issue with the fact that in order to set it and forget it, one must do a certain amount of cutting, measuring, and even pre-cooking to have everything ready to spend the rest of the day getting happy. I'm not afraid of a little work, but at times it seems that there is a lot of active prep time to get to the passive cooking part of the equation.
That being said, I do respect this appliance enough to make space for it in my very small kitchen. The things it does well, it does very well. My favorite things to make in a slow cooker are soups and chilies, which brings us to this recipe; Chicken Chili. Once again I must give credit to a food magazine for the inspiration for this dish. The initial idea came from the October Cooking Light Magazine. It featured a Slow Cooker Chicken Chili. Reading through the recipe, I was taken by several things. The combination of Butternut Squash and Hominy blending with chicken sounded like a "million dollar trio." There was also a step that called for pureeing a can of beans to add body and thickness to the dish. Now comes the point where I incorporate some Mama D magic.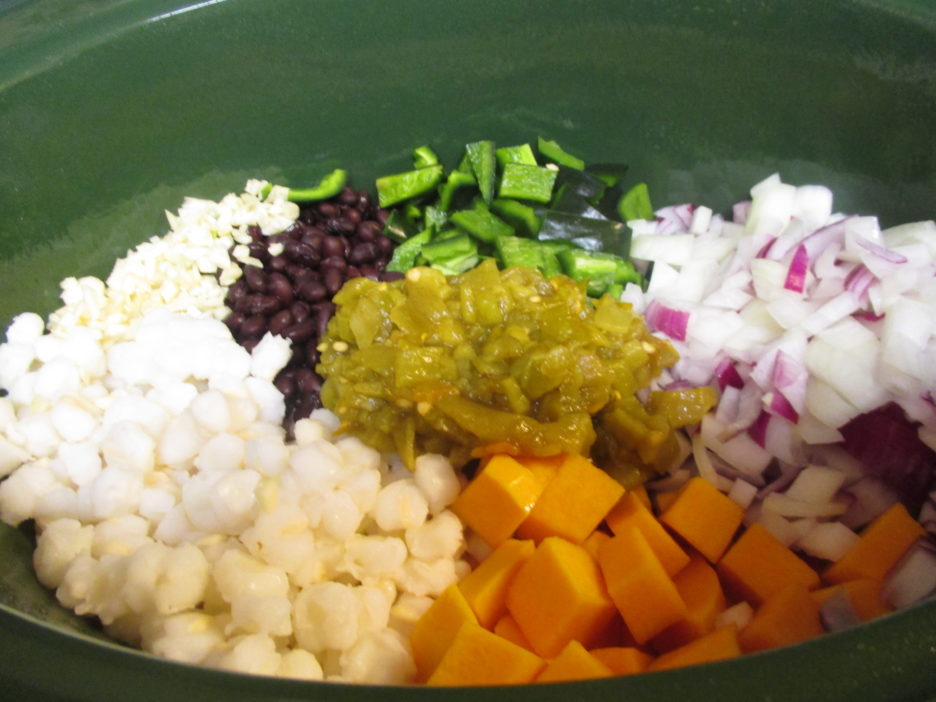 The recipe was obviously going to be a chili on the "white side," but I had something a little different in mind. I also had a random array of ingredients that I wanted to use up. I did puree a can of beans, Pintos, to be exact. I blended this with some homemade chicken stock and a decent amount of homemade chili sauce that had been living in the freezer. Another one of my issues with a slow cooker is that the cooking process creates a lot of liquid. I was making chili not soup so I wanted a thicker sauce. I took the liberty of adding some Masa Harina to act as a thickening and add a little more earthy corn taste. Then there was the matter of vegetables. I added a lot of onion and garlic (this is Mama D's Kitchen after all) along with some chopped Poblano Chilies. This along with canned green chilies upped the ratio of veg. to meat to about 3 to 1. A can of Black Beans jumped into the pot as well.
The chicken part came from a bag of scraps that was also lounging in the freezer. Any time that I buy boneless/skinless chicken parts, I save the trimmings for some future use, like chili. Waste not, want not is my motto.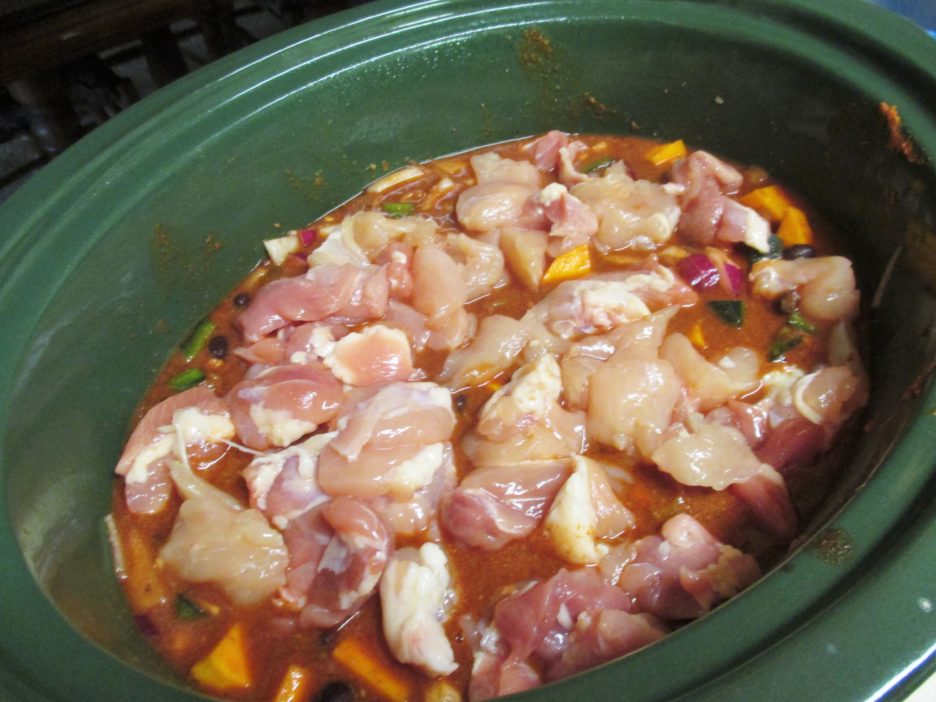 I put the ingredients into the Slow Cooker in a specific order. The veggies went in first and were mixed with the liquid ingredients. I topped this savory bed with the chicken, much like most Slow Cooker recipes suggest. Then, finally, came the set it and forget it part.
We enjoyed a walk and a cocktail and returned home to wonderful smells. A tip of the lid and a rise in temperature (to complete the thickening process) and in a brief half hour it was ready to serve.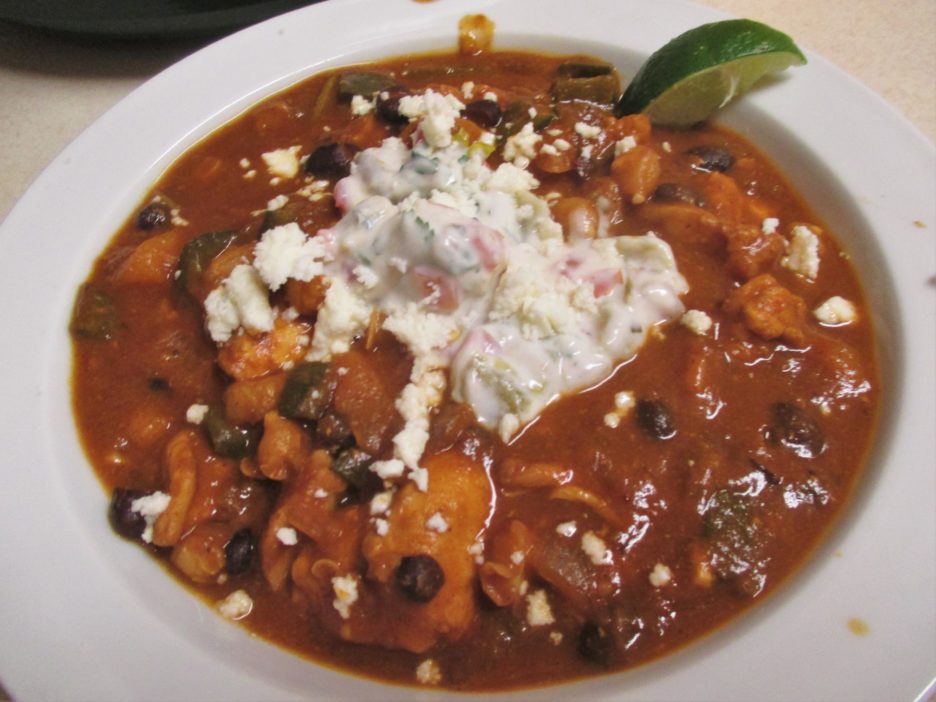 The garnish involved some Queso Fresco and Sour Cream laced with salsa and cilantro. A wedge of lime added some brightness. This is chili on the mild side. Using a hotter chili like Anaheim and Chipotle Chili Powder would definitely up the heat. You could add a different bean or add more of them and it will be great. Since I respectfully borrowed the idea from Cooking Light, any modifications are more than all right.
Instructions
Spray a 6 quart Slow Cooker lightly with non-stick spray. Add the squash, peppers, onion, garlic, hominy, chilies, and black beans to the cooker and stir to combine.

Combine the pureed beans, chicken stock, and red chili sauce in a bowl. Add the masa harina and stir or whisk until the mixture is smooth.

Add the chili powder, cumin, and oregano to the liquid ingredients and stir once more. Pour the liquids into the cooker and stir to combine everything well.

Cut the chicken into bite size pieces. Lay the chicken pieces on top of the vegetable mixture. Cover and cook on Low for 6 - 8 hours (the heat on every slow cooker is different so adjust the time according to how yours cooks).

At the 6/8 hour point, stir the chicken into the other ingredients. Give things a taste and add more of any seasoning you think it needs.

Tilt the lid slightly and turn the heat setting to High. Allow the chili to cook until it is the thickness that you like.

While the chili is cooking on High, mix the sour cream, salsa, and cilantro together. Set aside.

When you are ready to serve, ladle into bowls. Pass the sour cream mixture, lime, and cheese at the table.
Another thing to remember with Slow Cookers is that the long cooking process pulls lots of moisture out of the ingredients. Once the dish is cooked it is a good idea to taste test for seasoning levels. That sauce with a  spicy zing at the beginning may have gotten watered down over the hours and will be in need of a booster shot of seasoning.
I am very happy that Fall is here and that there will be many more hearty and healthy dishes coming from the Kitchen of love. There may even be a few more Slow Cooker adventures, within reason, that is.