It's soup season. The calendar tells me so, but here in the Midwest we have had a very mild January…in fact it is almost one for the record books. There has been virtually no snow and the temperature has flirted with the 60's. Still, it is soup season so soup is making many appearances in Mama D's Kitchen.
Armed with plenty of homemade stock in the freezer I am embarking on serious soup adventures. My first stop was revisiting a pure comfort soup, Broccoli Cheddar Cheese, to be exact. What could elevate this creamy classic? Enter a block of Chipotle Cheddar Cheese. This is a white cheddar studded with bits of chipotle pepper. It is available in a few markets and while bringing a bit of heat is still a sharp cheddar that will please most tastes.
I started with onions, carrots and garlic softened in a little olive oil. My stock of choice was vegetable as "Meatless Monday" was looming. I simmered these together for half an hour or so before transforming it into creamy cheesy goodness. There was going to be a lot of cheddar cheese going into this so I dialed down the dairy fat by using a combination of evaporated skim milk and low-fat buttermilk. A flour and stock slurry insured pleasant thickness and some Worcestershire Sauce and Chipotle Tabasco Sauce added some zip. I added a little Chipotle Chile Powder. Depending on how hot you want to go, this could go as high as your palate can bear.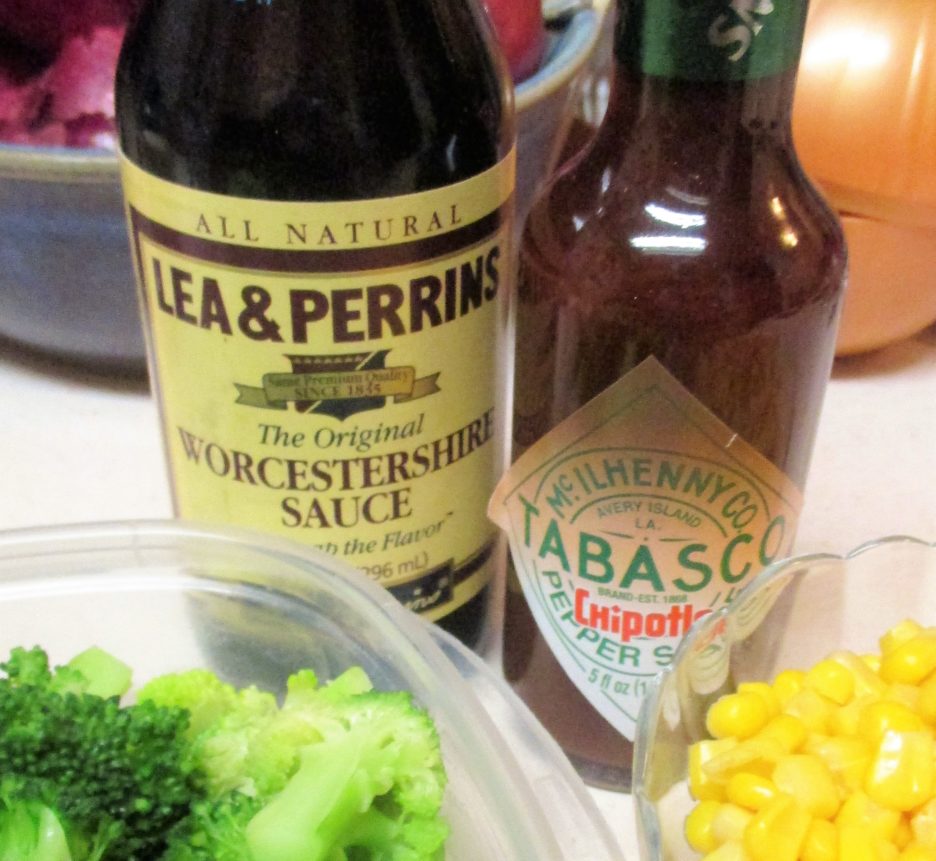 I blanched the broccoli to help keep its vivid green color and added a cup of frozen corn to keep things interesting.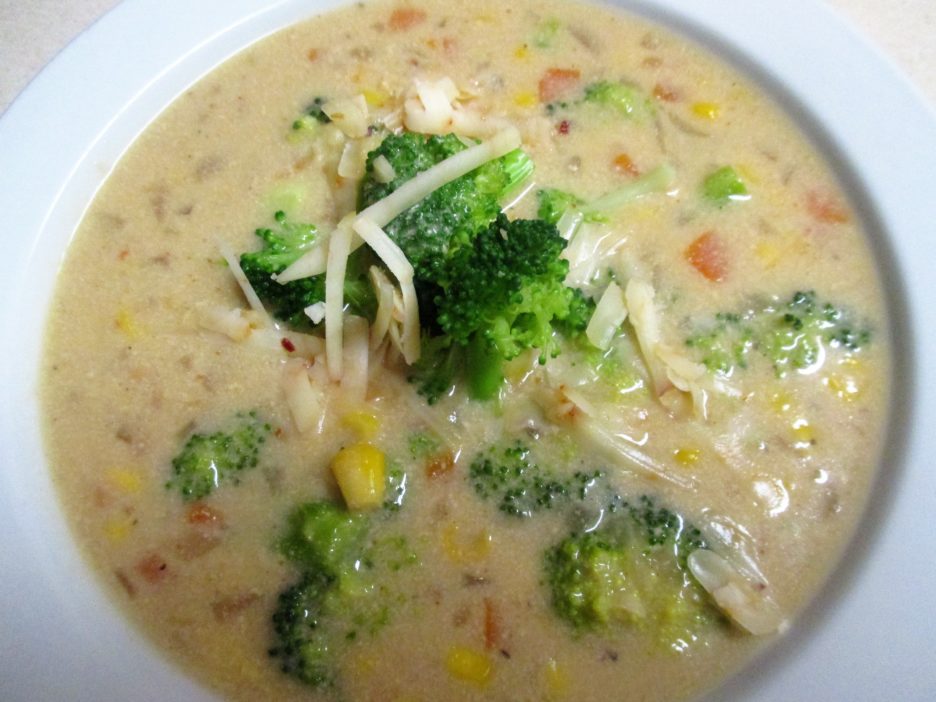 This is actually a very quick soup to make. It would also lend itself to many variations. The addition of buttermilk was an experiment that succeeded. It added creaminess as well as a little zing to the flavor. If you can't find chipotle cheddar use any sharp cheddar cheese.
Instructions
Heat the olive oil in a large soup pot. Add the onions, carrots, and garlic. Cook for 5 minutes or until the veggies are beginning to brown.

Add 1/4 cup broth to the pot and stir scraping up any brown bits. Cook for a minute or so to reduce slightly.

Add 3-1/2 cups of stock, the allspice, and chipotle powder to the pot and bring to a boil. Reduce heat to a simmer, cover and cook for 10 - 15 minutes.

While the stock simmers, blanch the broccoli. Dump the broccoli into a pot of salted boiling water and cook for 2 minutes. Immediately remove the broccoli and submerge in a bowl of ice water. Drain well and set aside.

Once the stock mixture starts smelling wonderful, add the evaporated milk and the buttermilk. Shake together the remaining 1/4 cup of stock and the flour. Slowly pour it into the soup stirring constantly. Continue to stir until it thickens.

Add the broccoli, corn, Worcestershire Sauce and Chipotle Tabasco. Cook for several minutes.

Over low heat, stir in the cheese, continuing to stir until it is melted. Give it a taste and adjust any seasoning. Serve.
The soup pot sits at the ready for its next great adventure…I wonder where we will wind up?