I do believe that Fall is here. Pumpkins are everywhere along with what I consider the essential Fall vegetables. In Mama D's Kitchen the Love extends to squash, sweet potatoes, and those lovely little green cabbages,
Back in our California Days, we would drive by Brussels Sprout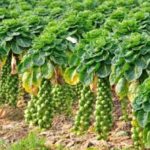 fields.Brussels Sprouts, the stalks standing proudly, perfuming the air with their mild cabbage scent. Driving along highway 1, we would keep a lookout for a beat up old station wagon on the side of the road. Every time we saw it, we would stop and greet a man older and more beat up than his car. His name was Dutch and he sold Brussels Sprouts and artichokes out of the back of that old station wagon. Every visit resulted in a bag of sprouts and a baby artichoke or Brussels sprout (Dutch's gift) for both of my sons. They would each hold on to these treasured gifts all the way home.
These days, we get our Brussels sprouts from the store and at this time of year they seem to be the sweetest of all. I want to share some of the ways that I love these "little cabbages" in the hope that you will invite them into your kitchen. My very favorite way to prepare them is roasting. All they require is a drizzle of olive oil and whatever seasonings your heart desires. Salt and pepper go without saying, but earthy herbs, smoked paprika, and cumin are always welcome additions.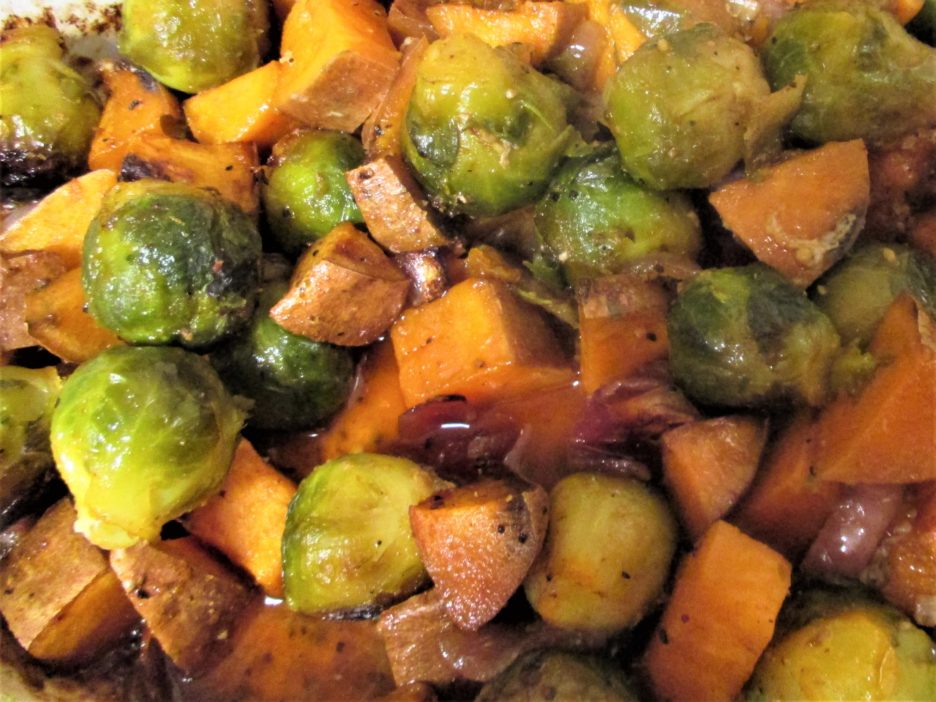 Brussels Sprouts play well with others. Onions have a strong affinity, as do sweet potatoes, Red and Yukon Gold potatoes. Even peppers and fruits like apples or cranberries can co-mingle . By themselves or with other vegetables they make a wonderful side dish, and in the case of this Panzanella Salad, a one dish side.
Instructions
Whisk the dressing ingredients together in a small bowl or shake in a jar with a tight fitting lid. Set aside

Place the bread cubes in a baking pan. Spray lightly with olive oil cooking spray and toss to coat evenly. Bake at 350 degrees for 10 - 15 minutes until the cubes are dry, crisp and just barely browned. Place in a large serving bowl.

Combine the Brussels sprouts, red onion, and bell pepper in a large roasting pan. Add the tablespoon of olive oil and the salt and pepper. Toss to coat evenly.

Roast at 350 degrees for 35 - 40 minutes. The veggies should be tender and lightly browned. Pour the vegetables and any liquid over the bread cubes and toss to combine.

Pour the dressing over the mixture in the serving bowl and toss to coat.

Add the tomato halves and toss once more. Allow to sit at room temperature for at least 30 minutes. Toss again and serve at room temperature.
While roasting brings out the sweetness and imparts color beyond compare, Sprouts are very happy when they meet a hot skillet. I like the results, too. Did I mention that sprouts enjoy a bit of pork love? Here they join forces with bacon, but pancetta is also delightful.
This is an easy side dish that combines a vegetable and starch in one pan. The bacon and onions make this a fabulous side dish for any protein.
| | | |
| --- | --- | --- |
| | | This is an easy side dish that combines a vegetable and starch in one pan. The bacon and onions make this a fabulous side dish for any protein. |
Instructions
Heat a large fry pan over medium high heat. Add the bacon and cook stirring occasionally until crisp. Remove the bacon from the pan and drain on paper towels. Pour all but 1 tablespoon of the drippings out of the pan.

Reduce the heat to medium. Add the potatoes, sprouts and onion to the pan. Cook, stirring occasionally until everything is tender and lightly browned. This should take about 15 -20 minutes, but let your eyes and taste be the judge.

Add the freshly ground pepper and serve.
As you can tell, I really enjoy cooked brussels sprouts in various forms, but lately I have come to discover their beauty raw. They make a wonderful salad and though the slicing is a bit tedious, the resulting crunchy sensation is worth the effort.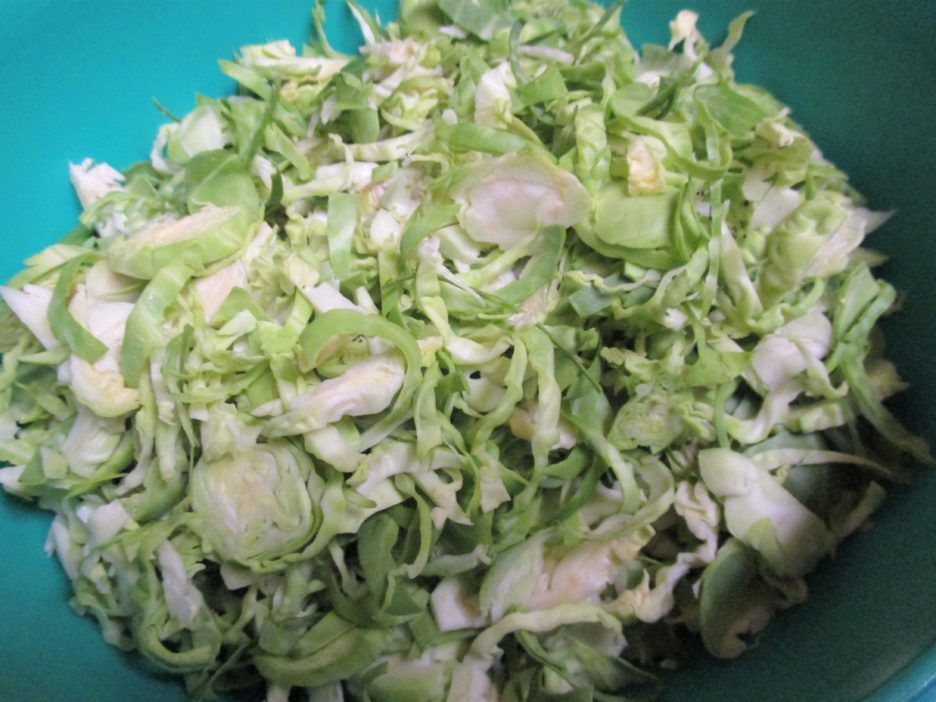 Think of it as an earthier cole slaw. This salad is dressed with a warm Shallot Vinaigrette. The shallots ( and there was a good amount of them) are sautéed in olive oil. Sherry Vinegar and honey give it the perfect sweet and sour sensation that makes this salad a perfect counterpoint to rich meat. Why it could even top a burger and be happy.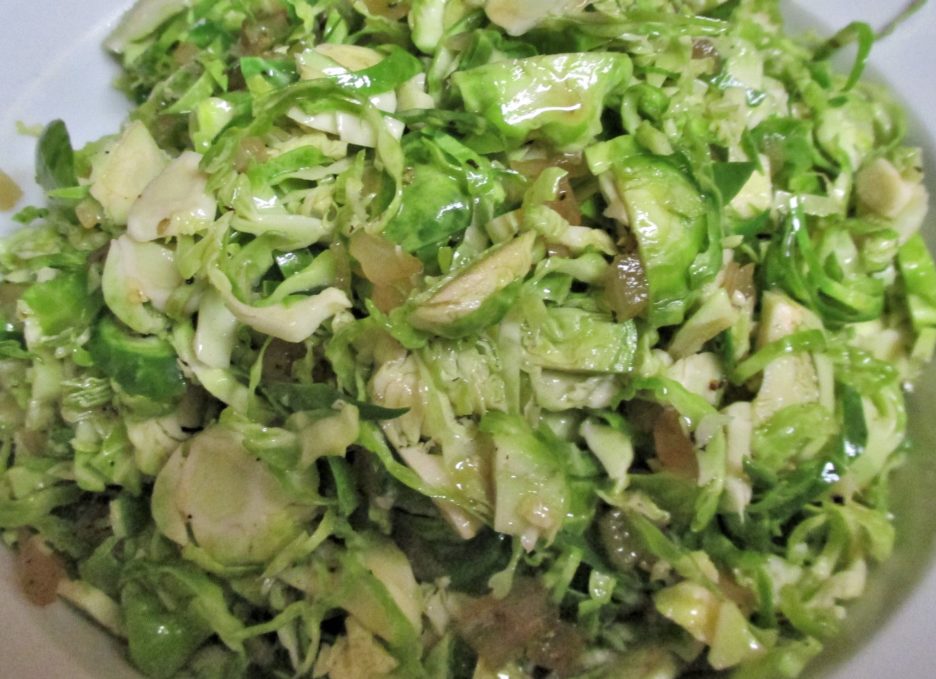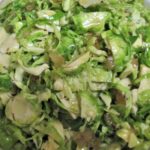 Brussels Sprout Salad
Ingredients
8

Ounces

Brussels Sprouts

Thinly sliced

1/3

Cup

Shallots

Chopped

2

Tbsp.

Olive Oil

1

Tbsp.

Sherry Vinegar

1

Tbsp.

Honey

More or less to taste

2

Tsp.

Fresh Thyme

Or other herb of your choice

Salt & Pepper
Instructions
Place a small skillet over medium heat. Add the olive oil and allow it to heat up for a minute or so. Add the shallots.

Cook the shallots for 5 - 7 minutes. they should be soft, fragrant and slightly golden. Add the thyme, vinegar, and honey to the skillet. Allow the dressing to cook for a couple of minutes to let everything heat through and blend together.

Give it a taste and add salt, pepper, and more honey to your taste. Pour the dressing over the sliced sprouts and toss to coat evenly. Serve.
So there you have three of my favorite ways to enjoy Brussels Sprouts. There are many other variations on these themes that are waiting to enter your kitchen.
Sprouts have been showing up everywhere. Restaurants as well as social media are jumping on the Brussels Sprout bandwagon. I've had a wonderful Brussles Sprout Salad served as a bed for Lamb Pastrami and a frizzled egg for brunch at River Roast in Chicago. I've noticed variations on roasted and even fried Brussels Sprouts showing up on more appetizer menus and as a side dish as well.  I just saw a recipe for Bacon Wrapped Brussels Sprouts that would make an awesome Game Day appetizer.
Nobody is putting this "Baby Cabbage" in the corner any more. Let her grace your kitchen and take center stage.