'Tis the season to be Fa La La….as an old friend liked to say. 'Tis the season to be baking as well, and the oven is already fired up and the cookie sheets are parchment lined. Every year my cookie list gets a little bit shorter which requires the recipe selection to be totally on point. Biscotti have to appear, as do Peanut Butter Blossoms. I have to save space for one or two new recipes which leaves only 2 more spaces (yes, I am limiting things to 6 recipes this year) for old standbys.
As long as I can remember baking, Chocolate Chip Cookies have been part of the holidays. My mother always made the original Toll House Cookie recipe. Legend (or truth) has it, that it originated at The Toll House Inn in Whitman, Massachusetts. Ruth Gains Wakefield is credited with creating it back in 1938 and it is a tried and true recipe that has stood the test of time.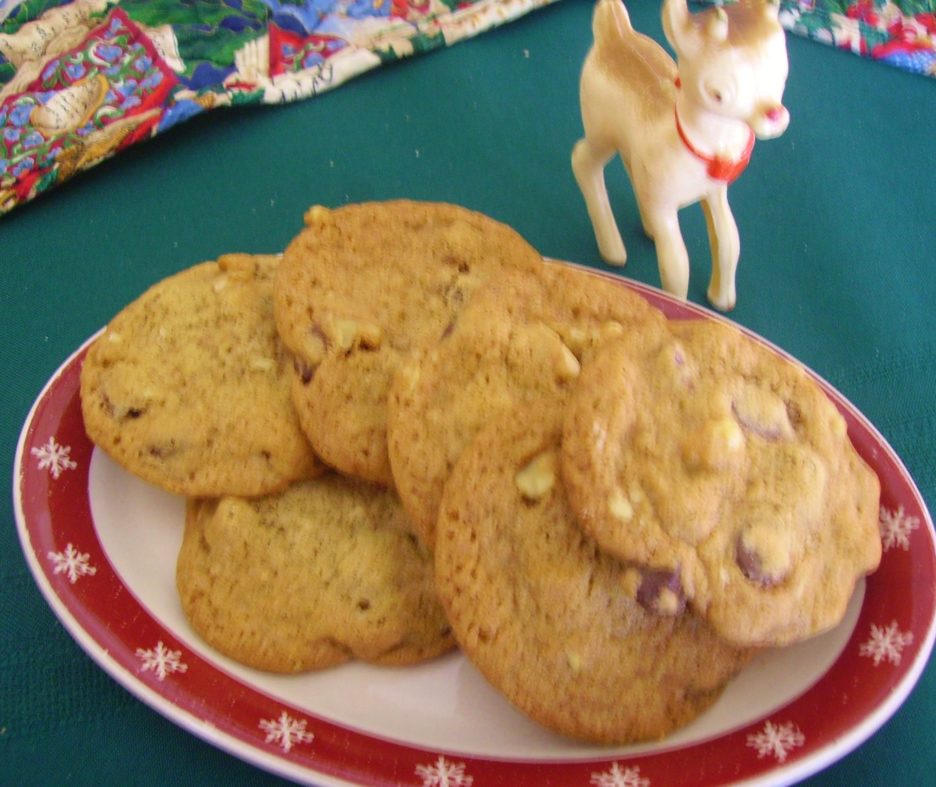 It is a basic cookie dough that combines butter, white, and brown sugar with chocolate chips and quite often, nuts. It is wonderful just as it was written, but oh what delights can result from tweaking the recipe here and there. The variations I am sharing today are perfect examples.
Imagine, if you will, that basic cookie dough laced with candied cherries and orange peel, studded with toasted pecans and mini chocolate chips. Then imagine the addition of warm spices like cinnamon and freshly grated nutmeg. Notes of fruitcake, but in the best way possible and a delightful chewiness that made my first grandson dub these his favorite cookie ever.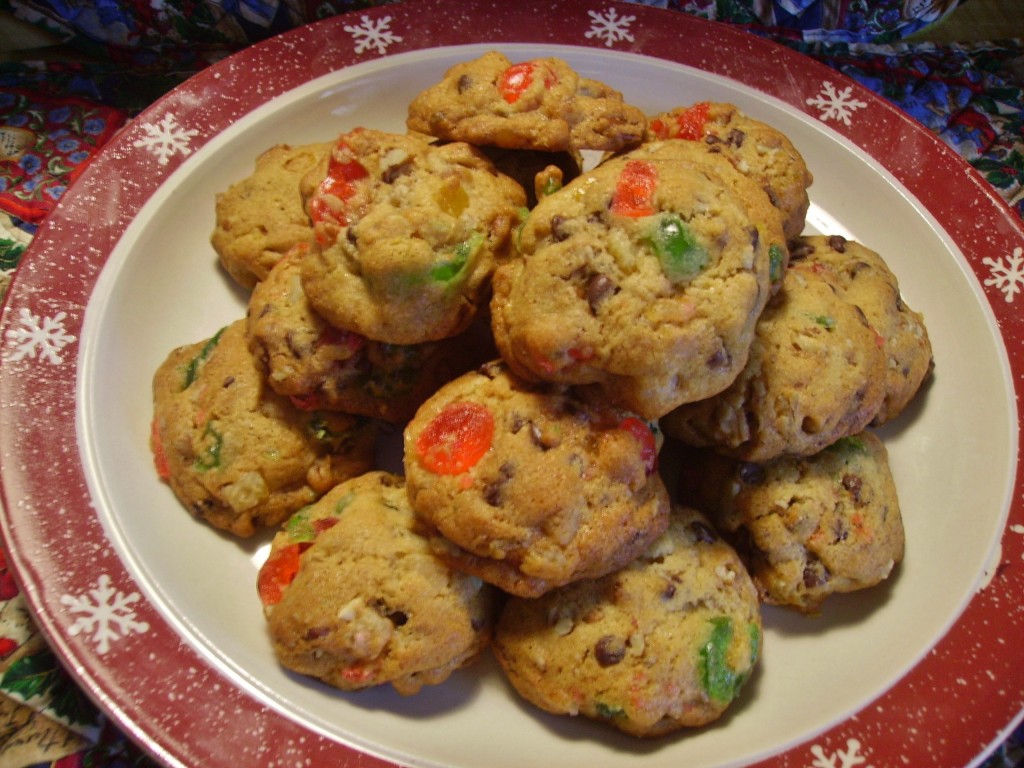 Whisk together the flour, soda, salt and spices. Set aside.

In a large bowl, cream the butter until fluffy. Add the sugars and beat until light and fluffy.

Add eggs one at a time, beating after each addition. Add the vanilla and continue to beat until well combined.

Add in the flour mixture a little at a time blending gently but well.

Stir in the candied fruits, nuts, and chips.

Drop by tablespoon on to a parchment lined baking sheet. Bake at 325 degrees for 10 minutes or until the edges just begin to brown.

Remove from oven and allow to cool on baking sheet for 5 minutes. Transfer to wire racks to cool completely. Store airtight.
Variations are endless. Try pistachios and dried tart cherries or almonds and dried cranberries. There are so many varieties of chocolate chips now that simply swapping bittersweet or milk chocolate can create something magical.
You can even use White Chocolate Chips. Debbie Downer Alert: I realize that these ar not real white chocolate, but only a blend of milk, fat, and sugar marketed to imitate white chocolate. They worked well in this recipe, but if one wants to be totally a purist, a good quality real white chocolate bar could be chopped up and substituted. That being said, chopped chocolate would not lend itself to the "Pearl" analogy in the name of this recipe, but maybe you could call them "gems."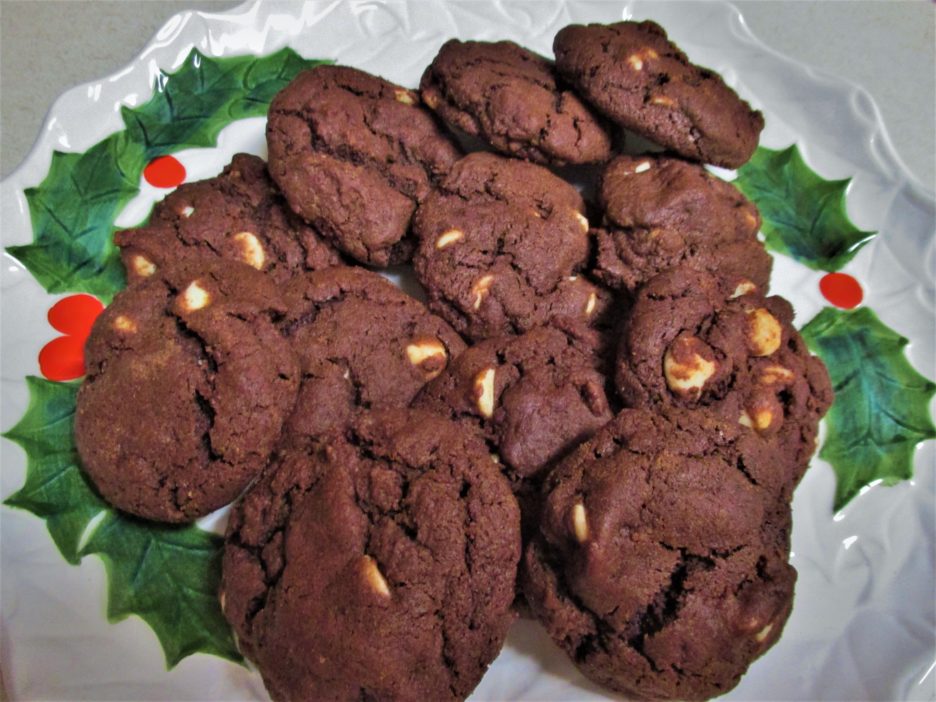 In spite of the truth in labeling issue, these cookies were delicious. Cocoa gave them a rich chocolate flavor that was heightened by the addition of a bit of espresso powder, always a good idea when making anything chocolate.
Ingredients

Servings: Dozen

Instructions
Combine the flour, cocoa, espresso powder, baking soda and salt. whisk together to blend thoroughly.

Cream butter in a large bowl. Add the sugars and beat until the mixture is light and fluffy.

Add the eggs one at a time, beating after each addition. add the vanilla and beat to blend.

Gradually add the dry ingredients (a third at a time). gently blend. Fold in the chips.

Spoon by scant tablespoons onto parchment lined baking sheets.

bake at 350 degrees 8 - 10 minutes until the edges just begin to brown. Remove from oven and allow to cool on the baking sheet for 3 minutes.

Remove to cooling racks and allow to cool completely. Store in an air tight container.
Another wonderful thing about the chocolate chip family of doughs, they freeze beautifully. Good to know if your baking time is limited to small windows at random hours. Whatever your baking plans this holiday season, I hope that you include something with chocolate chips and other wonderful ingredients that bring out your own Fa La La.