Remember a short time ago when I was gushing about Fall coming to the Midwest? Well, this is the Midwest after all and seasons are relative. My last casserole adventure had barely been seen when the weather decided it wasn't quite finished with Summer. For what seems like an eternity we have been plunged back into hot humid weather and there doesn't seem to be any relief in the foreseeable future.
Here in the Midwest grills never really get put away. Oh, we may cover them, but we never seal them because we know that we might wake up to another summer day when we least expect it. So, I'd like to share a mostly grilled dinner that happened recently.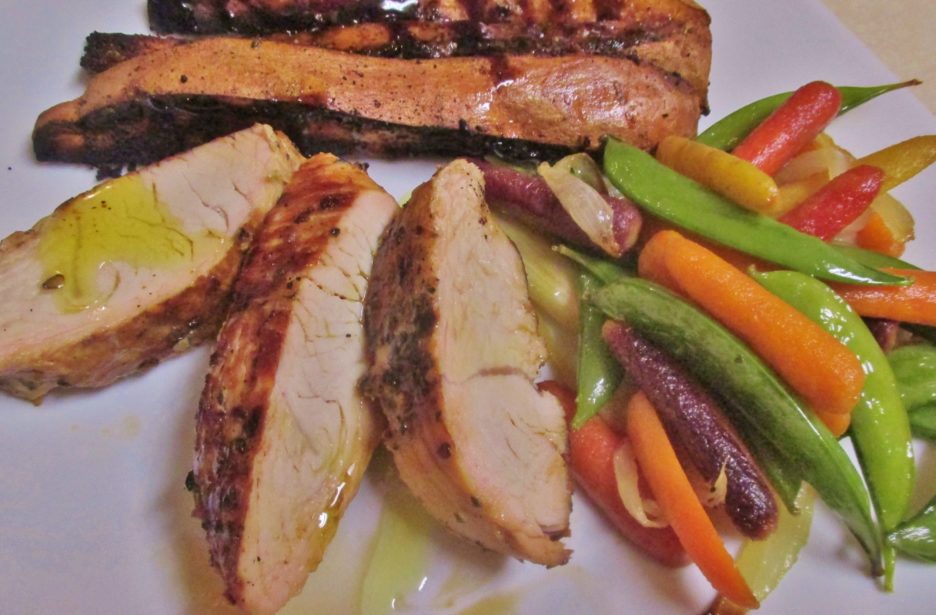 The protein is Turkey Tenderloin. This has been a staple all summer long.
These come from Aldi. a grocery store chain that is re-inventing itself and the way people look at buying food. These stores have been a "no frills," limited inventory, house brand, haven for people looking to save money. This year they began a multi-million dollar project of revamping their stores to expand their product line and tap into the shopping habits of more consumers. To illustrate this, everything on the plate came from Aldi; Organic Rainbow Baby Carrots, Sugar Snap Peas, and Sweet Potatoes. Even the Memphis Barbecue Sauce that glazed the sweet potatoes was an Aldi find.
I didn't set out to create an "All Aldi" dinner. It just happened and it is happening more often thanks to the fact that I can once again walk to my local Aldi (the above mentioned re-vamping caused the store to close for a month, yes, a month). They reopened brighter, bigger, and more grocery store like. The quality of their products has been improving over the last few years and this remodel is the final step to compete with, if not the "big boys," at least the smaller more boutique chains that are expanding everywhere. Yes, they are a cousin of Trader Joe's.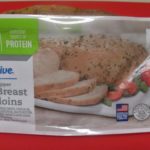 Now back to this End of Summer, Please! dinner. These tenderloins come marinated. I like the Cracked Pepper Flavor. There are two large tenderloins in each package, so there is plenty for dinner with leftovers for salads and sandwiches through the week. Just open the package, drain off the marinade and they are ready for the grill.
The sweet potatoes went on the grill, too. The wedges browned beautifully and were brushed with a bit of barbecue sauce for a little extra flavor.
The only part of the dinner that didn't make it to the grill, the carrots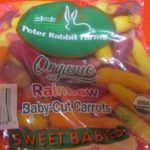 and snap peas, roasted in the oven dressed, in a little brown sugar and olive oil. I am in love with Rainbow Carrots. Besides being lovely to look at, they are delicious to eat. Once I had to hunt for them, now I find them everywhere in every shape and size. From 2 pound bags of large carrots to bunches of baby carrots still sporting their ferny crowns, to these baby versions all peeled and pretty and waiting to be cooked.
I even attempted to grow them in my tiny garden this year. My pitiful harvest attested to the fact that "trash gardening" doesn't work for everything. (magnified to show detail)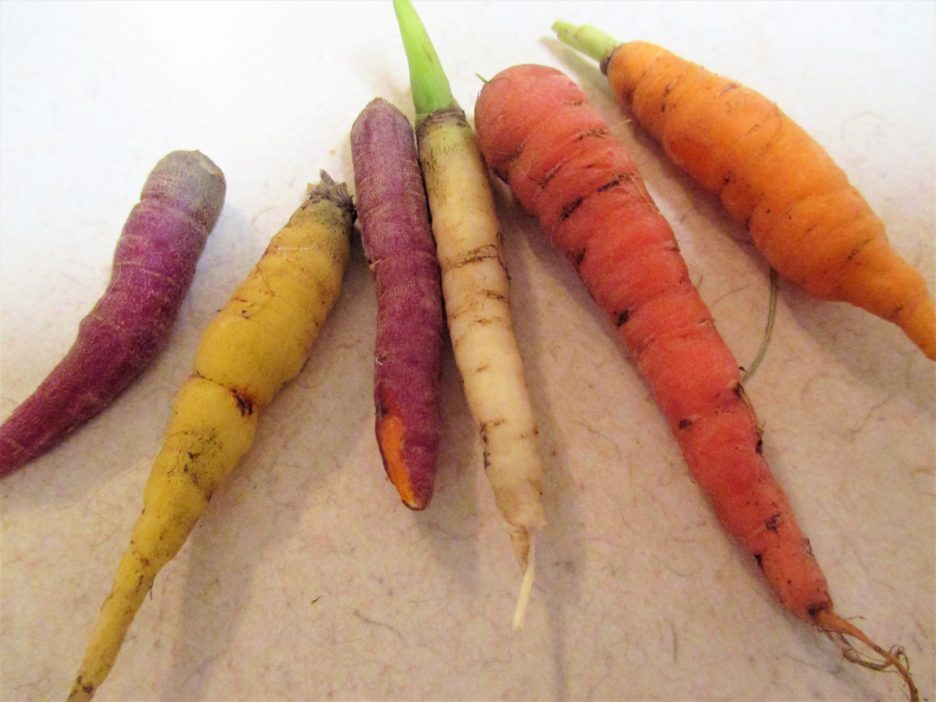 Roasting carrots is by far my favorite preparation technique. They only need a drizzle of olive oil and maybe a pinch of brown sugar and some salt and pepper. I like to keep additional seasoning to a minimum so that the sweetness of the carrots comes through. If I want to change things up I may add a little fresh thyme or some cumin, but I don't often gild this lily.
They can roast by themselves or as in this case be joined by some onions and towards the end of roasting some snap peas. They go with everything color and taste wise.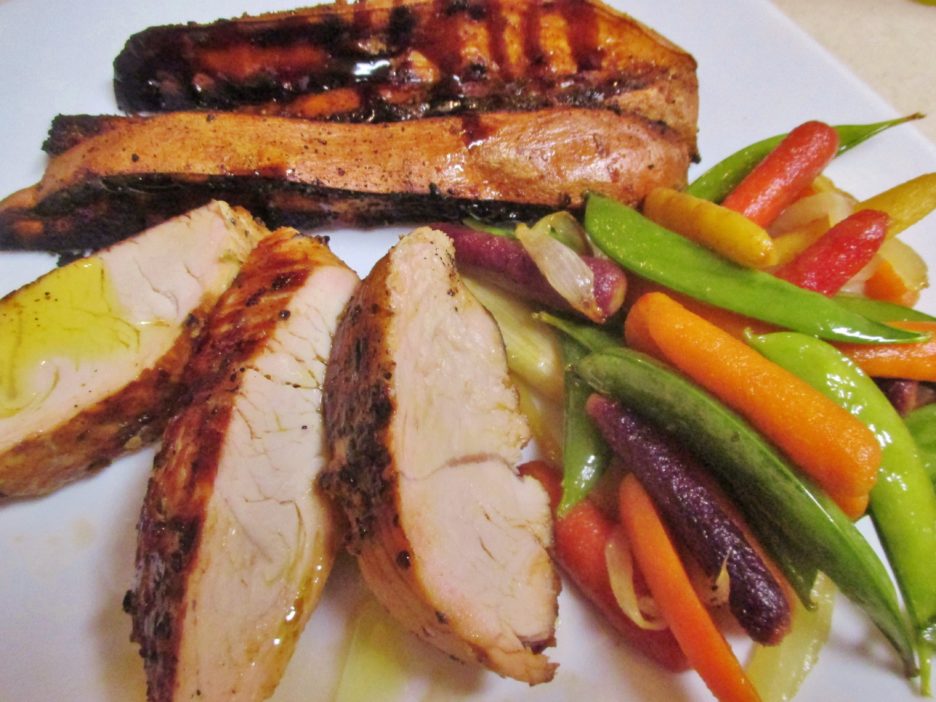 Non- Recipe, Recipe:
Roasted Carrots
For one pound of carrots you need about one tablespoon of olive oil, 1/2  teaspoon brown sugar ( more is all right, too), salt and pepper to taste. Toss these together in a bowl. Spread out on a rimmed baking sheet that has been lightly coated with cooking spray. Roast at 400 degrees for 20 minutes or so, stirring once or twice. 
This is one dish that really doesn't have a season. Carrots, rainbow or not, baby or big are available year around and are usually cheap. They will continue to grace the plates of many meals in the Kitchen of Love. Oh, and before I forget….
Fall, please come back. I miss you.