Refrigerators, much like pantries can go from neat and current to "what is that?" very quickly. While I have been able to identify most everything currently dwelling within, there are a few items that have over stayed their welcome. A recent exploration resulted in a jar of Sun-dried Tomato Pesto and a bottle of Balsamic Vinaigrette. What can these two items have in common other than shelf life? My solution was to use each of them as a marinade, and here is how the story goes…
The pesto became the primary component of a wet rub for a small Pork Loin. I added fresh basil and some olive oil and gave it a quick whirl in the processor. Then I slathered the  mixture over the roast, gave it a plastic wrap blanket, and let it chill in the refrigerator for 4 hours. I'm guessing that this would work with Basil, Artichoke, or any other kind of pesto you may come across and it certainly wouldn't be wrong to use you own homemade creation.
I admit that there are several bottles of salad dressing in my refrigerator, not that there's anything wrong with that. They come in handy to top a quick-lunch salad and in this story they make an easy marinade. The veggies that I chose for this dish included a bulb of fennel, a bag of cipollini onions, and some colored baby bell peppers. Of course there was garlic…remember whose kitchen this is.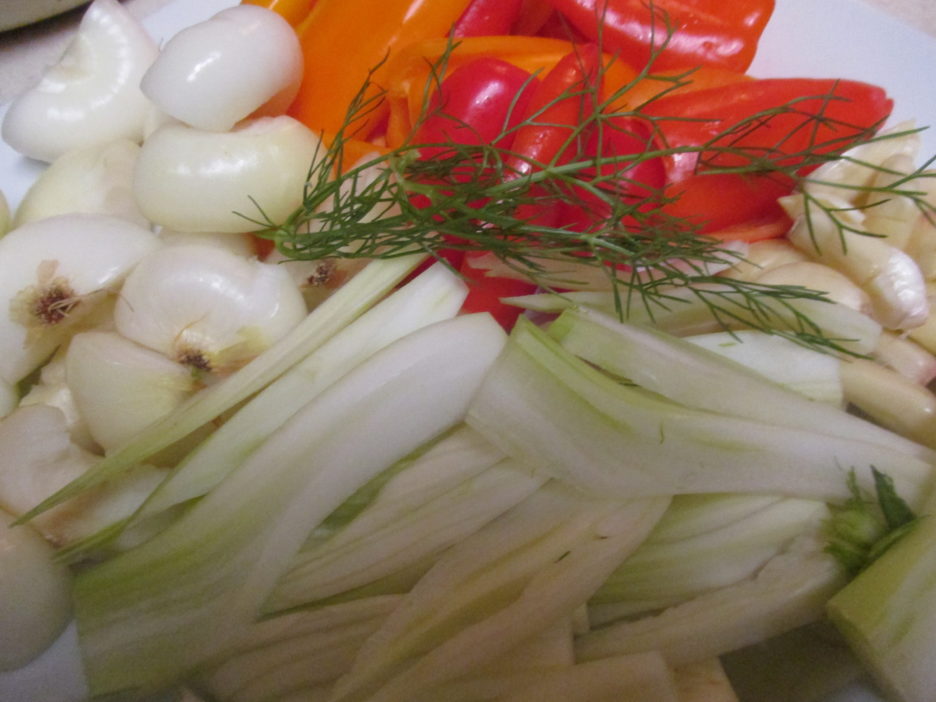 These gathered together and marinated in a healthy dose of Balsamic vinaigrette. They then went into a baking dish where, after a short head start, they were topped with the pesto rubbed roast.
Roughly 40 minutes later, the roast was roasted to  perfection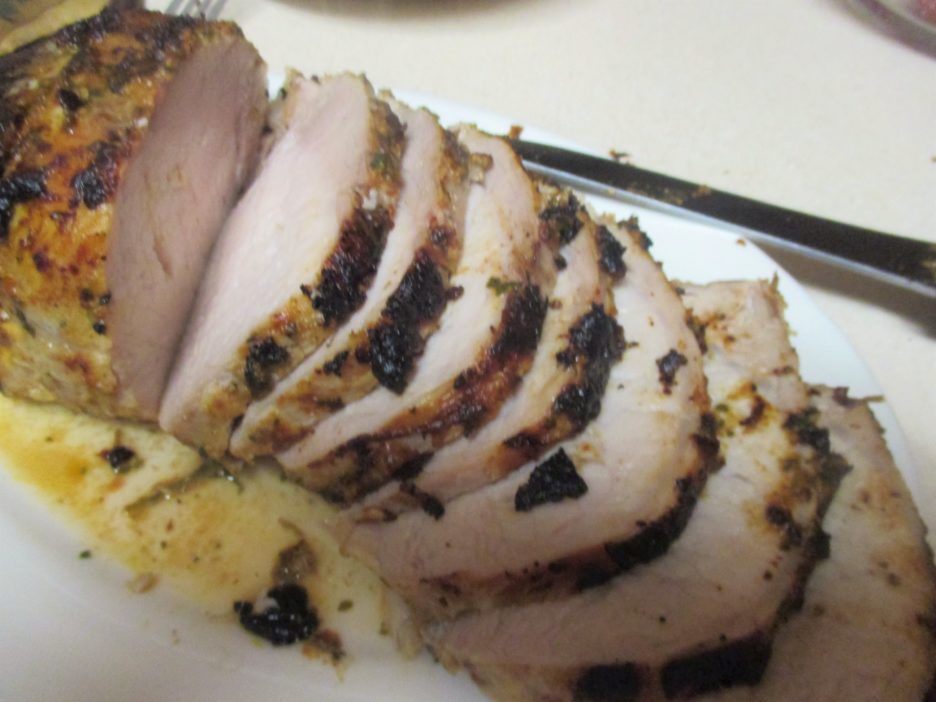 and the vegetables were a lovely golden shade.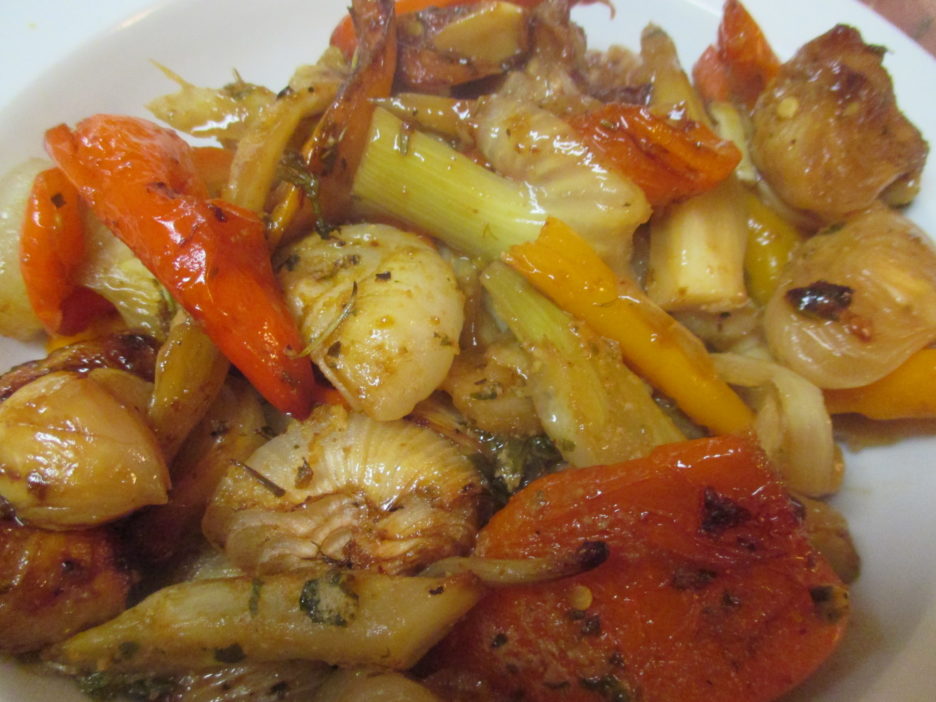 Keeping with the Italian spirit, Polenta, laced with Romano Cheese and Rosemary joined the plate. (Click here to see an earlier polenta adventure.)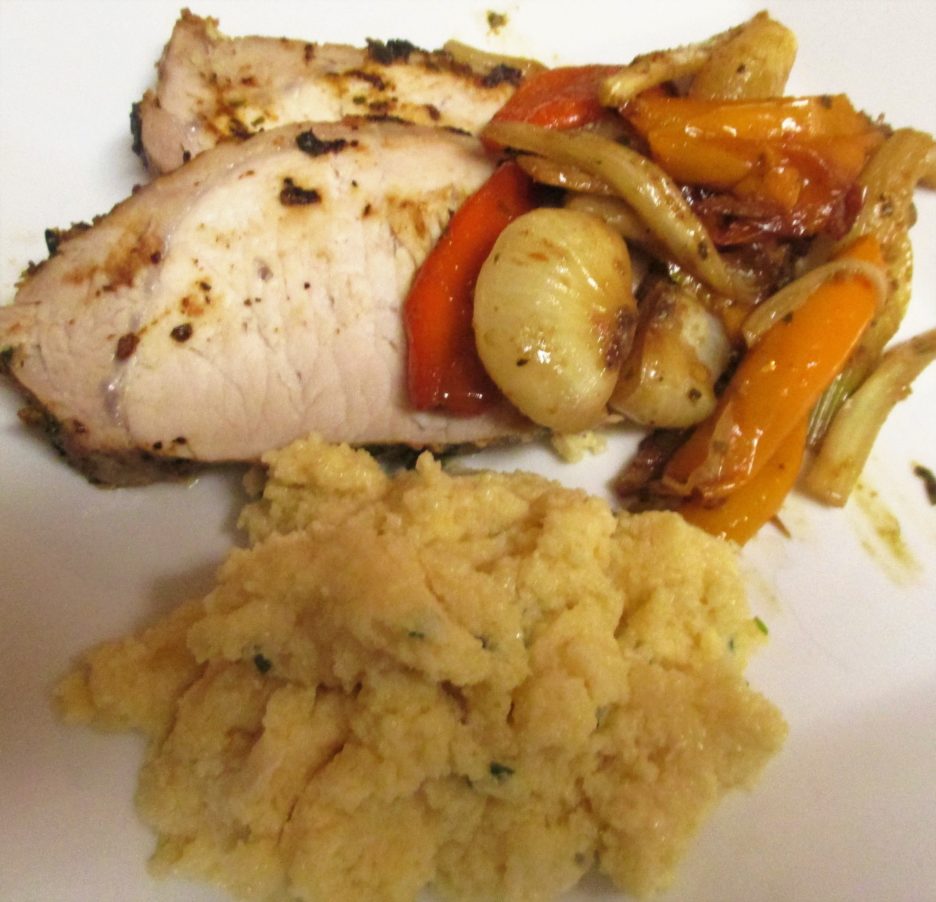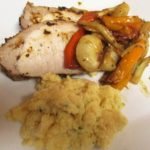 Italian Pork Roast with Fennel
Ingredients
1

2-1/2 Lb.

Pork Loin

1/3

Cup

Sun-dried Tomato Pesto

Or pesto of your choice

1/2

Cup

Fresh Basil Leaves

1

Tbsp.

Olive Oil

1

Bulb

Fennel

Cored and sliced

4

Ounces

Cipollini Onions

Peeled and halved

6

Ounces

Baby Bell Peppers

Cut in half

1/2

Cup

Balsamic Vinaigrette
Instructions
Combine the pesto, basil, and olive oil in a small processor until well blended. Spread this mixture on the pork loin and cover and refrigerate for 4 hours, even overnight if you have the time.

Combine the fennel, onions, and peppers in a large bowl. Toss with the Vinaigrette, cover and marinate in the refrigerator along with the pork.

When you are ready to roast. preheat the oven to 375 degrees. Spray a baking dish with cooking spray. Add the vegetables and about half of the salad dressing. Roast for 10 minutes or until the vegetables begin to soften.

Place the roast on top of the vegetables and return the dish to the oven. Roast for about 40 minutes to an internal temperature of 145 degrees. Allow to rest before slicing.

Serve the roast and vegetables on their own or add a starch of your choice. Polenta is very nice.
This was easy to prepare and very easy (and delicious) to eat. It turns out that pesto makes a very good marinade for meat and this story has a happy ending.