As I continue to take Mama D's Kitchen to a lighter and healthier place, I'm exploring different ways of infusing flavor and love. This chicken dish uses Greek yogurt and coriander seeds to create flavor without fat. It is  complimented by vegetables enhanced by roasting. Those would be garlic and red peppers. The marinade is tart yet sweet as the peppers and yogurt combine.The subtle flavor of the roasted garlic and the aromatic toasted coriander add interesting tones.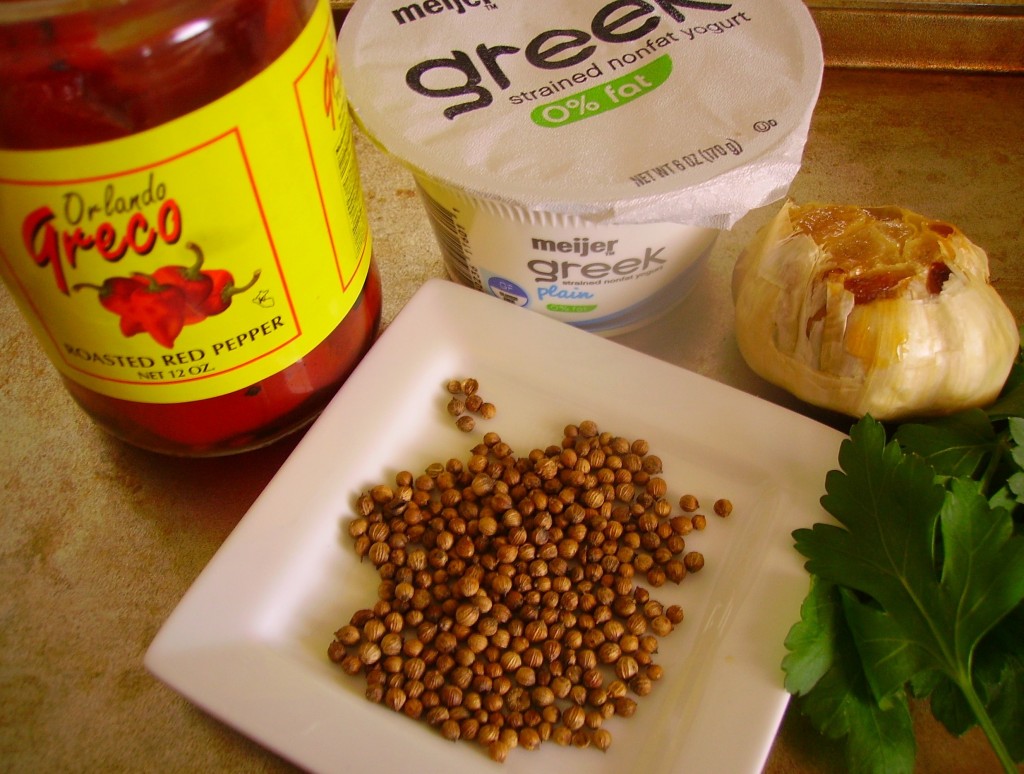 Virtually fat free, but heavy on the flavor this can fit into almost any diet or food plan.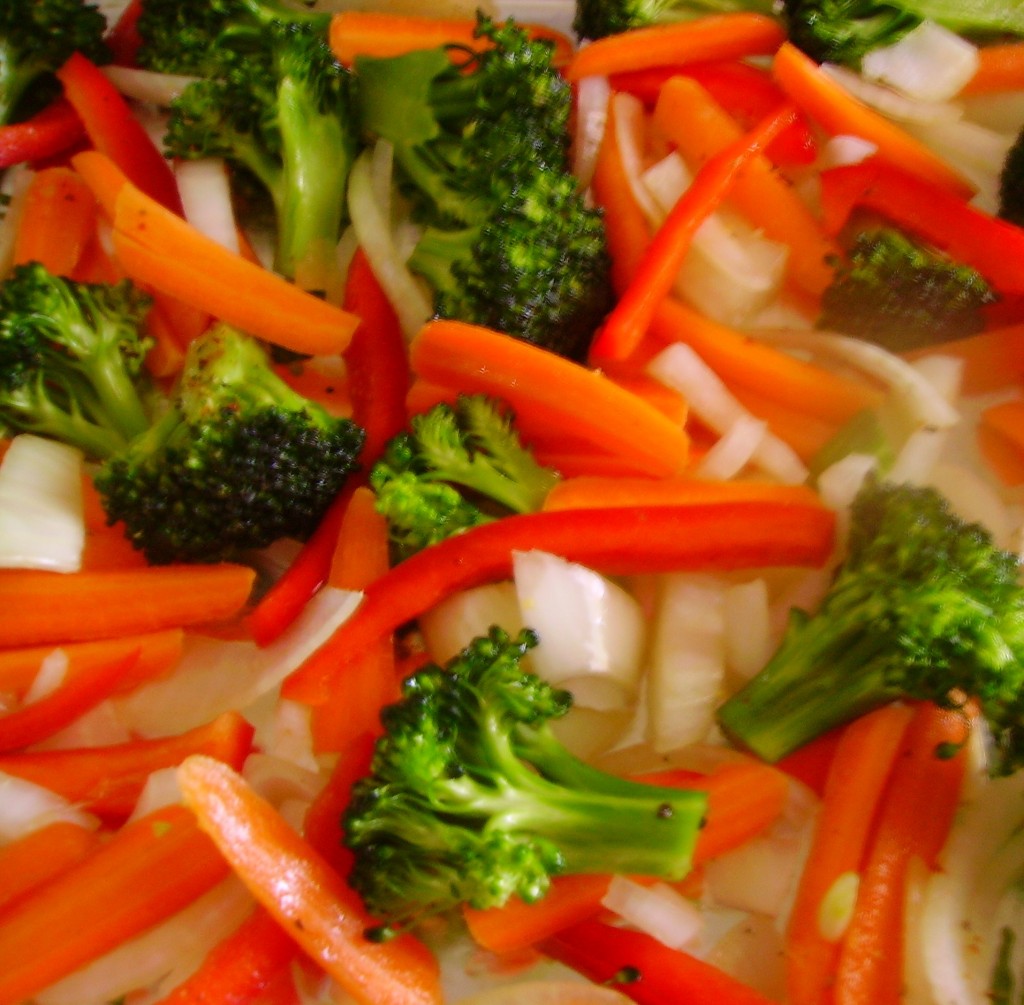 It is complimented with roasted vegetables. I used broccoli, carrots, red pepper and onion because that's what I had. Any vegetables you have on hand will work. Figure one to one and a half cups of vegetables per person. Toss the vegetables with a bit of olive oil and season with salt and pepper or any herb/spice blend that you like. Roast for 15 – 20 minutes at 375 degrees. You want the vegetables to have a little crunch and vibrant color.
All this needs is some kind of grain. Couscous, quinoa, rice or orzo would be great. I opted for a combination of all those things. I got this mixture from World Market, but may grocery stores are starting to carry more than "rice-a-roni".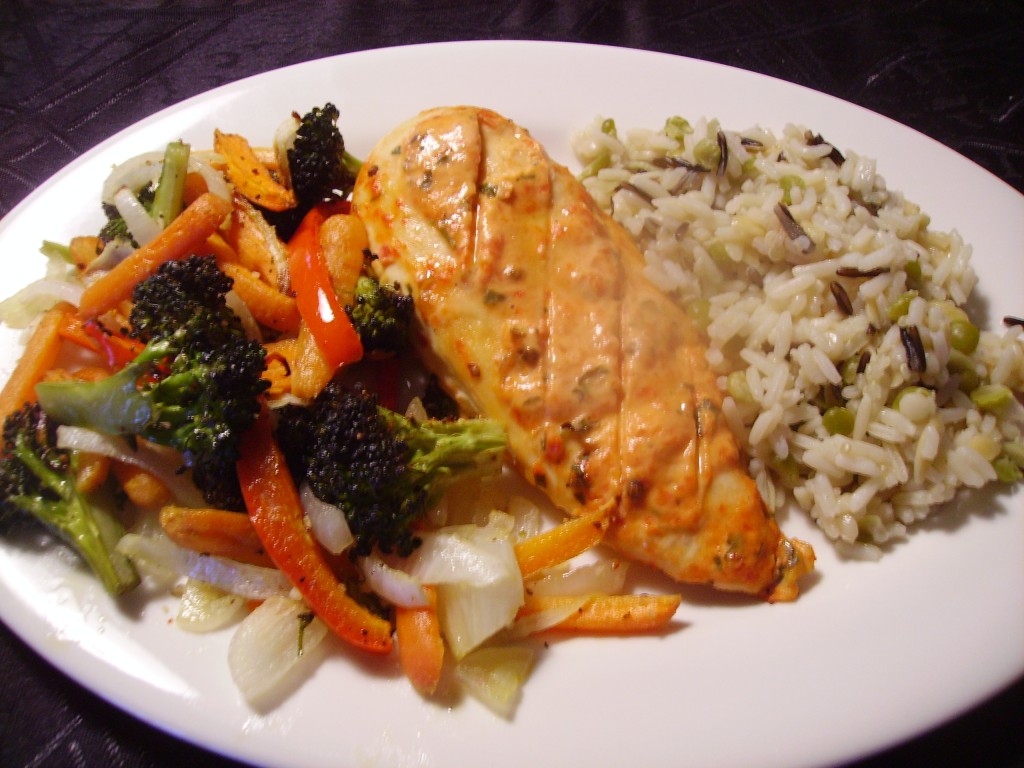 You can double or triple the chicken recipe as needed. The marinade will easily cover 4 – 6 breasts. If you are only doing a couple, save the rest of the marinade. Put it in a bowl, surround it with raw veggies and call it a dip.
Pat chicken breasts dry and place in a zip top bag.

Put yogurt, roasted peppers, garlic,coriander seeds, and parsley in the bowl of a processor. Process until smooth.

Measure 1/2 cup of the mixture and pour it into the bag with the chicken. Marinate for at least 4 hours or as long as overnight. Reserve the rest of the yogurt mixture for basting. It also makes a great veggie dip.

Preheat broiler. Spray broiler tray with non-stick cooking spray. Remove the chicken breast from the marinade and lay on the broiler tray. Top with a little more of the yogurt mixture, Broil 10 minutes. Turn chicken over and top with a little more of the yogurt. Broil 10 minutes more or until cooked through.