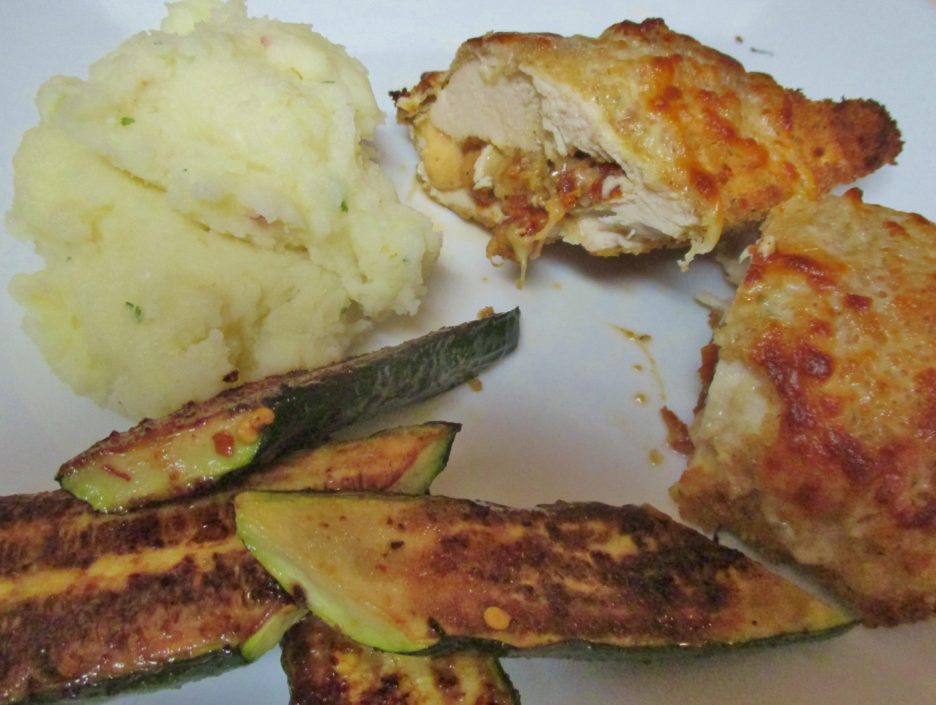 This is an easy riff on Chicken Parm. Sun Dried Tomatoes along with some Provolone Cheese fill the breasts' deep pockets.
The breasts get a thorough egg dip and a generous roll in flavored Panko Bread Crumbs before they bake in a hot oven. This makes the crust extra crunchy enough that you won't miss the frying. A thick coating of provolone melts under the broiler, sealing the deal.
This is a lighter version of the classic that will make a tasty star appearance on any plate. Whether accompanied by Garlic Mashed Potatoes and Caramelized Zucchini as shown here or a side of pasta and a crisp salad, or any other sides you want to present, it is a quick and easy Weeknight Supper.

Cut a deep pocket into the thick side of each breast. Season inside and out with salt and pepper.

Chop up the tomatoes and 2 slices of the cheese fairly finely. Add the onion and garlic powder along with the italian seasoning, Let it sit for 10 minutes or so.

Beat the egg in a shallow bowl. Pour the panko crumbs into another shallow bowl.

Dip each breast in the egg, coating well. Place each in the bowl of panko crumbs and coat well, pressing the crumbs into each breast.

Bake in a 400 degree oven for 25 minutes or until cooked through.