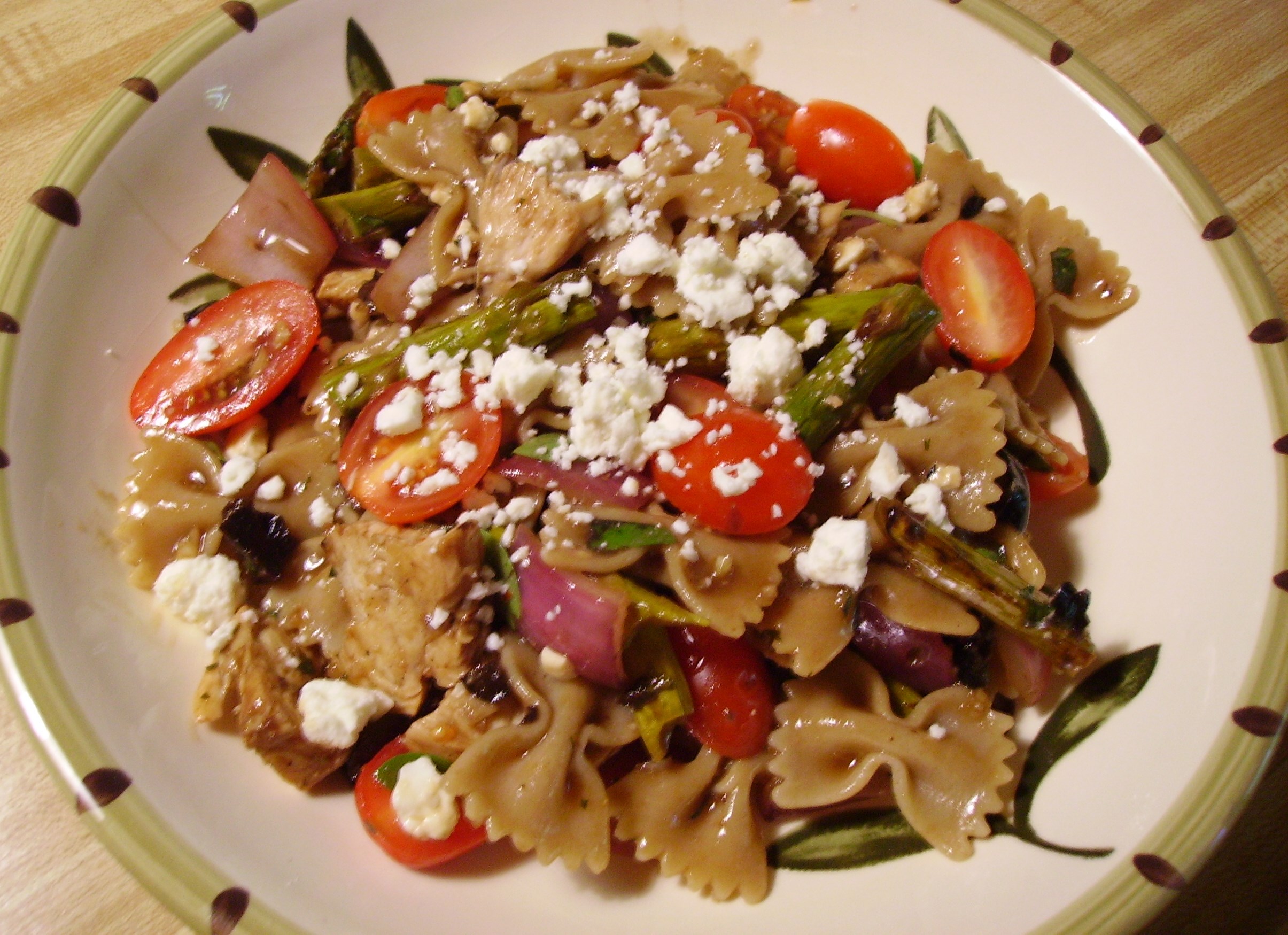 Most of the time grill meals stand alone as do pasta meals. That changed the other night when the two meals collided. What could be better than pasta, grilled chicken and vegetables? It's kind of the best of both/all worlds. This makes a wonderful dinner and the leftovers (if there are any) get better with a day or two in the frig.
The dressing does double duty acting as a marinade for the chicken and vegetables as well as the sauce for the finished dish. This can be eaten warm, at room temperature or throw it in the frig to get cold and call it pasta salad.
A few healthy words on the ingredients. Whole wheat pasta is really delicious. It turns out "al dente" just by it's very nature. It's bigger taste and texture allow smaller quantites to feel like more. Less pasta means more veggies and a big bowl of goodness for a lower calorie and carb investment. While there is a good bit of olive oil in the dressing/marinade, some goes away in the marinating process and when you split this dish four ways, the impact isn't too serious.
Dressing: Zest the lemon and squeeze the juice into a container with a tight fitting lid. Add the balsamic, zest, mustard, and anchovy paste. Finely chop the parsley and add it to the jar. Mince the garlic on a cutting board. Add the salt and continue to chop/smash until a paste forms. Add this to the jar. Pour in the olive oil and a few grinds of fresh ground pepper. Shake vigorously until mixture is completely blended.

Place the chicken in a zip top bag. Add 2 tablespoons of the dressing and seal the bag. Squeeze to distribute dressing over chicken. chill for at least 2 hours or overnight.

Place the asparagus in another zip top bag and add 3 tablespoons of the dressing. Seal the bag. Turn and shake the bag to distribute the dressing over the asparagus. Chill at least 2 hours or overnight. Store the rest of the dressing in the refrigerator.

When it's time to grill, remove the chicken and asparagus from the frig. Peel the onion and cut it in half crosswise. Use two wooden skewers to hold the onion together. Brush with a little bit of the dressing. Grill the chicken and vegetables. (15-20 minutes or so). Remove to cutting boards when cooked.

Cook pasta in salted water until "al dente" while the chicken and vegetables grill.

Drain the pasta and put in a large bowl. Slice the chicken into bite size pieces and add to the pasta. Cut the asparagus in thirds and add to the pasta bowl.