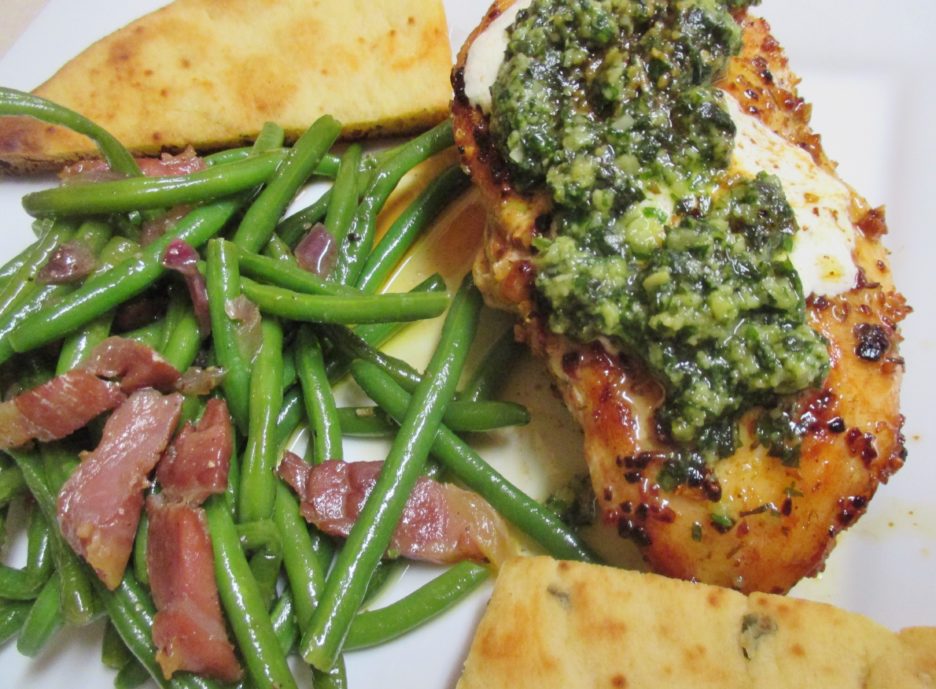 This is a guaranteed way to cook chicken breasts that will turn out juicy, tender and delicious. The cheese and tomatoes create a moist and flavorful filling enhanced by the basil leaves. 
Resist the urge to over-stuff the breasts. All that extra filling looks beautiful,but most of it will wind up in the bottom of the pan. You should be able to close the pocket and secure it with a toothpick or two.
Searing over high heat insures a nice light crust without the need for breading. The oven finishes the cooking process quickly and evenly.
This is a time when a meat thermometer becomes your best friend. Check at the 15 minute mark. Once it is flirting with 140 degrees remove it from the oven. It will continue to cook as you garnish it with the pesto.
This will lend itself to any filling you can dream up. Just keep the filling moist and the amount in moderation. 

Pre-heat the oven to 375 degrees. While the oven heats prepare the chicken

Carefully cut a pocket in each of the chicken breasts. Do this at the thickest part being careful not to cut completely through.

Fill each breast pocket with half of the tomatoes, 1/2 ounce of cheese, and 4 of the basil leaves. Gently pull the pocket closed and secure it with tooth picks,

Heat an over proof skillet over medium high heat. Add the olive oil and heat until it begins to ripple.

Sprinkle the Italian herb blend evenly over the chicken. Carefully place the chicken in the skillet. Brown for 3 minutes, turn the breasts, and brown the other side 3 minutes more.

Carefully pour in the chicken stock and transfer to the oven.

Bake 10 minutes. Add the remaining cheese to the top of the chicken and return to the oven for 5-8 minutes. Use a meat thermometer to check for doneness (140 degrees).

Remove the chicken to serving plates. Pour a little of the pan drippings over the chicken. divide the pesto evenly on top of the chicken and serve.