There are signs of Fall all around us. The trees (those that can) are beginning to show their autumn paletes of red and gold. The vibrant petunias and impatiens of Summer are being replaced by more subtly colored and hardier mums. Squirrels are hunting and burying with gusto. Kitchens are beginning to fire up the ovens as often as firing up the grill.
In case you haven't guessed, I love Fall. It is my favorite time of year. Those of you who only know it is Fall by the month on the calendar or the inexplicable appearance of pumpkin spice everything, are missing quite an experience. Whatever the weather is where you are, it is time to think about making those comfort filled one dish wonders, casseroles.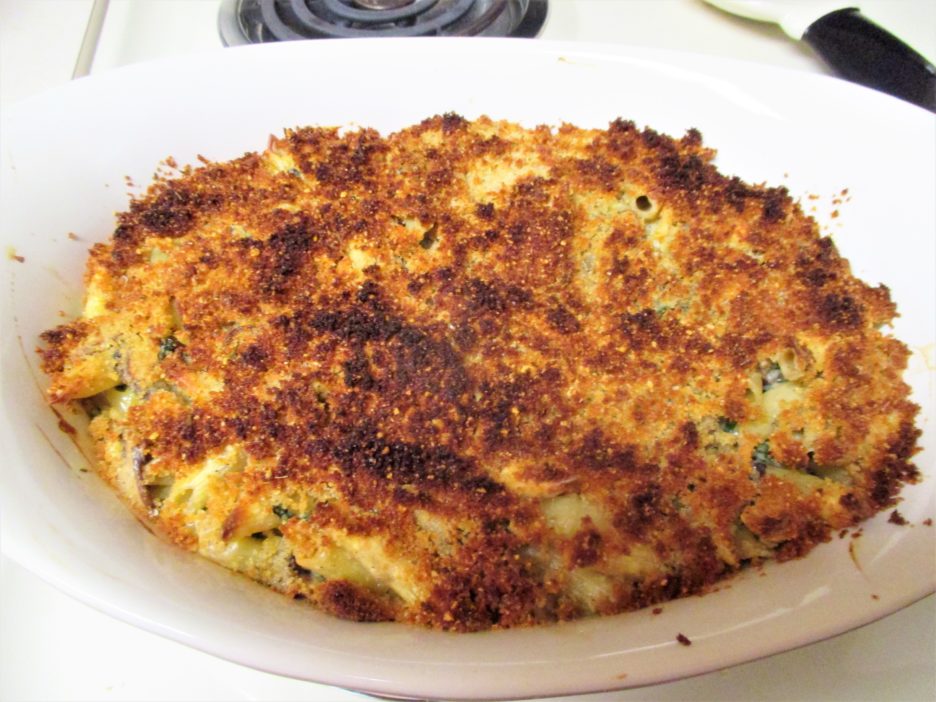 Here is one to get your autumnal juices flowing. This starts quite simply with penne pasta as a base, but any cut pasta would do. Baby spinach and crimini mushrooms team up with onion and garlic to give some plant presence to the dish.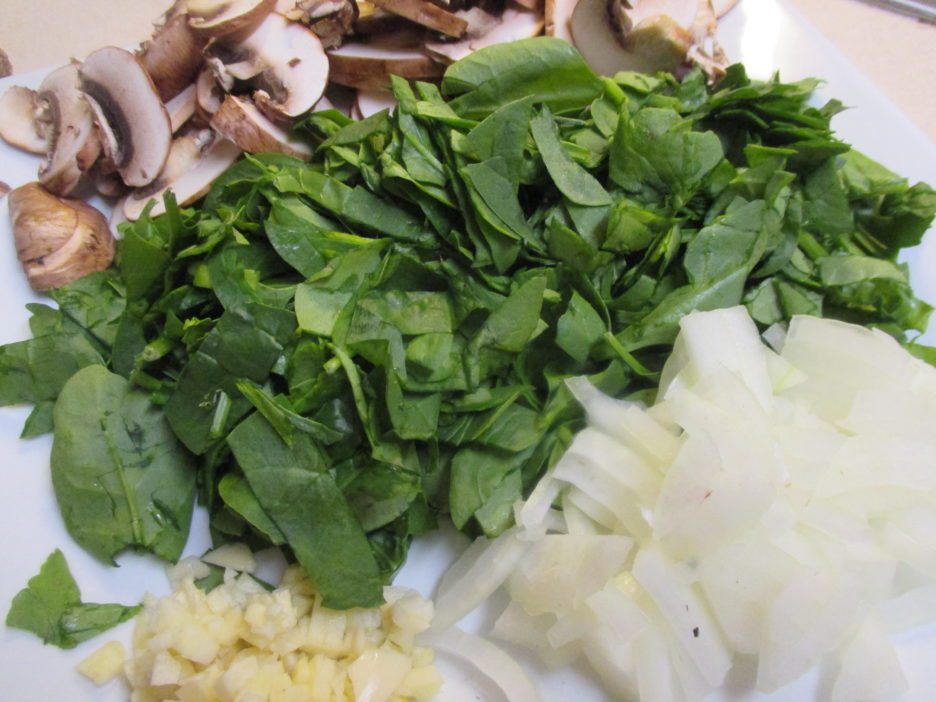 The sauce is Alfredo. You can make this sauce, and it is really quite easy, or you could buy pre-made sauce which is even easier. I am not a proponent of prepared foods in general, but once in a while it doesn't compromise my integrity too much to reach for a jar or carton. Find one with an ingredient list that has things you can easily identify and not too many non-food additives. They are out there.
The vegetables were sautéed in a little olive oil, taking turns based on cooking time. Once everything was as it should be, the sauce was added.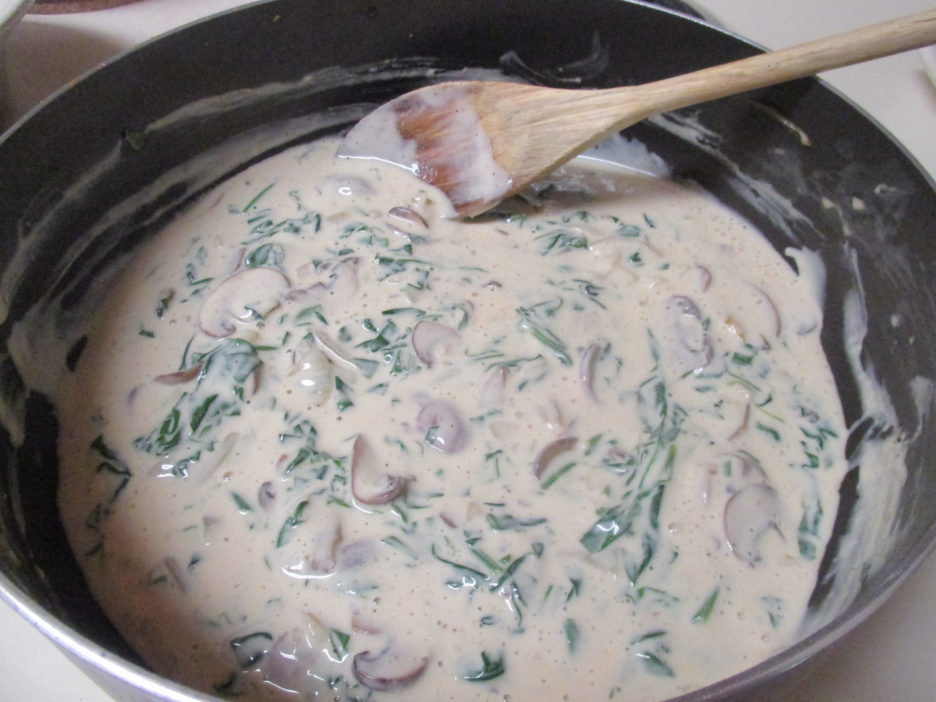 Once it was at a bubble some asiago cheese went in. Th penne was added and everything went into a good-sized casserole.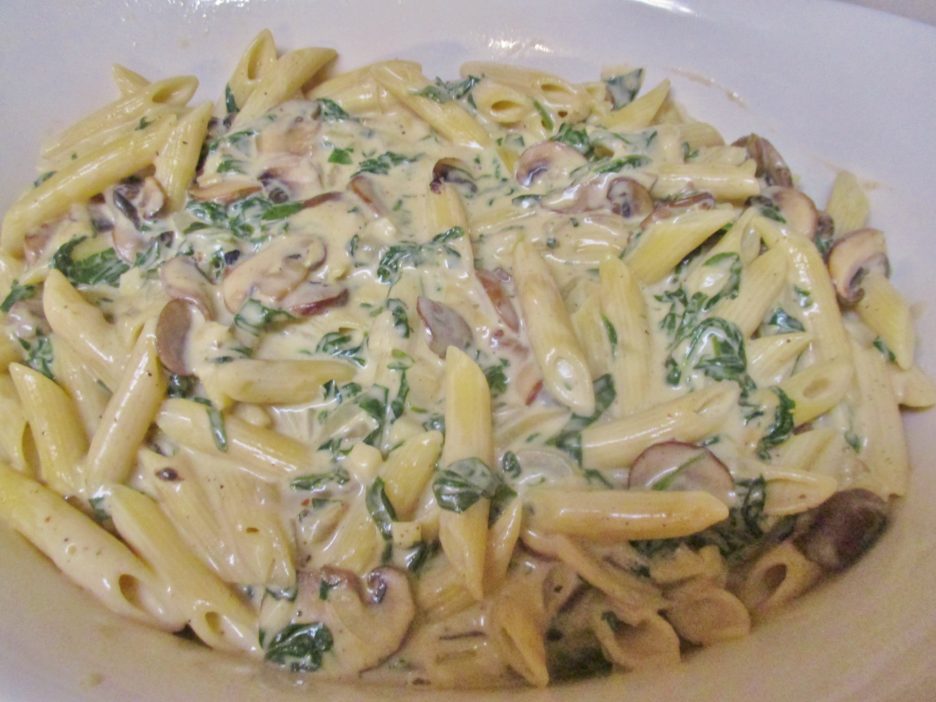 I gave it a blanket of cheesy breadcrumbs and let it bake until it displayed all of the requisite casserole characteristics; bubbly edges and golden brown crust. It was delicious, it made the house smell wonderful, and it was the perfect comfort food for the first chilly night of the season.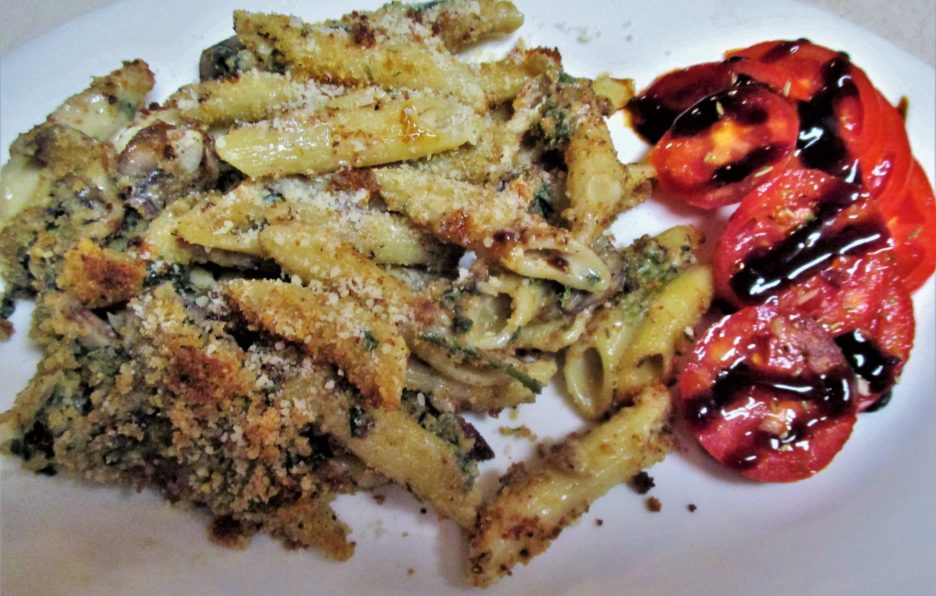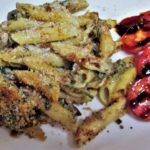 Spinach Alfredo Casserole
Ingredients
8

Ounces

Penne Pasta

Any cut pasta will work

1

Tbsp.

Olive Oil

1

Mediium

Onion

Chopped

8

Ounces

Crimini Mushrooms

sliced

4

Cloves

Garlic

Chopped

6

Ounces

Baby Spinach

Chopped

1-1/2

Cups

Alfredo Sauce

Home made or prepeared

1/3

Cup

Milk

More or less as needed

Salt and Pepper

To Taste

4

Ounces

Grated Asiago Cheese

3/4

Cup

Bread Crumbs

1

Tbsp.

Parmesan Cheese

1

Tbsp.

Butter
Instructions
Cook the pasta in boiling salted water 2 minutes less than the box directs. Drain and put in a 2 quart casserole dish that has been generously sprayed with olive oil cooking spray. Prepare the sauce while the past cooks

Heat a large skillet over medium high heat. Add the olive oil swirling to coat the bottom of the skillet. Add the onions and cook for 5 minutes, stirring occasionally.

Add the mushrooms and garlic to the skillet and cook another 5 minutes or so, stirring occasionally.

Add the spinach and toss well to combine. Cook 3 - 4 minutes until the spinach begins to wilt. Stir in the Alfredo sauce and continue to cook until it comes to a bubble, stirring often. If the sauce seems thick, add the milk a little at a time until you have a medium thick sauce.

Turn the heat to low and add the Asiago cheese. Stir until it is completely melted. Taste and add salt and pepper as you need. Pour the sauce over the pasta and stir to completely combine.

Melt the butter and stir in the bread crumbs and Parmesan cheese . Toss until the crumbs are well coated. Sprinkle on the top of the casserole.

Bake at 350 degrees for 20 - 25 minutes. The crumbs should be brown and the sauce should be bubbly. Allow to rest a few minutes before serving.
Fall likes to take its time around here. Right now it feels far more summer like. We all know that this is only a fleeting event and soon the weather will demand something from the oven. This casserole is a good place to start.