This is a story about my relationship with Caputo's Fresh Market. I realize that those of you outside the Chicago area will have no idea what I'm talking about, but I will try to paint a picture that gives you a feel for what this store is all about.
It was started in 1958 by Angelo Caputo, an Italian emigrant. He opened a store in Elmwood Park. Illinois that featured fresh produce, meats, and baked goods all with more that a casual nod to his Italian roots. It has now grown to 8 stores.
I first experienced Caputo's in South Elgin. The array of produce was mind-blowing and there was something about choosing the best Melrose peppers while Frank Sinatra crooned overhead that enhanced my shopping experience. The produce  selection was rivaled only by the vast variety of pastas that spanned almost the entire depth of the store. Then there was the meat counter.. beautiful cuts of meat and a dazzling selection of homemade sausages. It was an Italian girl's dream come true.
Sadly, a relocation put me farther away from that wonderful store, but as the chain grew so did other opportunities. Though it is not that close to where I live, there is another Caputo's that is worth the 25 minute drive. We have dubbed the store in Carolstream the "Flagship Store" because it is the newest and the corporate headquarters appears to be right next door.
They pulled out all the stops when they created this not so little gem. The layout is angular with specialty departments nestled along the perimeter. My first visit found me wandering aimlessly and finding things almost by accident. As time has gone on, I have learned to love the angles and alcoves while still discovering something new on each visit.
The produce is still without compare and if you can't find an Italian specialty item, it may not exist on this side of the Atlantic. All this would make it a destination store, but then there is a little thing called  Bar Angelo, a sleek and simple bar and restaurant just off the produce department. You can get a glass of wine or even a cocktail, if you are so inclined. The simple food menu offers everything from appetizers to pizza and pasta. The prices are great and most everything is scratch made in the kitchen.
On our most recent visit, we had a quick lunch. Arancini stuffed with spinach and ricotta was beautifully presented in a pool of light yet flavorful marinara. We paired it with an order of Calamari Fritti that was tender and flavorful while being en-robed in a crunchy parsley flecked crust. A couple of glasses of truly decent house wine and we were ready to shop for well under $20.00.
I also need to comment on the employees. Either I am there on good days or everyone seems to enjoy their jobs. They are helpful, happy, and easily found (if you've shopped brick and mortar lately you know what I mean).  This recent visit put us face to face with a gentleman who makes mozzarella for a living (at least I think so). He was blissfully pulling and knotting fresh "mozz" into bocconcini as he made the perfect recommendation on a Fontina cheese.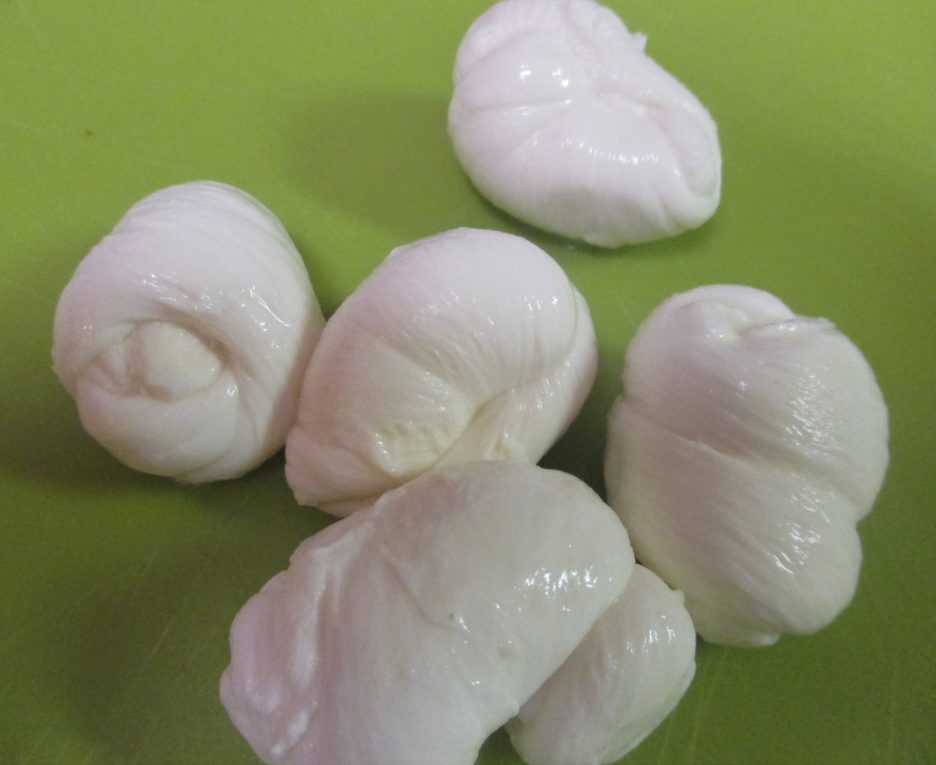 Samples? Damn Skippy. There is nothing in the world that can compare to a freshly cut bocconcini that is still slightly warm, silky with brine, that almost melts in your mouth. It is a near religious experience. Did I buy some? Again, damn Skippy, how can one resist.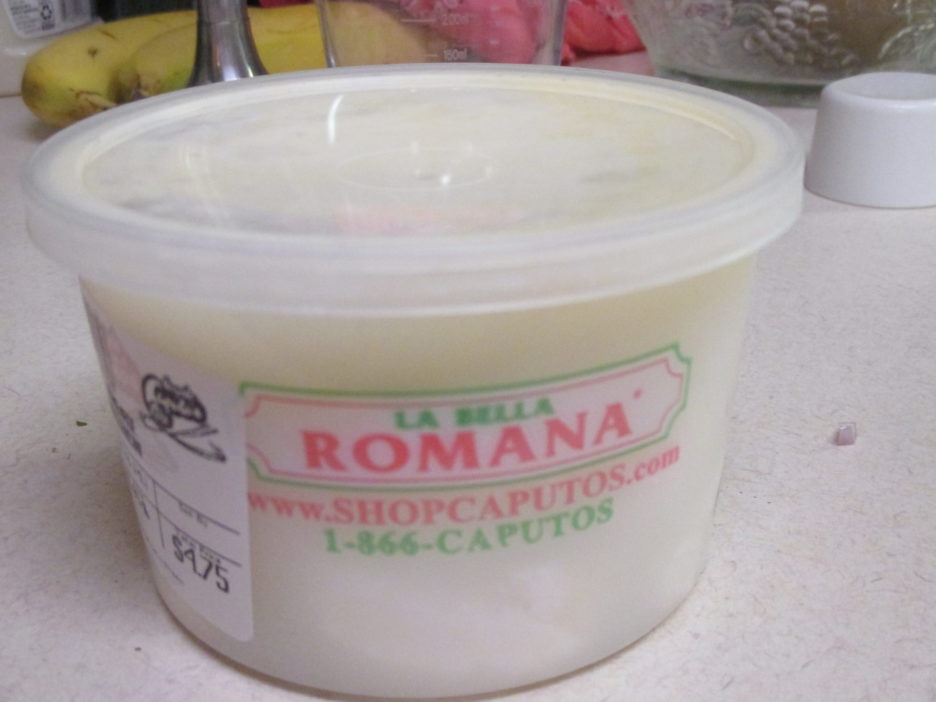 These little knots of deliciousness became the star of a simple Caprese Salad. There is no need for a recipe. Simply slice the most beautiful tomatoes you can find and layer them with fresh mozzarella. The only adornment is a drizzle of olive oil, some fresh basil, and maybe a bit of balsamic glaze.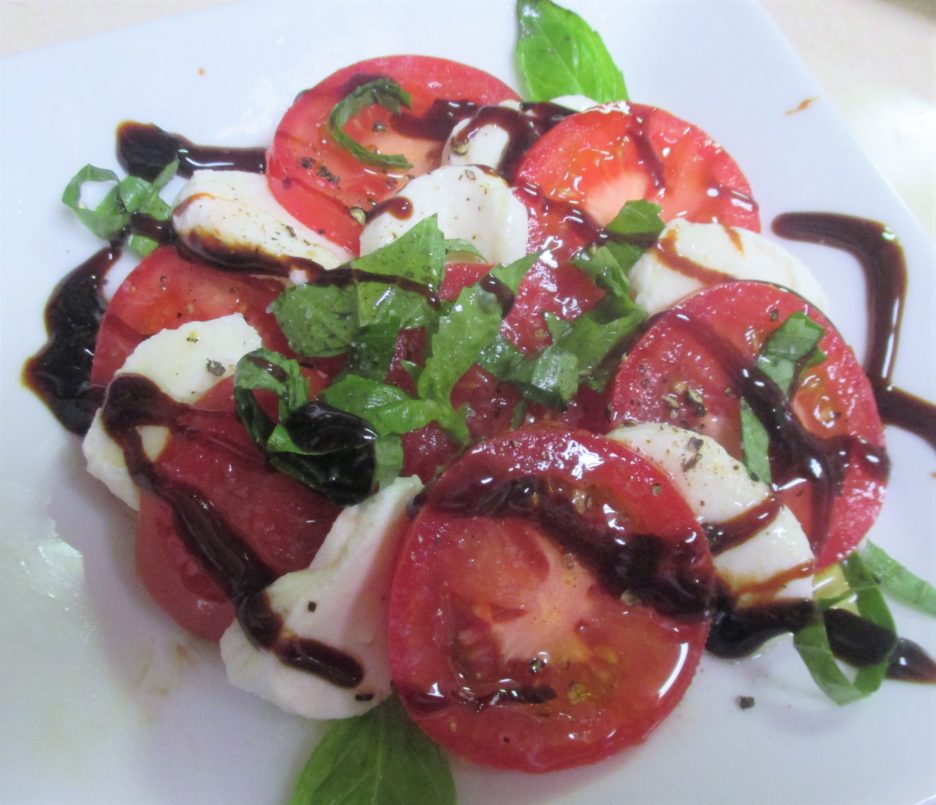 This was a magnificent first course that wet or appetite for the main event. Rib Pork Chops (also found at Caputo's) that had the extra cap of meat and fat similar to beef prime rib. This extra fat made them perfect for grilling and some Spinach and Tomato Pesto  courtesy of Cooking Light Magazine, was the perfect embellishment. A Grilled Green Bean and Potato  Salad was a delightful foil with its rosemary laced mustard vinaigrette.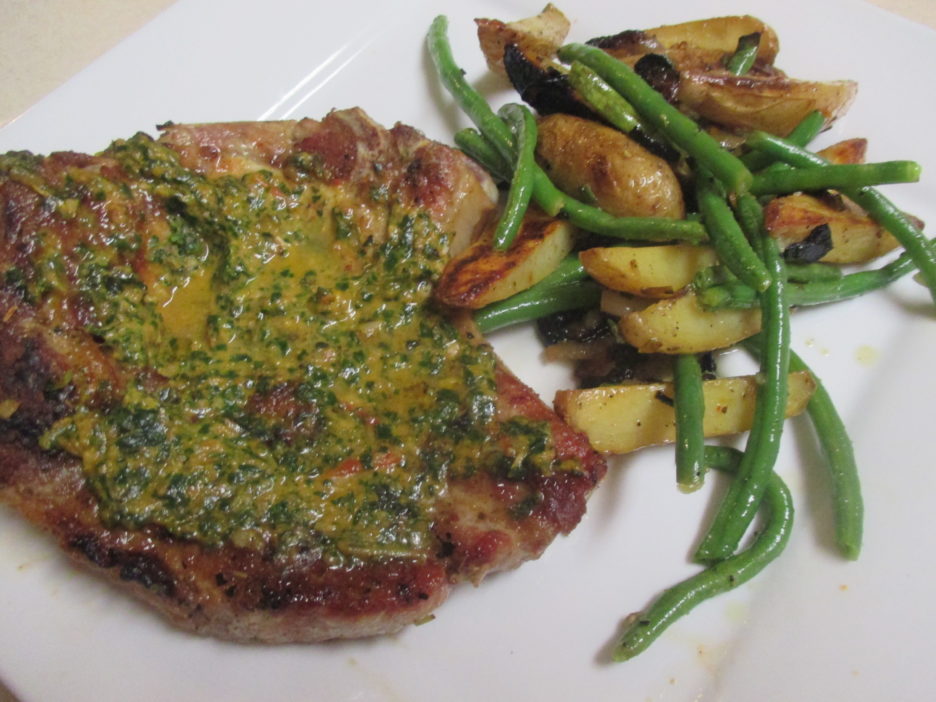 This is a destination store that we will be visiting more often. If you are in the area check it out, if you're not, it is worth the trip.