This is a story about Melrose Peppers. It is also a story about growing up in Melrose Park surrounded by family. Not everyone can claim that their hometown has a pepper named after it, but I can.
The Melrose pepper, an Italian sweet variety, came to Melrose Park along with many Italian Immigrants. My grandfather was one of those settlers and like so many others he had a garden. When I was little, I was fascinated with the garden across the street from our house. I remember my grandfather spending hours tending the tomato and pepper plants. There were lots of other vegetables, but those are the ones I remember most. I grew up taking for granted that everyone had a giant field of food within walking distance.
Sadly, my grandfather passed away and before long, so did his garden. The field became home to a trio of brick three flats. The tradition of garden fresh produce continued in Melrose Park, however. There was a converted school bus that came down our street several times a week in the summer. Inside was a veritable wonderland of fruits and vegetables. There always seemed to be plum tomatoes and Melrose peppers. That was a convenience that is no longer a reality.
If for some reason we missed the bus, there was always Tom Naples stand. To call it a stand is an understatement. It was huge (at least to an 8-year-old) and had every vegetable imaginable. There were fields of Melrose peppers growing behind his stand. I think he supplied the entire Chicago area Italian population with these sweet little beauties.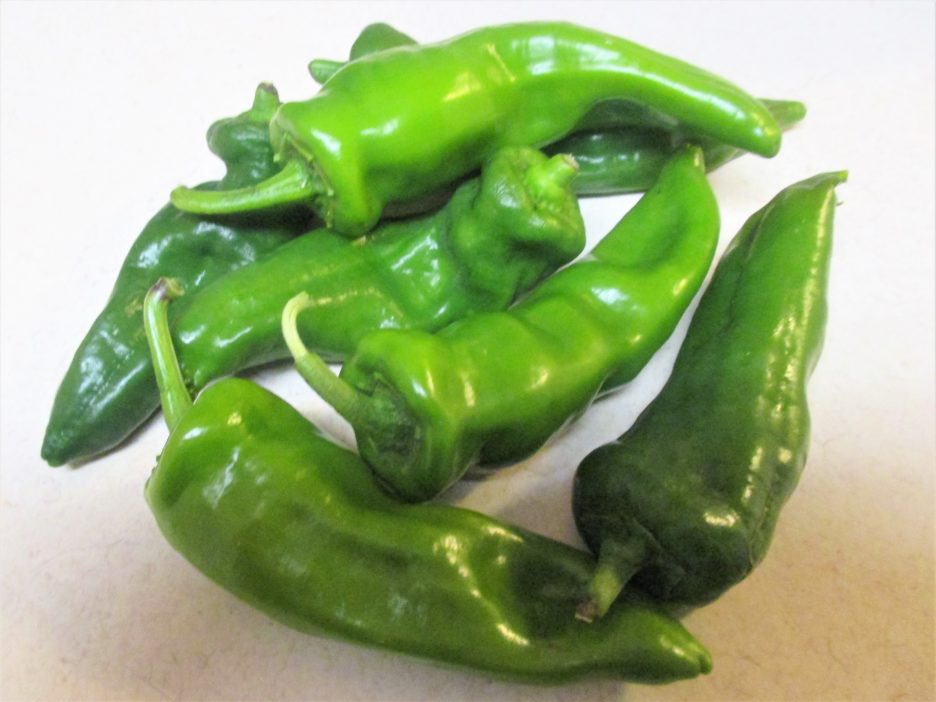 They were a staple in Italian kitchens in the summer. Fried in olive oil and seasoned with salt they crowned sausage and Italian beef sandwiches. They could simmer in tomato sauce and in a time when there was plenty of time they could be stuffed with sausage. My favorite treatment was when they were added to scrambled eggs for that Friday Supper Favorite, Pepper and Egg Sandwiches. Tucked into crusty Italian bread there was nothing better. It was delicious enough that I never missed the meat.
Years passed and access to the peppers did too. With all the bounty of produce we experienced living in California, there was never a Melrose Pepper. Once we moved back to Illinois it took some time before I re-discovered them. I have sung the praises of Caputo's Fresh Market before, but I may love them the most because they reunited me with my cherished peppers.
This year my love affair reached a new level. I actually found Melrose Pepper plants and two have lived happily in my tiny garden plot. They have withstood heat, rain (and lack thereof), and rabbits and have given me if not a bounty at least some tasty meals.
Since I am always interested in the next "Can you grill it?" adventure I thought it was time to put my small bounty of Melrose beauties to the test.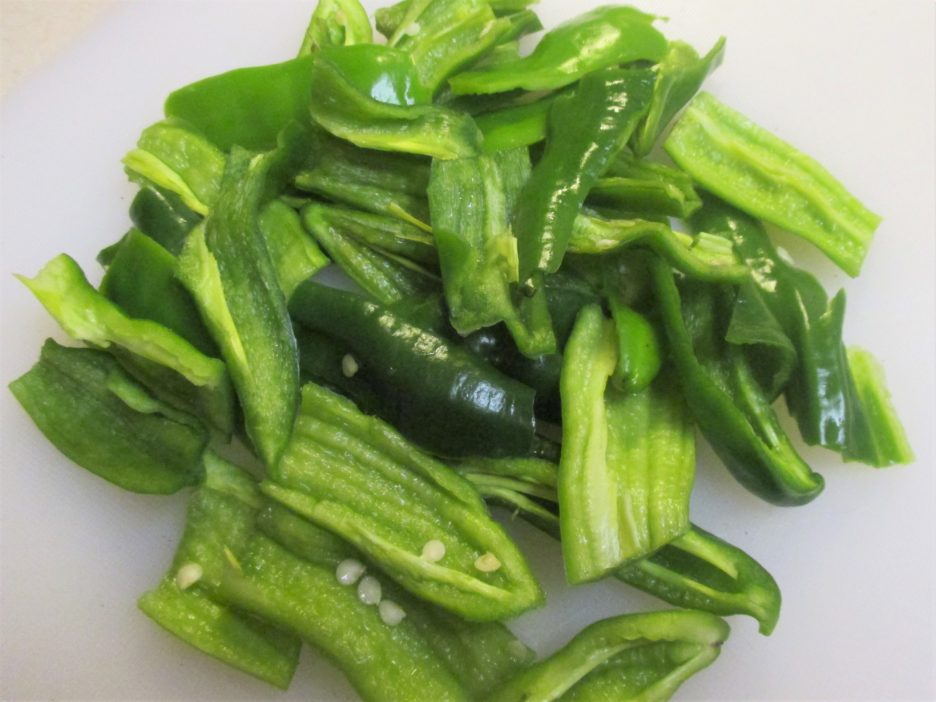 What better way then to pair them with one of their most popular partners, Italian sausage. I chose Scratch Family Chicken Italian Sausage because I got to talk to the creator at my favorite Caputo's and his passion was as remarkable as his sausage.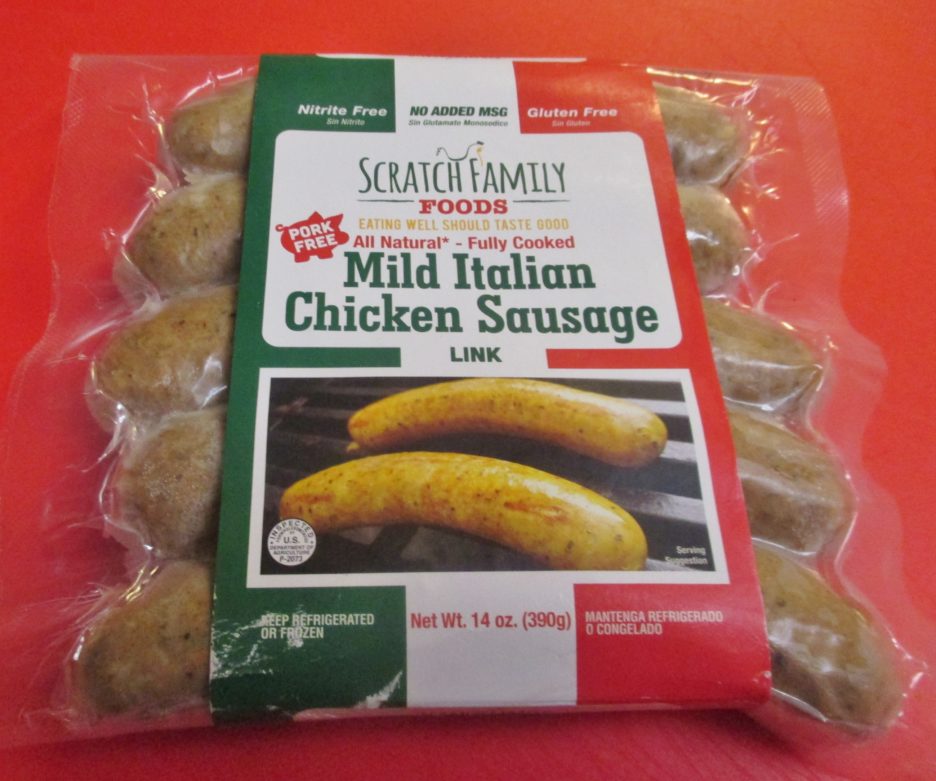 The sausage which is made with natural ingredients tastes remarkably like its pork cousin. The company is local, based in Montgomery, serving a limited market in the Chicago area. I think it's due to get more widely known.
This sausage is also fully cooked which made it an even better choice for Mama D's Grill Basket of Love.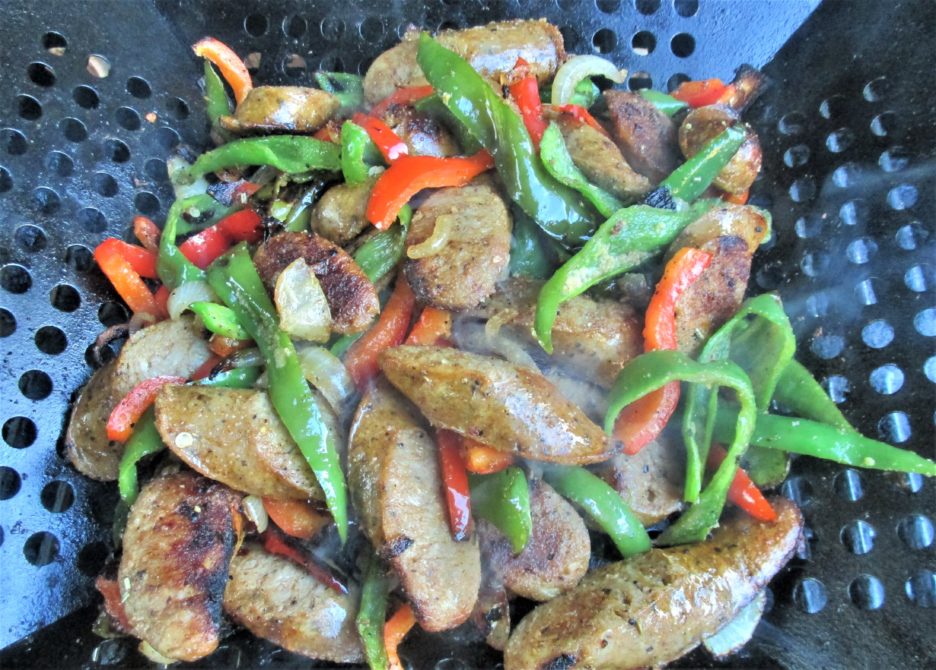 While not traditional, I added a few red bell pepper strips for some color and some sliced sweet onions for a bolder flavor. Everything cooked together so the flavors really had a chance to blend. The result was a one dish meal that would have made my grandfather proud.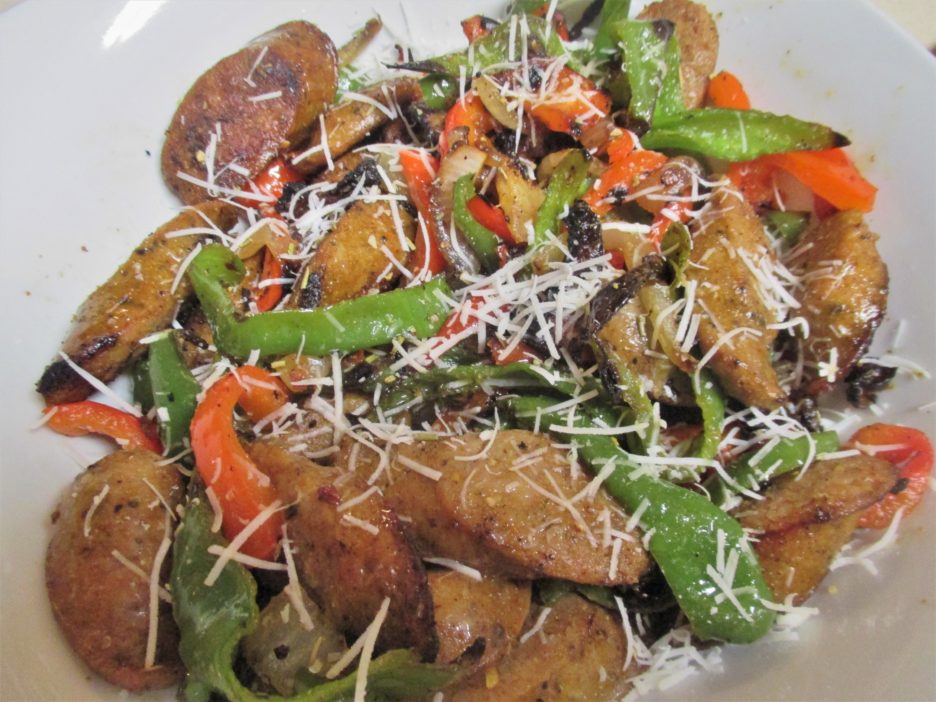 There isn't much of a recipe to write. All you need is enough sausage, peppers, and onions to feed your family. Olive oil, maybe a bit of Italian herbs, and a sprinkle of some Pecorino Romano and you are good to go.
As my lead picture indicates, the last batch of peppers are turning their fully ripe crimson, an event that makes them even sweeter. The last peppers are waiting to be picked and I will miss them. A year is a long time to be without them. The season for these little guys is short and they may be hard to find but, keep an eye out for them, they are worth the hunt.