They say that knowledge is power. This applies to many things that help one live a full life. The phrase can also apply to the more mundane matters of life like making dinner. Having recently learned a great deal about what is in the pantry, Mama D has used this knowledge to create some pretty interesting things (and a few mundane things as well). Since "Meatless Monday" is on the horizon, I thought I'd share a recent solution to the question: "What can I make for dinner without having to run to the store?"
Tortellini salad sounded good. Having discovered that I had one of those little bags of dry cheese tortellini in the pantry, and knowing that they really only work in soup or a salad, the choice was easy. It honestly could have gone either way, but another "Midwestern Warm Spell" made the salad idea more appealing.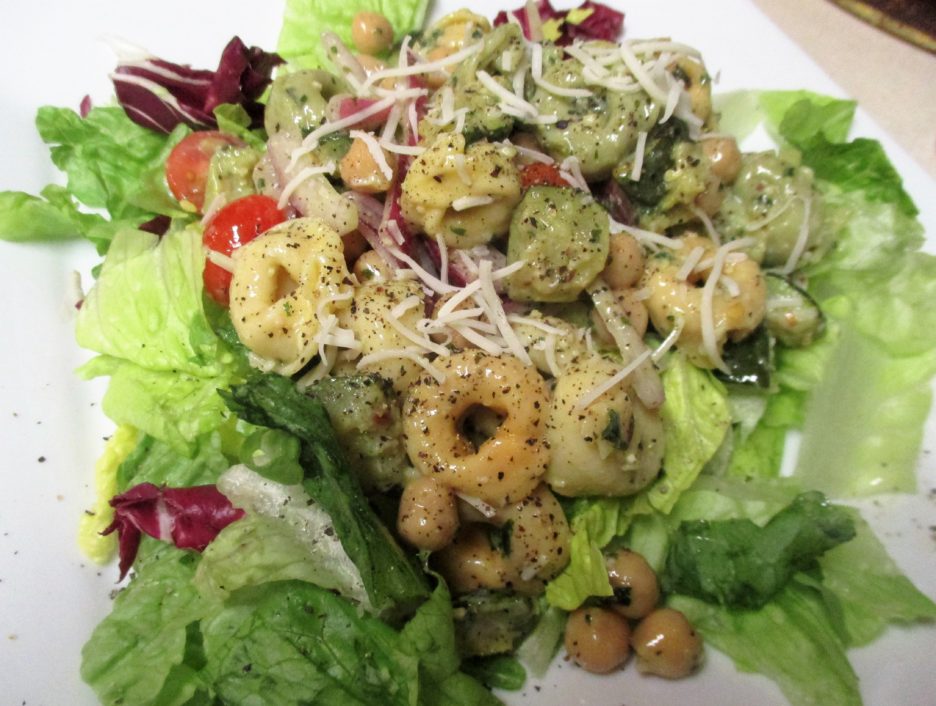 Further investigation of the larder revealed several cans of chick peas, the refrigerator yielded some zucchini and grape tomatoes, and the freezer revealed several bags of pesto (remnants of a distant summer). Not bad for starters, I thought. The zucchini was roasted, the tortellini cooked al dente, and the pesto was blended with some buttermilk to create a light and creamy dressing. Now what?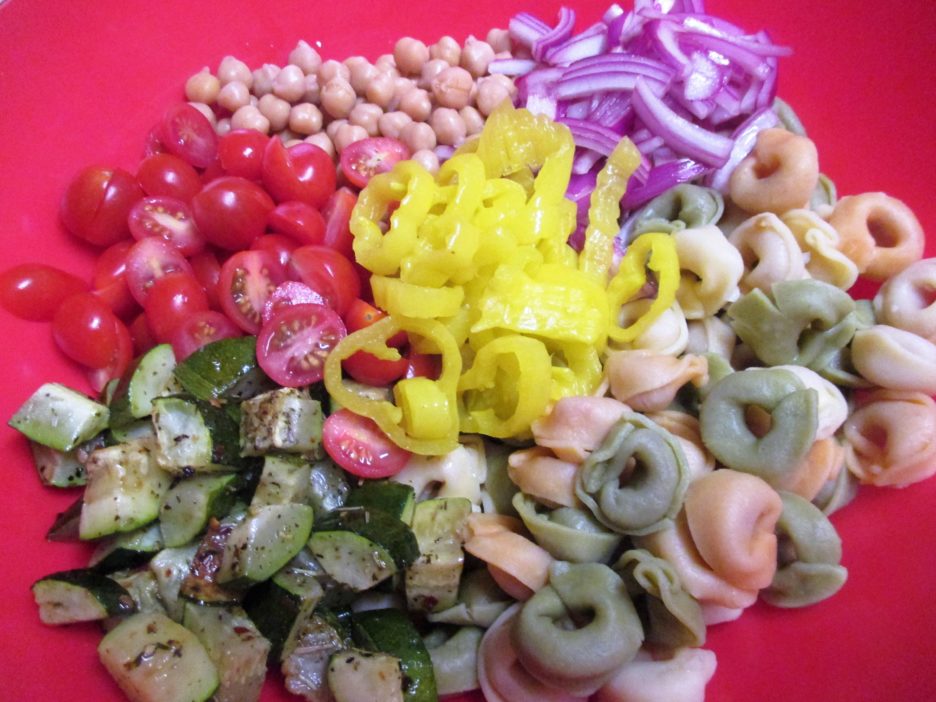 Nothing like some sliced red onion and sweet pepper rings to add some crunch and color. The pepper rings were discovered in the back of the bottom shelf of the refrigerator. I do not remember why I got them in the first place, but it had to be for something because the jar was half empty; or was it half full?  It seems that no part of Mama D's Kitchen is immune from hoarding or philosophical musings.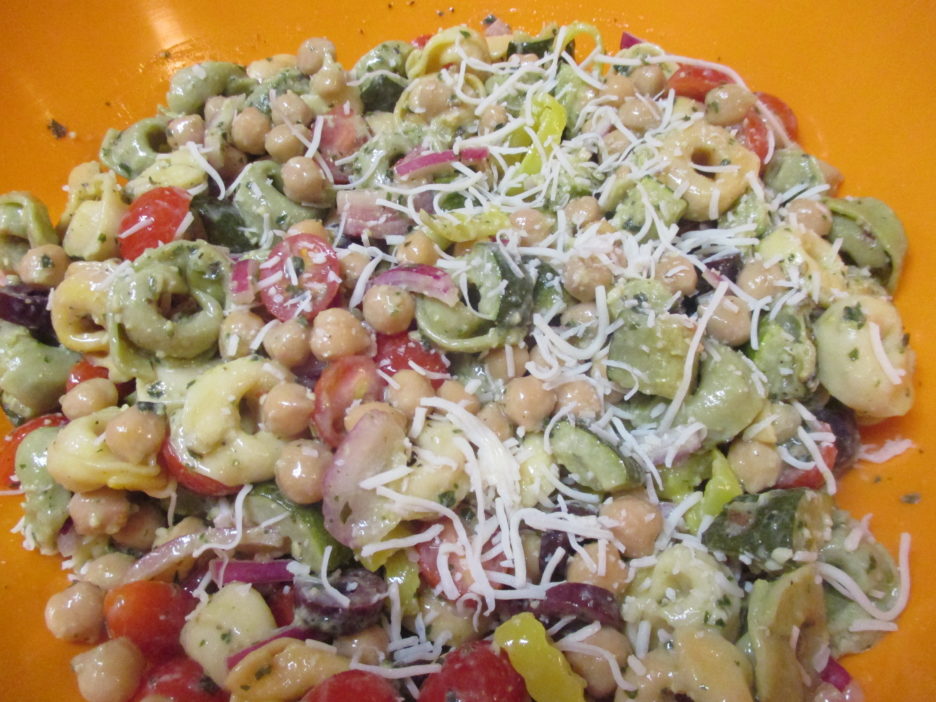 The Buttermilk Pesto Dressing was perfect. The tangy low-fat dairy gave the rich pesto a healthy balance. Two more refrigerator discoveries; some Romano Cheese (a staple actually) and Kalamata Olives (original purpose unknown) rounded out the bowl. As this salad was kind of thrown together from what was on hand, it can be adapted to anyone's pantry and I would recommend adapting it to your own needs.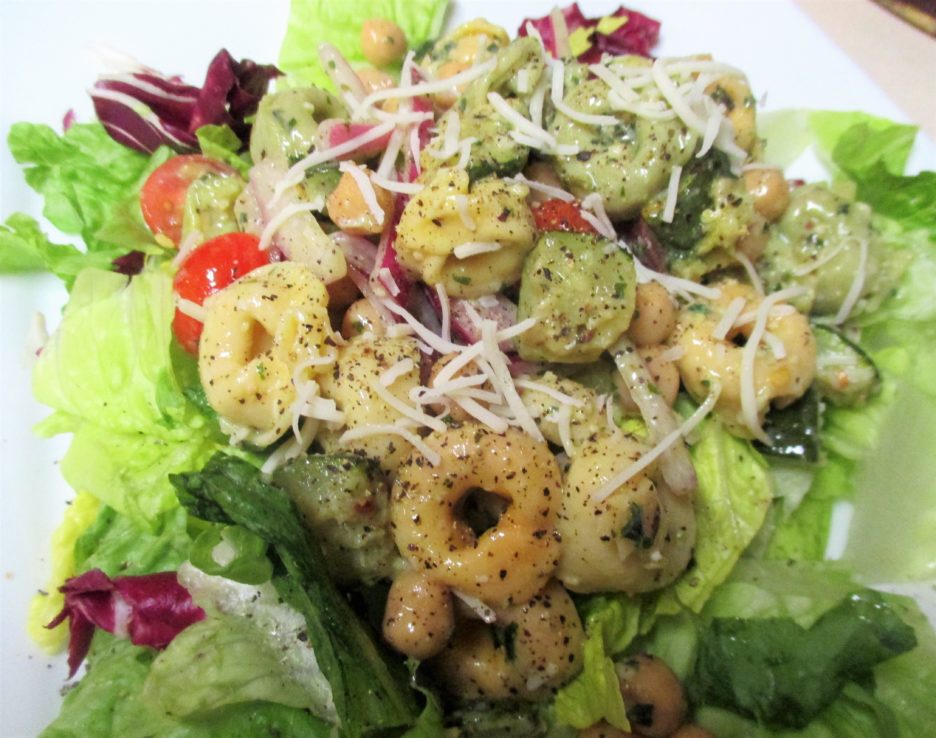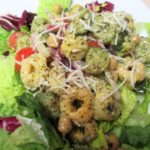 Tortellini and Chick Pea Salad
Course:
Main Course, Salad
Ingredients
8

Ounces

Dry Tortellini

1

Can

Chick Peas

Drained and rinsed

2

Small

Zucchini

1/2

Medium

Red Onion

1-1/2

Cups

Grape tomatoes

Halved

1/4

Cup

Pickled Pepper Rings

Any kind

1/4

Cup

Kalamata Olives

Quartered

1

Bag

Italian Lettuce Blend

2

Tblsp.

Grated Romano

Cracked Black Pepper

To taste. Optional
Creamy Pesto Dressing
1/3

Cup

Basil Pesto

1/3

Cup

Buttermilk

1

Tblsp.

White Balsamic Vinegar

1

Tblsp.

Olive oil
Instructions
Cook the Tortellini according to the package directions. Drain well, rinse and drain well again. Place in a large bowl.

Quarter the zucchini lengthwise and chop into 1 inch pieces. Spread out on a baking sheet and spray with non-stick cooking spray. sprinkle with Italian herb blend. Roast at 375 degrees for 15 minutes turning once to brown both sides. Add to the bowl .

Slice the red onion into thin vertical slices. Toss with a little vinegar and set aside for 15 minutes. Blooming makes raw onion less strong tasting. Drain the onion and add to the bowl.

Add the chick peas, olives, tomatoes, and pepper rings to the bowl and toss to combine everything.

Shake the Pesto Dressing ingredients in a jar with a tight fitting lid. Pour about half of the dressing over the salad and toss to coat well. Cover the bowl and chill for several hours.

About 30 minutes before serving remove the bowl from the refrigerator and add the remaining dressing. Toss again.

To serve: Place a couple of handfuls of the lettuce blend on each of the plates. Top with the tortellini salad and sprinkle with the Romano. A generous sprinkle of black pepper is a nice finishing touch.
Like a perfect storm, this salad will never happen in quite the same way again. The next version will most likely be different no matter whose kitchen it comes from.