Let me start by saying, I am proud to be a carnivore. As this site attests, meat, in all of its forms is my friend, however, there is more than enough room in that  circle of friends for non-meat members. This site can attest to that as well. I've often shared recipes that don't feature beef, pork or poultry in a starring role. Beans, grains, eggs, and dairy are well represented in the Recipe Archive.  Lately I find myself drawn to more recipes that do not feature meat at all. I have completely embraced "Meatless Monday" and I'm working towards Meatless Wednesday or Thursday on occasion.
Speaking of Meatless Monday…how did we come to call it that? We have to look back to both World Wars when rationing food was the law of the land and Meatless Mondays happened in every home. Entering into the new millennium, the concept was revised to improve people's eating habits. The story goes that Monday being the first weekday was a time to get back on track after a weekend of indulgence. Think of all those diets we've started on Monday morning…it kind of makes sense.
Personally, I'm probably in that camp. I tend to eat more on the weekend and often look upon Monday as a clean slate, but that's not the only reason. Meatless meals tend to be less expensive and some are downright cheap. Especially when there are beans involved. Mama D does have a "thing " for beans. Soups and chilies of course, but she's dipped her toe into the pond that is the veggie burger, just look at the Black Bean and Cannellini Burgers from some time back. Besides being low in fat, high in fiber and full of protein, beans are versatile and dare I say (again) cheap.
So, today's entry into the Meatless Monday category is a Farro Bowl that has a distinctly Mediterranean flair. Farro of course, comes from Italy and many of the other ingredients originate from not too far away in Greece. It has the bright vegetable colors that are featured in both cuisines and then there are those Chick Peas,  Garbanzos, or Ceci, whatever you choose to call them.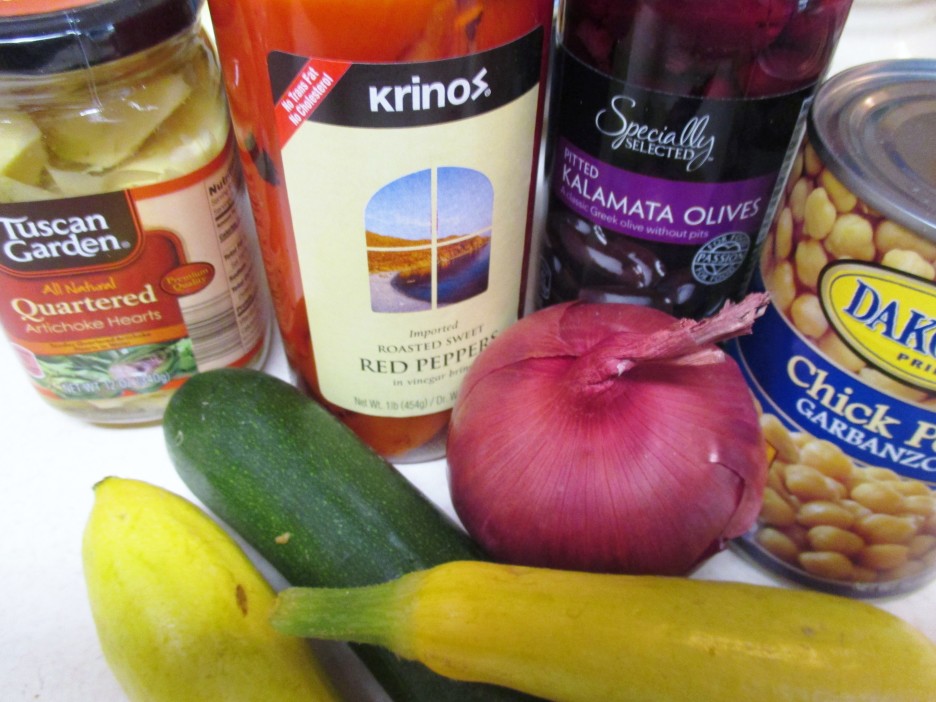 It's quite an easy dish to prepare. While the farro is cooking, the topping comes together in a skillet. The onions and the squash went in first, followed shortly thereafter by  a little garlic (yes, a little… I know) and the beans. I think that garbanzos taste wonderful when they are cooked to a light golden brown. It gives them a nutty, creamy taste that doesn't happen with most other beans.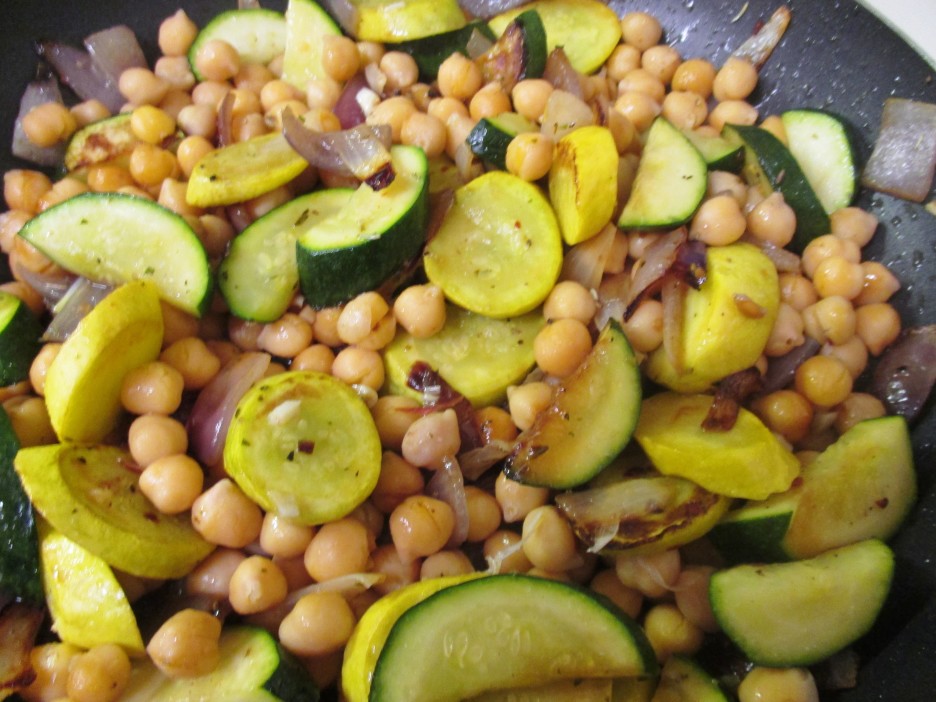 As the picture indicates, a good many ingredients came out of jars…not that there's anything wrong with that. Coarsely chopped, they waited on the sidelines until the time was right.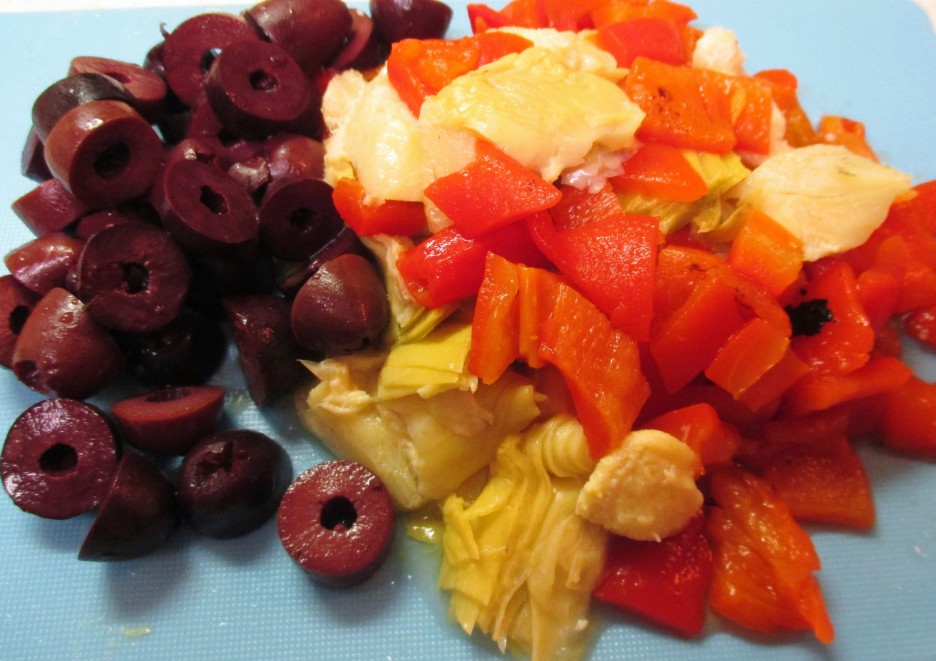 Once the garbanzos and squash were what I considered the perfect color, the rest of the veggies went into the pan.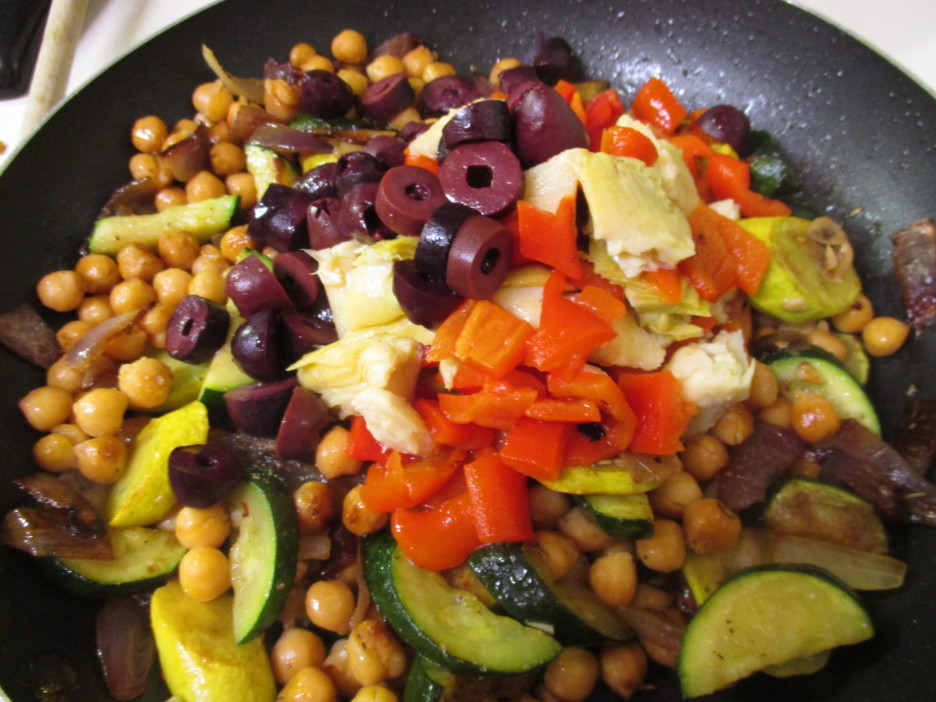 All that was needed now was a little lemon juice, a bit more olive oil, some Italian herb blend and fresh rosemary. The farro created a rich brown bed of grainy goodness (absolutely love this stuff) that cradled the vegetables nobly. Some crumbled feta  sat on top in blinding white splendor. This was truly a meal for the gods…Greek or otherwise.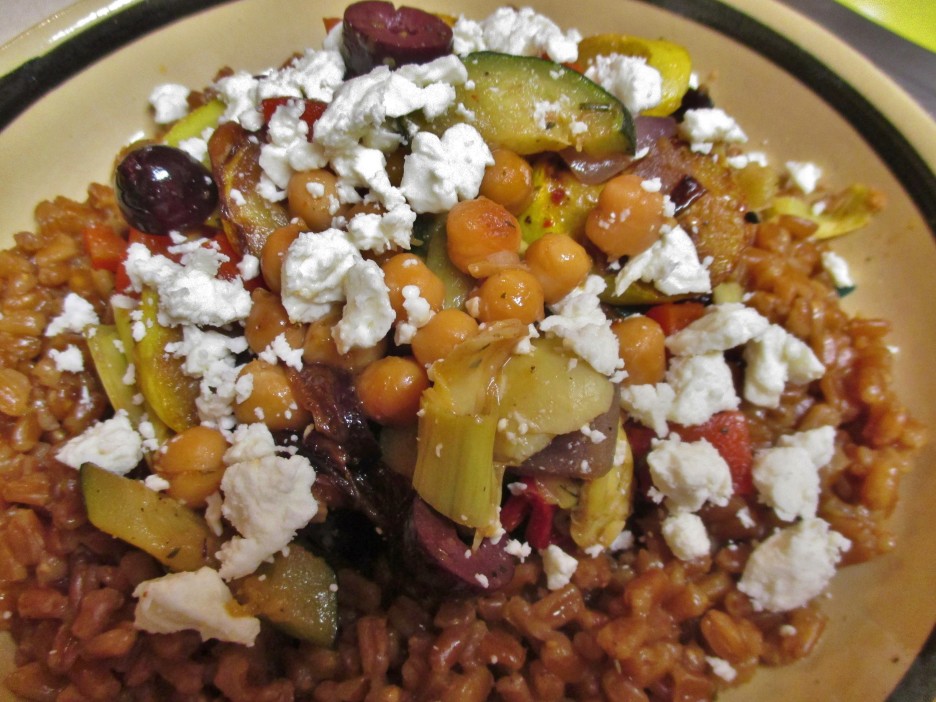 The beauty of this recipe is that is the entry-level to so many other creations. Try it with your favorite veggies and grains; go for a different ethnic flavor; or just give my recipe your own personal spin.
Instructions
Rinse farro and drain. In a medium pan, combine the farro with 1-1/2 cups stock and bring to a boil. Reduce the heat and cook until the liquid is absorbed and the farro is as tender as you like. This will take 20 - 30 minutes. While the farro cooks, prepare the vegetables.

Heat a large skillet over medium-high heat. Add the olive oil and swirl to coat the pan. Add the onions and cook for 2 minutes. Add the squashes and the garlic and cook another 2-3 minutes until everything begins to soften and become fragrant.

Add the garbanzos and continue to cook until the beans are beginning to brown. This should take around 5-7 minutes. Make sure you stir often so that they brown evenly.

Add a little of the reserved stock to keep things moving. Add the olives, peppers, and artichokes to the skillet, tossing to combine. Continue to cook for another 4-5 minutes, adding more stock if necessary.

Add the lemon juice, herb blend, and rosemary to the skillet and toss one more time and heat another coupe of minutes.

Divide the farro between 2 bowls creating a little well in the middle. Top each bowl with half of the vegetable mixture. Sprinkle 1 ounce of the feta on each bowl and serve.
The best part of this is you don't have to wait for Monday to make it. You can go Meatless any day of the week…Can you say Meatless Sunday Supper?