As Summer finally (maybe) comes to an end, leaving a checkerboard path of meatless meals in its wake, I am again moving into "Meatless Mondays." I am also once again cleaning out the refrigerator, putting ingredients to use before they are useless. That being said this recipe would be wonderful even if it was planned in advance.
I have just returned from a wonderful visit with California friends. While I was living it up in a penthouse suite overlooking the Chicago River and Lake Michigan,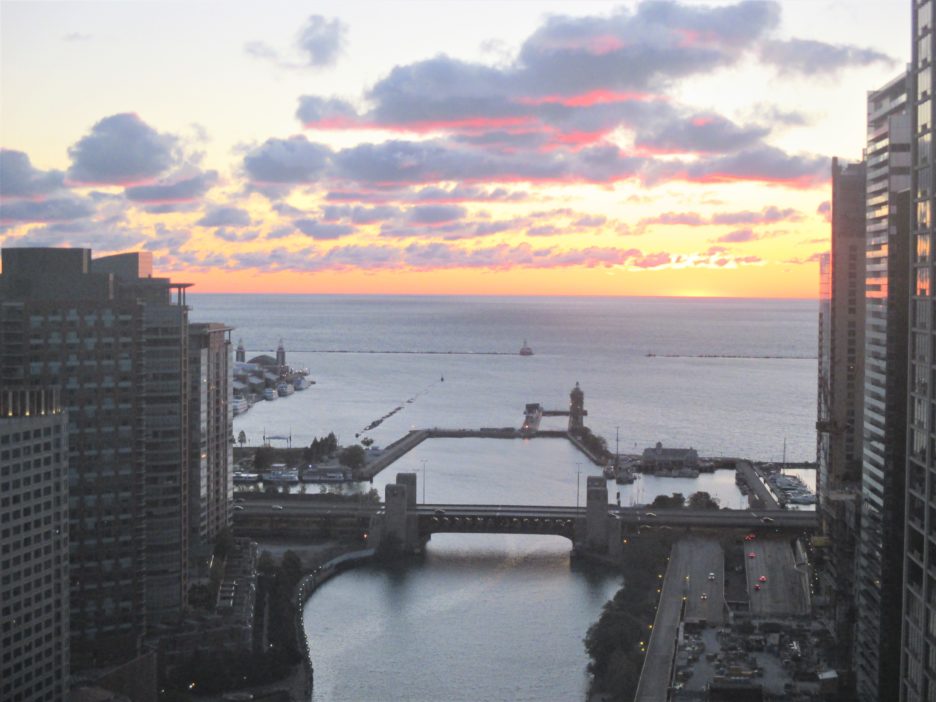 Papa D was left to his own devices as far as meals were concerned. One evening he cooked a pound of pasta to go with the container of Sunday Gravy that I had left in the refrigerator. Wisely, he decided to save some of the pasta  to scramble with eggs (his idea).
Liking the idea when I got home, I ran with it. There were a few other leftovers that needed rescuing. Peppers, tomatoes and some cheese all were nearing the end of the road so they gathered together to become a pasta frittata.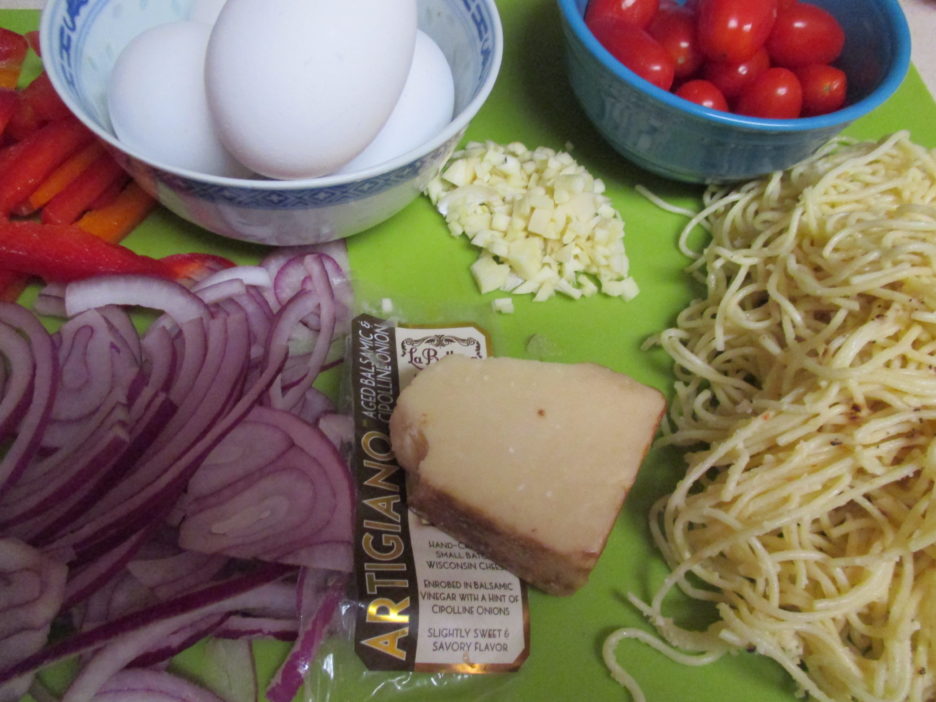 This dish, and the use of pasta, is popular in many areas of Italy. It can be labeled Neapolitan or Sicilian and is probably claimed by many other regions, but it always seems to use leftover pasta as its base. Techniques can vary, but I like cooking the vegetables first.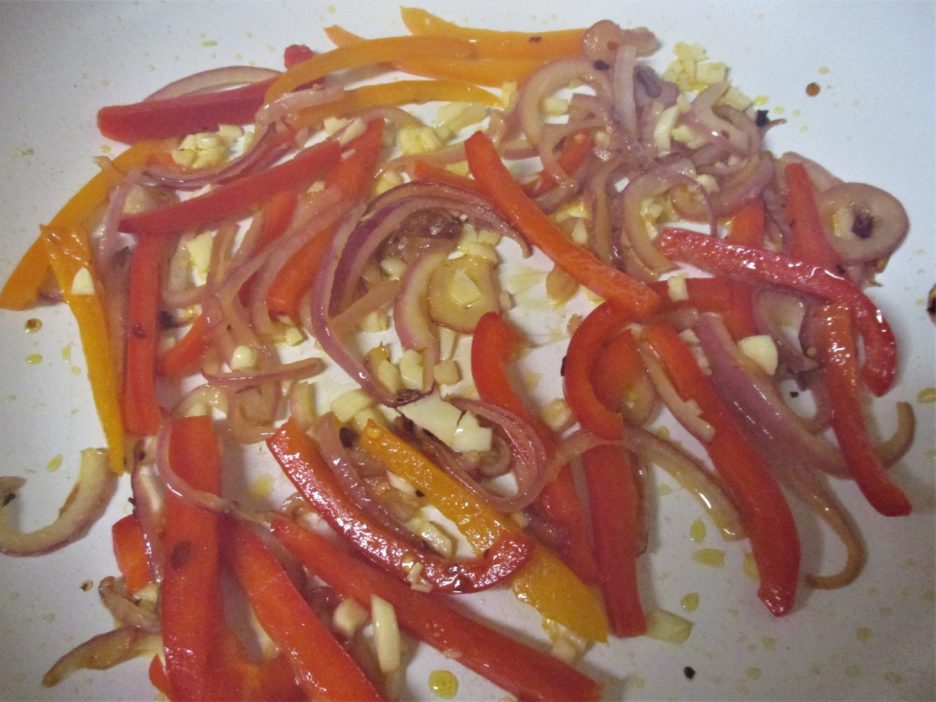 and adding the pasta second.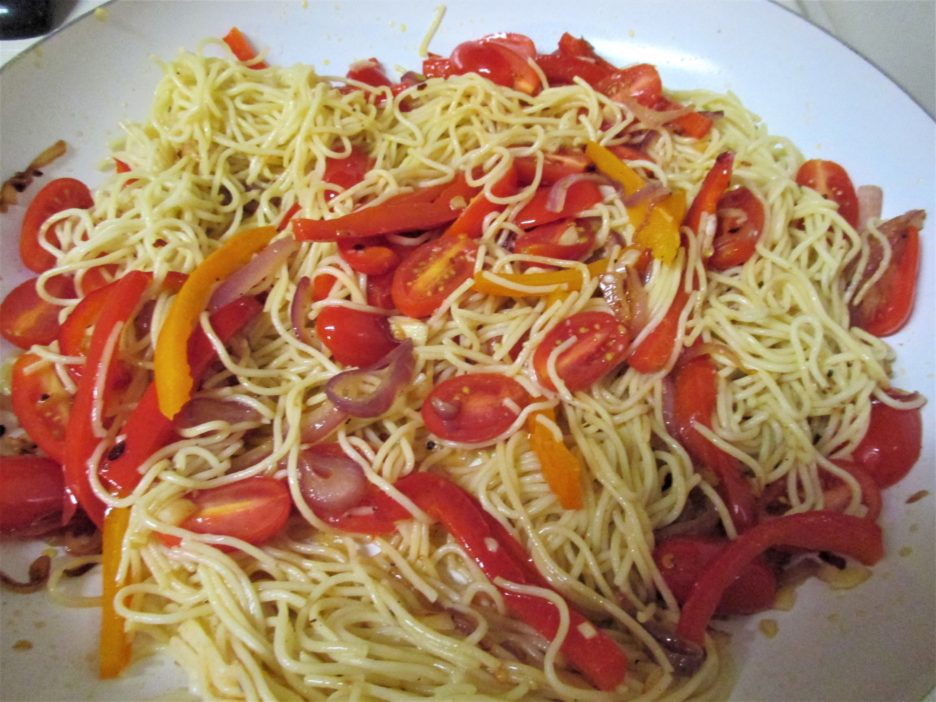 Olive oil is a driving force in this process as is initial high heat. Once the eggs are added along with some cheese, things need to get low and slow. This is a dense dish that takes time to set. This also allows time to enjoy the fragrance that the garlic and other vegetables create.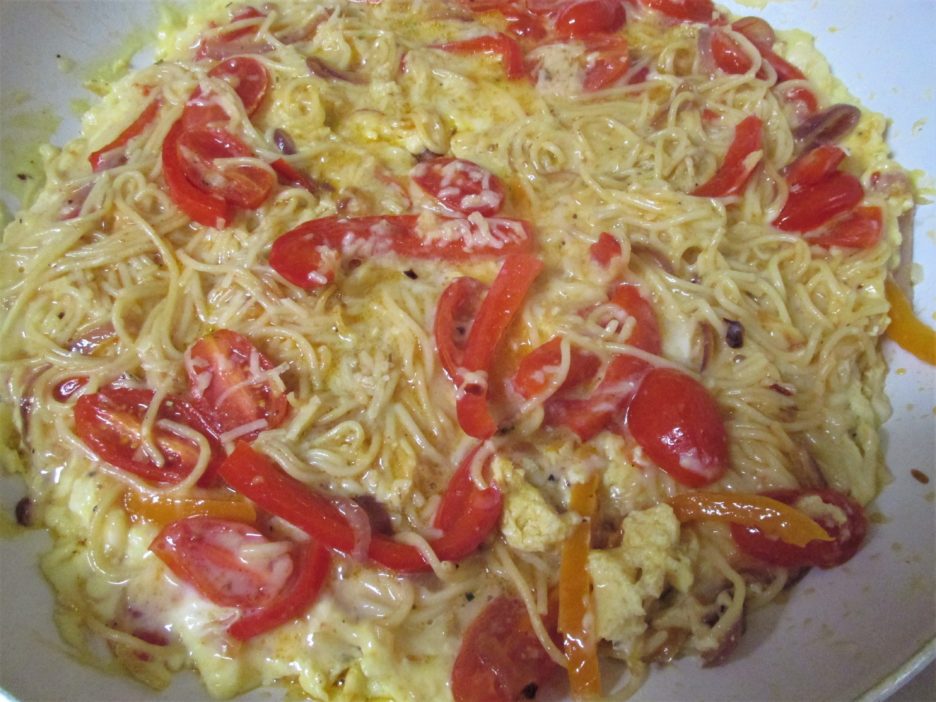 When the frittata is almost set, it gets crowned with a little more cheese (a hard grating cheese is best. Asiago, Romano or Parmesan are good choices) and heads for the broiler. Lightly golden and ever so slightly crusty it is ready for its close up. A sprinkling of basil or any other available herb gives it a little more color.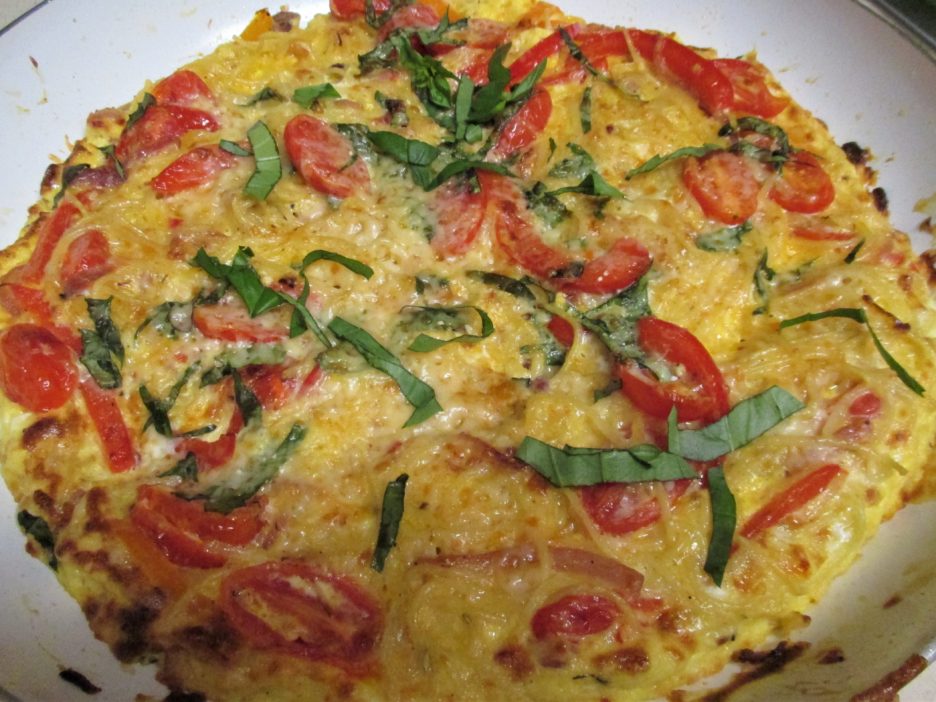 This makes a lovely weeknight supper, but it is just as at home for a weekend brunch. The format is easy and lends itself to whatever embellishment you want to add. This served two lavishly and could easily serve more with a salad and some crusty bread added.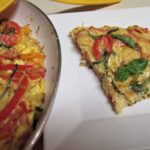 Pasta Frittata
Ingredients
1

Tbsp.

Olive Oil

3/4

Cup

Thinly sliced Onions

3/4

Cup

Thinly sliced Sweet Peppers

2

cloves

Garlic

Chopped

1

Cup

Grape Tomatoes

Halved

2

Cups

Cooked Pasta

4

Eggs

Beaten

2

Tbsp.

Milk

1

Tsp.

Italian Hebs

1/2

Cup

Grated Italian Cheese

Divided

1/4

Cup

Thinly sliced Basil
Instructions
Heat the olive oil over medium high heat in an oven proof skillet. Add the onions and peppers and cook stirring occasionally until softened and beginning to brown. 5-7 minutes.

Add the garlic and tomatoes to the pan and cook another 3 - 4 minutes. The garlic should be fragrant and the tomatoes should begin to soften.

Add the pasta and toss to combine the ingredients. Continue to cook, tossing occasionally until the pasta begins to take on some color, another 5 minutes or so.

Heat the oven to broil. Beat the eggs, milk and half of the cheese together until well blended. Stir in the Italian herbs. Carefully pour the egg mixture into the pan so that it is even.

Lower the heat to medium and cook lifting the edges of the egg to allow the mixture to cook through. Once the eggs are almost set, sprinkle with the remaining cheese and transfer to the oven.

Broil until the top is golden and the cheese has melted. Remove from the oven and allow to rest for 5 minutes. Sprinkle with the basil and serve.
I don't want to cut anyone's weekend short, but Monday is just around the corner. If you make pasta over the weekend, make a little extra…a frittata might be just the way to begin the "Meatless Monday" tradition.