Summer is at its peak and fresh vegetables are overflowing their bins. Grills everywhere are fired up and working up a major sweat. Vegetables and grills have a special affinity that is at its best at this time of the year.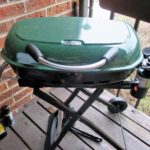 Purists will swear by charcoal and I do love me some char-grilled meat, but there are times when the convenience of gas has many of its own attributes. Disclaimer: I have no choice other than using a gas grill. Apartment living requires it for safety reasons (at least in my complex). That being said, I used gas long before I had to. It is at times a love hate relationship but, lately I love it and here is why.
The biggest plus (in my book) is how quickly it is ready to cook. Turn on the gas and press the button and you have a flame.  In a few minutes it is hot and ready to cook. What I love the most about this almost instant grill gratification is that it allows me to grill only the ingredients that I want. These ingredients can then come inside and become part of a pasta dish, frittata or salad. and yes all of those have happened this past week.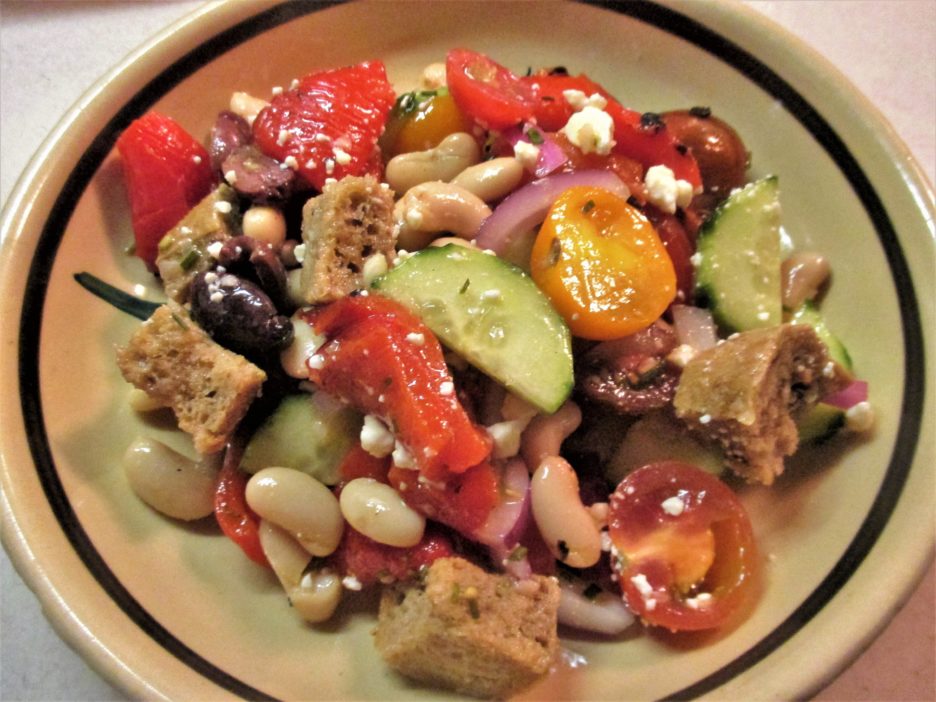 Woodman's, a local mega grocery store, discounts their slightly sad produce. The discount is deep (think large bags of produce for 99 cents) and it is done daily with Mondays seeming to be the biggest day. While there are often some things that are sadder than others, there is usually enough usable produce to be well worth the under a dollar price. Quick processing then becomes the top priority. My bag of peppers, all of which were usable went in several directions. I chopped up a few and froze them for later, some where good enough for a salad and the rest went on the grill.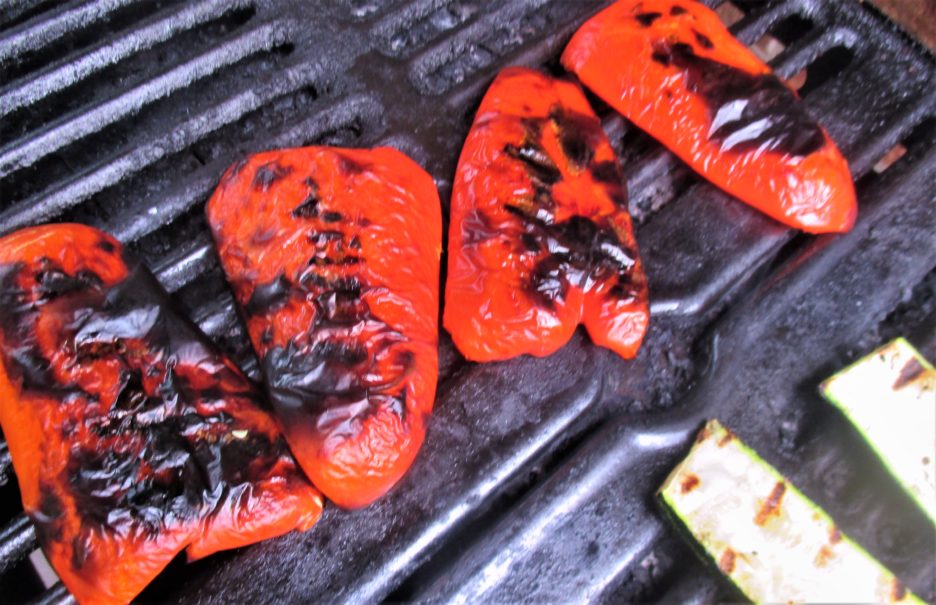 Grilling peppers accomplishes two things. The peppers cook into a silky textured scarlet bite of deliciousness and the charring allows the skin to easily be peeled.  This peeling step is a must do. For as silky as the pepper flesh gets the skin becomes tough, chewy and isn't fun to eat.
As with peeling chili peppers, covering with plastic wrap and allowing the peppers to sit for a few minutes makes the skin easy to remove. The jewel like flesh that is revealed is a thing of beauty.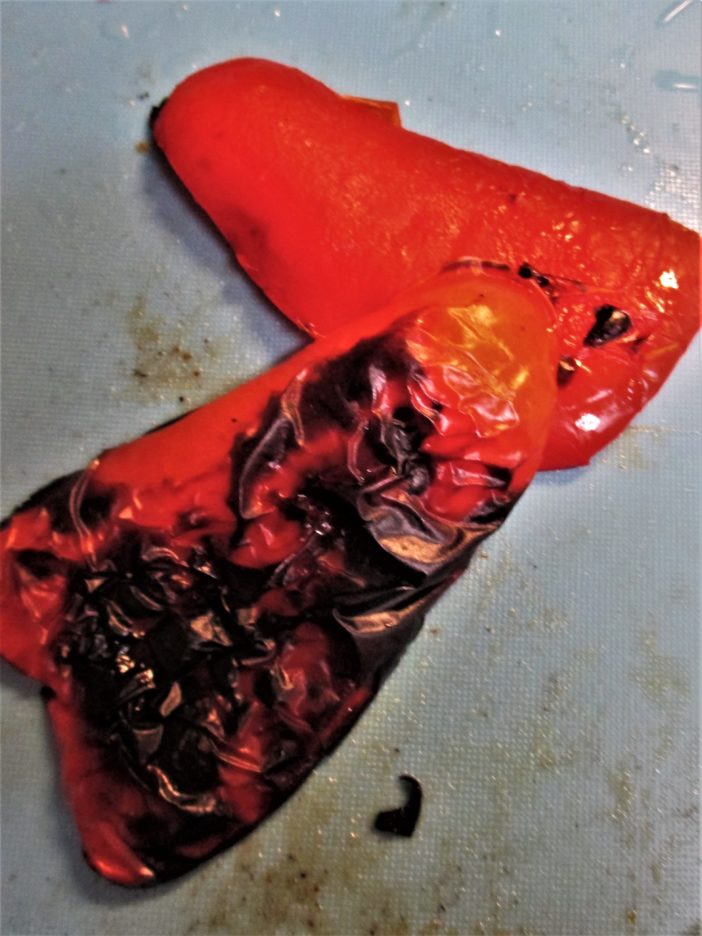 I opted to roughly chop the peppers for the recipes that I made, but slicing them into strips and adding some herbs, vinegar and olive oil create the perfect star for your next relish tray. As I said they made several appearances in the kitchen. My favorite was their co-starring role in a Panzanella Salad.
Cucumbers, cannellini beans, red onions, tomatoes, and whole wheat baguette joined the peppers and some kalamata olives to create a Mediterranean main dish salad that was wonderful.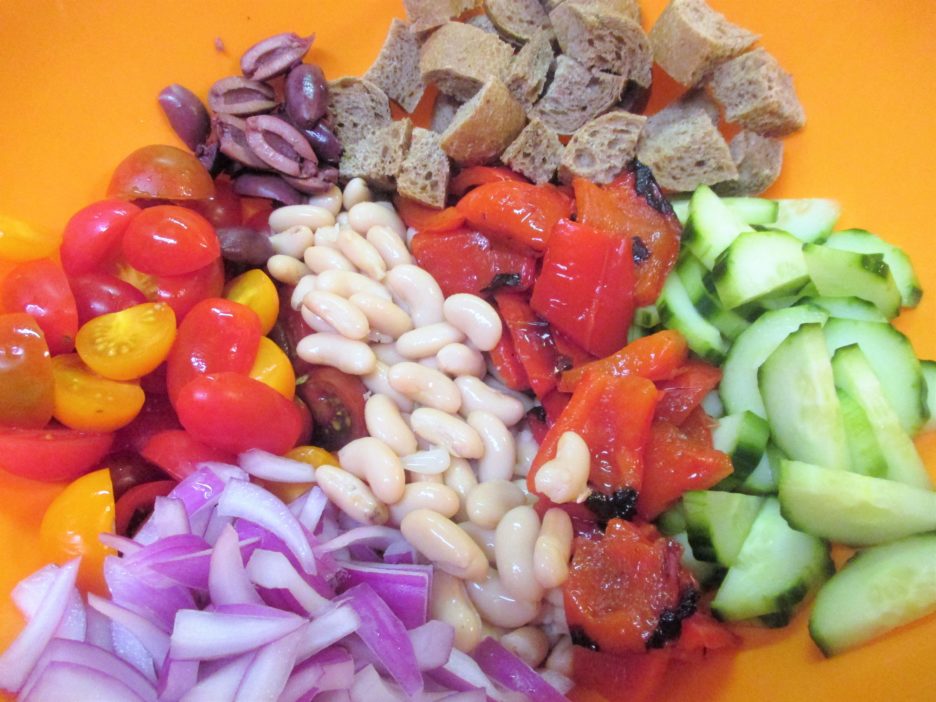 A Mediterranean Vinaigrette laced with lots of Rosemary gave a light yet zesty flavor to the salad. A sprinkling of Feta and it was ready to enjoy.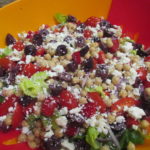 Mediterranean Vinaigrette
A twist on the classic vinaigrette with plenty of lemon and more than a hint of garlic. Add any fresh herbs of your choice. This is wonderful on a Greek salad, but it would be equally delightful as a dressing for grilled vegetable or a pasta salad. It makes a great marinade as well.
Ingredients
1

Medium

Lemon

Juice and zest

2

Cloves

Garlic

Grated

1/4

Cup

White Balsamic Vinegar

1/2

Tsp.

Red Pepper Flakes

Optional, to taste

3

Tbsp.

Chopped Fresh Herbs

Parsley, thyme, basil, or you choice

Kosher Salt and Pepper

To taste

1

Tsp.

Dijon Mustard

1/4

Cup

Olive oil
Instructions
Combine all of the ingredients in a jar with a tight fitting lid. Shake until completely blended. Allow to rest in the refrigerator for at least one hour.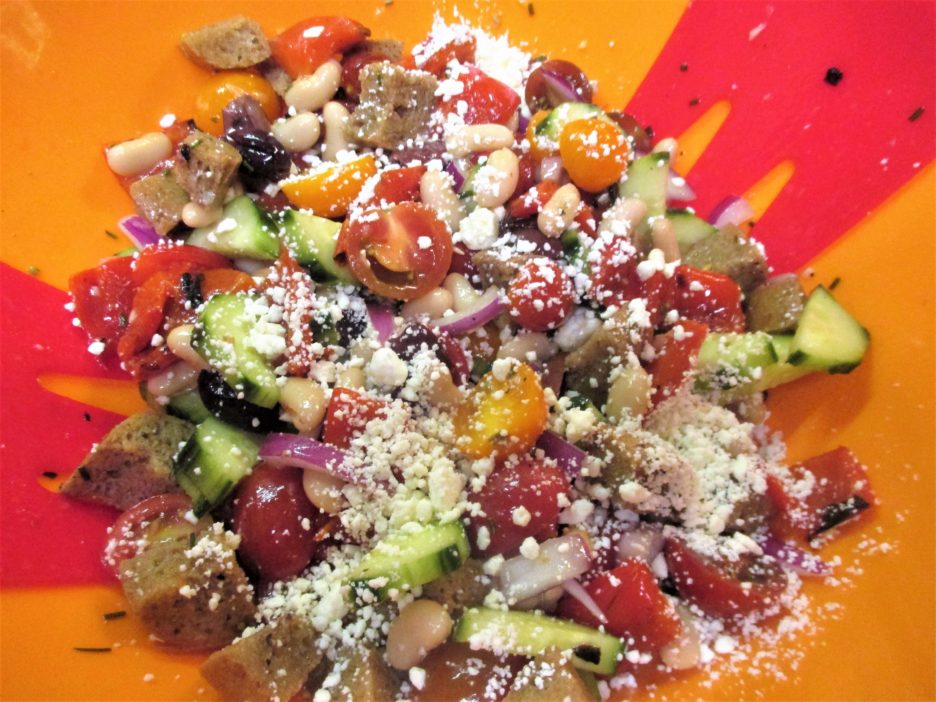 As far as Panzanella Salad Recipes go…anything goes. Tomatoes and cucumbers seem to be a must and of course crusty bread has to be present as this is a "Bread Salad."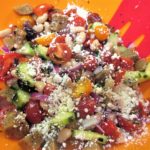 Cannellini and Roasted Red Pepper Panzanella Salad
Another variation on the classic Panzanella Salad. This is totally open to your own interpretation. add or subtract what you want, just make sure the tomatoes and bread stick around.
Ingredients
Can

Cannellini Beans

Drained and rinsed

2 - 3

Roasted Red Peppers

Chopped

1

Cup

Sliced Cucumber

1/2

Cup

Sliced Red Onion

Scliced vertically

1/4

Cup

Kalamata Olives

Sliced

1

Cup

Grape or Cherry Tomatoes

Halved

2

Cups

Crusty Bread Cubes

Day Old is best

3/4

Cup

Mediterranean Vinaigrette

Recipe above

1/3

Cup

Crumbled Feta Cheese
Instructions
If the bread cubes are soft toast them lightly in a 325 degree oven. they should be dry and lightly golden. Combine the peppers, tomatoes, onion, olives, bread, and beans in a large bowl.

Add the dressing and toss to coat everything nicely. cover and chill for several hours.

When you are ready to serve, re-toss the salad adding a little more dressing if necessary. Sprinkle with the Feta cheese and serve.
So now that I have "said my piece" about grills and peppers, I will leave you with this bit of philosophy: Grills and peppers come in all shapes and sizes. Kind of like everything else in the world. Find what works, find what you love, and make it your own.