Summer is here in all of its radiant (and humid) glory. I love this time of year. Flowers are peaking, showing their most vibrant color and gardens are beginning to give forth their bounty. Basil plants are thriving and beg to be snipped back almost daily. Basil always brings pesto to mind. I've shared my version of the traditional Pesto recipe and it is still number one on my Hit Parade, but this summer I have stepped out of my comfort zone (a little) and experimented with some different flavors and ingredients.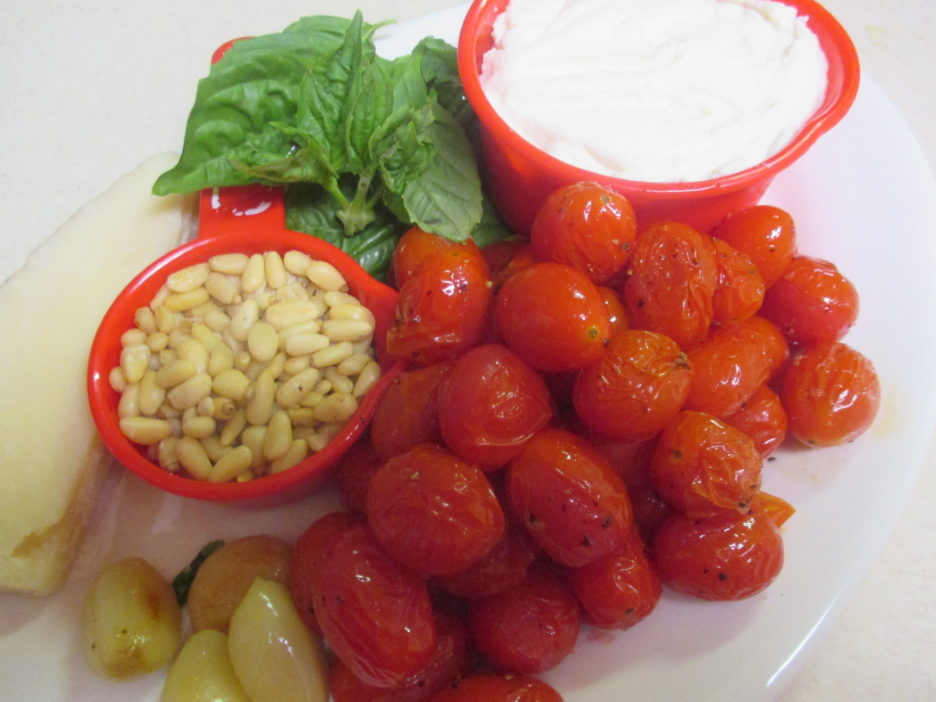 First off is a Roasted Tomato and Ricotta Pesto. Grape tomatoes and garlic are roasted to perfection before they are added to ricotta and pine nuts. Basil actually plays a supporting role here, but is present enough to lend some color and lots of flavor.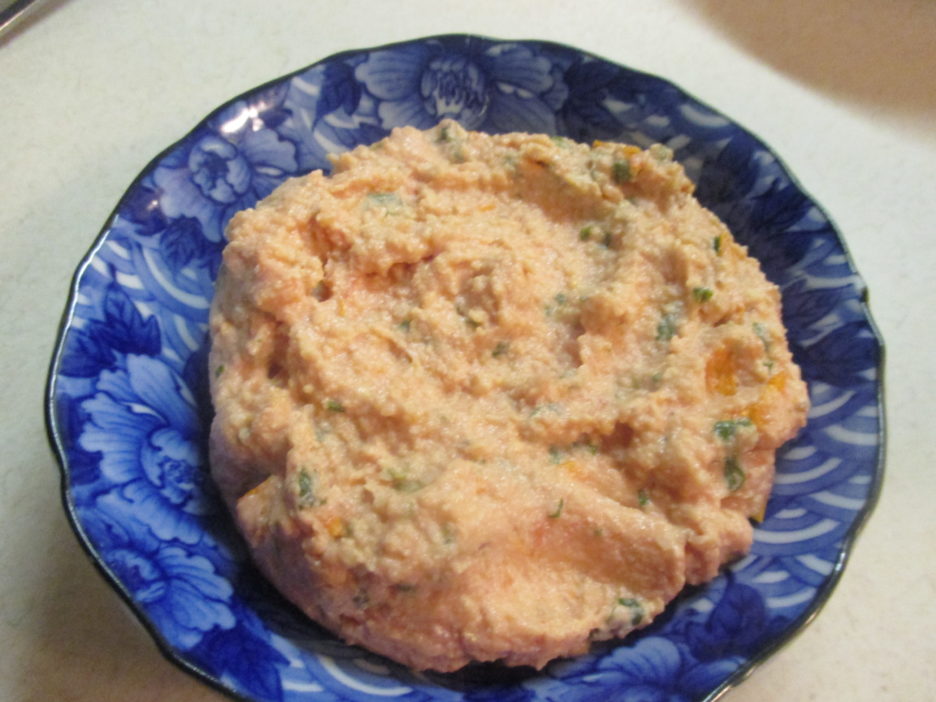 This is wonderful on pasta. or as a base for bruschetta.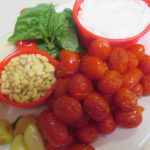 Roasted Tomato and Ricotta Pesto
Ingredients
1

Pint

Grape Tomatoes

4-5

Large

Garlic Cloves

Skin on

1/4

Cup

Olive Oil

Plus more for roasting

3/4

Cup

Ricotta

I used Part Skim

1/2

Cup

Grated Pecorino Romano

1/4

Cup

Pine Nuts

I toasted mine

1/2

Cup

Basil Leaves

Firmly packed

Salt and Pepper

To taste
Instructions
Heat the oven to 375 degrees. Line a rimmed baking sheet with foil. Toss the tomatoes with a generous dose of olive oil, add a bit of salt and pepper. and spread them out on the baking sheet.

Place the garlic cloves on a piece of foil. Drizzle with a little olive oil and pull the foil up around the cloves to make a nice bundle. Seal well, but leave a little room for steam.

Roast the garlic for about 30 minutes until it is very fragrant. Roast the tomatoes 15 - 20 minutes until the begin to blister and give off a little juice. Remove things from the oven as the are done and set aside.

In a processor combine the tomatoes, garlic, pine nuts, oil, and the cheeses. Process until fairly smooth. Add the basil and pulse just long enough to coarsely chop. You want those pretty green flecks.

Use with your favorite pasta or as a base for bruschetta or pizza.
This pesto takes its inspiration from what is flourishing in my (balcony) herb garden. These are my standbys that are always planted. Nothing exotic or fancy just some rosemary, basil, and lemon thyme. Just out of camera range is a chive plant that is happily snipped at everyday.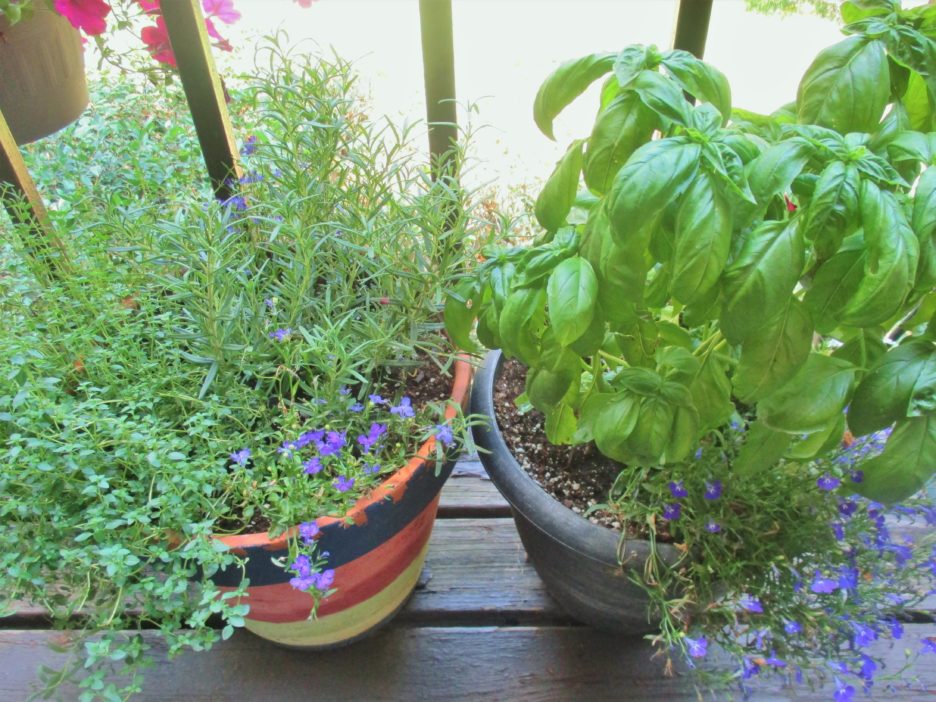 This Garden Herb Pesto is based what's in my garden. You can make it your own by snipping in you own garden. Lemon juice and zest along with some toasted almonds join the traditional pecorino, olive oil, and roasted garlic to create a bright blend.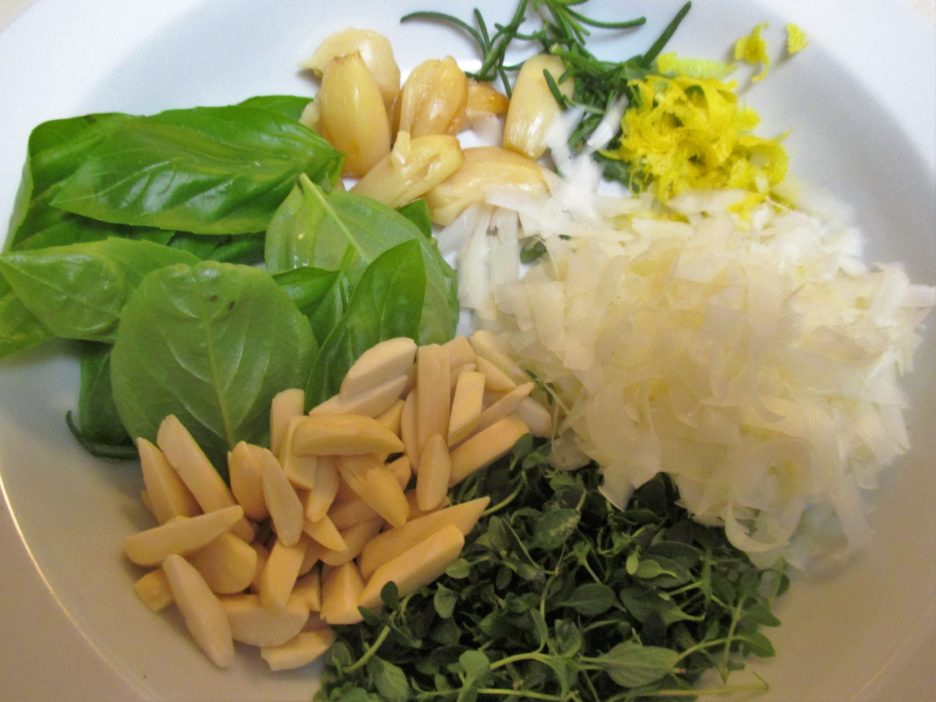 Once again, basil doesn't take center stage, it co-stars with thyme. Rosemary is there but in a quantity that imparts flavor without hitting everything else over the head. Parsley would be a welcome addition here. Sadly, my success with parsley has never been great so I use it at times that I have enough. This was not one of those times. Herb Pesto is the perfect sauce for some angel hair pasta. It also shines as a topping for grilled or roasted vegetables. I've even added bread crumbs and a little stock and used it to stuff chicken breasts and pork chops.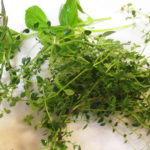 Garden Herb Pesto
Ingredients
1

Lemon

Zest & juice

4-5

Cloves

Garlic

Roasted

1/2

Cup

Thyme Leaves

1/3

Cup

Basil Leaves

2

Tblsp.

Rosemary Leaves

1/4

Cup

Chives

2

Tblsp.

Slivered almonds

Toasted

1/4

Cup

Pecorino Romano

Grated

3

Tblsp.

Olive Oil

Salt & Pepper

To taste
Instructions
Roast the garlic by wrapping the skin-on cloves in foil. Add a bit of olive oil before sealing the packet. Roast 30- 40 minutes at 350 degrees.

Combine all of the ingredients, except the olive oil in the bowl of a food processor. Pulse a few times until everything is chopped but not to the point of being a paste.

Drizzle in the olive oil blending until it is incorporated. Season with salt and pepper as needed and it's ready for its culinary adventure.
There you have two quick pesto recipes that are ready for their day in the sun. I know that these are only a small corner of what can be done with garden bounty. Let your green (and red if you are using tomatoes) flag fly and make pesto your own. Its time is now.