As I write this, we are barely a day away from the ultimate turkey feast. Birds are waiting patiently for their close up. Some are thawing, some may have been strutting around only a few days ago, and some are soaking in one savory salt bath or another. Mama D's kitchen doesn't have a turkey in waiting this year, but that doesn't mean that her week hasn't had a more than a few turkey adventures… Obviously that intro was written prior to Turkey Day, here's how it went down. By the way, you can click on those little red links for more recipes.
My son and his girlfriend  hosted Thanksgiving this year and I once again brought the stuffing (to be correct it was dressing as it never saw the inside of a bird). Thanks to Pinterest, this year  Mama D's Cali-Itali Stuffing  arrived in a bundt pan. Who doesn't love stuffing enough to eat it like cake? Instead of frosting, I opted to create a gravy. How does one do this without actually having a turkey? Why by using turkey wings, of course. This idea came from Cooking Light Magazine  and it resulted in a wonderful stock that is the base for a  gravy that is low in fat yet delicious. I used their method for making the stock, but took some liberties when it came to the gravy itself (see the recipe below).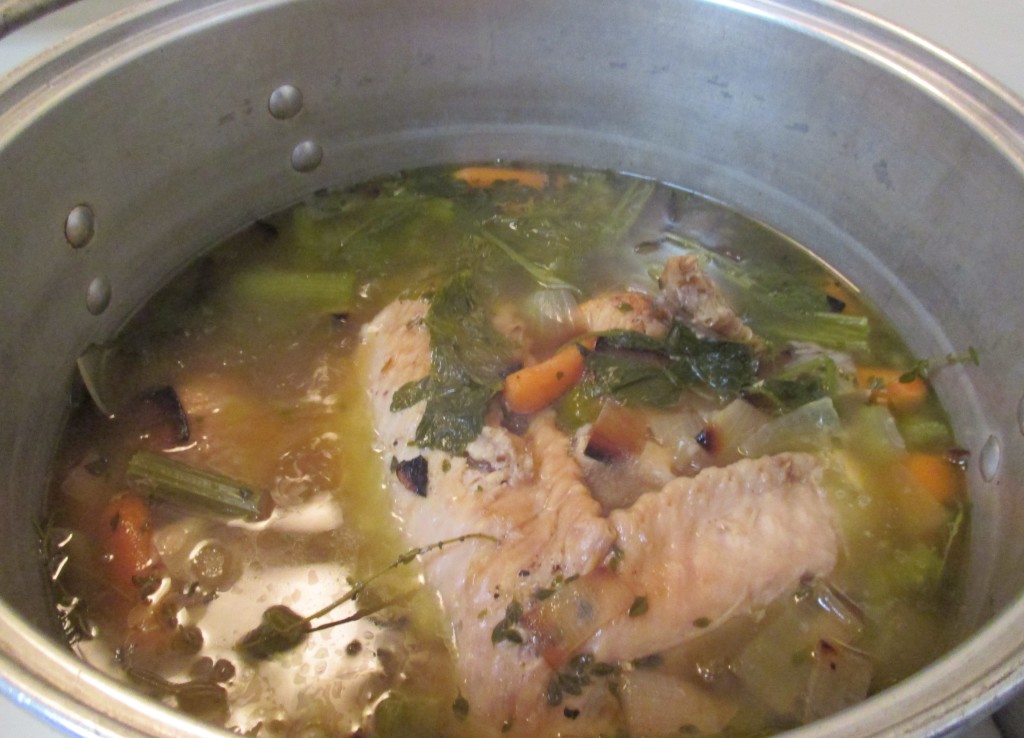 I ended up with a lot of stock; four quarts to be exact. One of those quarts became the Garlic and Wine Gravy….that left 3 quarts of this flavorful stock to play with, and play I did.
First up was a simple soup that I made the day I cooked the stock. I browned some Turkey Italian Sausage along with Mama D's Trinity (olive oil, onions and garlic). I added some spinach and a modest amount of the Turkey stock and let everything simmer for 45 minutes. I topped it with a Ciabatta roll covered with melted Asiago Cheese and a satisfying Sunday Supper was the result. This is truly an non-recipe recipe, but, if you want the measurements for two hearty bowls, it was 2 sausage links, a 6 ounce bag of spinach, 4 cups of stock and a respectable amount of onion and garlic.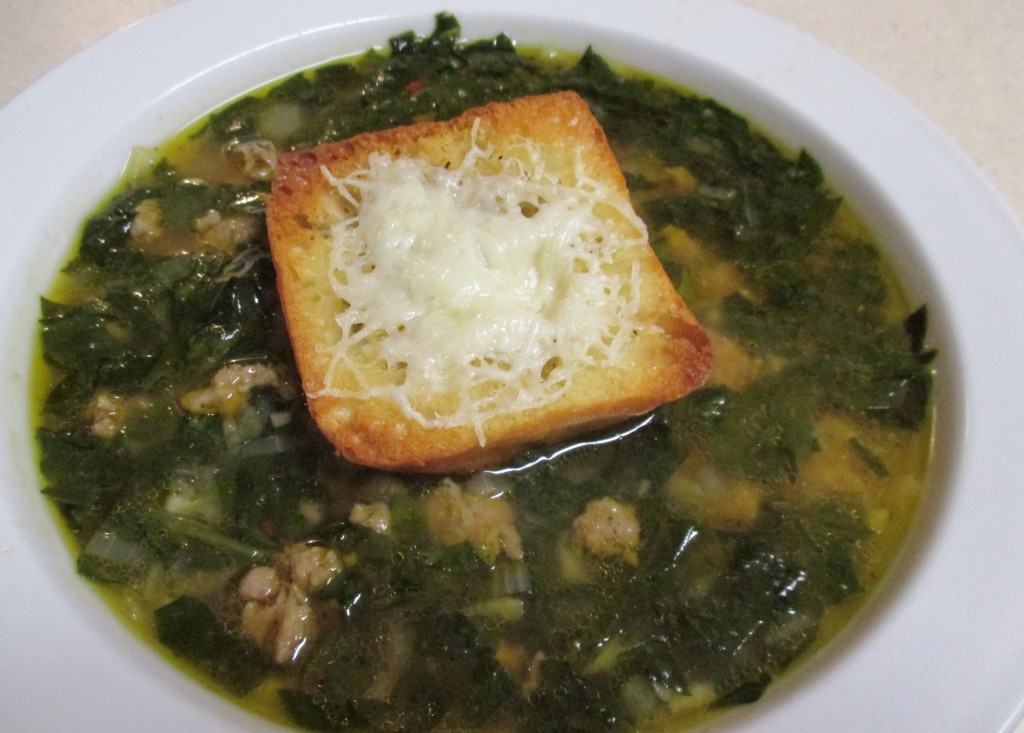 The day before Thanksgiving was set to be a busy one, so I opted to use yet another quart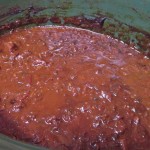 of my turkey stock and create some Turkey Mole Chili . I had planned on making it for dinner the night before, but I got lazy and we went out instead. (Yes, I do choose not to cook every so often.) Much of the prep had been done earlier and I added the turkey wing meat to the mix since it was sitting in the fridge doing nothing. It was a nice combination with the ground turkey and added a bit more texture. I combined all the ingredients then put it in the crock pot. The all day simmer gave the chili time to really come together. It worked as well as making it a day ahead. (Note to self: you've got a crock pot, use it!) It was a warm tasty supper that required nothing more than a touch of cheese and some corn bread croutons. A bed of brown rice was a comforting addition.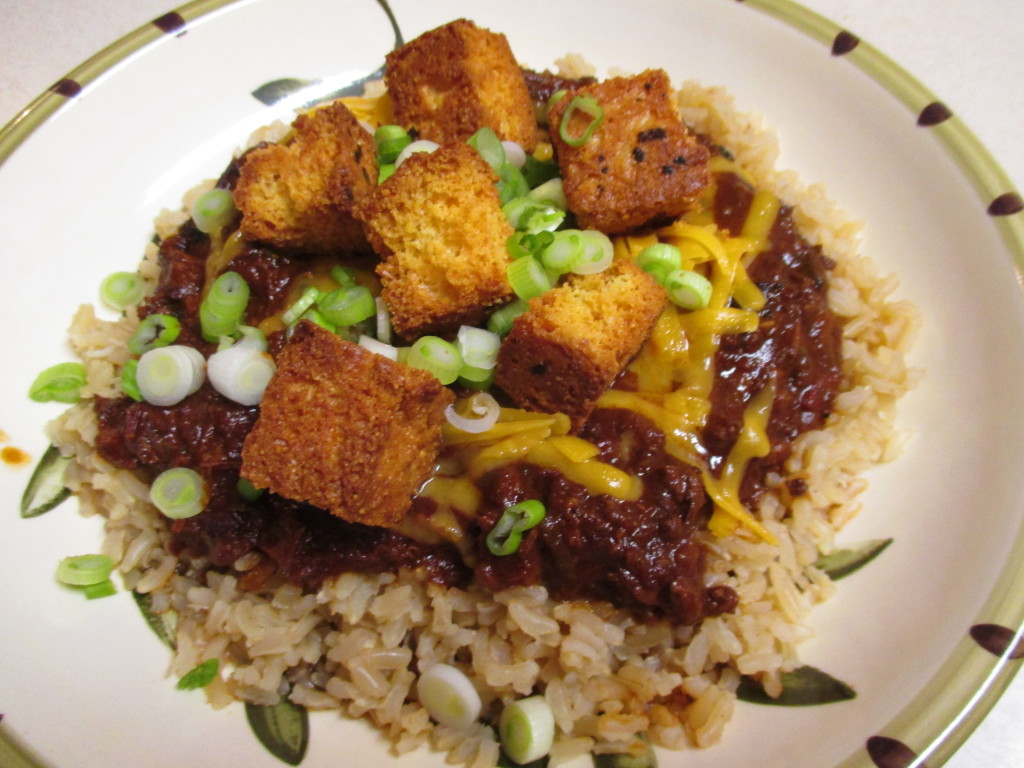 The stuffing cake was a huge success. My only adjustment to the original recipe was to add an extra egg and a little more of the turkey stock. I packed the bundt pan pretty tightly. I covered it tightly with foil for its initial baking which lasted about 30 minutes.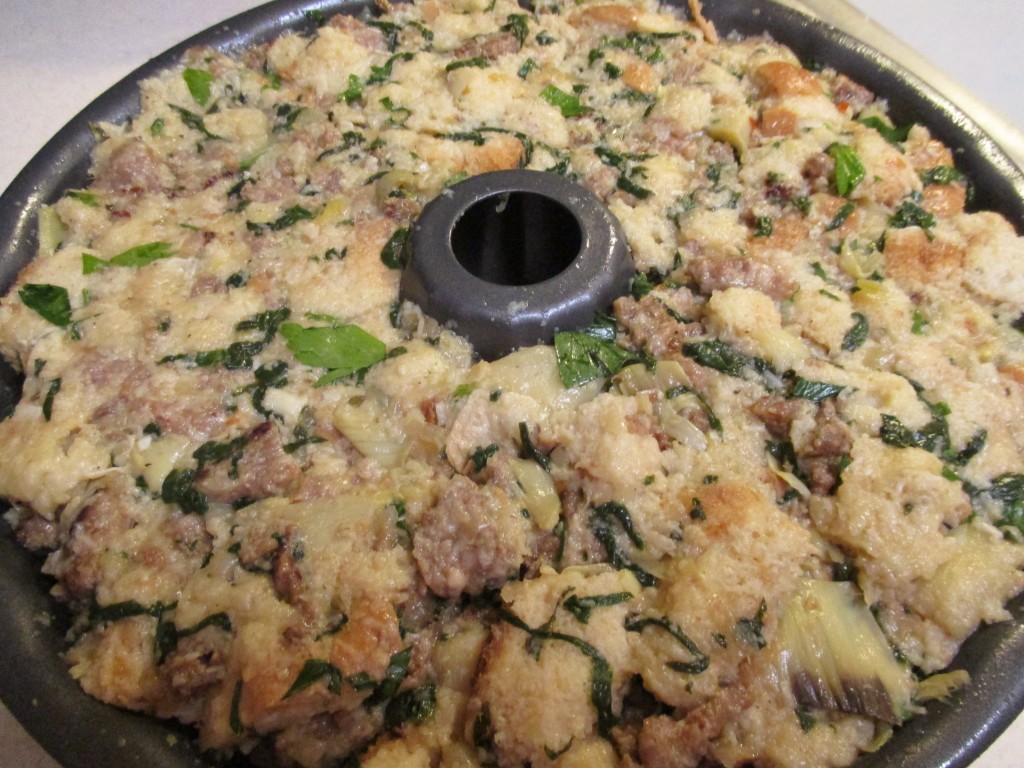 Once we arrived at the gathering, I uncovered it and let it continue to bake for another 20 minutes. (Note: It was sharing the oven with a green bean casserole that was being reheated so the time was longer than if it was in the oven on its own.)
It un-molded without a hitch, always a good thing. and made quite the attractive presentation.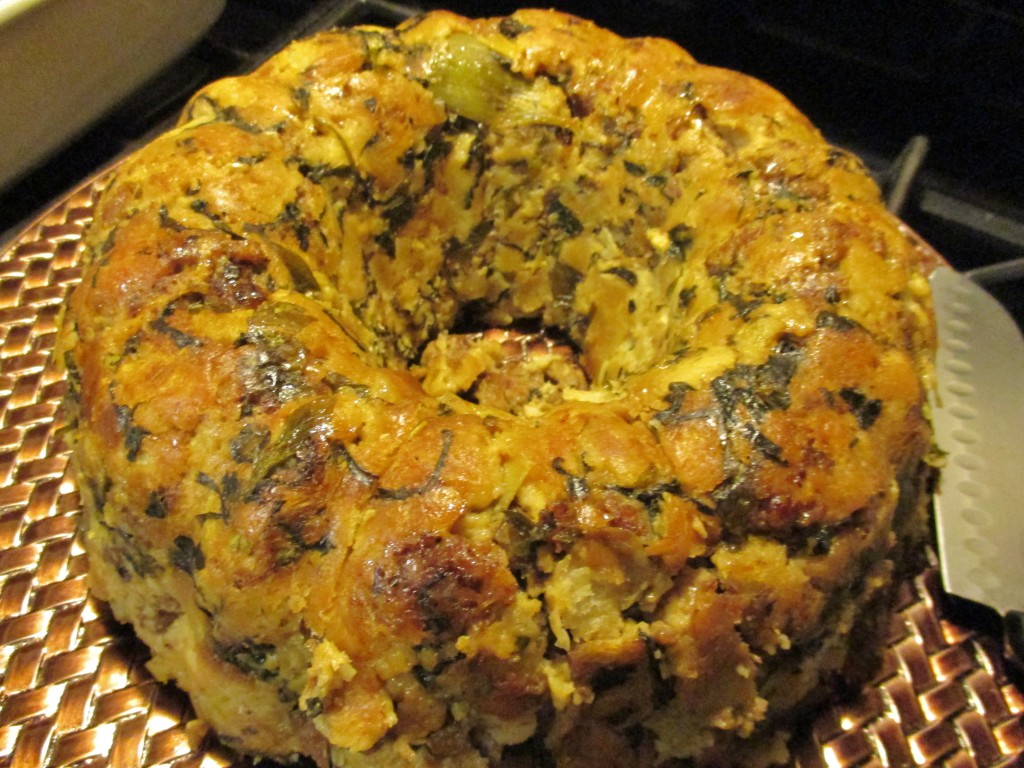 We sliced it as you would any bundt cake and gave it a little drizzle of gravy. The gravy stayed nice and hot for everyone's seconds and thirds because of an electric gravy boat. This is one gadget that I'm glad I impulsively bought.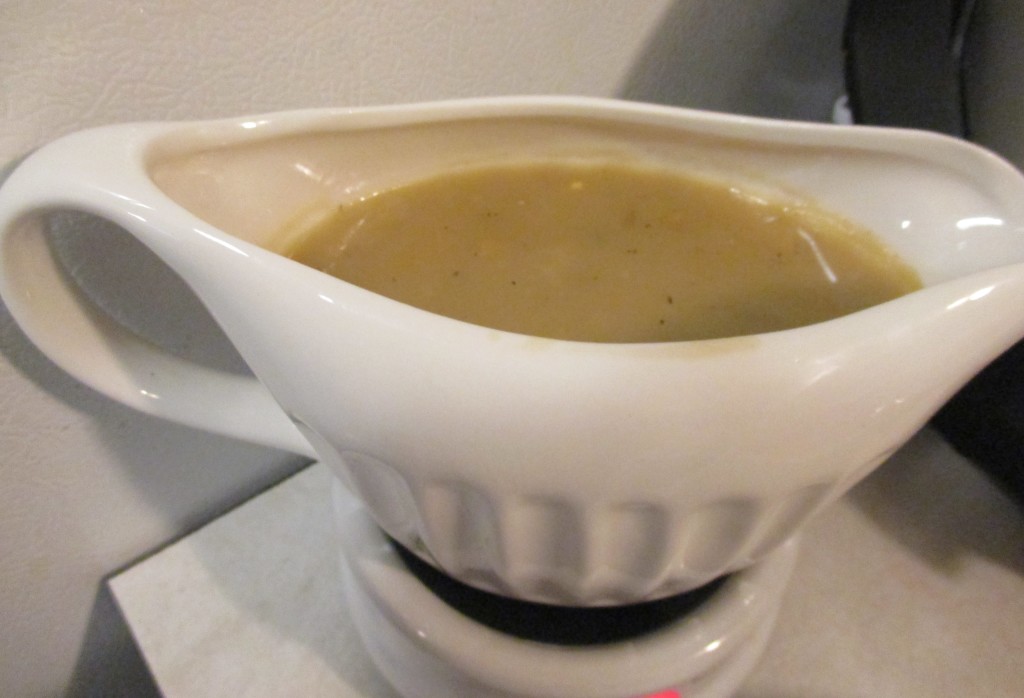 Here's the recipe for that gravy.
Instructions
Heat the olive oil in a small fry pan. Add the garlic and shallots and cook until golden brown. Be careful not to burn them.

Add the wine to the pan and bring to a boil. Reduce the heat to medium and simmer until the wine is reduced by half, 5 - 7 minutes. Set aside.

In a medium saucepan, melt the butter over medium heat. Whisk in the flour and cook stirring often for 2 minutes.

Add about 1 cup of the stock and continue to whisk until it is smooth. Gradually stir in the rest of the stock. Bring the mixture to a boil, reduce the heat and add the reserved garlic and wine mixture and the Italian Herb Blend.

Continue to simmer for 5 - 10 minutes until the gravy thickens. Give it a taste and add salt and pepper as needed.

Serve with turkey, dressing, or anything else you want to put it on.
So, my Turkey Week is coming to an end.The food that was created was wonderful but, it couldn't come close to how wonderful it was to be with my family. I hope that your Thanksgiving was filled with just as much love and deliciousness.