My goodness but time flies…we are into the double digits of March! There's been a good amount of stuff going on in the kitchen, but there's been a lot going on in life so time to sit right down and write has been limited. so here I am to share the highlights of the last few weeks.
Another generous birthday gift from my kids was a three dinner box from Blue Apron. This is one of the increasing number of sites that will send you all the ingredients needed to create home cooked meals. This is totally outside my wheelhouse, but it was a lot of fun to give it a whirl. It was fun to have a virtual mise en place, in place.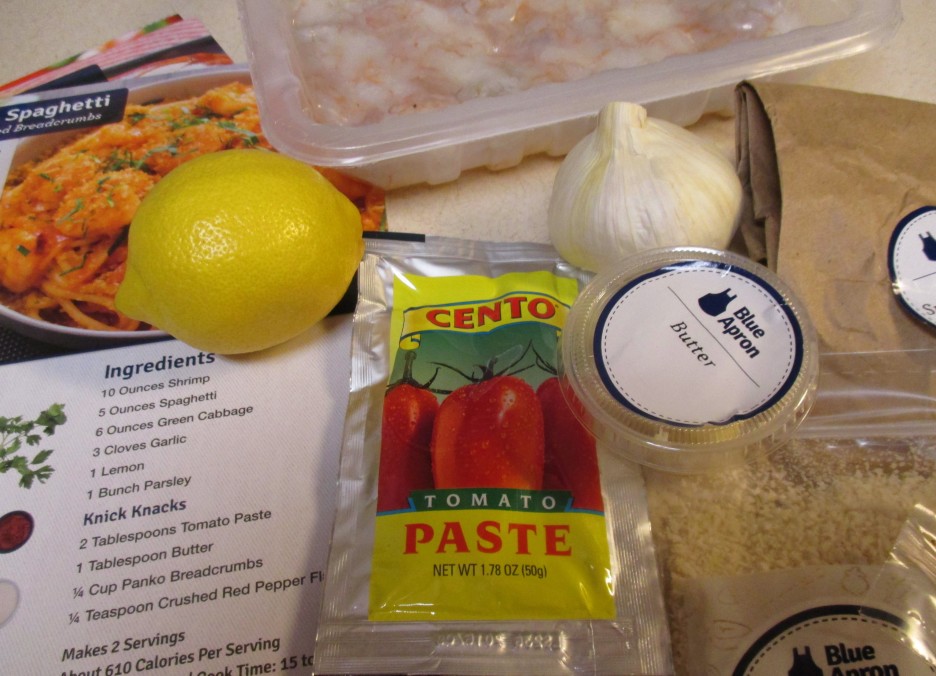 The Spicy Shrimp Pasta that was the result was pretty tasty, too.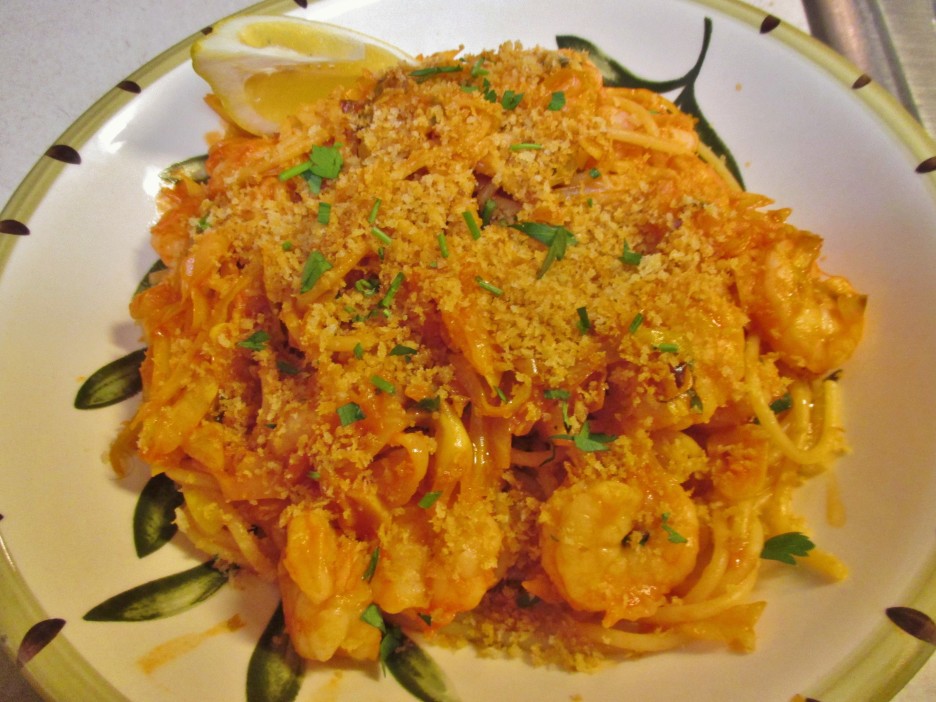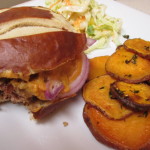 We also enjoyed a Pub Burger on a Pretzel Roll that featured an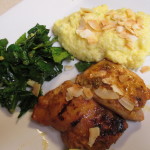 awesome Cheddar Cheese Sauce and Oven Fried Sweet Potatoes. I added some Honey Mustard Cole Slaw to balance things out.                                       The final dinner was a Trinidadian Curried Chicken with Coconut Grits and Sautéed Collard Greens. By this time, I was I was ready to take a few liberties. I left the chicken thighs whole and cooked them on the grill. I only used a little of the herb mix that was included because I didn't care for the taste. The grits were heavenly and the collard greens were the perfect side dish. Services like this have a place in many kitchens; great for busy couples that still want to have a home cooked meal.  Being Mama D, I don't always enjoy being told what to do,but in spite of that, I'm glad I got to try out this way of cooking. In between my Blue Apron Adventures, I was creating some dishes of my own. Here's one that was particularly enjoyable….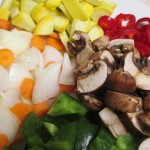 We're slowly creeping into spring, but cold snaps are still popping up, so something hearty and warm is often a welcome supper.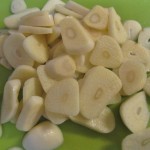 That's how this Italian Sausage and Cannellini Stew came to the table. The cast of characters predominately came from cleaning out the refrigerator. Small amounts of veggies that couldn't stand alone were combined with Turkey Italian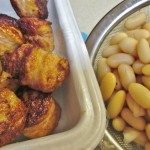 Sausage and Cannellini Beans. I sliced what seemed to be a ridiculous amount of garlic, which turned out to be just the right amount. Chicken stock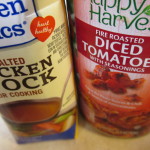 and fire roasted tomatoes created the liquid that was fortified with the wine left from the previous night's dinner (yes, once in a while we don't finish the bottle). I dubbed this a "stew" mainly because the liquid was less than what I would use in a soup. While stews usually simmer for an hour or more, this pot of goodness only took about 30 minutes Things came together quite nicely resulting in a stew that tasted like it simmered all day.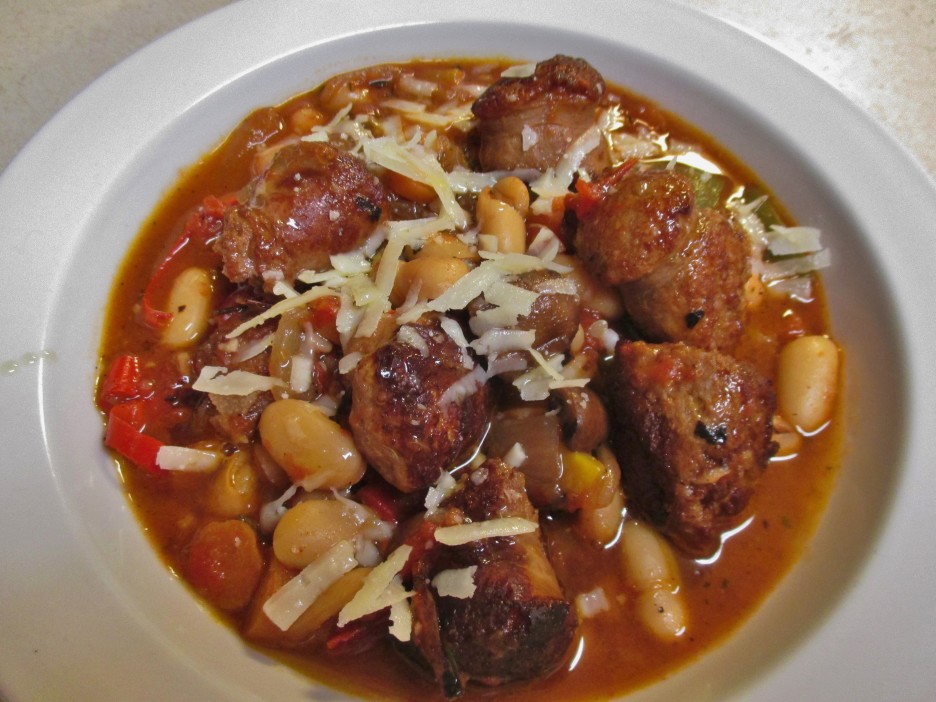 As with any of my recipes this is just a suggestion of the direction the dish can go. Use what you have on hand or love. Change the ingredients as much as you want. This is not a dish that comes in a box ready for you to prepare (not that there's anything wrong with that). Here's what I did…now make it your own.
Instructions
Slice the sausage links into 1 inch chunks (this is easier if they are slightly frozen) and brown in a soup pot over medium heat. Remove the sausage and set aside. Drain off most of the fat in the pot.

Add the olive oil to the pot and allow it to get hot. Add the onions and the carrots. Cook, stirring occasionally for 3 - 4 minutes until the onions begin to soften.

Add the bell pepper, mushrooms, jalapeno, garlic, and squash. Cook for 5 minutes or as long as it takes for things to get soft and fragrant.

Add the wine to the pot and stir to loosen all the brown goodies on the bottom of the pot. Add the tomatoes and the chicken stock to the pot. Bring the mixture to a boil, then reduce the heat to low. Simmer for 15 minutes or so.

Return the cooked sausage chunks to the pot along with the cannellini beans and season with the Italian Herbs.

Let everything simmer for another 10 minutes or so to heat things through. Taste and adjust seasonings. Add more herbs or salt and pepper as you like.

Ladle into soup bowls, garnish with the grated Romano, and serve.