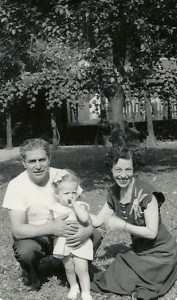 Like many children of the 50's I spent more time with my stay at home Mom than my Dad. My Dad owned his own business and until his heart made him slow down, put in 10 hour days.  He was home on the weekends and we seemed to cram all our family time into those 2 days.
Saturdays were a flurry of dance classes, grocery shopping, and in the afternoon Dad and Daughter Date Time. When I was small Kiddieland was my favorite destination. I'd ride the ponies, go on all the rides ending on the Little Dipper with my Dad. A chocolate/ vanilla frozen custard was the culmination of the day. As I got older, miniature golf became the new favorite. Whatever we did, the time I spent with my father was very special.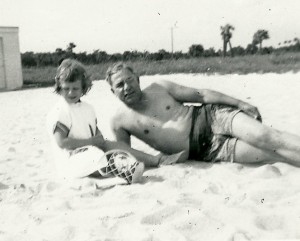 Sunday morning was church for me and Mom and golf for my Dad. He had a regular 6:00AM tee time which got him home about the same time we got back from church. At least once a month he would make his "gravy" (the all purpose tomato sauce that is the backbone of every Italian family's cooking) and meatballs. His recipes were simple, but they used quality ingredients the most important of which was love.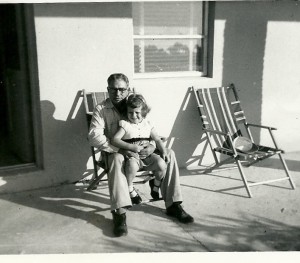 He let me help in the kitchen before my mother did. I would use the special chopper that minced the onions, garlic, and parsley on a wooden cutting board. These went into a large pot with a good amount of olive oil. Tomato puree and paste were added along with some water and dried herbs. Sometimes he added pork neck bones and his homemade Italian sausage (more on that later). No matter what else was in the pot, he always added his meatballs.
He would blend beef, veal, and pork with bread that he soaked in water,  the onion, garlic, parsley  mixture that was also in the gravy. Eggs and Romano cheese were about the only other ingredients. He'd mix it by hand and roll it into golf ball size portions.  I would help him roll the meatballs because he said my hands were just the right size. We'd wind up with several platters of meatballs that he would brown in a cast iron skillet filled with olive oil (I still have the skillet.) The meatballs would  go into the gravy and simmer away for what seemed like half the afternoon. Periodically he would let me dip a piece of bread into the gravy to see if it was ready. Finally it would be "done" and we'd have it for supper over pasta adorned with whatever meat was in the pot. It's still the best gravy I've ever had.
My Dad's sausage had no peer. He used a meat grinder that bolted onto the table. He started with pork butt that he ground twice. Then he added salt, pepper, fennel seeds and red pepper flakes. My Dad didn't have a fancy sausage stuffer attachment. He used a wide mouth funnel that he slid the hog casings on and then pushed the meat through with his thumbs. I had a very special job in this process. I used a large safety-pin and poked air holes in the sausage as it snaked out of the funnel. I occasionally poked my dad's fingers which would result in a good-natured scolding.
The sausage was wonderful in the gravy especially after simmering for an hour or two, but I liked it best when it was grilled or fried and put on an Italian roll. The sausage was topped with my mom's fried Melrose peppers. The simple purity of the sausage ingredients lets each one stand out. The crunch of the bread and the almost creaminess of the peppers and oil were a perfect complement. It was and is a sandwich for the gods and I like it , too.
The time I spent with my Dad in and out of the kitchen is very precious to me. It was far too short and I still miss him. I know that when I cook something  from his recipe or my own that the love I put in comes from him.         Thanks, Daddy.