I usually write about food love, but today that content is going to take a backseat to Chicago love. In what has become an annual event, The Chicago Architecture Foundation hosts Open House Chicago. This two-day event allows anyone to visit 150 sites around the city that would normally not be open to the public. Did I mention it's free? All sites have some kind of architectural significance from historic buildings to architectural firms. Spreading across more than 11 neighborhoods, there's something for everyone's taste.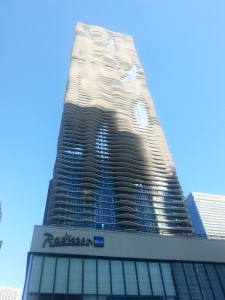 This was our second year and we were finally able to go both days. We got our Metra Weekend passes and took off for the city Saturday morning. Our first stop (after a brisk almost 2 mile walk involving quite a bit of backtracking) was Aqua, designed by Jeanne Gang. This award-winning building is known for its wavy balconies creating interesting patterns from every angle. Radisson Blu is a 334 room hotel that offers rooms with these balconies. A suite was open and we got to step out on the balcony and get a unique view of the city. It felt like Millennium Park was in my backyard. It also made me a little queasy.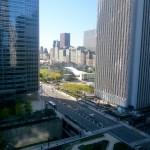 The restaurant and lounge in the hotel is called Felini. It is a modern space; black and white tile with red accents and lots of (electric) candlelight  (how Felini-esque). Sadly we were too early to taste their food which is of course Italian. so it was on to our next stop, the 66th and 67th floor of Willis Tower.
Another brisk cross-loop walk brought us to the Metropolitan Club. This exclusive club offers networking opportunities for the who's who of Chicago and dining with possibly the best views in the city. The space is elegant and offers panoramic views from every table. Alas, unless Steadman Graham invites me, I won't be dining here anytime soon. It was still special to experience this space.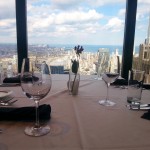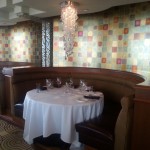 Even without the benefit of a pedometer, we'd walked a lot.  It was time for lunch. Chicago is restaurant heaven and the choices are mind-boggling. We had many choices, but decided to go to an old standby. Miller's Pub. Best known as a late-night stop for the famous ribs and famous clientele, it offers good service and good food at a very reasonable price. It's dark, a little dated, and always crowded, all of it in a good way. Feeling like we could calorie splurge, we ordered their 10 ounce (yep) burgers.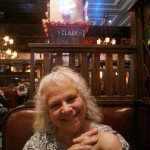 I had the Patty Melt and Jeff had the Barbecue Burger. Both were cooked exactly as requested and came with fries, cole slaw, and a pickle. They were juicy, flavor-packed and I'm actually a little ashamed to say we ate it all. We each washed it down with our favorite bourbon on the rocks. All this and we spent less than $40 (pre-tip) including the steep10+% sales tax.  That just doesn't happen in the city…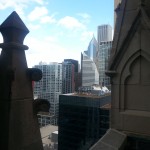 So, on we walked.  We visited The Chicago Temple and highest chapel in the world. Again, we had views you can't see everyday, from the pastor's terrace. We visited Dirtt (Do It Right This Time) a company that specializes in sustainable ideas and solutions for building spaces.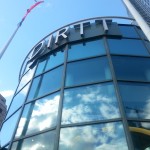 Our final stop was the Seventeenth Church of Christ, Scientist. This six-sided building was designed by Harry Weese. It's auditorium boasts an organ with over 3000 pipes.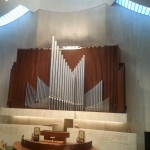 We snoozed on the train, went to bed early and got up on Sunday and started again.
Our first stop Sunday was the Chicago Board of Trade. A magnificent Art Deco building that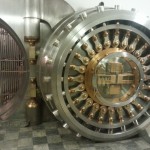 boasts an underground vault that once held gold bars and copious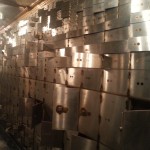 amounts of money. Now it's a seldom seen, quirky photo-op.
The Palmer House, an iconic Chicago Hotel. We visited the Empire Room, created in 1925 to serve as a large dining hall. In later years it became one of the most famous nightclubs in Chicago featuring Big Bands, singers and comedians. Now used for conventions and the occasional wedding it is seldom open to the public. On Sunday, it was, complete with rare performance recordings, a formally set table and a spotlighted stage.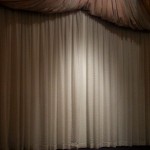 Returning to the opulent lobby, we took a seat at the Lockwood Bar. Always a source for a good Bloody Mary, this one didn't disappoint. Super spicy, with a garnish of cheddar cheese, pepperoncini and a crisp strip of bacon. Looking down the bar it was almost everyone's drink of choice.
Fortified, we began our stroll down South Michigan Avenue at The University Club of Chicago. An exclusive private club that boasts a 2 story Cathedral Hall.
Stained glass windows symbolizing various disciplines and occupations and coats of arms of many universities encircle the walls. Several windows allowed some amazing views of Millennium Park.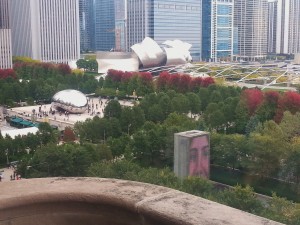 We visited the current home of the Cliff Dwellers, a private club whose members are artists,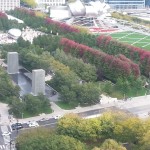 writers, and musicians. The space included a dining room, library, and bar overlooking the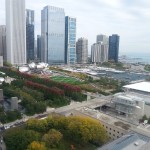 lakefront. it also had a balcony that was a premier vantage point for taking  in the Lakefront in its early fall beauty.
The Fine Arts Building was our next stop. Built in 1898, it is the oldest artist colony in the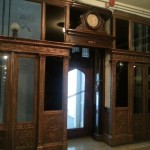 U.S. The interior feels like it's frozen in time. Bass cage elevators, Art Nouveau Murals, and hundreds of music studios behind dark wood doors topped with frosted glass transoms. Pianos  and flutes could be heard as we walked the halls. We also stood on the stage of the Studebaker Theater, currently closed but still a beautiful venue.
We ended our formal tour at the Blackstone Hotel. Once the favorite Chicago stay of presidents (12 sitting presidents have stayed in the Presidential Suite), The suite had many of the original fixtures, but also had all the modern conveniences including a TV in the bathroom mirror.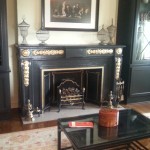 It is now a boutique hotel boasting a billiard table in the lobby and a Spanish Tapas restaurant, Mercat a la Planxa. We felt the need for a little refreshment and it really felt good to sit down in the bar. We experienced the most magnificent Bloody Mary Bar I have ever seen. it actually took up the entire bar.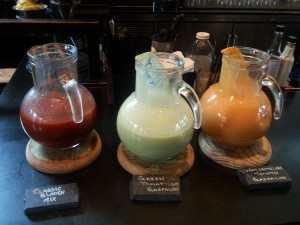 The house infused vodka (spanish peppers, tomatoes, onions and garlic) could be mixed with a traditional spicy tomato juice, but Tomatillo and Watermelon Tomato Gazpachos were also available. Smoked Paprika, cumin, and assorted roasted and pickled vegetables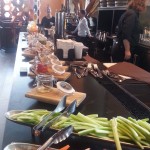 were available to add to your drink. It was delicious and I can say with authority that if you muddle them enough, you can suck roasted garlic, tomatoes, and peppers through a straw.
Our Open House tour ended here, we did have more adventures before we got back on the train, but that's  another post.
I want to thank my wonderful husband, Jeff. He took the pictures in this post.
Adventures, food or otherwise would never be the same without you . I love you, honey.