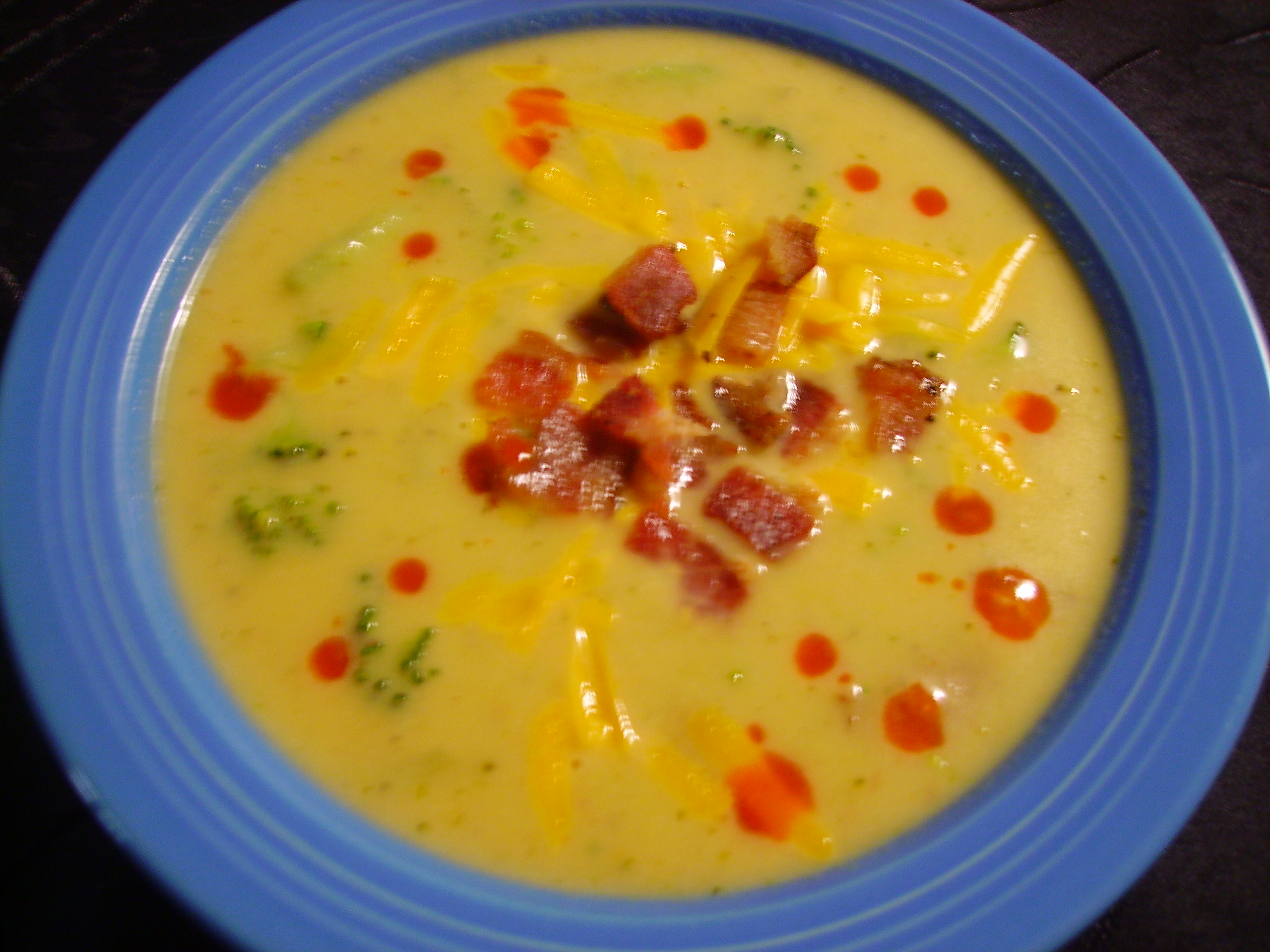 The weather has taken a decidedly Fall like turn. We even had our first snow sighting. Making soup goes with this weather like frost on pumpkins. I love soup. I've written about it several times. Today I want to share two of my favorite creamy soups, Cauliflower and/or Broccoli Cheddar Cheese Soup.
This is the first post I've done that has an actual recipe in it. I have a bright shiny new plugin that is allowing me to do this, and even though I'm still learning all the things it can do, I'm excited that I can now share Mama D's Recipes Of Love with you.
These two soups share a basic recipe. The main ingredient is all that changes. I bet that you could even choose a main ingredient of your own and this soup would still be fabulous. It's quick to prepare as soups go; it can be on the table in about an hour.
I've added different herbs; thyme or rosemary work well. Spices like Smoked Paprika , Cayenne or Nutmeg can also create more flavor.  Seasonings like Tabasco or Worcestershire Sauce are also great. In fact you could add (or subtract) any ingredient to make it your own.
I just made the Broccoli version using Homemade Vegetable Stock. I make stock using vegetable scraps that I save in the freezer until I have 3 cups or so. Then a little olive oil to sweat a mirepoix, water, the veggie scraps, and a Bay Leaf plus any herbs of your choice and in a couple of hours you have Vegetable Stock. A proper recipe is forthcoming.
In the meantime, give this recipe a try….'tis the season(ing).
A creamy and indulgent soup that helps you get your veggies.
Servings

Prep Time

4

15

minutes
Servings

Prep Time

4

15

minutes
A creamy and indulgent soup that helps you get your veggies.
Servings

Prep Time

4

15

minutes
Servings

Prep Time

4

15

minutes
Heat the olive oil in a large pot. Add the bacon and saute until golden brown. Remove the bacon but leave all the drippings in the pan. Reserve the bacon for later.

Saute the leeks in the oil/drippings in the pan about 3 minutes until soft. Add the potatoes and cauliflower. Toss them around until they are caoted with the oil. Continue to saute until they begin to color a little.

Add about a cup of the chicken stock to the pan stirring to deglaze and get all of the lovely brown bits. Add the remaining chicken stock and bring to a low boil. reduce heat and simmer about 20 minutes until all the vegetables are tender.

Remove the pot from the heat and puree with an immersion blender until almost smooth. If you like your soup chunky, remove some of the cauliflower and potatoes before you puree. Put them back in the pot once everything else is smooth.

Return the pot to the heat . Stir in the cream and heat gently . Slowly add the shredded cheese and stir until each addition is melted and blended. Add 3/4 of the reserved bacon. Continue to heat gently until the fragrent steam rising almost makes you swoon.