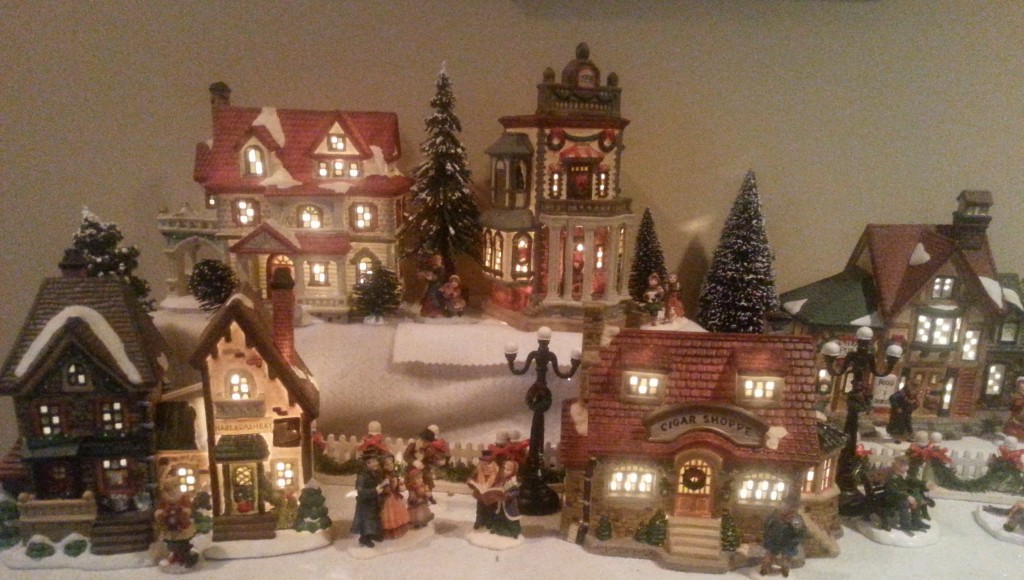 It took a village to create Mama D's Twelve Days of Christmas Goodies. Besides my personal recipes, I shared links to some recipes that were created by wonderful chefs and cooks. I thought it would be nice to gather the recipes together in one post. I've also provided a link to each recipe. Just click on the goody name and you should be taken to the recipe. Now, without further ado, kudos to the following folks.
Jeff Mauro has a sandwich show on the Food Network. This recipe shows that he's pretty creative with baking as well. Spumoni is an iconic Italian ice cream, often made to replicate the colors of the Italian flag. The pistachios and dried cherries give the essence of Spumoni flavors. The recipe yields 14 very large cookies, but I opted for a smaller size and wound up with 3-1/2 dozen.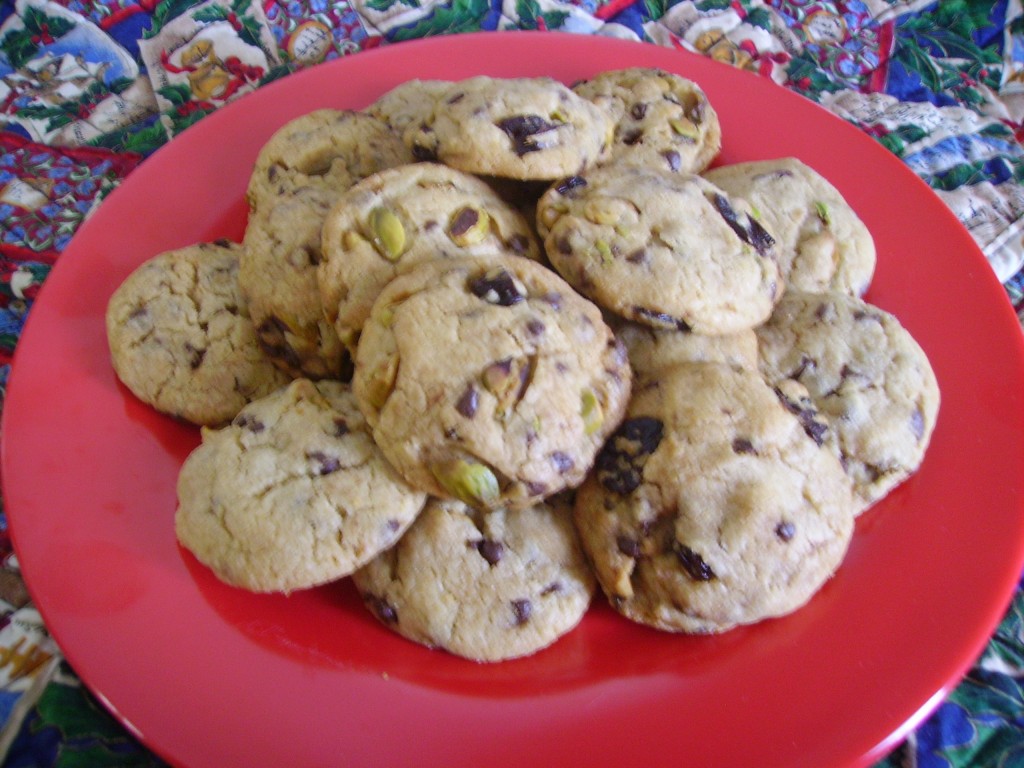 Everybody gets a little help from Betty once in a while. These Thumbprint Cookies start with a sugar cookie mix from Betty Crocker. Don't cast dispersions at the use of a convenience product. They are quite good and do save a little time and perhaps a little money. I used raspberry jam, but any flavor would work. I made a small and a large version and used white and semi-sweet chocolate for the drizzle.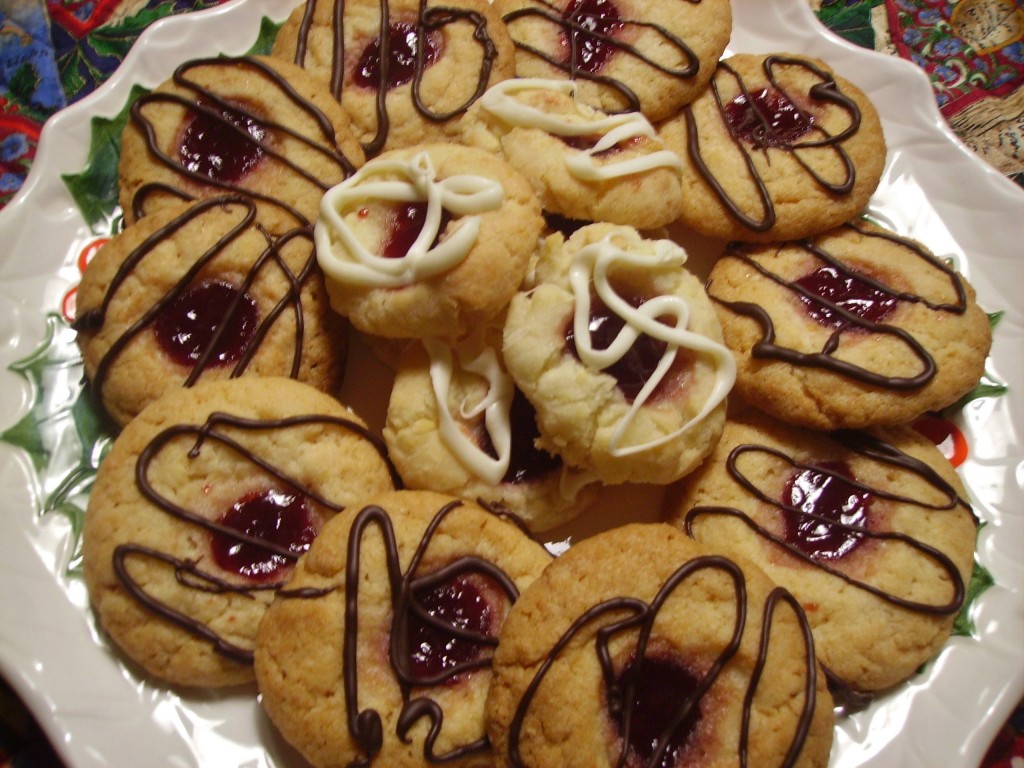 Ina Garten is one of those celebrity chefs that you just have to love. Her recipes combine ease and elegance. This is her glazed nut recipe and it's by far the best I've ever had. The rich combination of nuts (almonds, cashews, pecans, and walnuts) is glazed with a maple and orange juice driven glaze that packs some heat with chipotle powder. I would re-name these Heroin Nuts because they are truly addictive.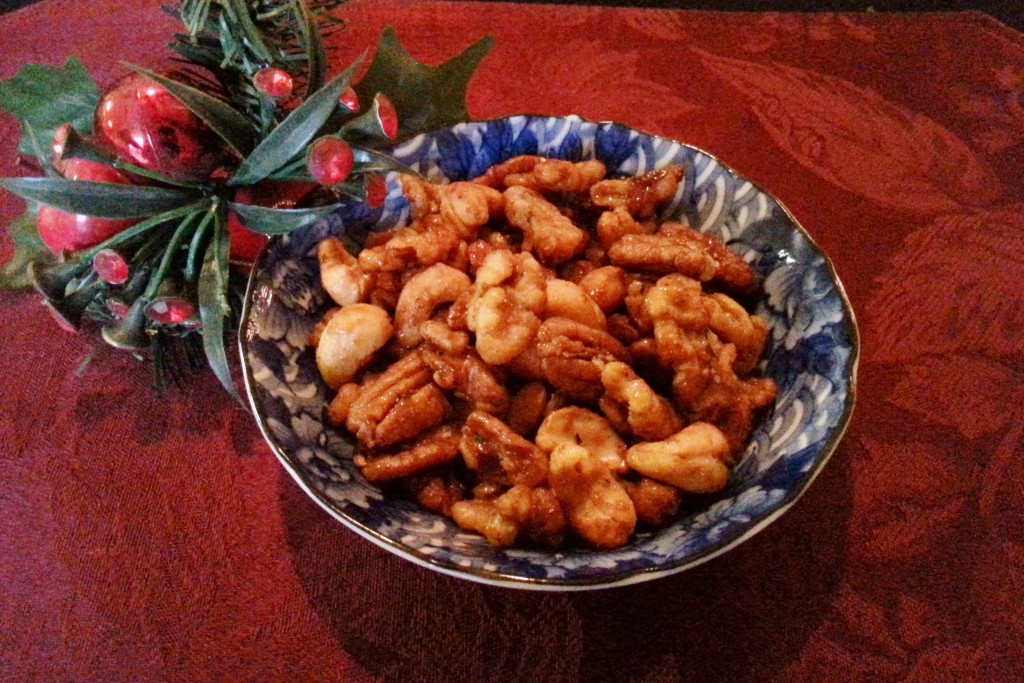 Chipotle and Rosemary Roasted Nuts
Here's another recipe that proves that Christmas Goodies don't have to be cookies. Chex mix gets it's Southern on, ya'll.  The traditional mix is combined with pecans and bacon. They're roasted in a glaze of brown sugar and bourbon. This starts with packaged Chex Mix. I prefer to remove the rye toast rounds because I don't like how they taste sweetened, but they can be left in and the result is still great.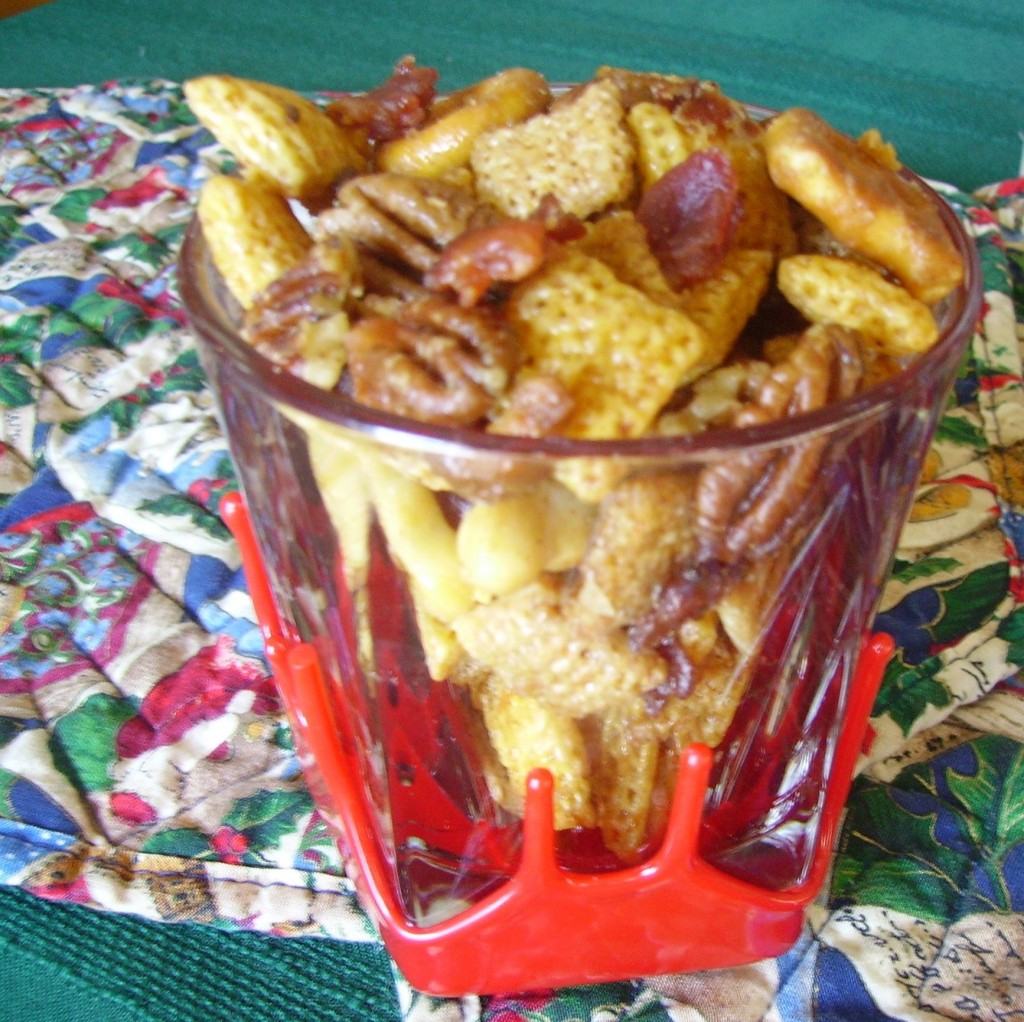 Kentucky Bourbon Bacon Chex Mix
"No Bake Treats" are often time savers. The Food Network put together a mini cookbook of 50  treats that don't require an oven. This is a variation on two of the toffee bars that were included in the booklet. The base is tea biscuits, the toffee is, well toffee, and the semi-sweet chocolate and pecans are the icing on the toffee. This is a recipe that can be riffed on almost infinitely. I did one with Club Crackers as the base, the toffee and coarse sea salt. If you're a fan of that salty sweet thing, give it a try.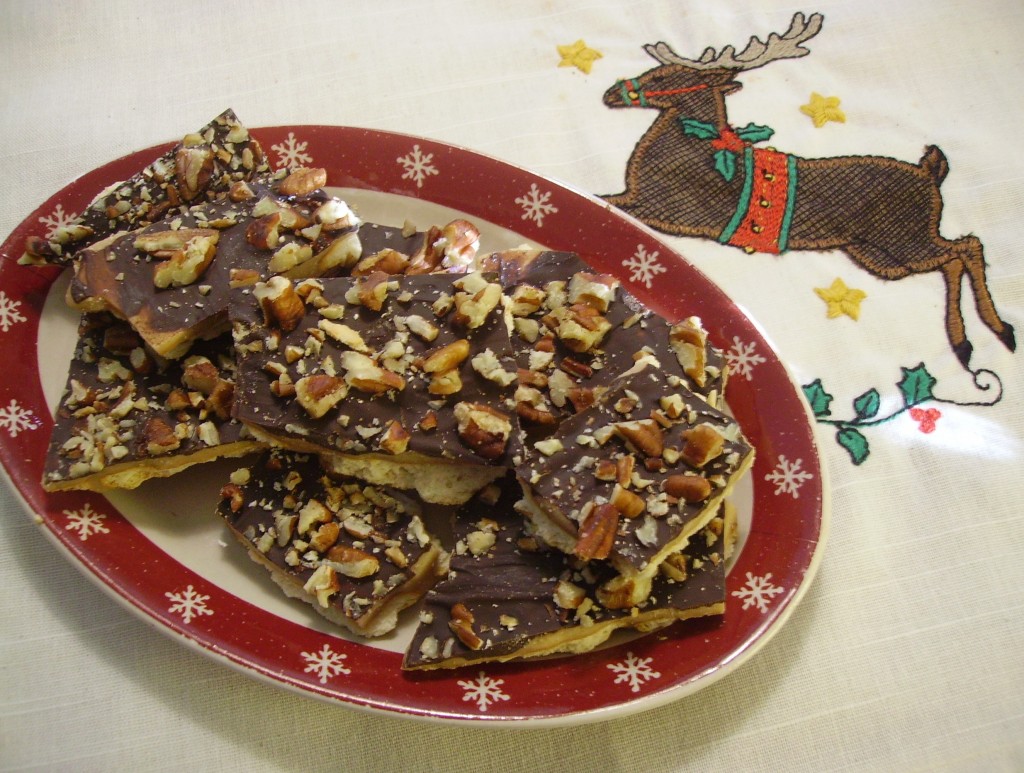 Bacon is something Mama D really loves. This recipe provides a healthy(?) dose of bacon love. Crisp bacon and carmelized onions are simmered in an orange juice and maple syrup bath. If you love Bacon Jam you'll like this lighter cousin. I've tried it on a turkey sandwich and it was delicious, but it would also be wonderful on your Christmas morning pancakes.The recipe came from the Cooking Club of America Magazine. It's a magazine that features great recipes and lots of useful information on cooking techniques.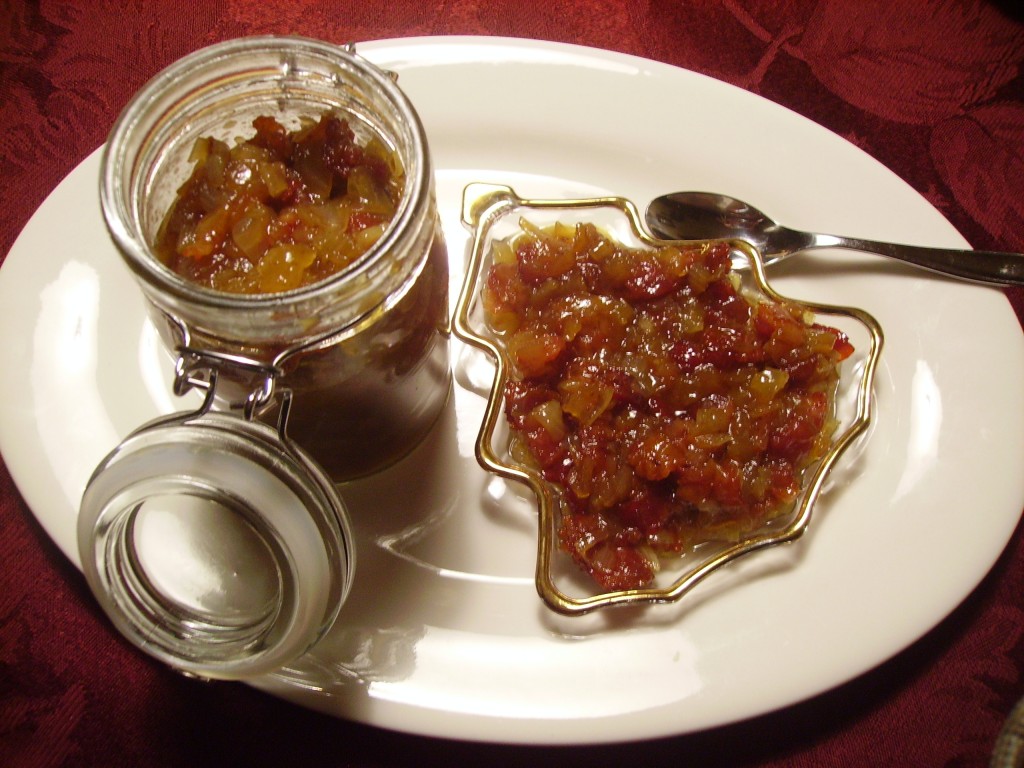 As I sit here on this early Christmas afternoon, the joy of the season and the promise of the future dance through my head. The holidays take me back to my childhood with recipes I made with my mother. The present brings new traditions with Christmas morning at my Son's home. The future, I know, will be filled with more adventures as I cook with love and continue to write my next chapter.                
Merry Christmas, Mama D