For as long as I can remember, ham has been the dinner of choice on New Years Day. From my childhood when the ham often came out of a can(!!?!!), to my first adventures with a bone in ham, the thing that I remember the most is the glaze. I find it kind of odd because I don't have much of a sweet tooth and I prefer sweet things as dessert not main dishes. but a sweet and sticky glaze thickly coating the fat layer of a ham is pure pleasure to me.
Back in the 50's, canned hams were the modern thing. They carved easily into perfect pink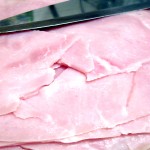 rectangles. They opened with a "key" that rolled around the edge of the can making a ribbon of metal that could slice off a finger it you weren't paying attention. Once you removed the gelatin slime it was ready to be covered with glaze. This was a necessity because naked it was frighteningly unappetizing.
My mothers glazing process was simple. First she would score the surface in a diamond pattern. Then a clove was placed in each cut intersection. She then made a paste of dark brown sugar and yellow mustard and slathered it all over the ham until it dripped down the sides and created a sticky brown oval/rectangular mass. Occasionally there would be cherries or pineapple slices added before it went into the oven to heat for several hours. The ham emerged from the oven looking much like it did when it in, except it smelled sweet and smoky, and the glaze had melted into a shiny brown cloak.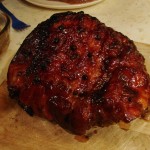 I loved it. I didn't know anything else existed. I honestly didn't know there was anything different until I got married. My mother-in-law made a bone in smoked ham the first time I went to her house for Christmas. The cloves, sugar and mustard were there, but so was a tremendous amount of flavor. It had a different texture, color and to my delight, a thick succulent layer of fat that melted into the glaze to form "ham candy".
Let's zoom ahead to the present. Ham's have come a long way. The varieties available are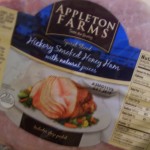 endless. There's even something called turkey ham that has no resemblance to either turkey or ham.  The bone in ham with only it's natural juices and the convenience of spiral slicing is my favorite. These are available everywhere from every producer, but I've taken a shine to Aldi's Hickory Smoked Spiral Sliced Ham. It is juicy and tender with a mild sweetness and saltiness. It virtually slices itself and it's very inexpensive. It comes with a packet of glazing ingredients that I have occasionally used, but I prefer to start from scratch.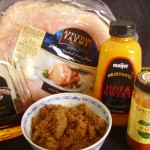 A glaze needs to be thick enough to well, glaze the ham. It is by nature sweet so it should have a generous amount of brown sugar. Because nothing goes with sweet better on ham than something sharp there should always be mustard of one kind or another. Liquor just makes it better and the flavorings are up to you. You can go spicy, sweet or smoky, even crank up the heat with a chili powder. This recipe is all approximate. Whatever you use, do simmer it for a bit. This allows the flavors to blend, the mixture to thicken and the booze to settle down. Make sure the ham is in the pan cut side down, if not for the whole heating, at least for the glazing.
Instructions
Reduce the heat to low simmer and cook for 10 minutes or however long it takes for the glaze to reduce and slightly thicken

Repeat the process of poring on the glaze and returning to the oven two more times. Remove the ham from the oven and let sit for 10 minutes before moving it to a cutting board. Slice the ham and drizzle with some of the pan drippings and serve.
Love, Mama D