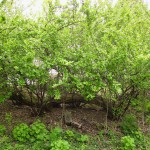 Have you noticed that there is a lot of green outside? I am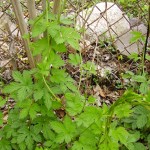 positively giddy that I can look out my window and see green. My bushes have enough green to be a privacy fence. The clematis and hop vines are climbing steadily every day. Even my chives plant has decided to turn green again.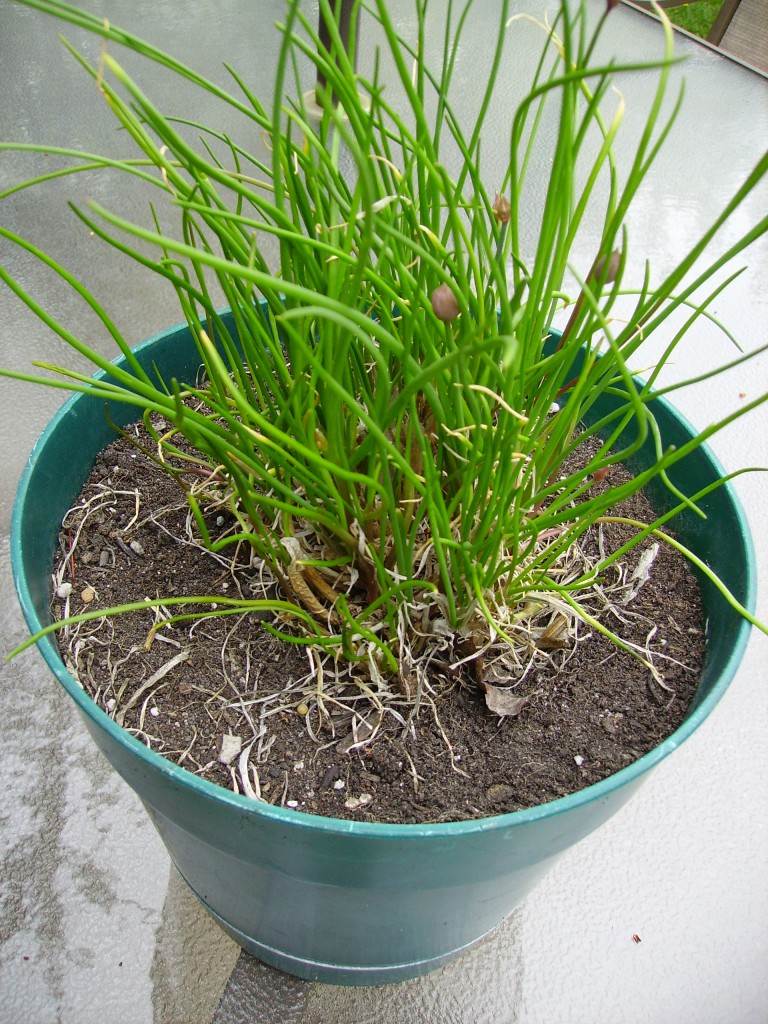 I love the greens of Spring, and after the winter we have had here in the Midwest they are more than welcome.
Spring is a time to embrace the coming bounty of produce which we will begin to see sometime in June (I hope). In the meantime, I'm enjoying salads. Yes, they fit nicely into Mama D's new healthier lifestyle but they are also delicious, quick to fix, and the perfect meal for one or two.
The base of any good salad is greens. When I was growing up, iceberg was the year round staple. Summer meant garden lettuce and the occasional dandelion salad. Now there is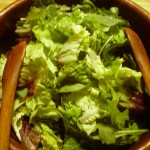 such a plethora of choices at the store that the mind boggles at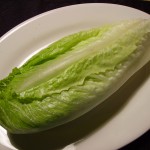 the variety. I have my favorites as I'm sure everyone does and I have to admit mine are rather simple. Spring/Baby Green Mix is tied with Romaine Hearts for my "go to" choices. I do, however love Baby Kale and Arugula and how could I leave out Baby Spinach. The veggie bins in the refrigerator are always bursting at the seams with greens.
Whatever the base of my salad is, what goes on top is where my creative juices start flowing. Everyone has their own philosophy as to the topping to greens ratio. I have two approaches and it depends on the role each salad will serve. If the salad is a supporting player, I'll apply the toppings with a lighter hand like this Arugula Salad served as a base for the grilled beef. A little tomato, jicama, and mint was all that was needed.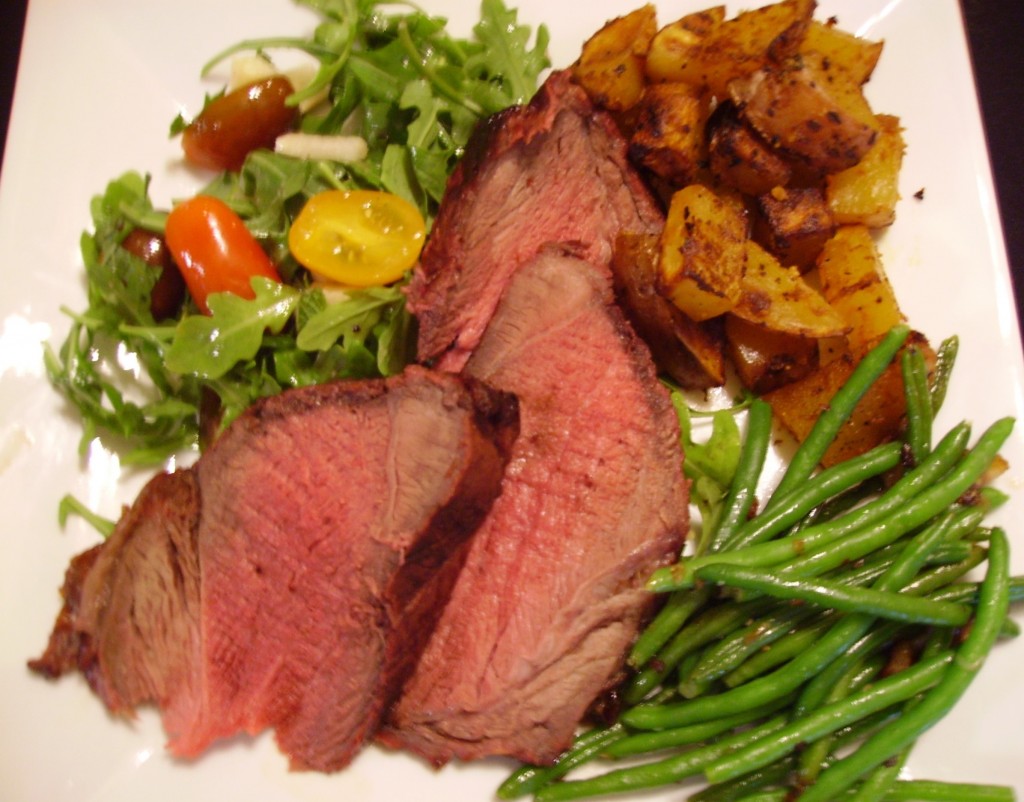 When that same beef made a return appearance in a salad later in the week, it was joined by lots of toppings that almost made the bed of arugula and romaine disappear. Olives, cucumbers, artichokes, cannellini beans and tomatoes were among the players that created a very hearty main dish.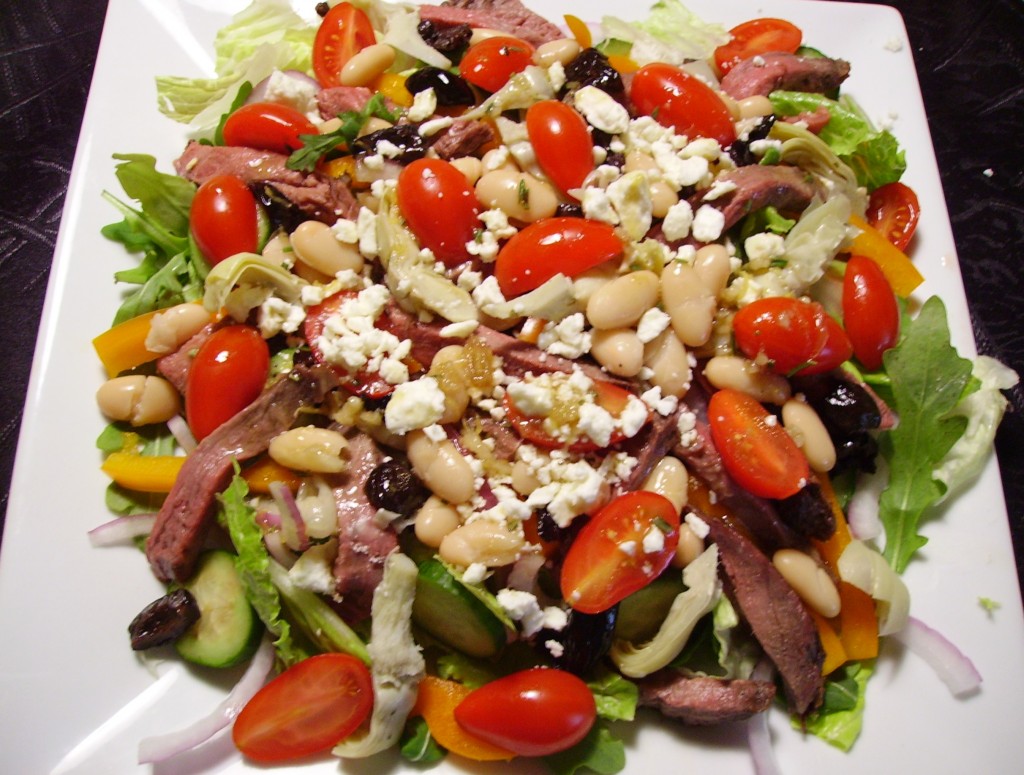 When it comes to dressing a salad, I'm becoming a less is more person. It started because I was trying to cut back on fat and calories, but I soon realized that the salad tasted better and more "salad like" with just a drizzle of dressing. I've been making "scratch dressings" lately, taking liberties with the oil to acid ratio. Acids, herbs and flavors make up more than half the volume. The extra virgin olive oil, usually 1/4 cup or less, adds the flavor and richness that's expected, but the other ingredients are the real stars.
This is a basic vinaigrette recipe that is open to as much interpretation as you desire. With all the wonderful vinegars out there's a flavor for every mood. From Red Wine to Fruit Balsamics, each type imparts a distinct flavor. Other great choices are Sherry or Champagne vinegar. Rice vinegar has a light taste that lends itself to cucumber and Asian salads.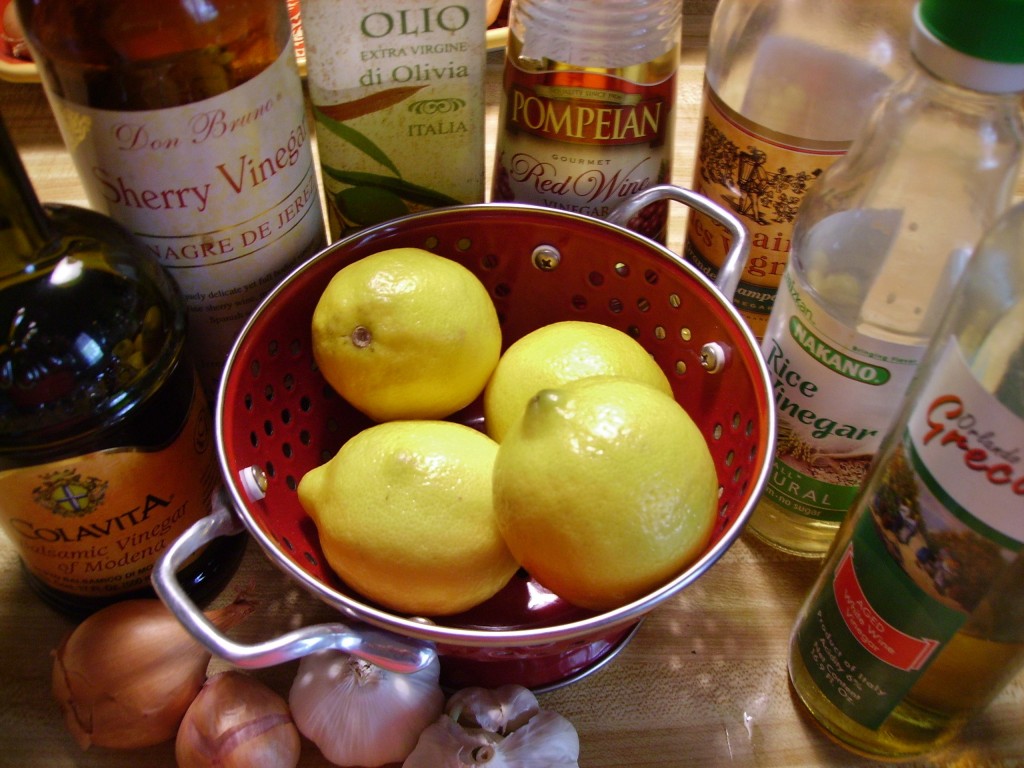 Ingredients

Servings: Cup

Instructions
Combine all of the ingredients except salt and pepper in a jar with a tight fitting lid.

Cover jar tightly and shake until ingredients are completely blended.

Taste dressing. Add a little salt and pepper and shake well, again. Taste and add more salt and/or pepper as needed.

Store in refrigerator for up to one week.
I've taken to grilling extra chicken or pork on the weekend to use for quick weeknight supper salads. Then it's whatever topping that comes to mind…like Taboulleh.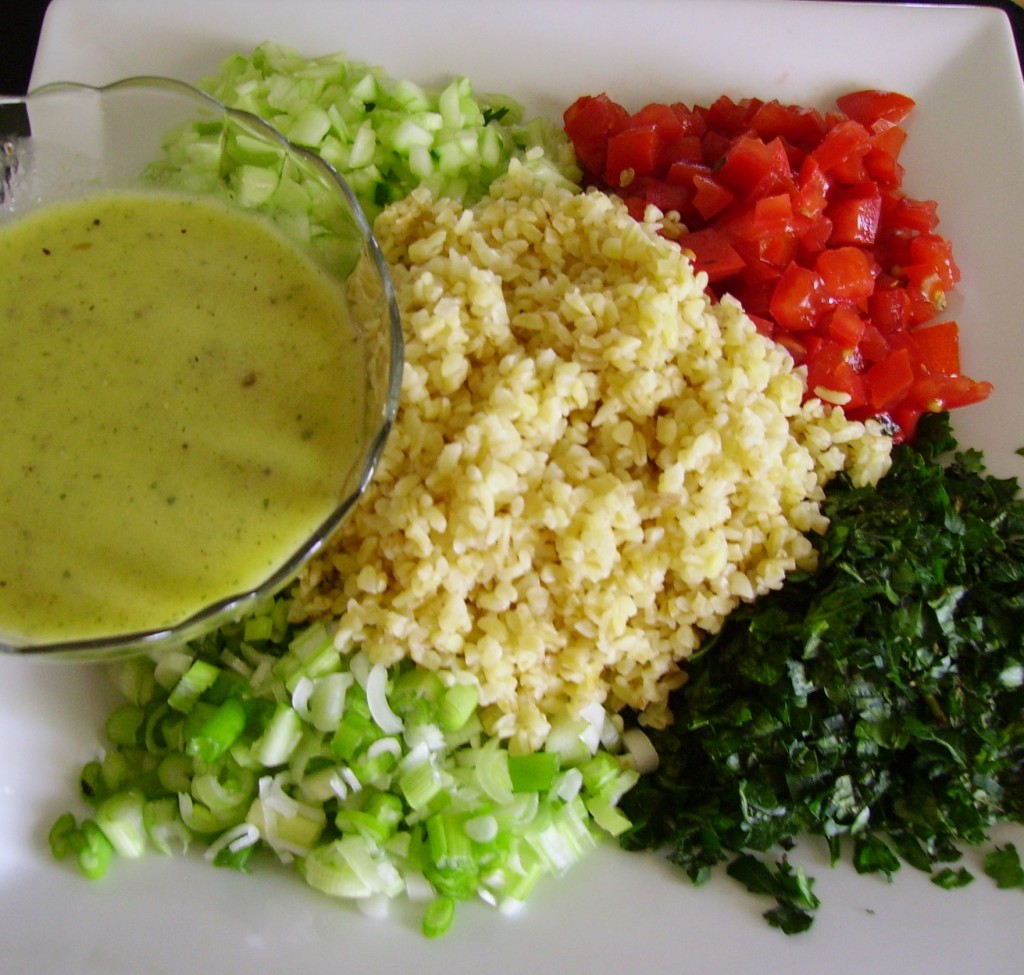 A side dish staple in Middle Eastern cuisine, it adds body,texture and flavor to a salad. It tastes best made the day before so the flavors can really get to know each other. I've adapted this recipe to align with my tastes. Parsley and mint are key ingredients, but I like them in moderation. To get nice uniform finely chopped herbs, I use a processor. I used green onions in this recipe, but I like red onions as well. A lemon juice based dressing is absolutely necessary and I like mine with a big hit of garlic.
Instructions
Rinse the bulgur and allow it to drain. Heat the chicken broth to just boiling. Put the bulgur in a heat proof bowl. Add the broth and allow it to sit approximately 30 minutes.

The bulgur should puff up some and be chewy, (but chewable.) If there is excess broth, drain it off, but it doesn't have to be bone dry. Leave the bulgur in the bowl.

Place the parsley and mint leaves in the bowl of a processor. Pulse until finely chopped, but don't let it turn into a paste. Scrape the chopped herbs into the bulgur and toss to combine.

Add the tomatoes, cucumbers, and onions to the bulgur mixture and toss to combine. Set aside.

In a jar with a tight fitting lid, combine the olive oil, lemon, juice and garlic. Shake until completely blended. Taste and add salt and pepper to taste and shake again. Repeat adding salt and/or pepper if needed.

Pour the dressing onto the bulgur mixture and toss once again to combine. Chill for 4 hours or overnight. Serve as a side dish or as part of a meal salad.
So the salad was created. Romaine hearts held a generous portion of the Taboulleh. Some grilled chicken added lean protein. I threw some olives and feta cheese on top because that's how I roll. I didn't feel the need to add any dressing, but I'll leave that up to you.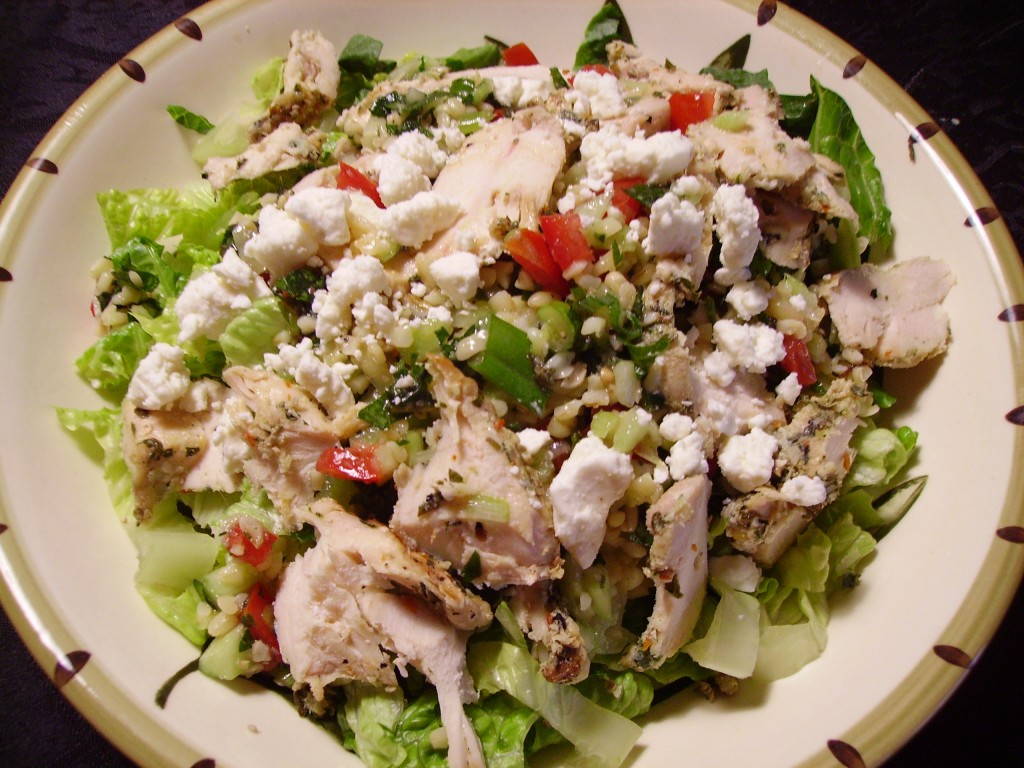 I see many more salads in my future and my adventures with toppings and dressings will continue. Having more salad meals is a choice that I'm enjoying living with. I think I'll be revisiting this topic again. Love, (And Happy Mother's Day). Mama D